Managed CPE Services Market - Introduction
Developments in emerging technologies have made enterprise networks more complex to manage while delivering a variety of enterprise functions. In-house network management teams face issues related to managing complex and changing networks and knowledge retention.
Customer premise equipment (CPE) is any type of device and terminal located and connected in customer premises. Service providers offer managed services to maintain the equipment performance and improve the performance of the enterprise network.
Services offered by service providers include project management, design & implementation, order management, operations readiness testing, and management information reporting.
IT companies are looking for cost effective solutions to reduce operational expenses on network connectivity and systems to maintain and enhance the performance of the network supporting devices within the premises. CPE includes the support services for network devices such as routers, residential gateways, network switches, home networking adapters, and access points.
The market for managed CPE services shows long term growth prospects within IT companies and service based companies.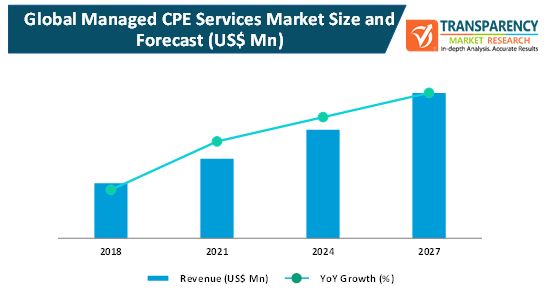 Are you a start-up willing to make it big in the business? Grab an exclusive PDF Brochure of this report
Key Drivers of the Managed CPE Services Market
Increasing adoption of third party network service providers in IT, telecom, and media & entertainment sector and cost effective solutions to improve the performance of in-house equipment is expected to boost the demand for managed CPE services.
Lower operational cost and professional advice for hassle free deployment of enterprise devices is expected to boost the market growth of managed CPE services.
Rising demand for advance and complex enterprise network systems to improve the network performance is expected to offer significant revenue opportunities to managed CPE service providers.
Poor support services and lack of skilled workforce to hinder the growth of the managed CPE services market
In some commercial cases, managed CPE services fail to identify issues in network devices of the premises as well as enterprise network, which causes financial loss and is also a security threat for enterprise networks and individual system data.
The lack of system knowledge and skilled workforce to execute and manage enterprise security is one of the major restraints of the market. Several managed service providers are not capable of providing pre-set quality benchmarks for service and unable to maintain the standards of service which is expected to restrain the growth of the market during the forecast period.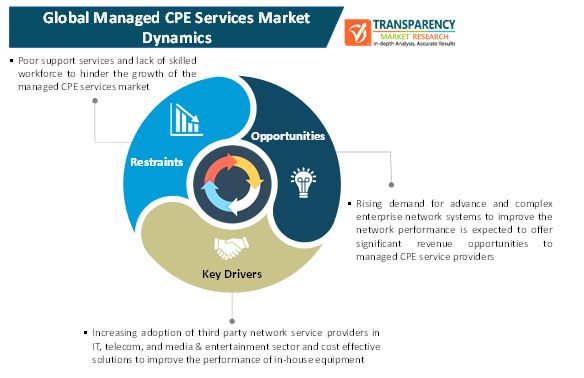 Looking for Regional Analysis or Competitive Landscape , ask for a customized report
North America to hold major share of the global managed CPE services market
North America is expected to hold prominent share of the managed CPE services market due to the high concentration of key service providers and increasing adoption of managed CPE services in the region.
Adoption rate of managed CPE services by IT & telecom and other service based industries in North America is higher as compared to other regions. This is due to significant adoption of advance managed services to protect and improve the performance of enterprise equipment, which in turn is estimated to boost the demand for managed CPE services during the forecast period.
The managed CPE services market in Asia Pacific is projected to expand at a prominent CAGR during the forecast period, mainly due to increasing demand for outsourced services in IT and telecom companies to reduce the capital expenditure (CapEx) of the company.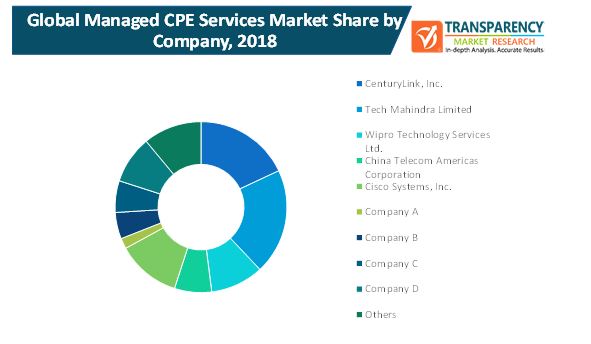 Key players operating in the global managed CPE services market
CenturyLink, Inc. is a global provider of cloud connectivity, hybrid networking, and security solutions. The company offers digital solutions to enterprises through its extensive global fiber network. The company offers the solutions in adaptive networking, connected security, and IT agility. It operates a global business in different product segments such as hybrid cloud and IT solutions; voice and unified communication solutions; managed services; and IT consulting.
Tech Mahindra Limited is a global provider of next gen solutions in content delivery network, smart grid, spend management solutions, Internet of Things (IoT), and green & sustainable solutions to enterprises. The company also provides business process services and managed CPE services based on different types of platform modules. It offers the solutions and services to BFSI, IT & telecom, energy & utility, manufacturing, retail & consumer goods, transportation & logistics, and provides professional services to enterprises.
Other key players operating in the global managed CPE services market include Wipro Technology Services Ltd., China Telecom Americas Corporation, Cisco Systems, Inc., GTT Communications, Inc., and Intel Corporation.
Global Managed CPE Services Market: Research Scope
Global Managed CPE Services Market, by Equipment Type
Security Equipment
Network Equipment
Communication/Phone Equipment
Global Managed CPE Services Market, by Industry
BFSI
IT & Telecommunication
Manufacturing
Pharmaceutical
Metals & Mining
Oil & Gas
Media & Entertainment
Aerospace
Chemicals
Automotive
Others (Semiconductor & Electronics, Food & Beverages)
Global Managed CPE Services Market Segmentation, by Region
North America

U.S.
Canada
Mexico
Rest of North America

Europe

Germany
U.K.
France
Russia
Italy
Spain
Nordic
Rest of Europe

Asia Pacific

China
India
Japan
Australia
Singapore
Malaysia
South Korea
Rest of Asia Pacific

Middle East & Africa (MEA)

UAE
Saudi Arabia
South Africa
Rest of Middle East & Africa

South America

Brazil
Rest of South America
Interested in this report?
Get a FREE Brochure now!