Maltitol Market
Maltitol Market (Form: Powder, Liquid, and Crystals; Nature: Organic and Conventional; Functionality: Sweetness, Appearance, Viscosity, Crystallization, Binding, Non-enzymatic Browning, and Preservation & Others; End Use: Food [Bakery Goods, Sweet Spreads, Confectionery, Dairy Products, and Canned Food], Beverages [Carbonated Drinks, Fruit Drinks & Juices, and Powdered Drinks & Mixes], Pharmaceuticals, and Personal Care) - Global Industry Analysis, Size, Share, Growth, Trends, and Forecast, 2019 - 2029
Category :

Food & Beverages

Format :
Maltitol Market: Overview
The global maltitol market's estimated value stood at ~ US$ 189.9 Mn in 2019, finds Transparency Market Research (TMR) in a recent study. According to the report, the market anticipated to reach ~US$ 346 Mn by 2029, at a CAGR of ~6%.
Increasing adoption of sugar substitute around the world is one of the defining trends in the maltitol market. In addition to this, emergence of clean label products and constant product innovation is witnessing favorable condition for growth.
The gradually increasing population and increasing incidence of obesity and diabetes are fueling the demand for low carb-sweeteners. Consumers prefer products, which contain low or zero sugar. In addition, consumers who focus on weight management opt for products containing maltitol.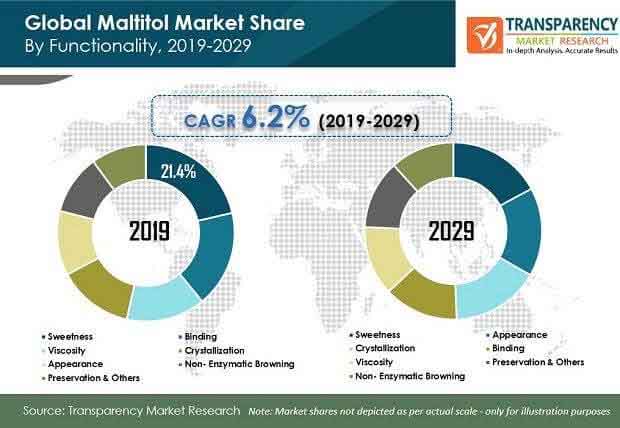 Request a sample to get extensive insights into the Maltitol Market
Maltitol: Market Frontrunners
Powder and liquid, by form type, are leading segments in 2019 accounting for the approximately 75% of the market. Furthermore, the crystals segment accounts for ~24.7% of the market in terms of value.
The food segment is leading the global market in terms of end use, followed by beverages and pharmaceuticals and personal care. These segments accounted for 36.9%, 23.2%, 24.9% and 15.0% of the market, respectively, in 2019.
North America leads the global market followed by Europe, Asia Pacific excluding Japan, and Oceania. Based on nature, the conventional segment accounts for approximately 83.9% of the market, while the organic segment accounts for the remaining share in the market.
To understand how our report can bring difference to your business strategy, Ask for a brochure
Maltitol Market: Trends
"Reduction of sugar content in F&B products" is one the key trends propelling the market for malttiol. Various food and beverage manufacturers are focusing on reducing the sugar content in product formulations, as consumers avoid consumption of high sugar products. This is attributable to the fact that excess consumption of sugar increases risk of obesity, diabetes, and heart disease. Therefore, several manufacturers are using sugar substitutes or are reducing sugar in their offerings. In 2017, Coca-Cola cut the sugar in Fanta by 30% in the U.K., following a similar reduction in Sprite. Coca-Cola and Pepsi both continue to market sugar-reduced colas containing low-calorie sweetener in various countries.
Products coming with clean label are in high demand. This is an ongoing trend in the food & beverages industry. It is a consumer-driven trend, since they are increasingly worried about the health effects of ingredients present in food and beverages. The increasing use of the Internet, blogs, and social media to access available information about various chemicals and ingredients is driving this trend in the global food & beverages industry. Modern consumers, especially those from developed countries, have become more aware of what they eat every day, and they prefer to consume clean label products.
Stuck in a neck-to-neck competition with other brands? Request a custom report on Maltitol Market
Maltitol Market: Strategies
Key players operating in the global maltitol market are introducing new business-to-business websites, where customers are offered discount on the products listed
Product Innovations and Launches: Key companies are offering products, which have low glycemic index and are non-cariogenic and tooth-friendly

For instance, Roquette, which is one of the key players in the global maltitol market has launched new product "SWEETPEARL® maltitol", which prevents from sarcopenia and is beneficial for diabetes patient.
Target Region for Maltitol Market
In terms of value, countries in North America represented the largest share of the market in 2019 and are expected to remain strong, Europe retaining the second position in the market
Maltitol Market: Players
Key players operating in the market, as profiled in the study, include

Tate & Lyle PLC
Archer Daniels Midland Company
Cargill
Incorporated
E.I. du Pont de Nemours and Company
Futaste Co., Ltd.
Ingredion Incorporated
Roquette Freres
Zhejiang Huakang Pharmaceutical Co., Ltd.
TCI America
Tereos Syral S.A.S
Foodchem International
Shaoxing Marina Biotechnology
Dancheng Caixin Sugar
ShanDong Maltitol,Shandong Lvjian Bio (CN)
Hylen
Mitsubishi Corporation Life Sciences Limited
Sigma Aldrich Pte. Ltd
Maltitol Market - Scope of the Report
Transparency Market Research (TMR) has recently published a market study on the maltitol market. It provides a detailed assessment of key market dynamics, including the drivers, trends, opportunities & restraints, and detailed information about the maltitol market structure. The market study presents exclusive information about how the maltitol market will grow during the forecast period of 2019-2029.
Key indicators of market growth, which include year-on-year (Y-o-Y) growth of the market, value chain, supply chain analysis, and compounded annual growth rate (CAGR) are elaborated in the study in a comprehensive manner. This information is intended to help readers understand the quantitative growth prospects of the maltitol market during the forecast period.
The study is intended to offer a holistic market overview to stakeholders in the maltitol, including manufacturers, suppliers, distributors, and investors, and to help them develop winning growth strategies. Stakeholders in the maltitol market, which include investors, industry experts, researchers, and journalists, and business researchers, can leverage the information and data presented in TMR's study.
The study also includes statistics and facts related to the macro as well as microeconomic factors that are impacting expansion of the market. It also offers actionable insights into the future trends in the maltitol market. Furthermore, small businesses and new entrants in the maltitol market can make use of the information presented in this study, based on which, they can make appropriate business decisions in order to gain momentum in the market.
Key Questions Answered in TMR's Maltitol Market Report
Which region will continue to remain the most profitable regional market for maltitol market players?
Which factors will induce a change in the demand for maltitol during the assessment period?
How will the changing trends impact the maltitol market?
How can market players capitalize on the low-hanging opportunities in the maltitol market in developed regions?
Which companies are leading the maltitol market?
What are the winning strategies of stakeholders in the maltitol market to catapult their position in the forefront?
Maltitol Market: Research Methodology
In TMR's study, a unique research methodology is used to conduct extensive research on the growth of the Maltitol market and identify future growth parameters. This research methodology is a combination of primary and secondary research, to help analysts ensure the accuracy and reliability of the conclusions.
Secondary resources referred to by analysts for compiling the maltitol market study include statistics from governmental organizations, trade journals, white papers, and internal and external proprietary databases. Analysts have interviewed senior managers, product portfolio managers, CEOs, VPs, marketing/product managers, and market intelligence managers, who contributed to the development of this report as a primary resource.
Information acquired from primary resources and secondary resources is compiled in a comprehensive manner. This also acts as a validation from companies in the maltitol market, which makes TMR's projections more accurate and reliable.
Key Segments of Maltitol Market
TMR's study on the maltitol market offers information divided into important segments -form, nature, functionality, end use, and region. This report offers comprehensive data and information about the important market dynamics and growth parameters associated with these categories.
Form

Nature

Functionality

Food
Bakery Goods
Sweet Spreads
Confectionery
Dairy Products
Canned Food
Beverages
Carbonated Drinks
Fruit Drinks & Juices
Powdered Drinks & Mixes
Pharmaceuticals
Personal Care

Region

North America
Latin America
Europe
Asia Pacific Excl. Japan
Oceania
Japan
Middle East & Africa
Custom Market Research Services
TMR offers custom market research services that help clients to get information on their business scenario required where syndicated solutions are not enough.
REQUEST CUSTOMIZATION