Lysine and Other Amino Acids Market
Lysine and Other Amino Acids Market (Methionine, Threonine & Tryptophan) by Application (Animal Feed, Food & Dietary Supplements, Pharmaceuticals), by Livestock (Swine, Poultry, Others) - Global Industry Analysis, Size, Share, Growth, Trends and Forecast, 2012 - 2018
Category :

Food & Beverages

Format :
Lysine and Other Amino Acids Market: Overview
The global lysine demand was 1,445.0 kilo tons in 2009 which increased to 1,610.0 kilo tons in 2010. The growing demand of meat, especially in developing countries is expected to drive the market for lysine in the near future. Lysine as a feed additive is essential for the growth of animals especially swine and poultry. Industrial lysine also has advantages over its natural substitute (soybean) which is driving the global market for lysine. Lysine has same nutritious value as soybean have and moreover, lysine is considered to be a more economical option for animal feed. Lysine also helps in reducing the nitrogen content in animal excreta which leads to less pollution. Ban on blood meal and bone meal in some regions around the world is also boosting the demand for lysine.
Lysine is one of the 20 amino acids essential for humans and animals. Lysine has a positively charged ε-amino group and act as a building block for proteins. Also known as L-Lysine, it is important for human health but it cannot be produced naturally by any animal or humans. As a body is unable to manufacture it, lysine has to be taken through diet or food supplements. Lysine is required for bone development as it helps to absorb calcium and it is also important in functioning connective tissues, skin and tendons. Lysine also plays a major role in body's production of enzymes, hormones and antibodies.
Biosynthesis of lysine takes place only in plants and bacteria through aspartic acid. Natural sources for lysine are soybean, lentil, chick pea, milk and some more. For human bodies and animals it has to be ingested in the body through food, supplements or drugs. Production of lysine is done by chemical process, enzymatic method and majorly by fermentation. Industrial production of lysine is done via fermentation process using a micro organism called as corynebacterium glutamicum. Raw materials like sugar, corn, sugarcane or sugar beet molasses are majorly used in the fermentation process.
High demand for meat is key driving factor for the demand of animal feed and hence for lysine demand, which in turn is increasing the demand of feed stock for lysine production (sugar molasses, maize, corn and more). Due to tight supply of the raw materials and adverse weather conditions, raw materials are experiencing a surge in their price. Owing to high raw material cost industrial producers are looking for more economical raw material.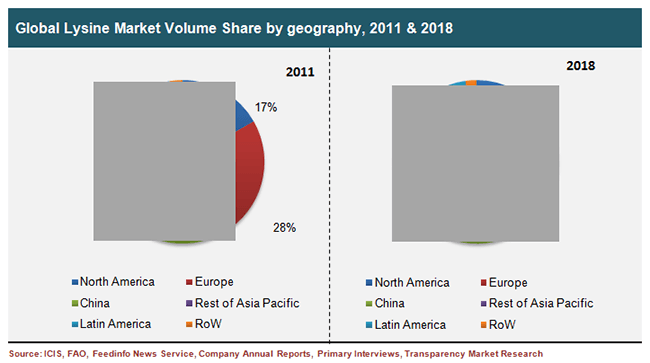 Global Lysine and Other Amino Acids Market: Scopoe of the Report
Lysine is considered to be one of the most essential amino acids needed to maintain the health of humans and animals. Consumed as a dietary supplement and feed additive, lysine is proven to be healthier than soybean, its natural substitute.
The demand for lysine and other amino acids has grown over the years given their nutritional value and economical nature of production. Amino acids such as methionine, lysine, tryptophan, and threonine are used as dietary and food supplements, animal feed, and in pharmaceuticals around the world.
The report on the global lysine and other amino acids market is a comprehensive database of unbiased, accurate, and updated information on the definition, structure, elements, classification, application, and functioning of the lysine and other amino acids market. With the help of business intelligence tools such as Porter's Five Forces, SWOT Analysis, and value chain analysis, the report offers a 360-degree overview of the lysine and other amino acids market, backed by inputs from industry experts.
Overview of the Market
By revenue, the global lysine and other amino acids market stood at US$3.5 billion in 2011 and is projected to grow to US$5.9 billion by 2018, registering a strong 9.1% CAGR from 2012 to 2018. By demand volume, the market for lysine is anticipated to grow from 1,696.9 kilo tons in 2011 to 2,518.0 kilo tons by 2018 at a modest 5.8% CAGR over the forecast period.
The growth in global meat consumption, coupled by the ban on bone meal and blood meal is the primary driving factor for the lysine and other amino acids market. The rising benefits of lysine over soybean are also responsible for the development of the lysine and other amino acids market. In addition, shifting trend toward other raw materials and rising meat demand from Asia Pacific countries holds numerous opportunities for growth. In contrast, tight supply of raw materials is likely to restrict the lysine and other amino acids market over the forecast period.
Among the various applications of lysine, animal feed constituted for more than 90% of the overall demand. Of the numerous livestock served by lysine, the poultry segment generated 57% of the revenue in 2011. China holds the largest share of the global lysine and other amino acids market, followed by Europe, and North America.
Companies Mentioned in the Report
Ajinomoto Co., Global Bio-chem Technology Group Company Limited, Evonik Industries, Vedan International (Holdings) Limited, Changchun Dacheng Group, Cheil Jedang Corporation, Archer Daniel Midland (ADM), Shandong Shaouguang Juneng Golden Corn co. Ltd., and COFCO Biochemical (Anhui) Co. Ltd. are some of the prominent participants of the global lysine and other amino acids market.
Amino Acid Market, by Product Type
Lysine
Methionine
Threonine
Tryptophan
Lysine Market, by Application:
Animal Feed
Food & Dietary Supplements
Pharmaceuticals
Lysine (Animal Feed Application) Market by, Livestock
Swine/Hog
Poultry
Other (including Aquaculture & Cattle)
Lysine Market, by Geography
China
Rest of Asia Pacific
This report gives you access to decisive data such as:
Market growth drivers
Factors limiting market growth
Current market trends
Market structure
Market projections for the coming years
Key highlights of this report
Overview of key market forces propelling and restraining market growth
Up-to-date analyses of market trends and technological improvements
Pin-point analyses of market competition dynamics to offer you a competitive edge
An analysis of strategies of major competitors
An array of graphics and SWOT analysis of major industry segments
Detailed analyses of industry trends
A well-defined technological growth map with an impact-analysis
Offers a clear understanding of the competitive landscape and key product segments
Custom Market Research Services
TMR offers custom market research services that help clients to get information on their business scenario required where syndicated solutions are not enough.
REQUEST CUSTOMIZATION