Light Engine Market
Light Engine Market (Application - Residential, Commercial, Industrial; Form - Flexible, Rigid - Linear, Round) - Global Industry Analysis, Size, Share, Growth, Trends, and Forecast 2018 - 2026
Category :

IT & Telecom

Format :
Light Engine Market: Snapshot
The global light engine market is prognosticated to expand at a significant pace within the forecast period from 2018 to 2026, at a steady CAGR of 9.61%. The global light engine market is foreseen to keep on being influenced due to various factors for example, increase in adoption of LED lighting all over the world. Moreover, various government regulations imposed regarding energy saving and adoption of LED is another contributing factor in the growth of global light engine market.
Based on application, the residential segment is foreseen to increase the revenue by the end of forecast period, due to rise in urbanization and increase in number of smart cities across the globe. Thus, increased adoption of LED lighting in residential segment is a propelling factor behind the high demands. Besides, various initiatives taken by the government in order to spread awareness about using LED and discarding conventional lamps is one more reason behind the surge in demand for light engine in commercial sector during 2018 to 2026.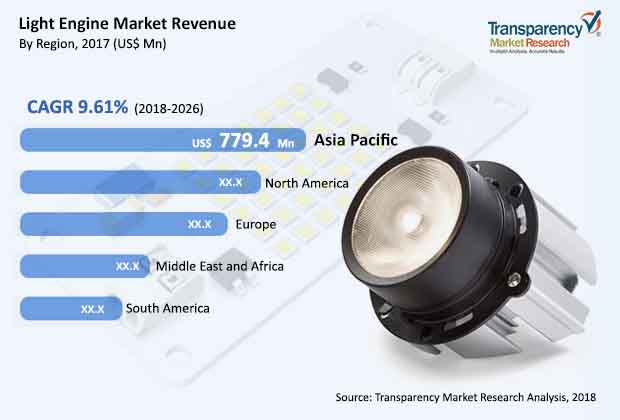 Various Government Initiatives to Fuel Overall Market Demand
Moreover, the rise in usage of flexible light engines in commercial and residential area is also leading to the expansion of the market in coming years. Additionally, the extensive usage of round or linear light engine in areas such as industrial, commercial, and residential is also fueling the overall demand in the market. Furthermore, horticulture and automotive industries are using rigid light engines. Also, LEDs are being used in street lights, which is acting beneficial for light engine market, globally.
Regionally, North America is anticipated to account for a major market share of the light engine market within the forecast period. This is as a result of the presence of various well-settled organizations in the region. In addition, the region is experiencing increased rate of adoption of light engine due to consistent advancement in technology, along with several initiatives by the governments of several countries.
Rise in Population to Contribute in Rise in Market Growth Due to Wide Adoption of LED
Apart from North America, another key region accounting for substantial share in the market is Asia Pacific. Nations such as Japan, China, and India are foreseen to hold an important place in the market growth. However, the factors supporting the growth in the region is same, such as rise in initiatives by the government, encouraging the population to use LED lightings. According to the Street Light National Program by Indian government, in 2017, around 21 lakh LED lights were installed in India. Such efforts are anticipated to boost the light engine market in the Asia Pacific region. Nevertheless, rise in population in China, coupled with adoption of LEDs,is likely to play a major role in market growth.
Some of the key players in the market are OSRAM Licht Group, Philips Lighting Holdings B.V., Fulham Co., Inc., MaxLite, Inc., Tridonic, General Electric Company, Fusion Optix, Inc., Thomas Research Products, Cree Inc., and RS Components Pty Ltd.
Light Engine Market - Spanshot
Light engine, considered as the equivalent of LED in conventional lighting, has come long way on the back of changing demand for consumers in an urbanized world. The vast popularity that LED has received among both commercial and residential applications is a key pivot for the demand in the light engine market. Over the years, the consistent focus on adopting LED light engines and modules has been largely spurred by the emerging environmental and energy regulations. Consumers have become increasingly conscious about the need for saving energy and costs in the use of electricity. This has spurred the use of light engines. These fixtures are also rising in demand due to the trend of manufacturers striving to make them more flexible. Growing trend of adoption of energy-efficient lighting for the automotive sector is also a promising proposition for players in the light engine market. Rise in use of light engine structures in street lighting is driven by the fact pace of urbanization is a key trend shaping the demand dynamics in the market. Further, in recent years, growing efforts by governments and industry players in raising the awareness about energy-efficient products. Thus, the rise in adoption of LED will help spur the revenue generation for players in the market.
It has been more than a year since the disease caused by the novel coronavirus was declared by pandemic by the WHO, given the unprecedented spread it has made across all countries of the globe. With millions of people having lost their lives due to highly pathogenic viral infection, governments have since then imposed prolonged lockdowns and cancelled national and international flights. The global health crisis has ravaged the economies of several nations in the way, resulting in massive loss of livelihoods as an aftermath of lockdowns. Governments and communities had since them come out with innovative prevention strategies to arrest the spread of the virus. Indeed, these have shown results to different extent depending on the socioeconomic systems of the individual nations. The manufacturing sector has been crucially impacted with the emergence of new normals dictating the future growth avenues, including in the light engine market.
Light Engine Market - Overview
Light Engine Market report provides analysis of the light engine Market for the period 2016–2026, wherein the period from 2018 to 2026 is the forecast period and 2017 is considered as the base year. Data for 2016 has been included as historical information. The report covers all the trends and technologies that play a major role in the expansion of the light engine market over the forecast period. It highlights the drivers, restraints, and opportunities expected to influence the market expansion during this period. The study provides a holistic perspective on the market's expansion in terms of revenue (in US$ Mn) across different geographical regions, namely North America, Europe, Asia Pacific, Middle East & Africa, and Latin America. The report highlights key trends affecting the market on a global scale. Furthermore, prominent countries/regions covered in the report include the U.S, Canada, Germany, France, the U.K., India, China, Japan, GCC countries, South Africa, and Brazil.
This report analyzes and forecasts the light engine market at the global and regional level. The market has been forecasted based on revenue (US$ Mn) and from 2018 to 2026. The study includes drivers and restraints of the global light engine market. It also covers the impact of these drivers and restraints on the light engine market during the forecast period.
The report comprises a detailed value chain analysis, which provides a comprehensive view of the global light engine market. Porter's five forces model for the light engine market has also been included to help understand the competitive landscape in the market. The study encompasses market attractiveness analysis, wherein end-users are benchmarked based on their market size, growth rate, and general attractiveness.
Global Light Engine Market: Taxonomy
This research study on the global light engine market provides a detailed cross segment and cross country analysis based on the different segments by application and form. Based on application, the global light engine market can be segmented into residential, commercial, industrial, and others (square and custom light engines). In terms of form the global light engine market can be classified into flexible and rigid. The rigid segment can be further divided into linear, round, and others.
Global Light Engine Market: Research Methodology
Secondary research sources that are typically referred to include, but are not limited to company websites, annual reports, financial reports, broker reports, investor presentations, and SEC filings, internal and external proprietary databases, and relevant patent and regulatory databases, national government documents, statistical databases, and market reports, news articles, press releases, and webcasts specific to companies operating in the market, national government documents, statistical databases, market reports, and Factiva.
Primary research involves e-mail interactions, telephonic interviews, and face-to-face interviews for each market, category, segment, and sub-segment across geographies. We conduct primary interviews on an ongoing basis with industry participants and commentators in order to validate the data and analysis. Primary interviews provide firsthand information on the market size, market trends, growth trends, competitive landscape, and outlook, etc. These help us to validate and strengthen secondary research findings. These also help to develop the analysis team's market expertise and understanding.
Global Light Engine Market: Competitive Dynamics
The report profiles well-established players including Philips Lighting Holdings B.V., OSRAM Licht Group, Fulham Co., Inc., Tridonic, MaxLite, Inc., General Electric Company, Thomas Research Products, Fusion Optix, Inc., RS Components Pty Ltd., and Cree Inc. These players are at the forefront of innovations in the light engine market. For instance, in December 2017, Cree Inc. launched XLamp XD16, an extreme density LED that provides five and a half times higher lumen density as compared to its previous LED solutions, which is suggested to have a positive impact on its light engine offerings. Furthermore, in June 2017, Osram Licht Group acquired LED Engin, a provider of LED emitters, optics, and light engines, to enhance its current light engines offerings. Additionally, in May 2017, Tridonic discussed plans to form industry standards for 'IoT-ready' light fixtures along with DesignLights Consortium, a lighting solutions company and Enlighted, an IoT solutions company. This initiative is expected to have a positive impact on the expansion of its LED based solutions, which can have a significant impact on the expansion of its light engine offerings.
Global Light Engine Market
by Application

Residential
Commercial
Industrial
Others

by Form

by Geography

North America

The U.S.
Canada
Rest of North America

Europe

France
The U.K
Germany
Rest of Europe

Asia Pacific (APAC)

India
Japan
China
Rest of Asia Pacific

Middle East and Africa (MEA)

GCC Countries
South Africa
Rest of MEA

Latin America

Brazil
Rest of Latin America
Custom Market Research Services
TMR offers custom market research services that help clients to get information on their business scenario required where syndicated solutions are not enough.
REQUEST CUSTOMIZATION