Instant Soup Market
Instant Soup Market (Nature: Organic and Conventional; Source: Animal Sourced and Plant Sourced; Form: Dry Instant Soup and Liquid Instant Soup; End Use: Foodservice Industry and Retail/Household; and Distribution Channel: Business to Business and Business to Consumer) - Latin America Industry Analysis, Size, Share, Growth, Trends, and Forecast, 2021-2031
Food & Beverages
TMRGL82032
2021-04-14
157

Pages
Coronavirus Crisis Boosts Demand for Packaged Instant Soup Products
Due to the closure of restaurants, owing to the COVID-19 pandemic, the demand for frozen pizzas and other packaged food products such as instant soup and noodles has created incremental opportunities for manufacturers. Since an increasing number of consumers has become accustomed to work from home, such trends are translating into sales opportunities for manufacturers in the Latin America instant soup market, as consumers are experimenting with new flavors through home cooking.
Thus, rise in the consumption of packaged food has driven manufacturers in the Latin America instant soup market to work at breakneck speeds to meet consumer demands. However, instant soups are under scrutiny for using unknown preservatives and additives that might affect immunity levels during the pandemic. Homemade soups are being associated with immunity boosting properties, weight loss, and improvement in heart health. In order to meet niche consumer demands, manufacturers are offering instant soups with organic ingredients that appeal to health-conscious consumers.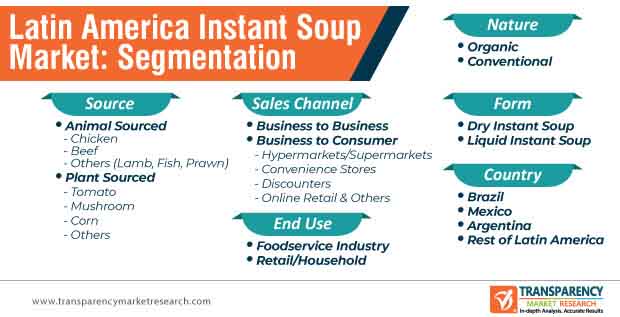 Request a sample to get extensive insights into the Instant Soup Market
Certified Organic Soup Mixes Overcome Issues of Preservatives, Artificial Flavors
The Latin America instant soup market is projected to reach ~US$ 550 Mn by 2031. However, instant soup is notorious for remaining in the gut for a longer period of time and can cause issues of bloating, gas, and even abdomen pain. Thus, manufacturers are increasing their production for certified organic soup mixes with minimal preservatives and no artificial flavors in healthy broccoli-spinach, almond-coconut, and tomato-beetroot variants.
To understand how our report can bring difference to your business strategy, Ask for a brochure
Best-practice Lines for Soups Help Manufacturers Assure Food Safety, Quality
Soup production is a rapidly developing and innovative category, which is witnessing a rise of value-added products filled with homemade taste offering ready-to-eat convenience. Producers in the Latin America instant soup market are gaining proficiency in processing technologies to offer high-quality products that bring culinary tradition to the dinner table for consumers. They are increasing R&D for heat treatment of particulate food in instant soups to assure food safety, reduce operational & maintenance costs, and minimize environmental footprint.
The growing sophistication in products has compelled companies in the Latin America instant soup market to adopt specialized food production and technology expertise. For instance, Tetra Pak - a Swedish-Swiss multinational food packaging and processing company, which has extended its business arms in Brazil, is acquiring popularity for best-practice lines in soups that help clients guarantee performance and optimize production.
New Drying Procedures Improve Final Quality of Rice-based Instant Soups
The drying process has a great impact on the quality and shelf life of dehydrated soups. Manufacturers in the Latin America instant soup market are implementing new drying procedures that improve final quality of the product. They are increasing efforts to predict the moisture content during storage under a variety of conditions for reducing the cost and the cycle time of product development.
Companies in the Latin America instant soup market are gaining a strong research base to study the moisture sorption characteristics of rice-based instant soups to advance in drying processes, and march toward more economic and energy reduced treatments.
Rise in Production of Plant-based RTE Soups to Maintain Full Texture of Legumes
Producers in the Latin America instant soup market are boosting their output capacities of ready-to-eat (RTE) grains and pulses instant soups to fulfill the demand for quick and nutritious meal on the go. Diet meal startups are unlocking growth opportunities by maintaining full flavor and texture of grains & legumes. They are increasing the availability of plant-based RTE soups to save time and labor for consumers.
Lentils and quinoa are being used by manufacturers in the Latin America instant soup market to develop plant-based RTE soups.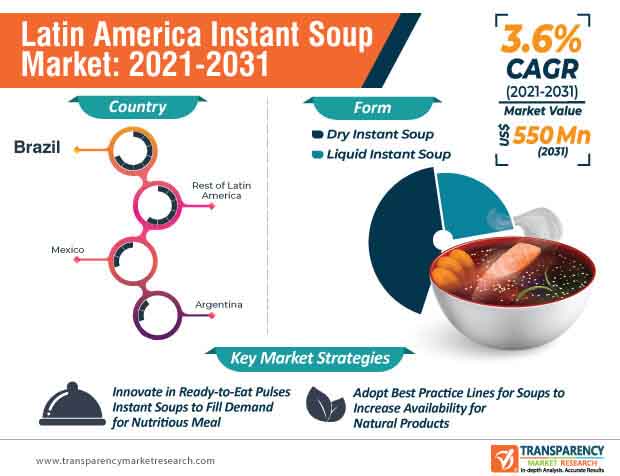 Stuck in a neck-to-neck competition with other brands? Request a custom report on Instant Soup Market
Analysts' Viewpoint

Due to the burgeoning demand for packaged food, consumers are opting for organic ingredients soup mixes to maintain optimum health during the COVID-19 pandemic. Since RTE soups are perceived as cheap, artificial, and unhealthy, manufacturers in the Latin America instant soup market are innovating in plant-based RTE soups involving legumes and grains to meet the demands of health-conscious consumers. Advanced freeze-drying and pre-drying processes help to keep pulses and grains in instant soups fresh and prevent legumes from looking overcooked or smashed. Best-practice lines for soups, such as continuous particulate lines, dehydrated lines, and continuous smooth lines, help to increase the availability of natural products with as good as low to no preservatives.
Latin America Instant Soup Market: Overview
In the recent market study on the Latin America instant soup market, Transparency Market Research finds that the market value for 2021 is estimated to be ~US$ 400 Mn. The market is expected to reach ~US$ 550 Mn by 2031, at a CAGR of 3.6% during the forecast period.
Instant soup is gaining traction attributed to rapid growth of urban population in Latin America. Consumers with hectic working schedule and long working hours are constantly seeking healthy and instantly prepared products.
Latin America Instant Soup Market: Key Takeaways
Based on form, the dry instant soup segment is projected to share higher market volume as well as value by the end of 2031
In terms of application, consumption of instant soups in retail/household is higher compared to the foodservice industry. The retail/household segment holds around 81.3% share of the Latin American instant soup market.
In terms of nature, the conventional segment is projected to share a high market value of ~US$ 370 Mn in 2021. With rising awareness, the demand for organic instant soup market is forecast to increase at a CAGR of 4.8%.
In 2019, supermarkets and hypermarkets had the highest sales share of around 46.1%. The trend is projected to continue during the forecast period. Walmart, Tesco, 7Eleven, Apar, and Aldi are among the biggest supermarket and hypermarket chains in the world. In order to draw buyers, these industry titans are expanding their product offerings.
Latin America Instant Soup Market: Key Trends
Rising number of consumers focusing on healthy diet to boost sales of instant soup
The trend of wellbeing has a positive effect on instant soup sales, as nutritious ingredients such as green veggies as well as the inclusion of healthy lean proteins meat, are increasingly used in soup products, along with various flavors' suiting consumers' taste buds. Increased product variety, consumption of health and wellness items, and aggressive marketing by market players are expected to drive the instant soup market in the upcoming years. Furthermore, the demand for healthy food items is projected to fuel demand for organic instant soup in the region.
Furthermore, due to the growing demand for vegan and vegetarian snack products in convenient formats, consumers are increasingly favoring instant soup as a snack option. As a result, the instant soup market is being driven by the convenience and thus, companies are selling soups with highly nutritious ingredients. In the near future, however, unhealthy alternatives, poor quality, and excess use of additives to increase the shelf life of soup as well as a preference for a healthier lifestyle, are likely to restrict market development.
Increasing per capita spending impacting sales of instant soup
In most parts of the world, an increase in per capita income is another factor driving the net sales of ready meals. However, rising safety concerns about ready meals can have an effect on market development. As a result, manufacturers are concentrating on introducing more nutritious and safe goods to reclaim the market. Due to the shift in the customer demand for vegan food items, vegetarian ready-to-eat soup now accounts for nearly a third of the overall instant soup industry. During the forecast period, the vegetarian soup segment is projected to generate maximum revenue at a higher growth rate.
Dried soup products dominated the market over other forms of convenience soups due to their high nutritional, vitamin, mineral, and protein content. Packaged soups are often preferred over soups served in restaurants and grocery stores due to the ease of access and the long shelf life of containers.
During the coronavirus pandemic, ready-to-eat food became one of the few sectors that saw an increase in demand. Ready-to-cook food items have been flying off the shelves in recent months, with various countries on lockdown and most people working from home.
Latin America Instant Soup Market: Key Players
Some of the key players engaged in manufacturing of instant soup are

Campbell Soup Company
Nestlé
Unilever
General Mills Inc.
MONTE CUDINE
B&G Foods,Inc.
Hain Daniels Group
Baxters Food Group Ltd
Productos Alimenticios La Moderna SA de CV among others.

In order to gain a greater market share, companies are focused on new product designs based on current customer expectations for taste and health benefits.
Conagra Brands, Inc. offers healthy soup with vitamins under the brand 'Healthy Choice', with flavors such as chicken and dumplings and chicken tortilla
In February 2020, Unilever brand Knorr launched three different flavored vegan soups in the U.K., where products were part of "cheat on meat" campaign carried out by the company
Latin America Instant Soup Market – Scope of the Report
Transparency Market Research (TMR) has recently published a market study on the instant soup market. It provides a detailed assessment of key market dynamics, including drivers, trends, opportunities & restraints, and detailed information about the instant soup market structure. The market study presents exclusive information about how the instant soup market will grow during the forecast period of 2021-2031.
Key indicators of market growth, which include year-on-year (Y-o-Y) growth of the market, value chain, supply chain analysis, and compounded annual growth rate (CAGR) are elaborated in the study in a comprehensive manner. This information is intended to help readers understand the quantitative growth prospects of the instant soup market during the forecast period.
The study is intended to offer a holistic market overview to stakeholders in the instant soup market, including manufacturers, suppliers, distributors, cultivators, brands and investors, and to help them develop winning growth strategies. Stakeholders in the instant soup market, which include investors, industry experts, researchers, and journalists, and business researchers, can leverage the information and data presented in TMR's study.
The study also includes statistics and facts related to the macro as well as microeconomic factors that are impacting expansion of the market. It also offers actionable insights into the future trends in the instant soup market. Furthermore, small businesses and new entrants in the instant soup market can make use of the information presented in this study, based on which, they can make appropriate business decisions in order to gain momentum in the market.
Key Questions Answered in TMR's Latin America Instant Soup Market Report
Which region will continue to remain the most profitable regional market for instant soup market players?
Which factors will induce a change in the demand for instant soup during the assessment period?
How will the changing trends impact the Latin America instant soup market?
How can market players capitalize on the low-hanging opportunities in the instant soup market in developed regions?
Which companies are leading the Latin America instant soup market?
What are the winning strategies of stakeholders in the instant soup market to catapult their position at the forefront?
Latin America Instant Soup Market – Research Methodology
In the TMR's study, a unique research methodology is used to conduct a extensive research on the growth of the instant soup market and identify future growth parameters. This research methodology is a combination of primary and secondary research, to help analysts ensure the accuracy and reliability of the conclusions.
Secondary sources referred to by analysts for compiling the instant soup market study include statistics from governmental organizations, trade journals, white papers, and internal and external proprietary databases. Analysts have interviewed senior managers, product portfolio managers, CEOs, VPs, marketing/product managers, and market intelligence managers, who contributed to the development of this report as a primary source.
Information acquired from primary sources and secondary sources is compiled in a comprehensive manner. This also acts as a validation from companies in the instant soup market, which makes TMR's projections more accurate and reliable.
Latin America Instant Soup Market – Segmentation
TMR's study on the instant soup market offers information divided into important segments - nature, form, source, end-use, distribution channel, and country. This report offers comprehensive data and information about the important market dynamics and growth parameters associated with these categories.
Nature
Source

Animal Sourced

Chicken
Beef
Others (Lamb, Fish, and Prawn

Plant Sourced

Tomato
Mushroom
Corn
Others

Form

Dry Instant Soup
Liquid Instant Soup

End Use

Foodservice Industry
Retail/Household

Distribution Channel

Business to Business
Business to Consumer

Hypermarkets/Supermarkets
Specialty Stores
Convenience Stores
Online Retail

Country

Brazil
Mexico
Argentina
Rest of Latin America
Custom Market Research Services
TMR offers custom market research services that help clients to get information on their business scenario required where syndicated solutions are not enough.
REQUEST CUSTOMIZATION

Latin America Instant Soup Market