Laser Designator Market
Laser Designator Market (Type: Ground-based [Man-portable and Vehicle-mounted] and Airborne [Rockets & Missiles, Aircraft, and Unmanned Aerial Vehicles], Application: Submarines, Surface Vessels, Dismounted Soldier, Tracked & Wheeled Vehicles, Handheld Binoculars, Fixed-wing Aircraft & Rotary-wing Aircraft, Tethered Aerostats & UAVs, Satellites, and Others; and End User: Military & Defense, Homeland Security, and Others) - Global Industry Analysis, Size, Share, Growth, Trends, and Forecast, 2020 - 2030
Category :

Electronics & Semiconductors

Format :
Shortcomings of Conventional Radar Technology to Augment Demand for Advanced Laser Technology
Laser technologies have evolved at a rapid pace over the past few decades, and are increasingly being used across an array of domains, including spectroscopy, medical sciences, space sciences, holography, power & microelectronics, industrial engineering, and directed military weapons. The adoption of lasers across defense and military sector has witnessed consistent growth over the past decade, owing to its superior functional properties than that of conventional radars. The surge in the deployment of lasers across the defense sector worldwide is a major factor that is projected to drive the growth of the laser designator market during the forecast period.
In current avionics systems, some of the most extensively used laser devices to direct the laser-guided weapons (LGW) with high precision include laser target indicators and beam riders. Scientific and technical progress over the past decade has played a key role in increasing the deployment of lasers in the defense sector. The growing demand for laser designators for airborne military applications is another major factor that is likely to boost the prospects of the laser designator market during the assessment period. Although the steep initial costs could hinder the adoption of laser designators, the growing awareness pertaining to long-term cost-effectiveness is likely to open up new opportunities for market players. At the back of these factors, the global laser designator market is expected to attain a market value of ~US$ 4 Bn by the end of 2027.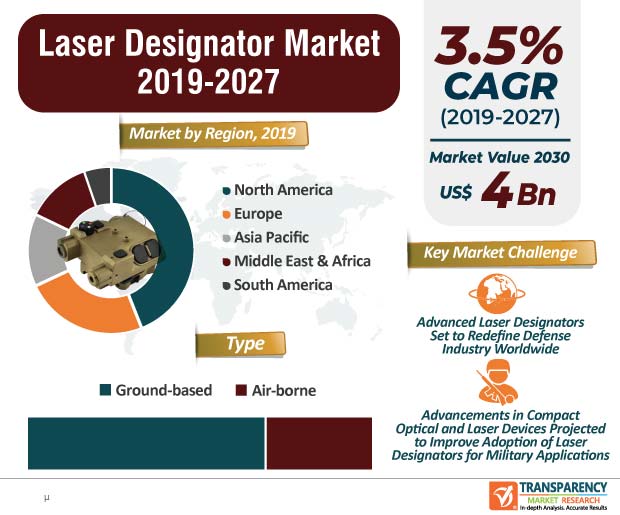 Request a sample to get extensive insights into the Laser Designator Market
Laser Weapons Continue to Gain Popularity, Adoption of Conventional Weapons Declining
Technological advancements have enabled the development of cutting-edge laser technologies and laser systems due to which, the demand for the same from the defense sector across the world is on the rise. Laser weapons have emerged as an ideal alternative for conventional weapons due to a host of factors, including light-like transmission speeds, decline in collateral damage, and exceptional assistance in performing low profile & covert operations. Owing to advancements in technology, an array of lasers with various operating efficacies, spectral bandwidth, wavelength, and power ranges are available.
To understand how our report can bring difference to your business strategy, Ask for a brochure
The notable developments in compact optical and laser devices have played an imperative role in enhancing the ability of laser designators for military applications. Laser technologies are likely to revolutionize modern warfare, and are increasingly being used for critical roles and applications, including sensing devices, data relays, target laser designators, weather regulators, and directed energy weapons. At present, within the laser designator market, a great amount of research is being carried out to assess the potential of high-energy laser weapons. One of the key aspects of modern warfare systems is the ability to track, identify, and take down the designated target wherein cutting-edge laser designators and range finders are deployed. Laser designators are extensively used for 3D vision and position control. Laser technology has, time and again, played an essential role in modernizing military warfare, and with rapid advancements in the laser technology, the adoption rates are expected to remain higher during the forecast period.
From Land to Water – Laser Technologies to Revolutionize Defense Sector
As laser technologies continue to evolve at a rapid pace, the adoption of laser designators has witnessed considerable growth over the past few years. At present, the military or the defense sector of several countries are investing significant resources to expand their military prowess and upgrade their existing defense systems. For instance, recent news revealed that the U.S. Navy is focusing on the development of lasers for submarines that are likely to disable guidance systems used in drones. Laser technologies are increasingly being deployed to achieve that objective due to which, market players in the current laser designator market are expected to capitalize on such opportunities to gain advantage. Several nations are increasingly spending resources to develop airborne lasers to improve the detection of hostile submarines and other potential looming threats.
As COVID-19 Intensifies, Market Participants Anticipate High Impact on Revenues
The novel COVID-19 pandemic has primarily crippled operations across a host of industries. Several countries are compelled to announce either complete or partial lockdowns, which in turn are expected to majorly affect the operations of participants operating in the laser designator market. Although a majority of the market participants anticipate a high impact on their operations, the effect is expected to be lower than that of the aerospace industry. Companies operating in the current market for laser designators are likely to take fiscal measures to minimize the COVID-19 impact by exploring the possibilities of delayed draw-term loan agreements to retain capital. In addition, defense spending is likely to remain significantly lower, particularly in 2020 and 2021 due to which, the demand for laser designators could decline.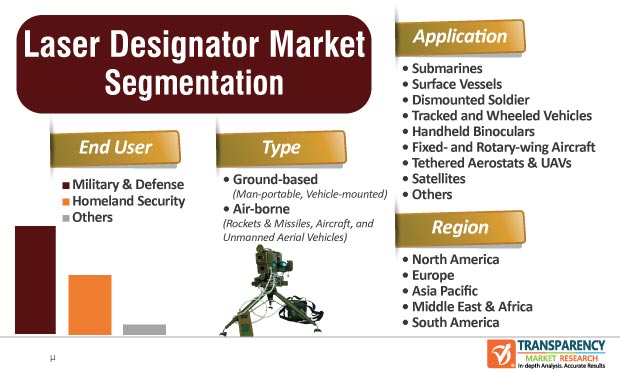 Stuck in a neck-to-neck competition with other brands? Request a custom report on Laser Designator Market
Analysts' Viewpoint
The global laser designator market is expected to grow at a moderate CAGR of ~4% during the forecast period. The market growth can be primarily attributed to a host of factors, including advancements in laser technologies, growing investments in research & development activities, focus on upgrading defense capabilities by multiple nations, and shortcomings of conventional weapon systems. As the COVID-19 pandemic continues to affect operations, laser designator market players should focus on diversifying their business operations and formulate effective growth strategies to retain their market position. While the demand from the defense sector is expected to remain sluggish, market players are anticipated to determine potential applications in other industries.
Laser Designator Market: Overview
According to Transparency Market Research's latest research report on the global laser designator market for the historical period of 2018–2019 and the forecast period of 2020–2030, technological advancements in laser designators for achieving better performance of military & defense and security forces, increasing military and defense expenditure, and growing production and usage of lightweight laser designators are factors expected to boost the global market during the forecast period
In terms of revenue, the global laser designator market is estimated to reach value of ~US$ 4 Bn by 2030, expanding at a CAGR of 4.5% during the forecast period
Technological Advancements in Laser Designators for Achieving Better Performance of Military & Defense and Security Forces: A Key Driver
The laser technology has witnessed significant advancements over the past few years. This technology is used in a wide range of applications, including medical sciences, military, industrial manufacturing, electronics, holography, spectroscopy, and astronomy.
The new and advanced laser designators are light in weight and they radiate a very narrow band of infrared light. They offer precise designation of a spot on the target.
Laser illumination in laser designators designates targets for laser spot trackers (LSTs) and laser guided weapons (LGWs). According to a paper published by the Federation of American Scientists Organization, LGWs can effectively engage a wider range of targets to include mobile targets.
A report published by IEEE Xplore mentions that laser devices and designators can bring technological revolution in warfare, when used as range finders, target designation sensors, active illumination data relay devices, directed energy weapons, and weather modifiers
With technological advancements, laser designator devices can be used for 3-dimensional (3D) vision control, for positioning or level control, and with three-color displays. One such advanced laser designator system is the JETS (joint effects targeting system) manufactured by Leonardo DRS as per a five-year contract formed with the U.S. Army.
Government Regulations about Safety and Frequency: Latest Market Trend
Examining the dynamics of the aerospace & defense (A&D) sector, companies worldwide are focusing on building relations with defense agencies across the globe. The research and development in the aerospace & defense sector in Europe is increasing significantly.
The defense spending in Russia declined in 2017 over that in 2016, which stood at US$ 66.3 Bn. However, the defense spending in Central and Western Europe has increased.
Bad Weather Conditions and Barriers for Sensing: Major Challenge for Global Market
Laser designators, including radar, LiDAR, ultrasonic, and other anti-crash and block hole detection systems, offer various advantages. On the other hand, performance of these sensors can get affected by certain factors that affect their sensing. Due to snow, ice, or salt/dirt that accumulates on cars, several of the sensors that are key to the operation of advanced safety systems can get blocked and shut down. This is a major restraint faced during the use of laser designators.
A few other factors obstructing the use of sensors and cameras can be sensor location and its cleaning and blind-spot monitoring systems installed outside of cars
Rising focus of countries across the world on R&D in the aerospace & defense sector is expected to drive the global market for laser designators during the forecast period
Countries in Asia, such as China, Japan and India, are focusing more on the indigenous development through increased expenditure on military and defense
Production of new and advanced defense aircraft and military equipment is expected to fuel the adoption of laser designators during the forecast period
Laser Designator Market: Competition Landscape
Detailed profiles of providers of laser designators have been provided in the report to evaluate their financials, key product offerings, recent developments, and strategies
Key players operating in the global laser designator market are

Elbit Systems
FLIR Systems
General Atomics
Gooch & Housego
L3 Technologies
Leonardo
Northrop Grumman
RPMC Lasers
Thales
UTC Aerospace Systems
Laser Designator Market: Key Developments
Key providers of laser designators, such as Robert Bosch GmbH, Infineon Technologies AG, and Magna International Inc., are focusing on the construction of cost-effective laser designators so as to attract more number of customers. Some other key developments in the global laser designator market are:

In March 2020, General Atomics acquired Neva Ridge Technologies focusing on the latter's vast expertise to deliver innovations in the SAR technology. This acquisition would allow the company to advance its products, expand infrastructure, and provide enhanced solutions to its government and commercial customers.
In November 2018, The UTC Aerospace Systems completed the acquisition of Rockwell Collins. The company received final regulatory approval to buy Rockwell Collins in one of the largest acquisitions in the history of the aerospace manufacturing industry.

In the report on the global laser designator market, we have discussed individual strategies, followed by company profiles of providers of laser designator systems. The 'Competition Landscape' section has been included in the report to provide readers with a dashboard view and company market share analysis of key players operating in the global laser designator market.
Laser Designator Market – Scope of the Report
A new study on the global laser designator market is published by Transparency Market Research (TMR). It presents detailed information of key market dynamics, including drivers, trends, and challenges for the global laser designator market as well as its structure. TMR's study offers valuable information on the global laser designator market in order to illustrate how the market is expected to expand during the forecast period i.e. 2020–2030.
Key indicators of market growth, which include value chain analysis and compounded annual growth rate (CAGR), are elucidated in TMR's study in a comprehensive manner. This data can help readers interpret the quantitative growth aspects of the global laser designator market.
An extensive analysis of business strategies adopted by leading market players is also featured in TMR's study on the global laser designator market. This can help readers understand key factors responsible for growth of the global laser designator market. In this study, readers can also find specific data on avenues for qualitative and quantitative growth of the global laser designator market. This data would guide market players in making apt decisions in the near future.
Key Questions Answered in TMR's Study on Laser Designator Market
What would be the Y-o-Y growth trend of the global laser designator market between 2019 and 2027?
What is the influence of the changing trend in technology on the global laser designator market?
Would North America continue to be the most dominant regional market for providers of laser designator in the next few years?
Which factors would hinder the global laser designator market during the forecast period?
Which are leading companies operating in the global laser designator market?
Research Methodology
A unique research methodology has been utilized by TMR to conduct comprehensive research on the global laser designator market and arrive at conclusions on future growth prospects for the market. This research methodology is a combination of primary and secondary research, which helps analysts warrant the accuracy and reliability of the conclusions drawn.
Secondary research sources referred to by analysts during production of the report on the global laser designator market include statistics from company annual reports, SEC filings, company websites, World Bank database, investor presentations, regulatory databases, government publications, and market white papers. Analysts have also interviewed senior managers, product portfolio managers, CEOs, VPs, and market intelligence managers, who have contributed to production of TMR's study on the global laser designator market as a primary research source.
These primary and secondary sources provided exclusive information during interviews, which served as a validation from leading players operating in the global laser designator market. Access to an extensive internal repository as well as external proprietary databases allowed this report to address specific details and questions about the global laser designator market with accuracy. The study also uses a top-down approach to assess the numbers for each segment and a bottom-up approach to counter-validate them. This has helped in making TMR's estimates on future prospects of the global laser designator market more reliable and accurate.
Laser Designator Market – Segmentation
TMR's study on the global laser designator market divides the market based on type, application, end user, and region. Changing market trends and other crucial market dynamics associated with segments of the global laser designator market have been discussed in detail in TMR's study.
Type

Ground-based (Man-portable, Vehicle-mounted)

Airborne (Rockets & Missiles, Aircraft, and Unmanned Aerial Vehicles)

Application

Submarines

Surface Vessels

Dismounted Soldier

Tracked & Wheeled Vehicles

Handheld Binoculars

Fixed-wing Aircraft & Rotary-wing Aircraft

Tethered Aerostats & UAVs

Satellites

Others

End User

Military & Defense

Homeland Security

Others

Region

North America

Europe

Asia Pacific

Middle East & Africa

South America
Custom Market Research Services
TMR offers custom market research services that help clients to get information on their business scenario required where syndicated solutions are not enough.
REQUEST CUSTOMIZATION