Labels Market
Labels Market (Product: Pressure Sensitive Labels, Shrink Labels, Stretch Labels, Wet Glue Labels, and Others; Material: Plastic [Polyethylene {PE},Polypropylene {PP}, Polyethylene Terephthalate {PET}, and Others], Paper, and Foil; Printing Technique: Flexographic Printing, Digital Printing, Gravure Printing, Letterpress Printing, and Offset Printing; Ink Type: Solvent-based, Water-based, UV-based, and Others; and End Use: Food, Beverages, Pharma, Cosmetics & Personal Care, Homecare & Toiletries, Chemicals, Automobiles, and Others) - Global Industry Analysis, Size, Share, Growth, Trends, and Forecast, 2019 - 2027
Category :

Packaging

Format :
Global Labels Market – An Overview
The labels market is at the cusp of some very significant changes and these are taking it on a high growth trajectory over the period of 2019 to 2027. Technology plays a key role in propelling growth in the market and determine market share for players operating the playfield. Some of the factors that are massive contributors to growth is going demand for pressure sensitive labels owing to their cost and versatility and increasing efficacy – an outcome of aggressive and proactive measures from players.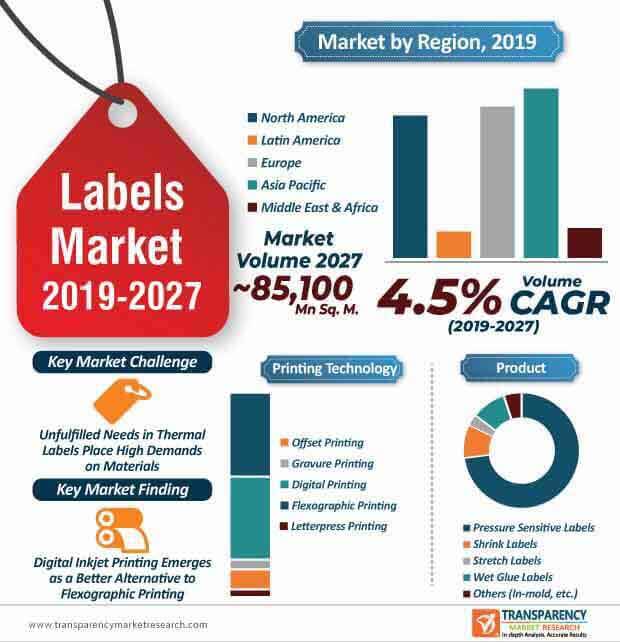 Some of the top factors, trends and developments, as identified by Transparency Market Research, are outlined below.
A technology that has been game changer in the market due to its ability to track and identify counterfeit goods is that of RFID – Radio Frequency Identification. Part of the umbrella of intelligent solutions, it is added to labels for tracking and authentication.
In logistics and retail, the linerless labels are paving way for noticeable growth as companies that are directing efforts towards revenue stream diversification are involved in these labels in a massive way – majorly owing to material savings. This is set to contribute positively to the growth of the labels market over the forecast period.
RFID a Game Changer for PSL to Track Counterfeit Goods
The versatility and cost-effectiveness of pressure sensitive labels (PSL) are contributing toward market growth. Light application of pressure without the need for heat, water or solvent are attributing to PSL's easy-to-use features in the food industry. As such, the revenue of PS labels is anticipated for exponential growth in the labels market, where the global market is estimated to be valued at ~US$ 51 Bn by the end of 2027. Thus, to boost their credibility credentials in the market landscape, manufacturers are increasing their efficacy in PSL made from recycled materials.
Radio Frequency Identification (RFID) is emerging as a game changer in the labels market. RFID inlays are being embedded by PS labels that deploy intelligent labeling solutions to stakeholders in the food industry. As such, the ever-evolving food industry is generating maximum incremental opportunities for label manufacturers. On the other hand, the RFID technology is being used for tracking, authentication, and anti-counterfeit of goods.
Request a sample to get extensive insights into the Labels Market

Linerless Labels Boost Productivity Levels in Retail and Logistics Sector
Companies in the labels market are broadening their scope for revenue opportunities by increasing their production capacities in linerless labels. For instance, Mitsubishi Hitec Paper Europe— an innovator of high-quality coated specialty papers, is acquiring global recognition by manufacturing environmentally responsible and versatile linerless labels.
To understand how our report can bring difference to your business strategy, Ask for a brochure
Linerless labels are gaining prominence in both retail and logictics applications. These novel labels can be used with mobile printers as well as with robust industrial printers. Such innovations are bolstering volume growth in the labels market, where the global market is estimated to reach an output of ~85,100 million square meters.
Advantages of linerless labels are benefitting stakeholders in the retail and logistics sector, owing to its attributes of material savings. Abundance of labels per roll are helping to reduce transportation and storage costs of these labels. Thus, stakeholders in the retail and logistics sector can meet their productivity targets since more labels per roll lead to less frequent exchanging of rolls.
Digital Inkjet Printing Helps Label Manufacturers Catch Fleeting Train of Innovations
Apart from leading players in the labels market, local and regional players that dictate ~65%-78% share of the market are gravitating toward latest innovations in inkjet printing. However, manufacturers dealing in traditional printing methods involving shrink sleeve labels such as flexographic printing and gravure printing require the need to create etched templates for each new run. Thus, manufacturers dealing in conventional printing methods are lagging behind in the global market competition. Hence, increased awareness about digital inkjet printing is helping label manufacturers to join the bandwagon of latest printing innovations.
The labels market is undergoing a change with the introduction of digital inkjet printing. As such, digital printing dictates the highest revenue among print technologies and is projected for aggressive growth during the forecast period. Digital inkjet printing is eliminating the need for plates or cylinders, thus emerging as a cost-effective choice for small batch printing.
Premium Label Papers Create Best First Impression at Point of Sale
Companies in the labels market are focusing on cast coated label papers that offer top performance. These one-of-its-kind papers are gaining prominence in wet glue labels. As such, wet glue labels account for the third-highest revenue among all product types in the market landscape. High gloss, first-class printability and good processing & finishing are becoming key focus points for stakeholders. End users are pervasively using premium label papers that create the best first impression at the point of sale. The use of premium label papers in beverage applications make rival products simply look weak. Thus, along with the food industry, the revenue of beverage end user is predicted for stellar growth in the market.
Good finishing properties of cast coated label papers such as embossing, bronzing, and metallizing are gaining consumer attention at retail stores. Its applicability in wet glue labels is anticipated to boost growth of the labels market, owing to its advantages of universal printability involving traditional and digital printing methods.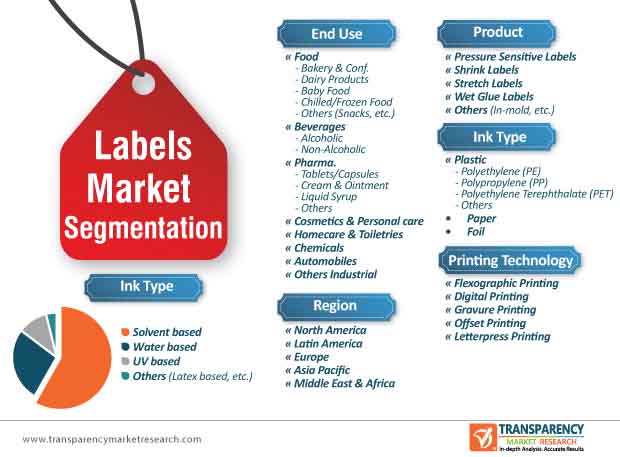 Stuck in a neck-to-neck competition with other brands? Request a custom report on Labels Market
Analysts' Viewpoint
Top-quality inkjet papers are becoming increasingly commonplace for the production of sophisticated and full-color labels. The labels market is anticipated to progress at a modest CAGR of 5% during the forecast period. However, novel introductions, such as removable and repositionable films for pharmaceutical and beverage labeling are contributing toward market growth.

Asia Pacific is expected for a stellar growth among all regions in the market landscape. However, there is a need to fulfill the requirements in thermal labels that place high demands on materials. Hence, companies should increase their production capabilities in thermal papers with high dynamic sensitivity for use on fast thermal printers.
Labels Market: Overview
According to Transparency Market Research's latest report on the global labels market for the historical period of 2014-2018 and forecast period of 2019-2027, the market is anticipated to be driven by product customization and design level innovations. The global Labels market is expected to register a CAGR of 5% during the forecast period. Development of organized retail sector and increasing number of supermarket and e-Commerce industries creating exponential growth opportunities for labels market.
RFID Technology Gaining Traction for Enhancing Process Workflow
The RFID technology is gaining popularity among label manufacturers who prefer to reduce employment costs and eliminate human errors. The RFID technology works without human intervention and as opposed to barcodes, has the ability to read long range. Moreover, its acceptance is increasing, owing to item identification, which is crucial in the retail sector. It is less sensitive to adverse conditions, which in turn accelerates its usage in the labels market.
Asia Pacific to Remain at Leading Position in Global Labels Market
TMR team analysed, Asia Pacific accounts for the prominent market share and is expected to witness steady growth over the forecast period. The Asia Pacific is estimated to expand with nearly 530 bps of current market share during the forecast period. The Europe market is expected to hold 25% of the market share in 2019-2027. Although Europe market is expected to decline by the end of 2027.
Labels Market: Key Findings
Among various types of products, Pressure Sensitive Labels (PSL) remain prominent in the global market for labels. It is estimated to hold nearly 75% of the market share by 2019-2027. Attributing to premium looks and ease of application, the sales of PSL is anticipated to increase rapidly.
Attributing to high tear resistance and less environmental impact, the demand for plastic labels is expected to increase significantly during the forecast period. Furthermore, TMR witnessed that the consumption of polypropylene (PP)-based labels is gaining more traction among end users due to less carbon footprints.
As per printing technology, digital printing technology is highly preferred by consumers. Digital printing provides multiple color substrates and easy printing of labels.
Solvent-based labels enhance water-resistance of the labels. In order to increase shear and peel strength of the labels, solvent-based label is estimated to increase 1.6 times of current market value during the forecast period.
The food & beverage end-use industry is anticipated to create lucrative incremental opportunities by the end of 2027. Together, these sectors are expected to hold more than 55% of the global labels market share.
In terms of market share, Asia Pacific is a prominent region in the global labels market. Expansion of retail industries, food & beverages industry, and an increasing number of supermarkets are the key factors for the rapid growth of labels market in Asia Pacific countries.
High Investments by Key Players for Acquisition and Business Expansion
In order to deal with tough competition and significant revenue generation, manufacturers are developing labels, which consist of more data encryption capacity. Besides this, key players of the labels market are following mergers & acquisition strategy for increasing their global footprints. Furthermore, huge emphasis on product innovation by key players is witnessed in the past three years. For instance,

In 2020, Coveris targets growth in the BOPP (Bi-axially-Oriented Polypropylene) label beverage sector, which is supported by continued investment at its manufacturing facility in the U.K.
In 2020, Avery Dennison Corporation acquired Smartac (RFID Inlay) Division
In 2019, Klöckner Pentaplast Europe GmbH & Co KG invested US$ 25 Mn for expansion of the North America-based plant
Labels Market: Competition Landscape
In the global labels market, a tough competition among key players has been witnessed. Therefore, key players are planning to increase their geographical footprints and broadening their product portfolios in untapped countries. This report includes analysis of company developments, strategies, and financial aspects of key players.
Leading key players in the global labels market include

Avery Dennison Corporation
CCL Industries Inc
Fuji Seal International, Inc
Huhtamäki Oyj
Amcor Plc
Fort Dearborn Company
3M Company
Walle Corporation
H Derksen & Sons Company

Among these players, CCL Industries Inc., Fuji Seal International, Inc., 3M Company, Avery Dennison Corporation, and Coveris Holdings have been identified as Tier 1 players. In 2018, these companies hold a cumulative market share of ~10%. Tier 2 players include Huhtamäki Oyj, Lintec Corporation, Fort Dearborn Company, and Multi-Color Corporation, and others.
The labels market is a consolidated market with the presence of well-established market players. Apart from this, a number of small- and medium-sized manufacturers are participating in the market for significant revenue generation. Therefore, the intensity of competition is likely to be high in the global labels market.
Regulatory Legislation Limits Scope of Labeling Designs and Patterns
Legislation plays a determining role in packaging and labelling, particularly concerning the regulation of information disclosure. Manufacturers have to consider health and safety guidelines to which their product is subjected to before implementing the content and design of labels. Accommodating regulatory requirements into finite limits of labels manufacturing restrains the marketing and communication objectives of brands and product manufacturers. The statement from Avery Dennison that all pharmaceutical packaging manufacturers have to meet the challenges posed by new regulations and stronger packaging guidelines. FDA keeps a check on the label packaging that whether the label has appropriate information regarding the product. It should not violate requirements of the Poison Prevention Packaging Act of 1970 and other acts.
Labels Market - Scope of the Report
Transparency Market Research (TMR) started a new study on the global labels market, providing forecast for the period of 2019-2027. In the study, growth opportunity for the labels market is witnessed. The report provides valuable insights, which enable readers to make winning business decisions for future growth of their businesses. The report highlights significant factors that are constantly determining the growth of the labels market, untapped opportunities for manufacturers, trends and developments, and other insights across various key segments. Macroeconomic factors that are directly or indirectly affecting market growth are also incorporated in the report.
Key Questions Answered in TMR's Labels Market Report
What will be market size for labels by the end of 2027?
Which product type is expected to be most preferred for labels? What was its market size in 2018?
Which is the most preferred printing technology for labels in the global market?
Which region will remain most lucrative for market growth?
Who are major key players in the labels market?
Key indicators associated with the labels market have been calculated thoroughly in the report. The study enumerates vital market dynamics such as key drivers, challenges, and trends, along with opportunities in the global labels market. A comprehensive study on the value chain, which includes component suppliers, manufacturers, distributors, and end users have been incorporated in the global market report. Other key aspects laid down in the market include pricing strategy of leading market players and comparative analysis of product types. Furthermore, forecast factors and forecast scenarios of the labels market have been covered in the report to understand future prospects of the market.
A comprehensive evaluation and forecast on the labels market are provided on the basis of product, printing technology, material, ink type, end use, and region.
Y-o-Y growth comparison, volume, and revenue comparison, and market share comparison of various market segments are provided in the report. The labels market is analyzed at both regional and country levels.
The report delivers an exhaustive assessment on the structure of the labels market, in tandem with a dashboard view of all leading company profiles in the report. Every company's share analysis on market players have also been presented in the report, apart from the footprint matrix of profiled market players. The report depicts the presence of labels manufacturers by leveraging an intensity map. It also highlights key end users for labels.
The report includes company overview of key players. Some of the key companies profiled in the labels market report include CCL Industries Inc, Fuji Seal International, Inc, 3M Company, Multi-Color Corporation, Avery Dennison Corporation, Fort Dearborn Company, Klöckner Pentaplast Europe GmbH & Co KG, Coveries Houldings, Huhtamäki Oyj, Lintec, WS Packaging Group, Inc, Walle Corporation, Resource Label Group, LLC, Hub Labels, Inc., Axiom Label Group, Anchor Printing, Traco Manufacturing, Inc, H Derksen & Sons Company, and Reflex Labels Ltd, among others.
Research Methodology
A realistic methodology, along with a holistic approach makes the base for sharp insights, which are provided in the labels market for the study evaluation period. The TMR report comprises of detailed information on growth prospects, along with riveting insights into the forecast assessment of the market.
Extensive primary and secondary researches have been employed to garner keen insights into the forecast study of the labels market. The report has further undergone through a cross-validation by in-house professionals to make the Labels market report one-of-its-kind, with the highest credibility.
Labels Market – Segmentation
The global labels market has been divided on the basis of product, material, printing technology, ink type, end use, and region. Each of these segments are analyzed to provide readers with holistic view of the market.
Product

Pressure Sensitive Labels
Shrink Labels
Stretch Labels
Wet Glue Labels
Others (In-mold, etc.)

Material

Plastic

Polyethylene (PE)
Polypropylene (PP)
Polyethylene Terephthalate (PET)
Others

Paper
Foil

Printing Technology

Flexographic Printing
Digital Printing
Gravure Printing
Offset Printing
Letterpress Printing

Ink Type

Solvent-based
Water-based
UV-based
Others (Latex-based, etc.)

End Use

Food

Bakery & Confectionary
Dairy Products
Baby Food
Chilled/Frozen Food
Others (Snacks, etc.)

Beverages
Pharma

Tablet/Capsules
Cream & Ointment
Liquid Syrup
Others

Cosmetics & Personal Care
Homecare & Toiletries
Chemicals
Automobiles
Others

Region

North America
Latin America
Europe
Asia Pacific (APAC)
Middle East & Africa
Custom Market Research Services
TMR offers custom market research services that help clients to get information on their business scenario required where syndicated solutions are not enough.
REQUEST CUSTOMIZATION