IT Peripherals Market: Introduction
A computer system consists of three major units that carry out its primary function – input, output, and storage units. Many other internal and external devices connect to the computer directly and add functionality to it. These devices are called IT peripherals.
The term IT peripherals denote all hardware components that are linked to a computer and are controlled by the computer system but are not the essential components (motherboard, CPU, and power supply, etc.).
IT peripherals, in other words, can also be defined as devices that can be easily plugged and removed into a computer system. A few examples of peripheral devices are optical disk drive, modem, Bluetooth, memory card reader, digital camera, monitor, printer, and CD-ROM drives.
A peripheral device provides input/output (I/O) functions for a server and computer as an auxiliary computing device without computing-intensive functionally, and it includes various types of hardware such as mouse, keyboard, monitor, printer, webcam, scanner, and USB flash drives.
IT Peripherals Market: Dynamics
IT Peripherals Market: Key Drivers
The input device converts instruction and incoming data into a binary code in a pattern of electrical signals that are understandable to a digital computer. The output devices reverse the process, interpreting the digitized signal into a form intelligible to the user.
The input devices are used to enter the data and information into a computer. For example, a keyboard will adapt keystroke into characters that can appear on the monitor, while a monitor will transform movements of hands into movements of cursor that are used to interrelate with the operating system program. There are various devices in input peripherals that include microphones, optical scanners, joysticks, and webcams.
The output devices transform digital signals into information that can be utilized or interpreted by the end-users. For example, a display screen or a monitor will display the operating system on the screen, while a laser printer will convert information saved in Word or Excel into a printed hard copy. The various devices in the output peripheral includes the 3D printer, projectors, and speakers.
The storage devices are used to store and record data, and it includes CD-ROM, flash memory drives, DVD drivers, and internal and external hard drives. The IT peripheral is located in the external or internal part of the computer system.
Internal storage devices such as hard disk of SSD are connected with a SATA cable, while display port and HDMI are the popular connections for monitors and display.
The external storage device is connected via many different types of connections and cables. The most used common connection for external peripherals is USB connection because every computer has several ports, and it provides plug and play features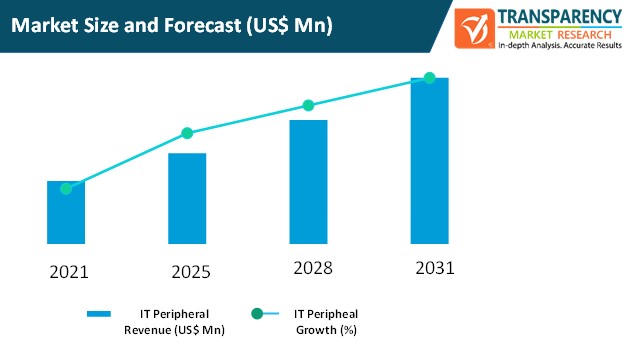 Impact of COVID-19 on the IT Peripherals Market
Demand for IT peripherals is increasing during the COVID-19 lockdown situation. The wave of COVID-19 has generated a new directive to learn from home and work from home. Therefore, companies dealing with IT peripherals are experiencing a surge in demand for PCs from commercial and consumer end-users.
North America to Hold Major Share of the Global IT Peripherals Market
In terms of region, the global IT peripherals market can be divided into North America, Europe, Asia Pacific, Middle East & Africa, and South America
North America dominated the global IT peripherals market in 2020. The U.S. is a key market in the adoption of new technologies. Strong financial position enables the country to invest heavily in the adoption of leading tools and technologies to ensure business operations.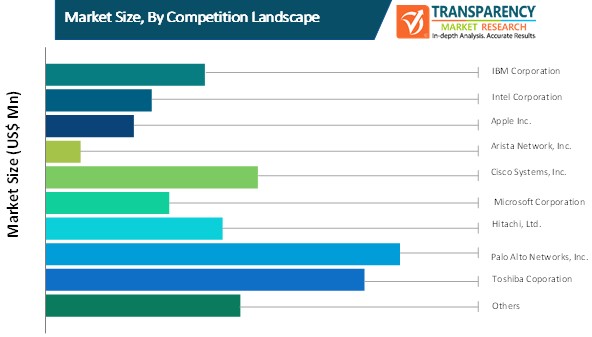 Key Players Operating in the Global IT Peripherals Market
IBM Corporation is a prominent technology company that produces software and hardware. It is also an established research company and one of the leading platform providers of Quantum Computing as a Service. IBM Corporation's product categories include analytics, cloud, Watson, customer engagement, Internet of Things, industry solutions, IT infrastructure, mobile, and security. IBM cloud services include cloud managed services, cloud advisory services, and cloud migration services
Intel Corporation designs and manufactures integrated processors, platforms, chipsets, circuits, and software solutions, such as Intel security, and embedded software. The company offers a wide range of products - desktops, tablets, SSDs, boards & kits, server products, Intel gateways, modems, and radio frequency transceivers. It provides the solutions for embedded applications for healthcare, automotive, energy, and retail market segments.
Other key players operating in the IT peripherals market include Apple Inc., Arista Networks, Inc., Canon Inc., Check Point Software Technologies LTD., Cisco Systems, Inc., Dell Technologies, Inc., Extreme Networks, Inc., Hitachi, Ltd., Huawei Technologies Co. Ltd., Juniper Networks, Inc., Logitech International S.A., Microsoft Corporation, Palo Alto Networks, Inc., SeikoEpson Corporation, The Hewlett Packard Enterprise Company, Toshiba Corporation, and VMware, Inc.
IT Peripherals Market: Research Scope
IT Peripherals Market, by Product Type
Input Devices

Keyboards
Image Scanners
Pointing Devices
Webcams

Output Devices

Printers
Speakers
Headphones

Storage Devices

Hard Drives/SSD
USB Flash Drivers
Others

Audio-visual Devices

Data Projectors
Microphones
Recorder
Others

Servers
IT Peripherals Market, by End-user
BFSI
Education
Publication
Media & Entertainment
Government
Hospitality
Designing (Graphics/ Product)
Others (Research & Development, Service Sector)
IT Peripherals Market, by Region
North America

U.S.
Canada
Rest of North America

Europe

Germany
France
U.K.
Italy
Rest of Europe

Asia Pacific

China
Japan
India
South Korea
Rest of Asia Pacific

Middle East & Africa

GCC
South Africa
Rest of Middle East & Africa

South America

Brazil
Rest of South America
Interested in this report?
Get a FREE Brochure now!