Global IoT Platform Market: Overview
The increasing number of players in IoT platform are continuously innovating their solutions, which is expected to propel the global IoT platform market in the coming years. IoT integrates various technologies such as hardware design, data storage, and data communication. This integration allows IoT to provide improved safety and security, give remote access to its applications, improve quality of life of products used in companies, offer benefits in production costs, enhance handling of emergencies, and improve decision-making capabilities to the management of organizations. The IoT platform market is envisioned to expand with an impressive rate due to escalating penetration of remote and connected devices such as tablets and smartphone.
It is estimated that the global IoT platform market will reach US$10,064.0 mn by 2025 from its value of US$1,786.8 mn in 2016, expanding with a significant CAGR of 21.0% over the forecast period of 2016-2025.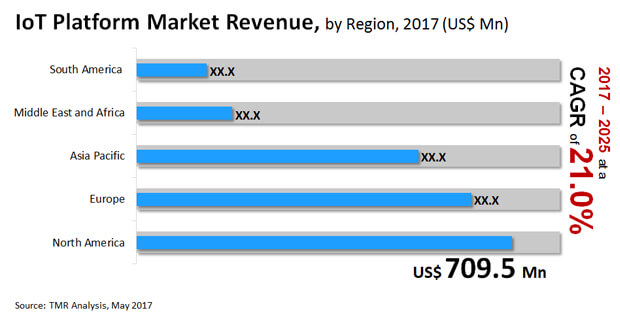 Adoption of On-premise Cloud Solutions Benefits the Growth of Cloud IoT Platform
Based on deployment, the on-premise segment has dominated the overall market in 2017 owing to the advanced security facilities it provides. On the contrary, cloud solutions are more subjected to the cyber-attacks. Saving data on the private data servers of organizations avoids external threats. Furthermore, increased accessibility and enhanced latency provided by on-premise solutions are expected to grow its demand over the forecast period. However, due to reduction in the cost of IoT sensors, swift digitization, and the growing adoption of cloud computing technologies, the cloud IoT platform market is projected to grow at a higher rate and expected to surpass the market share of on-premise segment.
Among various application segments such as security, asset performance management, infrastructure management, enterprise performance management, supply chain management, customer service, inventory management, and human capital management; supply chain management segment is poised to generate high revenue to the overall market. Application of IoT in supply chain management enhances asset tracking, which allow manufacturers to make better decisions and save money and time.
Favorable Government Initiatives Assist Europe Market to Grow Significantly
Geographically, the global IoT platform market can be segmented into North America, Europe, Latin America, Asia Pacific, and the Middle East and Africa. Among these, North America has emerged as a leading contributor to the global market due to presence of high number of IoT solution providers and rising adoption of changing technologies. However, it is anticipated that the market in Europe will exhibit higher growth rate compared to the North America market in the near future. The growth of the market in Europe is accelerating due to favorable government initiatives and of the increasing uptake of Industry 4.0. In this region, countries such as Germany, the U.K., and France are exhibiting high demand for IoT platforms, thus helping the market to expand.
Furthermore, due to the growing adoption of digitalization in developing countries such as Australia, China, and Japan, Asia Pacific is envisioned to show an impressive growth in the forthcoming years. In addition, countries such as Argentina and Brazil are assisting the Latin America market to expand. The increasing rate of adoption over the oil and gas industry and throughout the government sector is most likely to help the Middle East and Africa sector grow.
The IoT platform market is envisioned to grow exponentially in the future owing to its increasing applications in various industrial segments. Key market players in this market are continuously innovating their products, which is inspiring organizations to adopt to IoT. Some of the companies contributing to the growth of this market are Oracle Corporation, General Electric, Salesforce.com, Inc., Amazon Web Services, Inc., SAP SE, IBM Corporation, Cisco Systems, Inc., PTC Inc., Microsoft Corporation, and Google Inc.
Global IOT Platform Market: Overview
In various business sectors, an integration of several technologies is required that includes data storage, data communication, design, and hardware. Internet of Things (IoT) platforms have played a major role for achieving this integration smoothly since last few years. Due to the benefits provided by these platforms coupled with improved decision-making capabilities for various work sectors, the IoT platform market is expected to show a robust growth in the coming future.
As IoT platforms are used in myriad work sectors, there are several segments belonging to its market. From a broad perspective, the global IoT platform market is divided into the following segmentation categories: deployment, application, industry vertical, and region. These segments are further subdivided into smaller categories, which are further explained in detail in the report.
The report presents a detailed study of the global IoT platform market which includes a detailed evaluation of major segments and their various sub-categories. The vendor landscape of the market is explained in detail by the analysts in order to present a clear insight of the business strategies, technological developments, and other aspects of key competitors.
Global IOT Platform Market: Trends and Opportunities/ Drivers and Restraints
The ever increasing demand for internet and smooth web connectivity is a prime driving force for the global IoT platform market. Continuous improvement in internet speeds also is another significant driver for IoT platforms. These reasons have made the platforms an integral part of domestic and industrial work based sectors. As per the TMR report, minimal investment is required for the necessary platform setup, which is another factor to act in favor of the market's growth in the near future.
Furthermore, there has been a growing usage of mobile phones and other devices, which also has substantially contributed towards the rise of the global IoT platform market. These devices are also equipped with features such as Wi-Fi, Bluetooth and infrared, which further have improved the penetration of IoT platforms in last few years. Thus, from an overall perspective, there has been an immense growth rate recorded for the market, which further is expected to rise tremendously in the future
Global IOT Platform Market: Regional Outlook
From a regional perspective the global IoT platform market is spread across North America, Europe, Asia Pacific, Latin America and the Middle East and Africa. As a high number of IoT solution providers are present in North America, this region holds the top spot in the global IoT market. This region also shows a high adaptability to changing IoT technologies. Apart from this region, it is expected that Europe will experience a higher market growth rate in the future, according to the TMR report. This is mainly on the basis of factors such as better initiatives undertaken by the government for development of IoT technologies. Countries such as Germany, the U.K., and France have a high demand of IoT platforms, which could contribute to the market's expansion. In addition to these regions, countries such as China, Japan, and Australia in the Asia Pacific region are expected to show a good market growth in the next few years.
According to the research report prepared by TMR, the IoT platform model is anticipated to exhibit a high growth curve, especially due to rise in its applications in several business sectors. As a result of significant product innovation, there are several well-known companies present in this market. Some of these key players are Oracle Corporation, Amazon Web Services, IBM Corporation, Cisco Systems General Electric, Google Inc. and Microsoft Corporation.
Key segments of the Global IOT Platform Market
The IoT Platform Market, By Deployment
The IoT Platform Market, By Application
Inventory Management
Human Capital Management
Customer Service
Enterprise Performance Management
Supply Chain Management
Infrastructure Management
Other (Security, Asset Performance Management)
The IoT Platform Market, By Industry Vertical
Retail
Healthcare
BFSI
Oil and Gas
Transportation and Logistics
Manufacturing
Government and Defense
Energy
Other (Education, Hospitality)
The IoT Platform Analysis, By Country/Region
North America

The U.S.
Canada
Rest of North America

Europe

The U.K.
Germany
France
Rest of Europe

Asia Pacific

India
Japan
China
Australia
Rest of Asia Pacific

Middle East & Africa

GCC
South Africa
Rest of Middle East and Africa

South America

Brazil
Argentina
Rest of South America
This report gives you access to decisive data such as:
Market growth drivers
Factors limiting market growth
Current market trends
Market structure
Market projections for the coming years
Key highlights of this report
Overview of key market forces propelling and restraining market growth
Up-to-date analyses of market trends and technological improvements
Pin-point analyses of market competition dynamics to offer you a competitive edge
An analysis of strategies of major competitors
An array of graphics and SWOT analysis of major industry segments
Detailed analyses of industry trends
A well-defined technological growth map with an impact-analysis
Offers a clear understanding of the competitive landscape and key product segments