IoT Integration Market: Introduction
IoT integration means the combination of IoT data, IoT platforms, IoT devices, and IoT applications with IT assets (legacy data, SaaS, mobile, and business application) that work together in the context of executing end-to-end IoT business solutions.
IoT integration helps customers and companies to drive the digital transformation initiative to the next level. Since technology is changing day by day, integration needs to move at an accelerated level and speed.
IoT integration uses web-enabled smart devices that use embedded systems, such as sensors, processors, and communication hardware, to send, collect, and act on data obtained from the system.
IoT integration helps to transform ordinary devices such as billboards, and vending machines into smart connected devices. Companies are typically more flexible in using innovative technologies, such as cloud, IoT, and analytics. IoT integration helps to take quick decisions. The huge demand for IoT integration systems in different industries such as healthcare, retail, and logistics is expected to boost the market during the forecast period.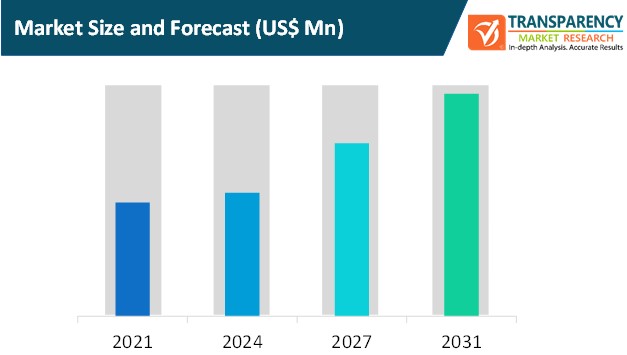 IoT Integration Market: Dynamics
IoT Integration Market: Key Drivers
Companies are adopting advanced technologies such as Artificial Intelligence/Machine Learning, cloud services, and IoT for achieving digital transformation. IoT Integration systems use the internet to connect to physical devices. The expansion of IoT has increased the acceptance of Bring Your Device (BYOD) and remote workplace management solutions. The integrated platform helps companies track employee activities on their devices to detect web activities and monitor the data daily.
IoT integration helps the company to reduce operating costs, increase revenue and improve efficiencies. The IoT device deployment delivers the insights and data necessary to visualize usage patterns, streamline workflows, meet compliance requirements and automate processes and compete more effectively in a changing business environment
IoT integration service suppliers can provide services and integrated solutions to support the integration strategy and data management with the organization's strategic initiatives to reach overall efficiency by deploying IoT data maturity or information management models.
IoT-enabled devices connect with various networks, such as public Wi-Fi, and WANs. So a networking team that works on cybersecurity and data privacy is needed to adopt IoT integration across different industries.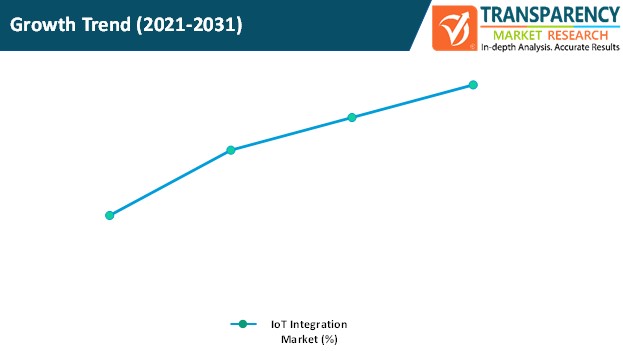 Impact of COVID-19 on the IoT Integration Market
An increase in cases of COVID-19 across the globe is resulting in economic slowdown. Developed countries are strongly affected by the pandemic. COVID-19 has a negative impact on the IoT integration market, as companies are decreasing their investment in new technologies and services to sustain themselves in the competition. The market is expected to expand in the next few years, as companies start making a profit to recover from the economic downturn associated with COVID-19.
North America to Hold Major Share of the IoT Integration Market
In terms of region, the global IoT integration market can be divided into North America, Europe, Asia Pacific, Middle East & Africa, and South America
North America dominated the global IoT integration market and held a notable share primarily due to the presence of developed economies, such as the U.S. and Canada. Moreover, North America is anticipated to offer considerable opportunities for players in the region with increasing awareness regarding the use of IoT integration systems for security purposes.
The global IoT integration market in Asia Pacific is anticipated to expand at a rapid pace during the forecast period. Developing countries are mostly focused on the adoption of new technologies, and countries such as India, China, and Japan are planning to invest in IoT integration solutions.
Key Players Operating in Global IoT Integration Market
Wipro Limited was incorporated in 1945 and is headquartered in Bengaluru, India. The company provides comprehensive IT services and solutions, including information system outsourcing, system integration, package implementation, IT-enabled services, software application maintenance and development, and R&D services to corporations globally.
Tata Consultancy Services Limited
Tata Consultancy Services Limited was incorporated in 1968 and is headquartered in Mumbai, India. The company provides a wide range of IT products and services to its clients in multiple industries, catering to telecommunication, finance and banking, insurance, manufacturing, retail, pharmaceutical, and utility industries.
Other key players operating in the IoT integration market include Atos SE, Accenture PLC, Fujitsu Ltd., Infosys Ltd., Capgemini SE, HCL Technologies Limited, Tech Mahindra Limited, DXC Technologies, International Business Machines Corporation, NTT DATA Corporation, TIBBO Systems, Aeries, Microsoft Corporation, Damco Group, and Softdel Systems Pte. Ltd.
IoT Integration Market: Research Scope
IoT Integration Market, by Services
Device and Platform Management Services
Application Management Services
Advisory Services
System Design and Architecture
Testing Services
Service Provisioning and Directory Management
Third Party API Management Services
Database and Block Storage Management Services
Network Management Market
Infrastructure and Workload Management Services
IoT Integration Market, by Application
Smart Building and Home Automation
Smart Healthcare
Energy and Utilities
Industrial Manufacturing and Automation
Smart Retail
Smart Transportation and Automation
IoT Integration Market, by Organization Size
IoT Integration Market, by Region
North America

U.S.
Canada
Rest of North America

Europe

Germany
France
U.K.
Italy
Rest of Europe

Asia Pacific

China
Japan
India
South Korea
Rest of Asia Pacific

Middle East & Africa

GCC
South Africa
Rest of Middle East & Africa

South America

Brazil
Rest of South America