Integration Platform as a Service (iPaaS) Market
Integration Platform as a Service (iPaaS) Market (Component -Software Platform and Services; End-user - Large Enterprises and Small & Medium Enterprises; Industry - BFSI, IT & Telecommunication, Healthcare, Government, Education, and Others) - Global Industry Analysis, Size, Share, Growth, Trends and Forecast 2017 - 2022
Category :

IT & Telecom

Format :
Challenges associated with traditional integration needs have compelled the adoption of Integration Platform as a Service (IPaaS) approach, which is a viable alternative to deliver integration stacks. Complex tasks such as integrating hybrid application portfolios with conventional data systems are being effectively carried out by IPaaS solutions. Transparency Market Research anticipates that in the near future, the adoption of IPaaS will surge vigorously, particularly owing to the capabilities of these services in routing & orchestration of complex dataflow and providing easy implementation of API, applications and processes for subscribers.
According to the recently developed market study, the global IPaaS market is anticipated to be worth over US$ 1.2 billion by 2022-end. Over the next five years, the global IPaaS market is pegged to expand at a robust CAGR. The report has highlighted several factors that are expected to influence the dynamics of global IPaaS market during the forecast period. Increasing demand for cloud-based integration, rising implementation of service-oriented business architecture, and operational importance of executing integration flows among contrasting applications, are among the key factors addressed in the report as growth drivers for the global IPaaS market.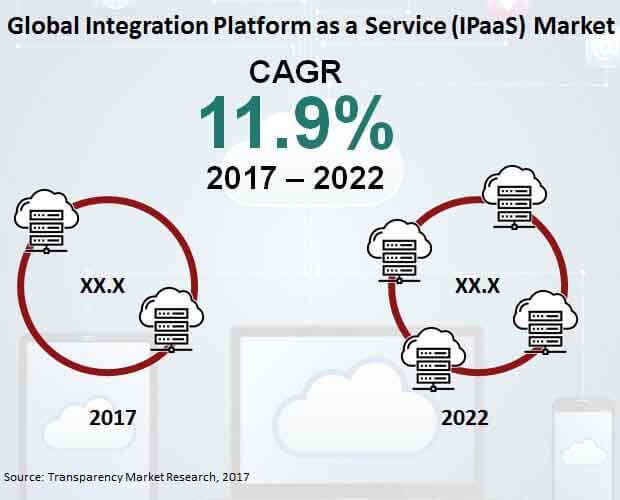 By 2022, software platforms offered by IPaaS providers will bring in nearly US$ 800 million in global revenues
Key components of IPaaS solutions include either the service provided for integration tasks, or the software platforms developed to carry out these tasks. In 2017, a major share of revenues procured in the global IPaaS market are anticipated to come from sales of software platforms. However, over the forecast period, the end-users of IPaaS solutions will be shifting their focus from using a software platform to adopting a service. Implementation issues associated with IPaaS software platforms are being viewed to decelerate their revenue procurement traction in the global market over the forecast period. By the end of 2022, IPaaS software platforms will procure largest share as a component in the global IPaaS market. Although, the adoption of IPaaS services will be considerably rapid, and is anticipated to register a stellar 12.8% CAGR throughout the forecast period.
Higher end-use of IPaaS by large enterprises
The report projects that large enterprises will remain key end-users of IPaaS during the forecast period. Compared to small & medium enterprises, multinational corporations and manufacturing giants are estimated to actively adopt IPaaS solutions and integrate complex operations to enhance their overall productivity. In 2017, close to three-fourth share of revenues procured in the global IPaaS market are anticipated to be accounted by their end-use among large enterprises across the globe. On the other hand, constraints associated with expenditure on integration solutions will continue to lower the adoption of IPaaS among SMEs.
Steadfast IPaaS adoption in Healthcare and Education industries
According to the report, the global IPaaS market will showcase considerable traction in terms of adoption across education and healthcare verticals. While the adoption of IPaaS will be predominant in the IT & telecommunications industry, participants in the healthcare and education sectors will also show increased interests towards integration solutions. Hospitals and healthcare service providers are likely to adopt IPaaS for integration of documentation processes and supplies management. Pharmaceutical companies are expected to implement IPaaS for consolidating their manufacturing with drug development operations. For the education industry, IPaaS will enable schools to streamline and organize their daily operations, and control the access to information and data through integrated platforms.
Leading IPaaS Providers
The report has also profiled key players in the global IPaaS market. Companies namely, IBM Corporation, MuleSoft, Inc., Oracle Corporation, Fujitsu Ltd., Red Hat, Inc., SAP SE, Microsoft Corp., Capgemini SE, TIBCO Software Inc., and Dell Inc. are anticipated to remain active in the expansion of global IPaaS market through 2022. Several IPaaS providers will be focusing on eliminating the implementation drawbacks and lowering the additional service requirements by developing custom-made offerings.
Integration Platform as a Service (iPaaS) Market to Grow as Digital Transformation Gains Momentum
The demand within the global integration platform as a service (iPaaS) market is expected to rise at a sturdy pace in the times to follow. Growing digitalization has caused an uptick in demand for integration services in recent years. The corporate landscape has undergone major overhauls over the past decade, promoting industrial decision-makers to make deliberate efforts towards attaining digital maturity. The trend of digitalization is strongly supported by the ardent efforts of corporate houses towards connecting their business nodes. As the corporate industry goes digital, use of integration technologies and services shall become more pronounced. Therefore, the total volume of sales across the global integration platform as a service (iPaaS) market is slated to rise in the years to follow.
Data sharing has emerged as an important feat for businesses and large organizations. The use of data sharing technologies in the domain of business development and analysis has played a crucial role in magnifying the worth of data assets. Henceforth, the global integration platform as a service (iPaaS) market is slated to expand in the times to follow. In addition to this, the unprecedented use of cloud storage for creating data pools has brought integration platform as a service (iPaaS) under the radar of focus.
Use of third-party cloud software has also increased by leaps and bounds post the onset of the COVID-19 pandemic. This is an important driver of demand within the global integration platform as a service (iPaaS) market. Furthermore, the relevance of remote data sharing across industrial and business units has brought cloud platforms under the spotlight of attention. In view of these factors, it is safe to assert that the global integration platform as a service (iPaaS) market would grow at a stellar pace in the years to follow. Use of data assets across the business sector during the current pandemic situation is also driving revenue generation across the market.
Market Overview
Enabling enterprises execute and govern the integration flows by connecting a wide range of data systems, processes and applications serves to be the key function of Integration Platform as a Service (IPaaS). The global market for IPaaS is characterized by increasing need for integration of business data among individual employees and across an enterprise. With rapid penetration of cloud technologies, the adoption of IPaaS continues to soar in business settings that work on cloud as well as on-premise integration models. IPaaS providers are identified for developing such unique services wherein customized integration needs of the enterprise are catered to, and deployment of these services ensures no additional installation of software of hardware.
Transparency Market Research has developed a comprehensive market study on Integration Platform as a Service, covering all the global prospects and offering a five-year forecast for the period, 2017-2022. The report provides a decisive outlook on the global IPaaS market by analysing multiple aspects governing the market's growth. Inferences in the report can enable IPaaS providers in taking informed decisions on business growth and planning strategies to boost their presence in the overall IPaaS market in the foreseeable future.
Report Synopsis
The report includes an executive summary wherein regional highlights of forecasted market size estimations have been mentioned. The executive summary also provides estimations on the overall IPaaS market by using metrics such as compounded annual growth rates (CAGRs) and Year-on-Year (Y-o-Y) growth rates. The overview section provides a detailed analysis on these forecasted market size estimations, and includes a formal introduction to the market, and a standard definition of Integration Platform as a Service.
The report also provides analysis on industry trends, macroeconomics, and market-specific drivers and restraints. After analysing the factors influencing growth dynamics of the global IPaaS market, the report examines the value chain, key vendors, and regional undercurrents. The report also provides an intensity map that plots the presence of each player across the key regions.
The report concludes by illustrating the competition landscape of the global IPaaS market. Companies partaking in the growth of IPaaS markets are profiled extensively, reveal their current market standings and tracking their developments and strategic undertakings.
Market Taxonomy
The key advantage of availing this document is to comprehend the segmented analysis of global IPaaS market provided across a slew of distinct chapters. These chapters offer cross-segmental information and country-specific market forecast & analysis. The report has categorised the global IPaaS market into four key segments – component, end-user, industry and region. On the basis of components, the global IPaaS market is bifurcated into software platforms and services. Similarly, large enterprises and small & medium enterprises are segmented as key end-users of IPaaS in the global market. The report further segments the global IPaaS market across industries namely, BFSI, IT & telecommunication, government, healthcare, education, and others. A regional analysis provided in the report has segmented the global IPaaS market into North America, Europe, Asia-Pacific excluding Japan (APEJ), Middle East & Africa (MEA), Japan, and Latin America.
Research Methodology
Transparency Market Research employs robust research methodology, wherein analysts have adopted primary and secondary approaches to provide accurate analysis and forecast. Qualitative insights have been infused with historical data, and projections have been validated by exclusive interviews and authentic information from leading corporate databases. The scope of the report is to enable market participants in expanding their presence in the global IPaaS market as service providers. By assessing the trends and opportunities, and statistical inferences compiled in the report, key IPaaS providers can take steps towards boosting their business for the immediate future.
Custom Market Research Services
TMR offers custom market research services that help clients to get information on their business scenario required where syndicated solutions are not enough.
REQUEST CUSTOMIZATION

Integrated Platform As A Service Market