Insurtech Market - Introduction
Insurance companies are adopting digital technologies to simplify financial transactions and enhance the functionality of the payment process. Adoption of insurtech among insurance companies helps them to identify risks related to the business operation, market, liquidity, counterparty, and credit.
Companies are investing in embedded analytics technologies to understand the market patterns, customer behavior, and it also helps in the business decision process. Insurtech allows companies to use advanced technologies such as Big Data and artificial intelligence (AI) which helps to optimize pricing mechanisms and enhance insurance-related services.
Adoption of technology solutions with AI integration among insurance companies will help to understand the demands of customers, key trends, and new product innovation processes.
Insurance companies are investing in data management and analytics solutions to store, manage, and analyze the data to enhance the customer experience. Insurance companies are providing online and mobile application platforms to users to enhance the business operation process and customer experience for insurance services.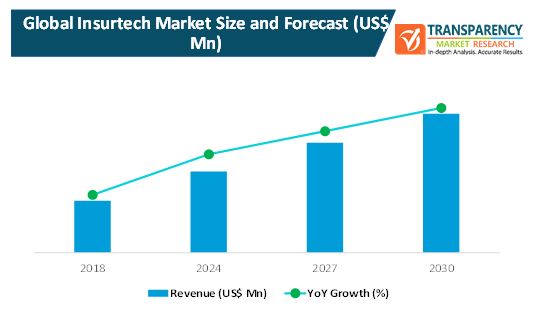 Request a sample to get extensive insights into the Insurtech Market
Key Drivers of the Insurtech Market
Increasing demand for data analysis and AI-based solutions among insurance companies to expand their business globally by offering services on a digital platform is expected to drive the growth of the market. Increasing awareness of insurtech and digitalization among insurance companies and agencies to improve the insurance services is also expected to boost the growth of the market.
Increasing adoption of insurtech with advanced technologies (machine learning, artificial intelligence, and blockchain technology) is expected to generate revenue opportunities for solution providers during the forecast period.
To understand how our report can bring difference to your business strategy, Ask for a brochure
Increasing security threats by cyber-attacks and lack of skilled professionals expected to hinder growth of the insurtech market
Increasing advancement in insurtech also creates multiple ways for cyber-attacks on a company's and user's/policy holder's confidential information related to payment transactions, and banking and policy details, which may restrain the growth of the market.
Lack of skilled professionals in insurance companies to manage the different business operations based on various technology platforms is also expected to hamper the growth of the market.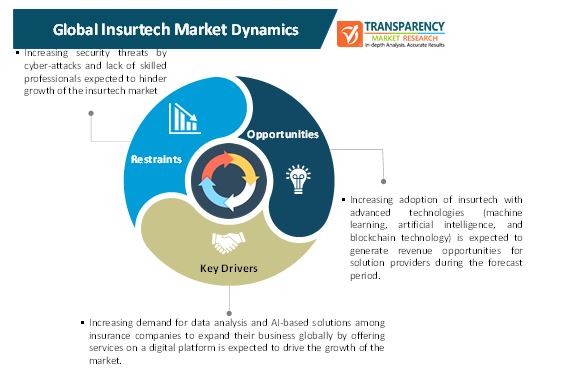 Impact of COVID-19 on the Global Insurtech Market
Insurance companies are expanding their geographical presence to capture more market share in Asia Pacific and Middle East & Arica due to the increasing impact of COVID-19 on business growth. Insurance companies and leading agencies are adopting new business strategies in payment methods and services which creates revenue opportunities during lockdown conditions.
Demand for insurtech is increasing during COVID-19 and is also set to increase during the forecast period due to increasing awareness about the benefits of insurance policies among users with the increasing impact of COVID-19.
North America to Hold Major Share of the Global Insurtech Market
North America holds prominent share of the insurtech market due to the increasing adoption of insurance technology solutions by the insurance service sector to increase the customer base and owing to presence of major solution providers in the region.
The insurtech market in Asia Pacific is expected to expand the fastest during the forecast period due to the increasing adoption of technologically advanced software platforms to manage payment operational risk, foreign exchange risk, and market risk in the region.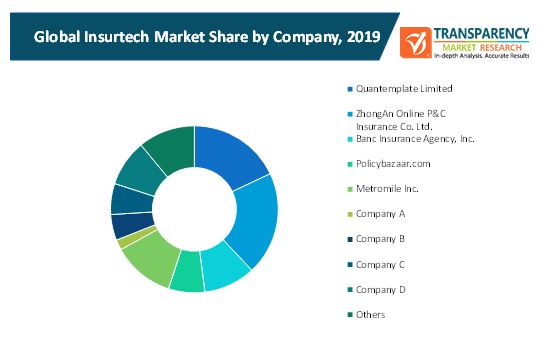 Key Players Operating in the Global Insurtech Market
Quantemplate Limited is a U.S. based financial and insurance technology company providing data integration, machine learning, and analytics solutions and services to insurance companies. The company operates in North America and Europe. It offers cloud solutions to users, enabling access to the information at a global level.
ZhongAn Online P&C Insurance Co. Ltd.
ZhongAn Online P&C Insurance Co. Ltd. was founded in 2013 and is based in Shanghai, China. It is an online insurance company and operates its business in consumer finance, auto, health, and travel and lifestyle consumption services.
Other key players operating in the global insurtech market include Banc Insurance Agency, Inc., Policybazaar.com, Clover Health, Earnix Ltd., Tractable Ltd., Metromile Inc., and Singapore Life Pte Ltd
Global Insurtech Market: Research Scope
Global Insurtech Market, by Platform
Full-stack Insurers
Agents
Brokers
Global Insurtech Market, by Product
Health insurance
Life insurance
Travel insurance
Car insurance
Business Insurance
Home Insurance
Others (Personal Liability, Specialty)
Disclaimer: This ongoing market research study is a meticulously planned activity where a broad array of factors and aspects that shape the marketing environment and industry are taken into account. However, keeping in mind the constantly changing nature of business dynamics and changing strategic intents, we are always actively making iterations and modifications in our approaches. As always, we are ready to tailor our insights and guidance to suit your requirements. Engage with us to know what more is there for your CXOs.