India Energy Supplements Market
India Energy Supplements Market (Product Type: Energy Drinks, Energy Gels, and Gummies; Flavor: Fruit, Vanilla, Chocolate, and Others; and Sales Channel: Hypermarkets/Supermarkets, Specialty Stores, Drug & Pharmacy Stores, and Online Retail) - Industry Analysis, Size, Share, Growth, Trends, and Forecast, 2021-2031
Category :

Food & Beverages

Format :
Customer Loyalty Programs for Supplements Keep Revenue Streams Active during COVID-19 Pandemic
The coronavirus pandemic has created an importance for healthy diet and lifestyle changes. Sales of energy drinks seem to have dipped due to the pandemic among the office-going crowd, as individuals working in offices are now working from home and skipping the usual habit of consuming an energy drink to keep themselves energized throughout the day. However, as more people are becoming health conscious, companies in the India energy supplements market are gauging future growth opportunities.
Brands in the India energy supplements market are bullish on online and digital marketing to boost product sales. eCommerce and social media are becoming the go-to destinations for digital advertising of energy drinks, gummies, and gels. These brands are offering discounts and customer loyalty programs to keep their revenue streams active.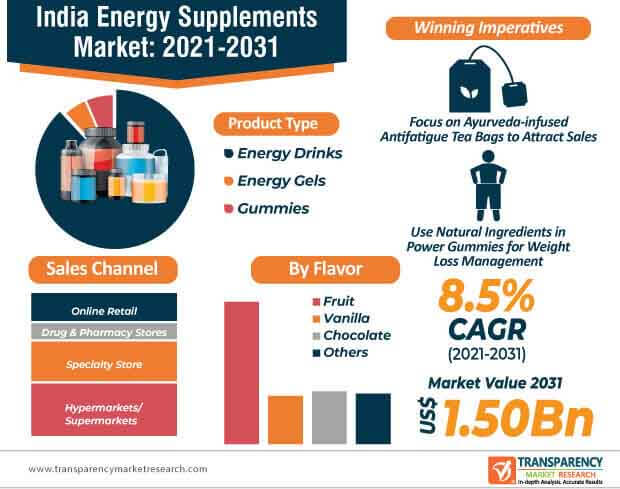 Request a sample to get extensive insights into the India Energy Supplements Market
Natural Ingredients with Juices, Caffeine from Tea Boost Energy Drink Sales
The India energy supplements market is expected to reach US$ 1.5 Bn by 2031. However, energy drinks are notorious for many side effects such as caffeine intoxication, risk of cardiovascular diseases, and issues including trouble in sleeping. Hence, brands are developing innovative product formulations using caffeine naturally occurring in tea to improvise in energy drinks. The V8 energy drinks are gaining popularity on Indian eCommerce platforms, owing to their natural ingredients such as caffeine naturally occurring in tea, along with carrot juice, apple juice, and hints of sweet peach & tropical mango.
The combination of fruits and vegetables from non-GMO (Genetically modified organisms) sweet potatoes, apples, and carrots is being preferred by consumers. Moreover, sugar-free energy drinks are in high demand.
To understand how our report can bring difference to your business strategy, Ask for a brochure
Ready-to-Consume Instant Energy Gels Grow Popular among Cyclists, Runners
Companies in the India energy supplements market are boosting their production capabilities in ready-to-consume instant energy gels. FastandUp is gaining recognition in India for its comprehensive product portfolio in intelligent nutrition and energy gels. Brands are taking advantage of the Make in India movement to increase the availability for energy gels that deliver an easily digestible and quick supply of carbohydrate for energy during exercise. These energy gels are proving ideal for cyclists, runners, and individuals involved in endurance activities.
Brands in the India energy supplements market are bolstering their output capacities in instant energy gels that are designed to be consumed without water, whilst minimizing the risk of bloating that can sometimes occur with over-drinking. There is a steady demand for energy gels that are light and have a drinkable consistency instead of being thick with a sticky texture.
eCommerce Emerges as Viable Tool in Testing Market Response
Apart from the business expansion in eCommerce, companies in the India energy supplements market are focusing on new product development. India's functional food brand Power Gummies is increasingly focusing on online expansion as well as new product development to reach the right target audiences, especially women aged between 20 and 45. It has been found that Indian brands are receiving funds from other international consumer brands to excel in new product development.
Companies in the India energy supplements market are prioritizing online expansion, as eCommerce has been growing rapidly in India. This explains why the market is predicted to advance at a robust CAGR of 8.5% during the forecast period. As compared to the brick-and-mortar retail, eCommerce is serving as a more viable tool in testing the market response.
Antioxidant-rich Energy Drink Mixes Boost Metabolism, Increase Mental Alertness
Energy drink mixes are being highly publicized in the India energy supplements market. The Herbalife Afresh Energy Drink Mix is gaining popularity in India for improving an individual's metabolism and rejuvenating the mind & body. Competitor brands are taking cues from such products and offering energy drink mixes that provide enhanced energy and mental alertness. They are developing improved product formulations that are rich in anti-oxidants and help in weight management.
Manufacturers in the India energy supplements market are developing energy drink mixes that help to relieve common health issues like headaches and back pain. The spike in metabolism due to lemon flavored energy drink mixes helps in instant energy boost because of which the body organs function at an optimal level.
Preference for Vegan Sports Energy Gels by Ultra-running Community in India
Vegan endurance gels are grabbing the attention of consumers, athletes, and runners. The Unived's vegan endurance gel for runners and athletes is water-based and prevents gastro-intestinal (GI) distress. Innovative flavors such as vanilla orange, dark chocolate mint, and salted caramel, among others, are helping brands to boost product uptake. Companies in the India energy supplements market are boosting their production capabilities in sports energy gels that are being preferred by the running & ultra-running community in India. Such trends are helping brands to gain worldwide recognition, which contributes to the expansion of their revenue streams.
Water-based, fresh, and easy to consume consistency are being preferred in sports energy gels. Manufacturers in the India energy supplements market are mainly focusing in the development of energy gels that can be conveniently carried, along in a hydration pack, waist pouch or short pockets.
Demand for FSSAI Approved, Scientifically Backed Energy Gummies from Indian Women
Energy booster multivitamin gummies are growing popular among Indian women. Brands such as Hea MaxiMUM are taking advantage of this opportunity to increase the availability of multivitamin gummies suitable for multi-tasker mothers. Manufacturers in the India energy supplements market are developing gummies from premium quality ingredients to suit the energy needs of Indian mothers. Individually packed yummy gummies are being preferred, which are easy to carry and convenient to consume.
Vitamins B 12, A, D, C, E, folic acid, and natural flavors are being preferred in energy booster multivitamin gummies. Artificial colors, gluten, preservatives, GMO, and flavors are being avoided. Manufacturers are aiming for FSSAI approved, scientifically backed, and 100% vegetarian energy gummies.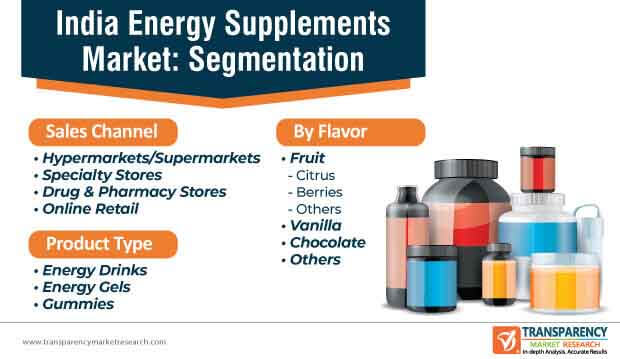 Stuck in a neck-to-neck competition with other brands? Request a custom report on India Energy Supplements Market
Analysts' Viewpoint

Since eCommerce is rapidly growing in India, the coronavirus pandemic has augmented this trend, which has caught the attention of stakeholders in the India energy supplements market. Though sales have fallen from office going-crowd due to work from home norms, the health consciousness wave is anticipated to revive product sales. However, issues such as bloating is being associated with overdrinking energy gels. Hence, companies should increase the availability of water-based energy gels that are easy to consume and prevent GI distress. Brands need to upgrade their marketing strategies that target the convenience and health needs of consumers, as the pandemic has drawn the trend of natural energy drinks that can be made at home.
India Energy Supplements Market: Overview
The recent market study on the India energy supplements market by the Transparency Market Research finds that the market value for 2021 is estimated to be over US$ 660 Mn and expected to reach US$ 1.5 Bn by the end of 2031, at a CAGR of 8.5% during the forecast period
The India energy supplements market is poised to witness significant growth attributed to rise in demand for preventive healthcare and cost of medical treatment that stimulates the nutraceutical market, which, in turn, is anticipated to boost the energy supplements sales in the country
India Energy Supplement Market: Key Takeaways
Based on product type, the energy drinks segment is expected to share higher market share of ~87.8% of the energy supplements market in India by 2031
In terms of flavor, the fruit segment accounts for 77.8% share of the India energy supplement market, owing to the high demand for nutritional content and sensory flavor in India
In 2020, supermarkets/hypermarkets had the highest sales share of around 38.1% and this trend is projected to continue during the forecast period
India Energy Supplements Market: Major Trends
Rising number of consumers focusing on healthy lifestyle to boost sales of energy supplements:With a population of over 1.3 billion people, India is the world's second most populous country. Nutraceutical products are now exclusively popular among the urban population, but there are significant opportunities outside of the city, as rural people constitute a big untapped market for nutraceutical sales. Huge consumer base, rapid retail growth, and increased focus on preventive healthcare are some of the major factors impacting the growth of the energy supplements market in India. During the projected period, rising consumer awareness about personal health and wellbeing is expected to be a major driver for the energy supplement market. Due to busy work schedules and changing lifestyles, the working population around the world is struggling to meet daily nutrient requirements. In order to defend themselves from a variety of health conditions, consumers are turning to energy supplements. Supplements, including vitamin C, vitamin D, and zinc are perceived to help the immune system. Energy supplement companies are taking advantage of this trend. Consumers choose energy drinks that contain functional and botanical infusions. Energy supplement manufacturers are experimenting with botanicals mixed with essential oils, in addition to sugar and caffeine boosts.
Due to the widespread promotion of energy gummies for weight loss, the market for energy supplements is expected to grow twofold. Green coffee beans, L-carnitine, and vitamin C are among the ingredients being tested by manufacturers to make antioxidant-rich gummies.
Increased focus on healthy food consumption to favor energy supplements market in India:The growing disposable income, combined with increased awareness of lifestyle diseases, is encouraging the Indian populace to take more proactive measures to guard and avoid diseases. Furthermore, in India, decreasing food quality has become an increasingly popular trend for generating real-time opportunities. Energy gummies are becoming popular for weight control; hence, the market for energy supplements is expected to rise during the forecast period. Considering India is a rapidly growing market, companies from the United States, Japan, and Europe are expanding their portfolios and releasing new products to meet the needs of Indian consumers. Manufacturers and marketers of nutraceuticals are taking on the task of educating consumers by releasing thorough information about the product, its benefits, and roles, as well as establishing transparency and credibility among the consumers. In order to achieve a balanced diet, Indian consumers, particularly those from the upper socioeconomic levels and upper middle classes, are looking for supplements and functional foods. In addition, these consumers are looking for solutions that can help them feel more energized. Consumers are seeking to increase their physical stamina, mental acuity, and overall activity and alertness.
The COVID-19 has highlighted the link between a country's nutritional and economic health. This, in turn, is expected to lead to a greater emphasis on nutrition in public health policies and programs than ever before in order to avoid diseases and address enormous healthcare difficulties, offering the nutraceutical business a distinct advantage.
Energy Supplement Market: Key Players
Some of the key players, including producers and brands operating in the energy supplements market, as profiled in the study are

Glanbia plc
Amway Melaleuca Inc
GNC Holdings Inc.
Monster Beverage Corporation Herbalife Nutrition Ltd.
PepsiCo, Inc
Forever Living AdvoCare Young Living Essential Oils Vitaco Health Limited
USANA Health Sciences, Inc.
DoTerra International
LLC Nature's Sunshine Products, Inc.
Red Bull, etc.

Key companies in the global energy supplements market are focusing on providing customized solutions to consumers. Manufacturers are creating products for children, men, women, athletes, and sportsmen, among others, based on their nutritional needs. The nutritional value and flavor of items varies depending on the target audience of the product.
India Energy Supplements Market – Scope of Report
Transparency Market Research (TMR) has recently published a market study on the energy supplements market. It provides a detailed assessment of key market dynamics, including drivers, trends, opportunities & restraints, and detailed information about the energy supplements market structure. The market study presents exclusive information about how the energy supplements market will grow during the forecast period of 2021-2031.
Key indicators of market growth, which include year-on-year (Y-o-Y) growth of the market, value chain, supply chain analysis, and compounded annual growth rate (CAGR) are elaborated in the study in a comprehensive manner. This information is intended to help readers understand the quantitative growth prospects of the energy supplements market during the forecast period.
The study is intended to offer a holistic market overview to stakeholders in the energy supplements market, including manufacturers, suppliers, distributors, cultivators, brands and investors, and to help them develop winning growth strategies. Stakeholders in the energy supplements market, which include investors, industry experts, researchers, and journalists, and business researchers, can leverage the information and data presented in TMR's study.
The study also includes statistics and facts related to the macro as well as microeconomic factors that are impacting the expansion of the market. It also offers actionable insights into the future trends in the energy supplements market. Furthermore, small businesses and new entrants in the energy supplements market can make use of the information presented in this study based on which, they can make appropriate business decisions in order to gain momentum in the market.
Key Questions Answered in TMR's Report on India Energy Supplements Market
Which region will continue to remain the most profitable regional market for energy supplements market players?
Which factors will induce a change in the demand for energy supplements during the assessment period?
How will the changing trends impact the India energy supplements market?
How can market players capitalize on the low-hanging opportunities in the energy supplements market in developed regions?
Which companies are leading the India energy supplements market?
What are the winning strategies of stakeholders in the energy supplements market to catapult their position at the forefront?
India Energy Supplements Market – Research Methodology
In the TMR's study, a unique research methodology is used to conduct an extensive research on the growth of the energy supplements market and identify future growth parameters. This research methodology is a combination of primary and secondary research to help analysts ensure the accuracy and reliability of the conclusions.
Secondary sources referred to by analysts for compiling the India energy supplements market study include statistics from governmental organizations, trade journals, white papers, and internal and external proprietary databases. Analysts have interviewed senior managers, product portfolio managers, CEOs, VPs, marketing/product managers, and market intelligence managers, who contributed to the development of this report as a primary source.
Information acquired from primary sources and secondary sources is compiled in a comprehensive manner. This also acts as a validation from companies in the India energy supplements market, which makes TMR's projections more accurate and reliable.
India Energy Supplements Market – Segmentation
TMR's study on the energy supplements market offers information divided into important segments — product type, flavor, and sales channel. This report offers comprehensive data and information about the important market dynamics and growth parameters associated with these categories.
Product Type

Energy Drinks
Energy Gels
Gummies

Flavor

Fruit
Vanilla
Chocolate
Others

Sales Channel

Hypermarkets/Supermarkets
Specialty Stores
Drug & Pharmacy Stores
Online Retail
Custom Market Research Services
TMR offers custom market research services that help clients to get information on their business scenario required where syndicated solutions are not enough.
REQUEST CUSTOMIZATION

India Energy Supplements Market