Global Ice Trays Market: Overview
Ice cube is an efficient way of cooling a beverage instantly. Other than just cooling beverages, ice cubes have various other uses such as in removing gum from clothes and curing skin problems, among others. Over the years, ice trays have evolved from metal ice trays with a leaver to take out ice cubes, to soft plastic ice trays that are flexible enough to twist and take out ice cubes. Ice trays are one of the most readily available consumer products in general retail stores, super markets and hyper markets. Moreover, the online sales channel has played a crucial role in enabling consumers to find the desired shape of ice trays easily. The stackable nature of ice trays offers the added convenience of storing and transporting ice trays for consumers, manufacturers, and suppliers. The increasing demand for ice cubes as a traditional way of cooling and lowering down the concentration of beverages drives the global ice trays market.
Global Ice Trays Market: Key Developments
One of the prominent advancements in the ice trays market is the development of BPA (Bisphenol A) free plastic ice trays. Majority of plastic molds contain BPA, which causes health issues such as behavioral changes, damage to pituitary gland and damage to the brain. To prevent the influence of plastic ice trays containing BPA on public health, silicone ice trays were introduced in the global ice trays market. Further, developments in plastic materials have resulted in the manufacturing of flexible or soft plastic ice trays wherein ice cubes can be easily removed from the tray by merely twisting it. Continuous advancements in material and manufacturing technology have resulted in ice trays that ate capable of forming ice cubes in an infinite number of complex shapes such as spherical balls. As the demand of customized or complex shaped ice trays is increasing, the online sales channel has created a highly interactive platform for consumers to easily find the desired ice tray and for manufacturers to market their creative designs in the ice trays market.
Global Ice Trays Market: Segmentation
The global ice trays market can be segmented on the basis of the design of ice cubes as:
Cuboidal
Spherical
Oval
Others
As the prices of ice trays vary according to the complexity of the design of ice cube, the pricing analysis of the global ice trays market is examined on the basis of the design of ice cube. Cuboidal and oval-shaped ice trays are readily available in general retail stores, while ice trays with complex shapes are available in a much wider variety on the online sales channel.
The global ice trays market can be segmented on the basis of the material type as:
Plastic

Polypropylene
Poly Vinyl Chloride
Polyethylene Terephthalate
Polyethylene
Others

Rubber
Silicone
Metal
The global ice trays market can be segmented on the basis of capacity as:
Up to 10 ice cubes
10 to 16 ice cubes
More than 16 ice cubes
The global ice trays market can be segmented on the basis of sales channel as:
The global ice trays market can be segmented on the basis of geographical regions as:
North America
Latin America
Western Europe
Eastern Europe
Middle East & Africa (MEA)
Asia Pacific excluding Japan (APEJ)
Japan
The penetration of refrigerators in the urban population of North America, Western Europe, and Japan is high, and the demand for refrigerators is assumed to have attained maturity. On the other hand, more than half the population of MEA, Eastern Europe and APEJ belongs to rural areas with low penetration of refrigerators. Therefore, household appliance companies are focusing on attracting the rural population towards their products. This has resulted in an average annual growth rate of 10% in the refrigerators market in developing countries such as India. Therefore, the ice trays market is projected to be propelled by the rising demand for refrigerators in APEJ, Eastern Europe, and MEA regions.
According to IBEF, the consumer durables market was valued at US$ 12.5 Bn in 2016 and is projected to reach US$ 20.6 Bn by 2020.
Global Ice Trays Market: Research Methodology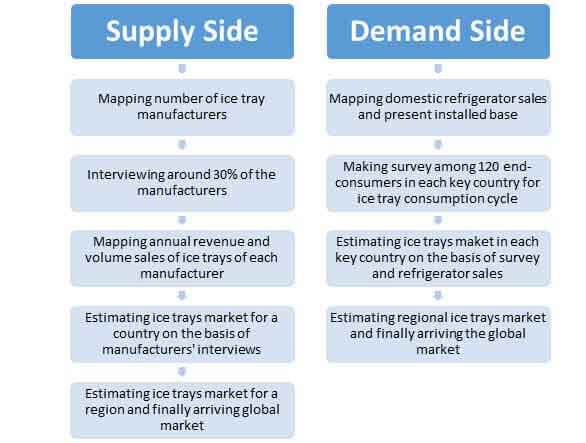 Global Ice Trays Market: Key Players
The global ice trays market players can be segmented into a three-level tier structure as:
Tier-1: Tier-1 players are characterized by premium ice trays with highly complex or customized designs and the high quality of material used in the manufacturing of ice trays. Also, these companies have strong presence on the online sales channel. Tier-1 ice tray market players include Onyx Containers, The Original Whiskey Ball, Fred & Friends LLC and some others.
Tier-2: Tier-2 players are characterized by general shaped ice trays with presence in the international market. These companies provide moderately complex designs for ice cubes and sell their products on the online sales channel. Tier-2 ice trays market players include Dongguan Tufeng Rubber Co., Ltd, Shenzhen Hanchuan Industrial Co., Ltd, Jin Sheu Enterprise Co., Ltd., Shenzhen Fei`aoda Technology Co., Ltd., Universal Corporate Limited Company and others.
Tier-3: Tier-3 players are characterized by moderate volume production of economic ice trays. These companies belong to the unorganized manufacturing sector, which is engaged in the manufacturing of a wide variety of plastic consumer products along with ice trays and serves the domestic market only.

The report is a compilation of first-hand information, qualitative and quantitative assessment by industry analysts, inputs from industry experts and industry participants across the value chain. The report provides in-depth analysis of parent market trends, macroeconomic indicators and governing factors along with market attractiveness as per segments. The report also maps the qualitative impact of various market factors on market segments and geographies.
Report Highlights:
A detailed overview of parent market
Changing market dynamics in the industry
In-depth market segmentation
Historical, current, and projected market size regarding volume and value
Recent industry trends and developments
Competitive landscape
Strategies for key players and products offered
Potential and niche segments, geographical regions exhibiting promising growth
A neutral perspective on market performance
Must-have information for market players to sustain and enhance their market footprint
Note: Although care has been taken to maintain the highest levels of accuracy in TMR's reports, recent market/vendor-specific changes may take time to reflect in the analysis.