Hospital Pharmaceuticals Market
Hospital Pharmaceuticals Market - Global Industry Analysis, Size, Share, Growth, Trends, and Forecast 2015 - 2023
Category :

Healthcare

Format :
Jolted by the economic slowdown and the looming patent expiry of blockbuster drugs, the global hospital pharmaceuticals market is forecasted to exhibit a moderate CAGR of 3.9% between 2015 and 2023. Nevertheless, the increasing prevalence of chronic ailments worldwide, coupled with increasing healthcare spending is expected to keep the demand for hospital pharmaceuticals high in the near future. As per Transparency Market Research, the market stood at US$197.3 bn in 2014 and is expected to reach US$280.3 bn by the end of 2023. Emerging economies in Asia Pacific and Rest of the World are currently exhibiting highest demand for hospital pharmaceuticals.
As per reports from the World Health Organization (WHO), annual cases of cancer globally are expected to reach 22 million by 2030. This combined with the rising incidence of parasitic infections will boost demand for anti-parasitic drugs, thus driving the global hospital pharmaceuticals market in the forthcoming years.
Increasing Pharmaceuticals Spending in U.S. Boosts Prospects of Hospital Pharmaceuticals in North America
Regionally, North America held the largest share in the global market in 2014. The recovery of the pharmaceutical industry and the rise in R&D activities between 2013 and 2014 have bolstered opportunities for the hospital pharmaceuticals market in North America. As per TMR analysis, the increasing spending on pharmaceuticals by the U.S. government has considerably aided in the expansion of the hospital pharmaceuticals market in North America. The market in the region is projected to surge at a CAGR of 3.4% between 2015 and 2023.
Europe has emerged as the second-largest market for hospital pharmaceuticals, primarily due to the presence of renowned research organizations in the region. The sound intellectual property protection norms prevalent in Europe have also helped the market to thrive in the region. However, the region lacks proper reimbursement policies and regulatory framework for encouraging the development of novel therapeutics. This could restrain the market's growth in Europe.
In the meantime, surging opportunities in Latin America and Asia Pacific will compel vendors to shift their focus from developed economies to emerging nations. The large population base in Asia Pacific, coupled with the increasing spending on research and development of novel therapeutics will aid expansion of the hospital pharmaceuticals market in emerging economies.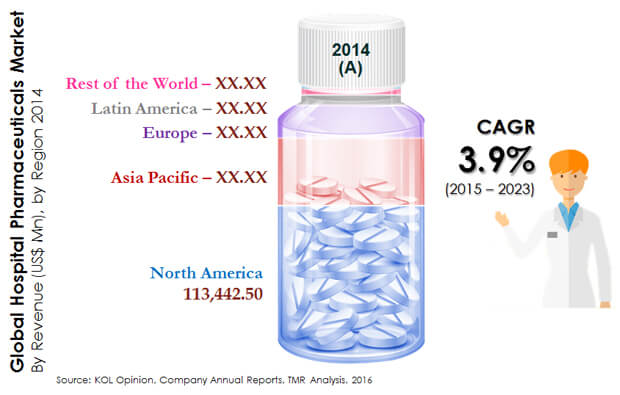 Demand from Oncology Segment to Surge in Response to Increasing Incidence of Cancer
The increasing incidence of cancer worldwide has catapulted the oncology segment at the forefront of the global hospital pharmaceuticals market, by therapeutic class. Cancer types such as stomach, breast, liver, and lung cancer have emerged as the leading causes of deaths due to cancer. The market is forecasted to gain momentum from a strong product pipeline as more drugs receive FDA approvals in the future. Since cancer is often associated with a high mortality rate, scientists around the world are engaged in the discovery of better treatment options and more efficient drugs. Demand for oncology drugs is therefore expected to surge in the forthcoming years. TMR has pegged the oncology segment in the global hospital pharmaceuticals market to rise at a CAGR of 6.35% during the forecast period.
Besides this, the increasing incidence of cardiovascular diseases will also fuel demand from the global hospital pharmaceuticals market. The increasing government initiatives, growing diseases awareness, and therapeutic interventions aimed at curbing the incidence of cardiovascular ailments are likely to boost demand for relevant hospital pharmaceuticals.
Demand for anti-hypersensitive drugs is also expected to increase during the forecast period.
Some of the most prominent vendors operating in the global hospital pharmaceuticals market include Novartis, Pfizer, Roche, Sanofi, Merch &Co., AstraZeneca, GlaxoSmithKline, Johnson & Johnson, Gilead Sciences, and others.
Rise in the Number of Hospitals to Foster Growth of the Hospital Pharmaceuticals Market
Huge increase in the number of hospitals around the world, pharmaceutical firms are likely to observe a strong rise in opportunities for growth in the global hospital pharmaceuticals market. With a rise in the number of important pharmaceutical companies penetrating the domain of oncology, which is actually amongst the most profitable therapeutic sectors in the global hospital pharmaceuticals market, the competitive environment is likely to intensify.
The massive rise in occurrence of various chronic diseases like diabetes, cancer, and a multitude of cardiovascular conditions is likely to work in favor of the global hospital pharmaceuticals market in near future. In addition to that, increasing healthcare expenses throughout the developing countries are further likely to drive the demand for hospital pharmaceuticals in near future. The market is anticipated to expand in the face of increasing rate of parasitic infection, which has increased hospital demand for anti-parasitic drugs. The rising number of cancer patients is also another factor propelling the market forward, and it is predicted to continue to be a key driving force in the years to come.
High Prevalence of Diseases like Cancer and Cardiovascular Diseases to Boost Demand
According to World Health Organization (WHO) statistics, cardiovascular diseases account for approximately 31% of all fatalities worldwide each year. As a result, hospital pharmacies dispense a significant volume of medicinal and diagnostic drugs for cardiovascular problems. However, due to a high level of market saturation, the sector of cardiovascular diseases is expected to grow at a slower rate than other indications in the years to come. On the other hand, due to the rising number of cases of cancer detected each year around the world, the oncology sector is anticipated to see a massive increase in valuation. Increased prevalence of such diseases worldwide is likely to pave way for rapid growth of the global hospital pharmaceuticals market in near future.
Pharmaceutical drugs are sold through various channels such as retail, mail orders, clinics and hospitals. This report on the global hospital pharmaceuticals market analyses the current and future prospects of the market specifically pertaining to drugs sold in hospital settings. The report comprises an elaborate executive summary, including a market snapshot that provides overall information of various segments and sub-segments.
The research is a robust combination of primary and secondary research. Primary research formed the bulk of our research efforts with information collected from telephonic interviews and interactions via e-mails. Secondary research involved study of company websites, annual reports, press releases, stock analysis presentations, and various international and national databases. The report provides market size in terms of US$ million for each segment for the period from 2013 to 2023, considering the macro and micro environmental factors. Growth rates for each segment within the global teleradiology market have been determined after a thorough analysis of past trends, demographics, future trends, technological developments, and regulatory requirements.
Market revenue in terms of US$ Mn for the period between 2013 and 2023 along with the compound annual growth rate (CAGR %) from 2015 to 2023 are provided for all the segments, considering 2014 as the base year. Global hospital pharmaceutical drugs market is segmented according to major therapeutic areas, which include: cardiology, oncology, nephrology and urology, neurology, pain and infection. Market for these major therapeutic areas has been further assessed according to drug classes. Cardiology segment is further divided into anti-hypertensive drugs, dyslipidemia drugs, and others (ACE inhibitors, angiotensin receptor blockers, anticoagulants). Oncology segment is further segmented into immunomodulating agents, alkylating agents, anti-metabolites, hormonal agents, and miscellaneous drugs. Nephrology and urology segment is further divided into diuretic drugs, anti-hypertensive agents, phosphate binders, anti-cholinergic agents and 5-alpha-reductase inhibitors. Neurology segment is divided into anti-anxiety, anti-migraine, anti-depressant and anti-psychotic drugs. Market for pain management drugs has been divided into anti-convulsant drugs, anesthetics, nonsteroidal anti-inflammatory drugs (NSAID), opioids, and non-narcotic analgesic drugs. Similarly anti-infective drugs market has been segmented into anti-bacterial drugs, anti-viral drugs, anti-fungal drugs and anti-parasite drugs. The report also provides a detailed list of potential phase III candidates for each of the therapeutic areas.
The market has been further studied from the point of view of major diseases in these therapeutic areas. Thus the cardiology market has been studied considering coronary heart diseases, stroke, high blood pressure (hypertension), heart failure and other cardiovascular diseases. Oncology drugs market has been studied for lung cancer, breast cancer, colorectal cancer, prostate cancer, and others. Nephrology and urology drugs market is studied for acute kidney failure, chronic kidney diseases, glomerular diseases, diabetes and other diseases. Neurology market has been studied for epilepsy, Alzheimer's disease, Parkinson's disease, multiple sclerosis, stroke and other diseases.
Market for pain has been studied for neuropathic pain, fibromyalgia, osteoarthritis, rheumatoid arthritis, cancer pain and others. The infection market is studied for major infectious disease such as tuberculosis, pneumonia, hepatitis A, hepatitis B, Candida infections, fungal meningitis, shigellosis, amoebiasis and other infections. The report also provides insights for various branded and blockbuster drugs under various therapeutic drug class. Moreover, the report also provides the approval date and the patent expiry for major drugs in the event impact analysis section.
Additionally, the report contains market attractiveness analysis by geography and competitive landscape by key players. The market attractiveness analysis explains the intensity of competition in the market in different geographies. The competitive scenario between different market players is evaluated through market share analysis. These factors would help the market players to take strategic decisions in order to strengthen their positions and expand their share in the global market.
Geographically, this market has been segmented into four regions: North America, Europe, Asia-Pacific, Latin America, and Rest of the World (RoW). In addition the regions have been further segmented by major countries from each region, which include the U.S, Canada, Japan, China, U.K., Germany and Brazil. The report also profiles major players in the hospital pharmaceuticals market based on various attributes such as company overview, financial overview, key business strategies, product portfolio, and recent developments. Key companies profiled in the report include AstraZeneca plc, Bayer AG, Bristol-Myers Squibb, Eli Lilly, GlaxoSmithKline plc, Johnson & Johnson, Merck & Co., Novartis, and Pfizer, Inc.
The global hospital pharmaceuticals market has been segmented as follows:
Global Hospital Pharmaceuticals Market, by Therapeutic Class
Cardiology

Anti-hypertensives
Dyslipidemia drugs
Others

Oncology

Alkylating Agents
Anti-metabolites
Hormonal Agents
Immunomodulating Agents
Miscellaneous Drugs

Nephrology and Urology

Diuretic Agents
Anti-hypertensive Agents
Phosphate Binders
Anticholinergic Drugs
5-Alpha Reductase Inhibitors

Neurology

Anti-anxiety Agents
Anti-migraine Drugs
Antidepressant Drugs
Anti-psychotic Drugs

Pain

Anticonvulsant Drugs
Anesthetic Drugs
Non-steroidal Anti-Inflammatory Drugs (NSAIDs)
Opioids
Non-narcotics Analgesic Drugs

Infection

Antibacterial Drugs
Antiviral Drugs
Antifungal Drugs
Antiparasite Drugs
Global Hospital Pharmaceuticals Market, by Indication
Cardiology

Coronary Heart Diseases
Stroke
High Blood Pressure
Heart Failure
Others

Oncology

Lung Cancer
Breast Cancer
Colorectal Cancer
Prostate Cancer
Others

Nephrology and Urology

Acute Kidney Failure
Chronic Kidney Diseases
Glomerular Diseases
Diabetes
Others

Neurology

Epilepsy
Alzheimer's Disease
Parkinson's Disease
Multiple Sclerosis
Others

Pain

Neuropathic Pain
Fibromyalgia
Osteoarthritis
Rheumatoid Arthritis
Cancer Pain

Infection

Tuberculosis
Pneumonia
Hepatitis A
Hepatitis B
Candida Infection
Fungal Meningitis
Shigellosis
Amoebiasis
Other
Global Hospital Pharmaceuticals Market, by Geography
North America
Asia Pacific
Europe

U.K.
Germany
Rest of Europe

Latin America

Brazil
Mexico
Rest of Latin America

Rest of the World
Custom Market Research Services
TMR offers custom market research services that help clients to get information on their business scenario required where syndicated solutions are not enough.
REQUEST CUSTOMIZATION

Hospital Pharmaceuticals Market