Healthcare Packaging Market
Healthcare Packaging Market (Packaging Format: Flexible Packaging and Rigid Packaging; Material Type: Plastic, Metal, Glass, and Paper & Paper Board; and End Use: Pharma & Biological, Medical Supplies, and Medical Equipment) - Global Industry Analysis, Size, Share, Growth, Trends, and Forecast, 2021-2029
Packaging
TMRGL63018
2021-07-26
202

Pages
Packaging Companies Accelerate Production Activities to Supply COVID-19 Vaccines, Kits
Worldwide COVID-19 vaccination programs are triggering the demand for rapid-response packaging development. Manufacturers in the healthcare packaging market are working at break-neck speed to increase their production in tubs, lids, trays, and inserts that aid in the distribution of coronavirus vaccines and test kits. As such, U.S. manufacturers have been navigating through shortages in resin supply due to the pandemic and Texas storms. Packaging companies are playing a critical role to ensure medical supplies are packaged and transported safely and quickly.
Companies in the healthcare packaging market are accelerating their manufacturing capacity of COVID-19 vaccine vials. They are increasing efforts to distribute vials to vaccine makers in order to ensure they arrive quickly and safely in an easy-to-use format for filling processes. Packaging manufacturers are shipping vials in plastic tubs to pharmaceutical filling plants.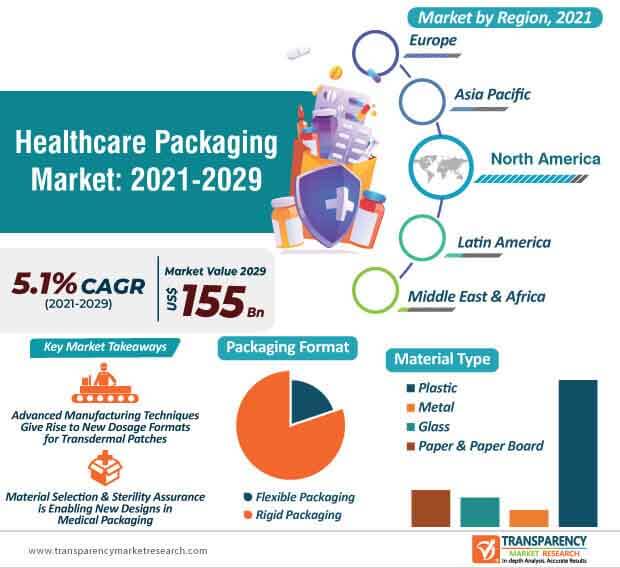 Request a sample to get extensive insights into the Healthcare Packaging Market
Rapidly Growing Regulatory, Economic, Global Challenges Influencing Market Expansion
The global healthcare packaging market is predicted to reach ~27,12,949 million units by 2029. However, challenges such as stringent regulations, globalization, and other economic factors are influencing market growth. In the context of regulations, developing and implementing superior processes related to rapidly evolving labels and new regulatory regimens for information & anti-counterfeiting is challenging for manufacturers.
In terms of economic factors, downward price pressure due to broad governmental and economic factors is an ongoing challenge for pharmaceutical packaging companies. Thus, packaging companies are gaining awareness about regulatory, economic, and globalization challenges, and collaborating with physicians to increase their R&D capabilities to develop strategies that help to overcome issues. Packaging companies are appealing to the expertise of physicians and their desire to deliver better outcomes in patients.
To understand how our report can bring difference to your business strategy, Ask for a brochure
Pharmaceutical Packaging Companies Deploy Continuous R&D in Child-resistant Packaging Options
Despite COVID-19 pandemic's unwelcome interruption in various business activities, packaging innovations continue to grab the attention of healthcare industries. Pharmaceutical packaging companies in the healthcare packaging market are involved in continuous R&D to introduce innovations to overcome challenges in child resistant and senior-friendly packaging solutions. These companies are increasing the availability of packaging in on-the-go convenience and anti-counterfeiting solutions to improve their functionality.
The healthcare packaging market is expected to reach US$ 155 Bn by 2029. Manufacturers are providing customizable shapes and designs in thermoformed packaging, which is being publicized as a cost-efficient solution for pharmaceutical packaging. They are increasing production capabilities in reclosable packaging options for pharmaceutical products.
Robust, Sustainable Packaging Solutions Withstand Shock, Temperature Fluctuations
The demand placed on medical and healthcare packaging is intense. Companies in the healthcare packaging market are boosting their output capacities in packaging that protect its contents from shock, temperature fluctuations, puncture, and bursting. They are innovating in packaging that adhered to specific demands and withstands the impact of shipping, sterilization, transportation, and usage.
Manufacturers in the healthcare packaging market are increasing the availability of packaging designs that enable better patient compliance to a treatment regimen and ultimately improve medical outcomes. This is being achieved by establishing intense regulatory scrutiny and usage requirements governing the healthcare packaging industry. There is a growing demand for easy to dispose, open, and use packaging, among consumers. As such, this has brought emphasis on the need for smart and sustainable packaging to minimize waste in the environment and establish a circular economy.
Track & Trace Technology Enables Healthcare CEOs to Defend Distribution Risks
Various diagnostics, biologics, medical devices, and other cutting-edge products are translating into revenue opportunities for manufacturers in the healthcare packaging market. Varied products are triggering the demand for complex packaging solutions that involve new materials, delivery mechanisms, and technology driven solutions.
Securing end-to-end supply chains are imperative for CEOs across the healthcare industry. Companies in the healthcare packaging market are gaining information about these requirements and are playing a key role, right from vaccine distribution to prescription management. Packaging companies are enhancing the security and ensuring the safety of products upon delivery. They are adopting the track and trace technology, embedded into packaging designs to ensure safety of products. Thus, technology driven solutions are enabling CEOs to defend against a range of manufacturing and distribution risks.
Innovative Packaging Materials Giving Rise to New Dosage Formats
Consumerism is bringing a significant change in the healthcare packaging market. New trends, such as patient portals, telemedicine, and urgent care clinics are creating revenue streams for packaging companies. Manufacturers are increasing efforts to meet modern consumer behavior. Developments in innovative packaging materials and advanced manufacturing techniques are giving rise to new dosage formats that range from transdermal patches, single-use swabs, and advanced tablet designs. These formats are emerging as an alternative solution to traditional drug delivery that suit the modern consumer.
By deploying direct-to-consumer marketing strategies through packaging, healthcare CEOs can drive consumer demand and build brand awareness. Such trends are contributing toward the growth of the global healthcare packaging market. Glass, on the other hand, is being publicized as a trusted packaging material for pharmaceutical products.
Better Labeling in Packaging Systems Provide Adequate Information to Users
Manufacturers in the healthcare packaging market are increasing their R&D activities to engineer new designs in medical packaging, right from material selection to rigorous testing and sterility assurance. They are innovating in packaging solutions that are easy to use in emergency settings. Manufacturers are developing packaging solutions that help to improve patient outcome and enhance consumer experience. There is a need for better labeling in packaging systems to provide adequate information to users.
Since polymers are heavily used in the healthcare packaging industry, manufacturers are increasing efforts to be more mindful about the packaging's end-of-use state. They are striving to adopt sustainable designs and practices in packaging options in order to be mindful about communities and climate change. On the other hand, there is a demand for child resistant, paperboard-based blister cards from pharmaceutical companies in India.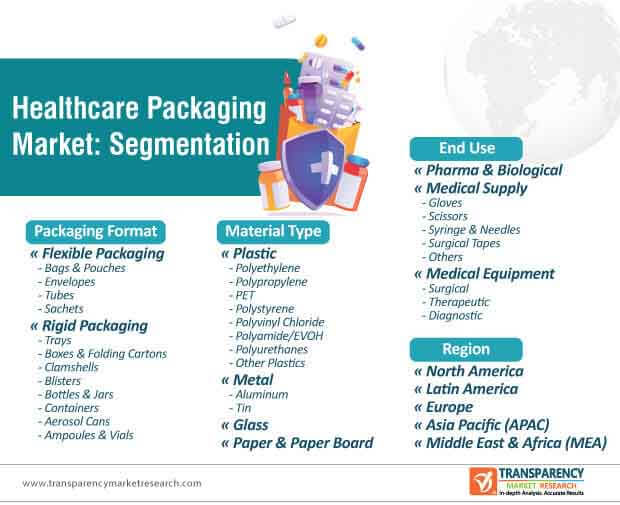 Stuck in a neck-to-neck competition with other brands? Request a custom report on Healthcare Packaging Market
Analysts' Viewpoint

Design and production activities are being carried out in record time during the ongoing COVID-19 outbreak. The healthcare packaging market is expected to advance at a modest CAGR of 5.1% during the forecast period. However, increasing new product cost and need for agility to capitalize on short windows of exclusivity are potentially challenging for healthcare companies. Hence, packaging companies should focus on design innovations, packaging information, and comply with health authority regulations to optimize new product costs and swiftly introduce new products in the market. Stakeholders should adopt the track & trace technology to involve new materials and delivery mechanisms in packaging formats.
Healthcare Packaging Market: Overview
Transparency Market Research's latest report published on the healthcare packaging market provides data with historical data of 2014-2020 and forecast data from 2021-2029
Rise in demand for lightweight & cost-effective packaging solutions and growth of pharmaceutical industry in developing regions are expected to boost the global healthcare packaging market
Need of vaccines and medicinal supplies is fueling the demand for packaging solutions for these healthcare supplies across continents
Growth of Pharmaceutical Industry in Emerging Nations: Key Driver
Governments of emerging nations such as India and China are making consistent efforts to advance their pharmaceutical manufacturing capabilities and increase domestic drug production. The growing pharmaceutical industry in these countries is driving the need for efficient packaging solutions.
According to the report published in June 2021 by the India Brand Equity Foundation (IBEF), India is the biggest provider of generic medicines and drugs globally. The Indian pharmaceutical sector supplies more than 50% of the global demand for various vaccines, 40% of the generic demand in the U.S., and over 25% of total medicines in the U.K. The drastic growth of the pharmaceutical industry in emerging nations is attracting many global healthcare packaging players to expand their operations in these countries.
For instance, Gerresheimer AG in 2021 opened two new plants in China and India for the production of plastic packaging to enable it to supply its customers with pharmaceutical packaging needs in these countries. The rapidly growing pharmaceutical industry in emerging nations is anticipated to significantly boost the healthcare packaging market in emerging nations.
Growing Preference for Lightweight, Economical Plastic Packaging
Healthcare packaging has evolved in many aspects; one of them is a shift in material preference of manufacturers from glass to plastic. Traditionally, glass is the preferred material in the manufacturing of pharmaceutical packaging solutions. Glass offered protection for the internal contents and the material did not react with any of contents, keeping the initial formulation intact for a longer period.
Manufacturers and consumers were concerned about safe handling, storage, and transportation of these bottles for a very long time, but the unavailability of compatible alternatives has kept the demand for glass packaging on the rise
With innovation and technological advancements, plastic packaging was introduced in the market that was not only able to keep the content intact but was drastically less fragile than glass. Furthermore, plastic packaging solutions are light in weight and offer excellent barrier properties against moisture, gas, solvent, and most of the environmental factors. These properties of being lightweight, comparatively economical, and ease in availability of raw materials have drastically increased the profitability for manufacturers. These factors significantly have increased the supply of plastic packaging solutions in the pharmaceutical packaging market.
Track, Trace Solutions Trending in Healthcare Packaging Market
Track and trace solutions are implemented to track a product throughout the supply chain and can also be used to trace it back up to the supply chain in case of returns or recalls. Tampering and counterfeiting have been a major cause of concern for the healthcare industry. It is very important for pharmaceutical and medical device manufacturers that the product reaching the consumers is of the same quality and content as manufactured.
Tampering and counterfeiting not only impact the manufacturers' reputation but are also a threat to the safety and health of consumers. Solutions, including RFID chips, QR codes, bar codes, and more are embedded in packaging.
Application of track and trace solutions in pharmaceutical companies has been mandated by the European Unions 'Falsified Medicines Directive (FMD)' and Drug Supply Chain Security Act (DSCSA) in the U.S. Many healthcare packaging companies are offering innovative and customized track and trace solutions to the manufacturers to help solidify their supply chain and meet the regulations set by the regulatory bodies.
Healthcare Packaging Market: Key Findings
In terms of packaging format, the rigid packaging formats holds more than 80% of the market share. Due to the high demand for trays, boxes, clamshells, blisters, bottles & jars, containers, aerosol cans, and ampoules & vials, these are necessary supplies for all the medicinal facilities around the world.
Among material types, plastic is the most profitable material for manufacturers around the globe. During the forecast period, plastic is anticipated to offer a total incremental opportunity of US$ 33.5 Bn between 2021 and 2029, as recyclable plastics such as polyethylene and polyethylene terephthalate are widely used to produce sustainable healthcare packaging solutions.
Based on end use, the medical supply segment holds a maximum market share of more than 46%. Moreover, the medical supply end use segment is expected to grow at a CAGR of 5.4% during the forecast period.
North America is anticipated to lead the global healthcare packaging market with a 35% market share in 2021, and is expected to hold a major market share of 37% by the year 2029. The highest total incremental opportunity offered by the North American region is US$ 21.3 Bn between 2021 and 2029.
Healthcare Packaging Market: Competition Landscape
The global healthcare packaging market has top market players holding a maximum of the market shares across all regions of the world. Major players use strategic expansion by acquiring and merging with key domestic players to expand their consumer bases. In addition, to serve the sharp rise in the global demand for healthcare packaging solutions, technological innovations have enabled the market players to expand their production capacities as per the pharmaceutical and healthcare industry trends.
Key market players of global healthcare packaging market are

Amcor plc
Gerresheimer AG.
DS Smith Plc
Huhtamäki Oyj
Berry Global, Inc.
Sonoco Products Company
Sealed Air Corporation
Constantia Flexibles Group GmbH
Winpak Ltd.
CCL Industries Inc.
3M Company
Dunmore Corporation
Toray Plastics (America). Inc.
WestRock Company
Mondi Group
BillerudKorsnäs AB
Ball Corporation
Honeywell International
Klöckner Pentaplast Europe GmbH & Co. KG
Avery Dennison Corporation
other domestic players
COVID-19 Outbreak Results in Surge in Demand for Healthcare Packaging Solutions
Due to the outbreak of the COVID-19 pandemic, all types of manufacturing and supplying activities other than essential services were stopped, as most countries in the world were forced to impose a lockdown
Essential services included pharmaceutical medicines & supplies, along with food & beverages. Despite pandemic manufacturing and supply of pharmaceutical products were allowed. Moreover, the pharmaceutical industry witnessed the highest demand for life-saving, drugs, vaccines, and medicinal supplies in the last many decades.
Demand for medicines and related supplies resulted in the sharp rise of packaging solutions for the same, the packaging for healthcare and pharmaceutical goods was so high that manufacturers had to increase their production capacities on an immediate basis
After the pandemic ends, the overall healthcare packaging market is expected to grow at a healthy rate during the forecast period
Healthcare Packaging Market – Scope of Report
Transparency Market Research (TMR) started a new study on the global healthcare packaging market, providing forecast for the period of 2021-2029. In the study, growth opportunity for the healthcare packaging market is witnessed. The report provides valuable insights, which enable readers to make winning business decisions for future growth of their businesses. The report highlights significant factors that are constantly determining the growth of the healthcare packaging market, untapped opportunities for manufacturers, trends and developments, and other insights across various key segments. Macroeconomic factors that are directly or indirectly affecting market growth are also incorporated in the report.
Key Questions Answered in TMR's Healthcare Packaging Market Report
What will be the impact of COVID-19 on the healthcare packaging market?
Which end users will be the most lucrative for healthcare packaging?
What will be market size for healthcare packaging by the end of 2029?
Which is the most preferred material type for healthcare packaging in the global market?
Which region will remain most lucrative for market growth?
Which are the top five countries for healthcare packaging market?
Who are major key players in the healthcare packaging market?
Key indicators associated with the healthcare packaging market have been calculated thoroughly in the report. The study enumerates vital market dynamics such as key drivers, challenges, and trends, along with opportunities in the global healthcare packaging market. A comprehensive study on the value chain, which includes component suppliers, manufacturers, distributors, and end users have been incorporated in the global market report. Other key aspects laid down in the market include pricing strategy of leading market players and comparative analysis of healthcare packaging. Furthermore, forecast factors and forecast scenarios of the healthcare packaging market have been covered in the report to understand future prospects of the market.
A comprehensive evaluation and forecast on the healthcare packaging market are provided on the basis of packaging format, material type, end use, and regions.
Y-o-Y growth comparison, volume and revenue comparison, and market share comparison of various market segments have been provided in the report. The healthcare packaging market has been analyzed at both regional and country levels.
The report delivers an exhaustive assessment on the structure of the healthcare packaging market, in tandem with the dashboard view of all leading company profiles in the report. Every company's share analysis on market players have also been presented in the report, apart from the footprint matrix of profiled market players. The report depicts the presence of healthcare packaging manufacturers by leveraging an intensity map. It also highlights key end users for healthcare packaging.
The report includes company overview of key players. Some of the key companies profiled in the healthcare packaging market report include Amcor plc, Gerresheimer AG, DS Smith Plc, Huhtamäki Oyj, Berry Global, Inc., Sonoco Products Company, Sealed Air Corporation, Constantia Flexibles Group GmbH, Winpak Ltd., CCL Industries Inc., 3M Company, Dunmore Corporation, Toray Plastics (America). Inc., WestRock Company, Mondi Group, BillerudKorsnäs AB, Ball Corporation, Honeywell International, Klöckner Pentaplast Europe GmbH & Co. KG and Avery Dennison Corporation.
Research Methodology
A realistic methodology, along with a holistic approach makes the base for sharp insights, which are provided in the healthcare packaging market for the study evaluation period. The TMR report comprises of detailed information on growth prospects, along with riveting insights into the forecast assessment of the market.
Extensive primary and secondary researches have been employed to garner keen insights into the forecast study of the healthcare packaging market. The report has undergone a cross-validation by in-house professionals to make the healthcare packaging market report one-of-its-kind, with the highest credibility.
Healthcare Packaging Market – Segmentation
The global healthcare packaging market has been divided on the basis of packaging format, material type, end use, and region. Each of these segments are analyzed to provide readers with holistic view of the market.
Packaging Format

Flexible Packaging

Bags & Pouches
Envelopes
Tubes
Sachets

Rigid Packaging

Trays
Boxes & Folding Cartons
Clamshells
Blisters
Bottles & Jars
Containers
Aerosol Cans
Ampoules & Vials

Material Type

Plastic

Polyethylene
Polypropylene
PET
Polystyrene
Polyvinyl Chloride
Polyamide/EVOH
Polyurethanes
Other Plastics

Metal
Glass
Paper & Paper Board

End Use

Pharma & Biological
Medical Supply

Gloves
Scissors
Syringe & needles
Surgical Tapes
Others

Medical Equipment

Surgical
Therapeutic
Diagnostic

Region

North America
Latin America
Europe
Asia Pacific (APAC)
Middle East & Africa (MEA)
Custom Market Research Services
TMR offers custom market research services that help clients to get information on their business scenario required where syndicated solutions are not enough.
REQUEST CUSTOMIZATION

Healthcare Packaging Market