Hyperbaric Oxygen Therapy Devices Market
Hyperbaric Oxygen Therapy Devices Market (Product - Monoplace HBOT Devices and Multiplace HBOT Devices; Applications - Wound Healing, Decompression Sickness, Infection Treatment, and Gas Embolism) - Global Industry Analysis, Size, Share, Growth, Trends, and Forecast 2017 - 2025
Category :

Healthcare

Format :
Hyperbaric oxygen therapy involves breathing pure oxygen in a pressurized environment. Hyperbaric oxygen therapy is a well-established treatment for decompression sickness, a potential risk of scuba diving. Other conditions treated with hyperbaric oxygen therapy include serious infections, bubbles of air in the blood vessels, and wounds that may not heal as a result of diabetes or radiation injury.
In a hyperbaric oxygen therapy chamber, the air pressure is increased two to three times higher than normal air pressure. Under these conditions, your lungs can gather much more oxygen than would be possible breathing pure oxygen at normal air pressure.
When the blood carries this extra oxygen throughout the human body, this helps fight bacteria and stimulate the release of substances called growth factors and stem cells, which promote healing.
There are multiple factors that are helping to drive the overall development of the global hyperbaric oxygen therapy market. The introduction of the hyperbaric oxygen therapy to improve the overall effectiveness of leukocytes, particularly at the site of wound to hinder the toxic spread and infection of carbon monoxide & cyanide is a key factor for the development of the global market.
In recent years, there has been a considerable development in the field of hyperbaric oxygen therapy market by the leading industry players. Companies such as SOS Group Global Ltd. and OxyHealth have put in increased funds to develop technologically advanced hyperbaric oxygen therapy systems that will cater to the increasing demand. In addition to this, development of portable hyperbaric oxygen therapy systems and rising number of clinical trial that are sponsored by multiple universities and companies point to the fact that the global market is advancing in the right direction. The presence of high-tech and savvy organization such as Alberta Heritage Foundation for Medical Research and Cochrane Collaboration that closely monitor the development of HBOT systems is also a key driving factor for the market.
Global Hyperbaric Oxygen Therapy Devices Market: Snapshot
Presence of a copious number of small vendors has made the global hyperbaric oxygen therapy devices market fragmented in nature. However, there are few dominant players too that have a stronghold over the market. In order to surge ahead of competitors, savvy players in the global hyperbaric oxygen therapy devices market are seen leveraging a multi-pronged strategy. First, they are pouring money into research and development of improved new products. Second, they are striking carefully-considered partnerships to enhance their product portfolios. Third, they are trying to expand their geographical footprints by tapping into the relatively underserved markets in the developing nations.
A range of hyperbaric oxygen chambers of various designs and sizes combined with increasing knowledge the quicker, smoother healing process, is primarily responsible for this market's steady growth rate. Besides, the large pool of global elderly population, rising occurrence of acute and chronic wounds, and the increase in diabetic foot ulcers and pressure cases is also stoking demand in the global market for hyperbaric oxygen therapy devices.
A report by Transparency Market Research predicts the global hyperbaric oxygen therapy devices market to register a CAGR of 7.4% from 2017 to 2025 to become worth US$284.8 mn by 2025 from US$ 150.0 mn in 2016.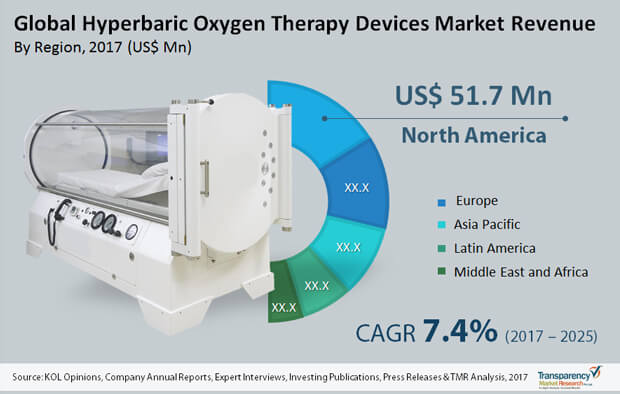 Monoplace HBOT Devices See Maximum Demand Due to their Affordability
The two main types of hyperbaric oxygen therapy devices purveyed in the market are monoplace HBOT devices and multiplace HBOT device, depending upon whether it is for one person or for many. Depending upon the type of product, the monoplace HBOT devices leads the market. It 2016, its leading share came to around 60.1% of the overall market. Their affordable cost compared to multiplace chambers has served to boost their uptake so far. Further, constant improvement in their technology that speeds up the healing process even more is also bringing about sales. In Europe, however, strict rules pertaining to the use of monolpace HBOT devices for medical purpose is pushing up demand for multiplace HBOT devices.
Hyperbaric oxygen therapy devices find application in wound healing, infection treatment, decompression sickness, gas embolism, etc. Of these, the segment of wound healing contributes the most to the market because of the widespread use of monoplace HBOT chambers in developed countries of the U.S., Canada and Japan and also in developing countries of China, Saudi Arabia, and Brazil.
Powered by U.S., North America Leads the Market
From a geographical standpoint, currently North America runs the show in the global hyperbaric oxygen therapy devices market. In 2016, the region held 32.1% share in the global market. Increasing occurrence of head injuries is said to be driving growth in the region. The U.S. is a major contributor to the market on account of the robust reimbursement system in the country.
Europe trails North America, in terms of market share, in the global hyperbaric oxygen therapy market. The revenue in the region is slated to become US$62.2 mn by 2025. Vis-à-vis growth rate, on the other hand, Asia Pacific is projected to outpace all other regions as it is home to over half the population in the world, which also makes the prevalence of diabetes much higher in the region. Besides, an improving medical infrastructure and foray of international players is also boosting the market in the region.
Some of the key players operating in the hyperbaric oxygen therapy devices market are Sechrist Industries, Inc., Perry Baromedical, and Environmental Tectonics Corporation (ETC), HAUX-LIFE-SUPPORT GmbH, IHC Hytech B.V., Oxyheal International, and Fink Engineering.
Global Hyperbaric Oxygen Therapy Devices Market: Overview
The global hyperbaric oxygen therapy devices market is prophesied to include a handful of players holding a strong position in the industry. There could be a high uptake of multipronged strategies in the market as savvy players look to move ahead of their toughest competitors. Players are expected to come up with new products as they pour heavy funds into research and development activities. They could also look to improve their product portfolios with the help of carefully analyzed partnerships and collaborations. Another strategy that could be common in the market is tapping into comparatively underserved regions to expand geographical reach.
As per the report, the global hyperbaric oxygen therapy devices market could be classified according to application and product. By product, the market is projected to testify the lead secured by monoplace hyperbaric oxygen therapy devices during the forecast timeframe 2017-2025.
The report offers a comprehensive study of the global hyperbaric oxygen therapy devices market while taking into account some of the crucial aspects such as segmentation, competition, growth, and trends and opportunities.
Global Hyperbaric Oxygen Therapy Devices Market: Trends and Opportunities
The global hyperbaric oxygen therapy devices market is envisaged to exhibit a steady growth in the near future owing to the rising knowledge about smoother and quicker healing process and a span of hyperbaric oxygen chambers carrying different sizes and designs. The demand for hyperbaric oxygen therapy devices could be stoked by the rise of diabetic foot pressure and ulcer cases, increasing incidence of chronic and acute wounds, and growing pool of geriatric people in key regions of the market.
Products such as monoplace hyperbaric oxygen therapy devices could collect a heavy demand in the market considering their strong share in 2016. Furthermore, their uptake is predicted to increase substantially in the coming years due to their inexpensive cost when compared to that of multiplace chambers. Moreover, their sales could further increase on account of consistent technological improvement speeding up the healing process.
Global Hyperbaric Oxygen Therapy Devices Market: Geographical Analysis
The international hyperbaric oxygen therapy devices market is foreseen to find North America growing to a dominating size due to the escalating count of head injuries witnessed in the region. In 2016, the region grabbed a major market share while riding on certain growth factors. Relying on its strong reimbursement system, the U.S. could take a leading position in the region to contribute a staggering amount of revenue.
Europe could follow North America on the basis of market share. However, Asia Pacific is envisioned to showcase a higher growth rate for the coming years because of its massive population base and other critical factors. The rapid entry of global players and impressively developing medical infrastructure in the region could be some of the prime factors helping Asia Pacific to grow at a faster pace in the market. Besides this, the high incidence of diabetes could strengthen the demand for hyperbaric oxygen therapy devices in the region.
Global Hyperbaric Oxygen Therapy Devices Market: Companies Mentioned
The worldwide hyperbaric oxygen therapy devices market could testify the presence of top companies such as Environmental Tectonics Corporation, Perry Baromedical, and Sechrist Industries, Inc. The vendor landscape of the market could bear a fragmented nature due to the presence of a large count of small companies operating therein.
by Product

Monoplace HBOT Devices
Multiplace HBOT Devices

by Application

Wound Healing
Decompression Sickness
Infection Treatment
Gas Embolism

by Geography

North America
Europe

Germany
France
Italy
Spain
U.K.
Rest of Europe

Asia Pacific (APAC)

India
Japan
China
Australia and New Zealand
Rest of APAC

Latin America (LATAM)

Brazil
Mexico
Rest of LATAM

Middle East and Africa (MEA)

GCC Countries
South Africa
Rest of MEA
Custom Market Research Services
TMR offers custom market research services that help clients to get information on their business scenario required where syndicated solutions are not enough.
REQUEST CUSTOMIZATION