Gummy Vitamins Market
Gummy Vitamins Market (Source: Animal-based, Plant-based; Product: Single Vitamin Gummies, Multivitamin Gummies, Probiotic Vitamin Gummies; Consumer Demography: Children, Adults; Packaging: Bottles and Jars, Stand-up Pouches, Other Packaging Types; Sales Channel: Direct Sales, Modern Trade, Convenience Stores, Departmental Stores, Specialty Stores, Drug Stores/Pharmacies, Online Retailers, Other Sales Channels) - Global Industry Analysis, Size, Share, Growth, Trends, and Forecast 2019 - 2029
Category :

Food & Beverages

Format :
Children-centric Product Approach to Hold Better Shot at Success in Gummy Vitamins Market
Gummy vitamins, or as growing in popularity as candy-ceuticals, are anticipated to make inroads in the nutraceutical industry at a value CAGR of ~6% over 2019-2029. According to a study published by Transparency Market Research (TMR) on the global gummy vitamins market, the consumption of gummy vitamins among females is high in value; however, children will emerge as the leading consumers of these vitamins by 2024. 'Organic' being the buzzword synonymous with healthy products, it is likely to occupy labels of extant and the future gummy vitamin products.
In the current range of production, players in the gummy vitamins market possess the competency to achieve a diversified portfolio by experimenting with textures, shapes, and flavors. However, as consumers become more aware of preventive healthcare, on account of the information-oriented campaigning approach taken by manufacturers, it is imperative that market players increase their production capacities to reap the impending opportunities present in the gummy vitamins market.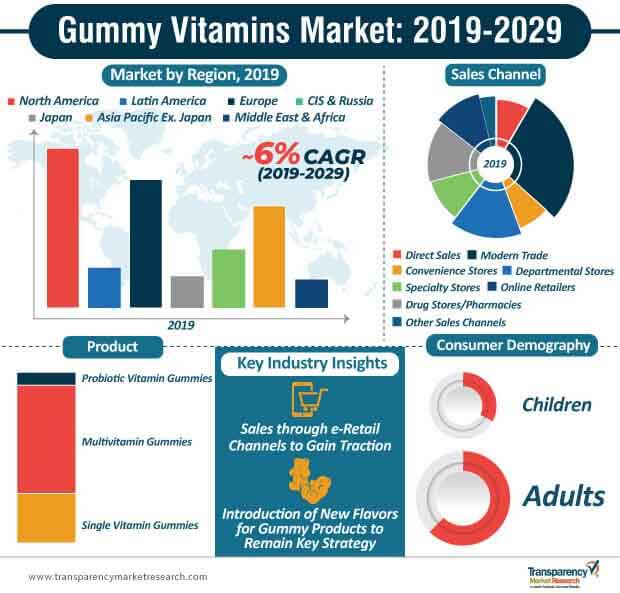 Request a sample to get extensive insights into the Gummy Vitamins Market
Imbalance of Nutrient and Sugar Level in Gummy Formulations Could Impede Sales
Considering the 'flavor' attribute of gummy vitamins to be the leading success factor for their uptake, the very ingredient - sugar - that enhances their taste could pose as a threat of cavities among children. It is also worth noting that, the negative impact of consuming gummy vitamins, on a frequent basis, doesn't only show on children's health. According to the American Heart Association, the intake of added sugar should not exceed 150 calories in a day, among men, and 100 calories in a day, among women. However, the flavorful nature of gummies could lead to their overconsumption, which, coupled with the lack of knowledge about high doses, could deteriorate the health of diabetic, obese, and individuals suffering from high cholesterol levels.
To understand how our report can bring difference to your business strategy, Ask for a brochure
With the growing popularity of these vitamins, individuals are also gaining intellect regarding their health implications, which could limit the otherwise anticipated steady growth of the gummy vitamins market.
In Focus: High RoI Potential of Developing Countries in Asia Pacific
An intensified approach taken towards maintaining health by modern individuals of North America complements the ample marketing initiatives taken by market players to penetrate information regarding the long-term health benefits offered by gummy products. Sensing enormous potential, leading players operating in the region are switching their manual business operations to digital media in order to achieve high production capacity with customized product development, and cross-border sales through online channels.
According to the study, besides individuals in developed countries, consumers in developing countries who look for additional nutrients to meet the demands of their fast-paced lifestyles are projected to play a pivotal role in the advancement of the gummy vitamins market. The high population density in China and India, coupled with the rising influence of the urban sprawl, is projected to drive the Asia Pacific gummy vitamins market at an exponential rate.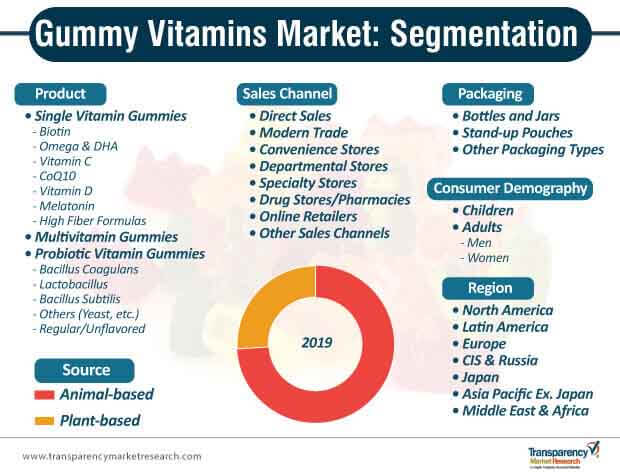 Stuck in a neck-to-neck competition with other brands? Request a custom report on Gummy Vitamins Market
Analysts' Perspective on Gummy Vitamins Market
Authors of the study opine that, the gummy vitamins market will grow ~1.8X during the forecast period. The commonly found iron deficiency among women will lead to a massive uptake in the sales of gummy products among adults, while the financial lucidity coming in from dual-working households holds high potential to channelize these vitamins in the children's space.

Opportunities will grow and remain underpinned by the advent and advancement of e-Commerce portals that bring sales closure through attractive deals and discounts, even from oversea regions. Profitability held by the market will inspire new entrants to foray and capitalize on the fickle choices of consumers regarding flavors; however, high upfront CAPEX could limit the number of new players. Though consumers favor bottles and jars as packaging types, gummy vitamins in stand-up pouches hold a propitious future. The ill-health effects of high sugar offers a stage for market players to develop sugar-free gummies, so as to stand out in the competitive gummy vitamins market space
Read More:
Gummy Vitamins Market: Cognizance for Preventative Healthcare to Spur Demand
A recently published report by TMR states that, prospects of the gummy vitamins market will remain bullish, growing at a CAGR of ~6%, from ~US$ 3.1 Bn in 2018 to ~US$ 5.8 Bn in 2029.
The impressive growth rate of the gummy vitamins market is due to the geriatric population beginning to realize the various benefits of gummy vitamins over pills and tablets.
The growth of the gummy vitamins market will also remain influential by various external factors, including rising awareness of preventative healthcare, increasing product preference over capsules and tablets, and innovative product attributes, perpetually molding the marketplace.
The rich taste and texture with high nutritional benefits of gummy vitamins are providing impetus to the growth of the gummy vitamins market space.
Gummy vitamins have several inherent advantages over their larger counterparts. These are easy to swallow and easily digestible, with a flavorful taste. These factors make them particularly well-suited for the geriatric population and children.
Notable manufacturers produce gummy vitamins with high nutritional values, long shelf-life, which are enriched with probiotics with excellent texture and flavor properties.
Gummy Vitamins Market: Increasing Demand from Adults to Treat Various Diseases
Gummy vitamins have witnessed permeation among adults as well as children. However, the past few years have observed a relative spurt in demand from the latter.
Elderly people often lose their appetite as they age. This makes them vulnerable to vitamin deficiencies due to the inability to derive the required amount of nutrients from food. This can be addressed through the consumption of gummy vitamins.
Gummy vitamins are one of the most popular supplementary choices among the elderly people, as vitamin deficiency increases the probability of night blindness, fragile bones, and mental imbalance.
Organic and Non-GMO Foods a New Trend among Consumers
Organic gummy vitamins are gaining traction among consumers, owing to the environment-friendly cultivation of their raw materials without the usage of pesticides.
GMO-based food commodities produce unpredictable side effects on the overall health of humans. The chemical compounds present in GMO foods may harm the body, and its cause may remain undetected. Some studies suggest that, the consumption of GMO foods can cause toxemia or liver damage. As a result, consumers are shifting towards natural, organic, and non-GMO certified gummy vitamins.
Despite being an expensive commodity, consumers are willing to pay more for organic gummy vitamin products, majorly to adopt healthy eating habits. The growing intention to purchase natural gummy vitamins is also witnessed in developing countries, owing to the affluence of food safety and quality trends among consumers, as such, boosting the gummy vitamins market.
Highly Nutritious Gummy Vitamins with Emphasis on Taste & Texture
Increased demand for gummy vitamins has been witnessed in recent years, leading to the launch of various ingredient-specific products. Gummy vitamins that are enriched with probiotics have gained high traction over the last few years.
The health benefits of probiotics in terms of providing dietary supplements, immunity, increasing digestion efficiency, and healthy aging have made gummy vitamins one of the preferred products among consumers.
Research studies have provided insights regarding the beneficial effects of probiotics in various health conditions such as diarrhea, irritable bowel syndrome, ulcerative colitis, vaginal infection, and urinary tract infection, among others. Moreover, the flavorful taste of gummy vitamins has been the primary incentive in comparison to other less-appetizing tablets.
Innovations of Existing Products by Manufacturers to Increase in the Highly Competitive Gummy Vitamins Market
The global gummy vitamins market is witnessing high growth with an exponentially increasing demand for nutritional products. With the motive of benefitting from numerous lucrative opportunities, the number of manufacturers in the global gummy vitamins market is increasing rapidly, with leading players expanding their production capabilities.
A large number of players entering the gummy vitamins market has intensified the competition among them. As a result, strategic innovation remains the key strategy to survive in the cut-throat competition in this space.
Manufacturers are being incentivized remarkably for stressing the aspect of strategic innovations. They are venturing to expand the use of gummy vitamins for pets, apart from human consumption. Manufacturers are constantly innovating their products in order to cater to the untapped opportunities in the pet segment.
Maintaining Nutrients and Sugar Balance to Pose a Challenge to Manufacturers
Gummy vitamins contain sugar, which can increase the risk of cavities among children. Moreover, regular intake of gummy vitamins can increase the sugar level among diabetic patients. A few vitamins are fat soluble, such as vitamin A or beta-carotene, and E.
Overconsumption of these vitamin supplements can lead to toxicity in the body, and can cause side effects such as nausea and vomiting sensation. These are like gummy candies with high content of sugar. As compared to standard multivitamins, gummy vitamins have seven times as much sugar.
They also have four times as much calories per vitamin. Hence, maintaining a balance of nutrients or vitamins is a challenging task for manufacturers, taking into consideration the several side effects associated with the overconsumption of both, vitamins and sugar.
Gummy Vitamins Market - Scope of the Report
Transparency Market Research (TMR) recently published a market study on the gummy vitamins market. The study provides detailed assessment on key market dynamics, including the drivers, trends, opportunities, and restraints, and detailed information about the gummy vitamins market structure. The market study presents exclusive information about how the gummy vitamins market will grow during the forecast period of 2019-2029.
Key indicators of market growth, which include Year-on-Year (Y-o-Y) growth of the market, value chain, supply chain analysis, and Compounded Annual Growth Rate (CAGR) are explained in TMR's study in a comprehensive manner. This information can help readers understand the quantitative growth prospects of the gummy vitamins market for the forecast period.
The study is relevant for stakeholders in the gummy vitamins market, including manufacturers, suppliers, distributors, and investors, and can help them in developing appropriate strategies to grow in the market. Stakeholders in the gummy vitamins market, investors, industry experts, researchers, and journalists, as well as business researchers can leverage the information and data presented in TMR's study.
The study also includes statistics as well as facts related to the macro as well as microeconomic factors that are impacting developments in the market. It also offers actionable insights based on future trends in the gummy vitamins market. Furthermore, small businesses and new entrants in the gummy vitamins market can make use of the information presented in this study, based on which, they can make appropriate business decisions in order to gain momentum in the market.
Key Questions Answered in TMR's Gummy Vitamins Market Report
Which regions will continue to remain the most profitable regional markets for gummy vitamins market players?
Which factors will induce a change in the demand for gummy vitamins during the assessment period?
How will changing trends impact the gummy vitamins market?
How can market players capture the low-hanging opportunities in the gummy vitamins market in developed regions?
Which companies are prominent in the gummy vitamins market?
What are the winning strategies of stakeholders in the gummy vitamins market to upscale their position in this landscape?
Gummy Vitamins Market: Research Methodology
In TMR's study, a unique research methodology is utilized to conduct extensive research on the growth of the gummy vitamins market, and reach conclusions on the future growth parameters of the market. This research methodology is a combination of primary and secondary research, which helps analysts ensure the accuracy and reliability of the drawn conclusions.
Secondary resources referred to by analysts in the gummy vitamins market study include statistics from governmental organizations, trade journals, white papers, and internal and external proprietary databases. Analysts have interviewed senior managers, product portfolio managers, CEOs, VPs, marketing/product managers, and market intelligence managers, all of whom have contributed to the development of this report as a primary resource.
Comprehensive information acquired from primary and secondary resources acts as a validation from companies in the gummy vitamins market, and makes TMR's projection on the growth prospects of the gummy vitamins market more accurate and reliable.
Key Segments of Gummy Vitamins Market
TMR's study on the gummy vitamins market offers information divided into important segments-source, product, consumer orientation, packaging, sales channel, and region. This report offers comprehensive data and information about the important market dynamics and growth parameters associated with these categories.
Source

Product

Biotin
Omega & DHA
Vitamin C
CoQ10
Vitamin D
Melatonin
High Fiber Formulas

Multivitamin Gummies
Probiotic Vitamin Gummies

Bacillus Coagulans
Lactobacillus
Bacillus Subtilis
Others (Yeast, etc.)
Regular/Unflavored

Packaging

Packaging

Bottles and Jars
Stand-up Pouches
Other Packaging Types

Sales Channel

Direct Sales
Modern Trade
Convenience Stores
Departmental Stores
Specialty Stores
Drug Stores/Pharmacies
Online Retailers
Other Sales Channels

Region

North America
Latin America
Europe
CIS & Russia
Japan
Asia Pacific Excluding Japan
MEA
Custom Market Research Services
TMR offers custom market research services that help clients to get information on their business scenario required where syndicated solutions are not enough.
REQUEST CUSTOMIZATION