Graphene Market
Graphene Market - Global Industry Analysis, Size, Share, Growth, Trends and Forecast 2015 - 2023
Chemicals & Materials
TMRGL840
2016-02-09
133

Pages
Global Graphene Market: Snapshot
The burgeoning industry of automotive and telecom have stimulated considerable demand for graphene, citing its unique properties that graphene comes with. Graphene has been developed in 2004 and is widely known for being excellent conductor or both electricity and heat, strong, and light in weight. The soaring usage of Graphene in many of the end-user industries is very likely to propel the said market in the years to come. Though graphene was discovered just about 10 years ago, its utilization has been quite phenomenal. Quite known for its characteristics such as being strong and light-weight, graphene is widely regarded as tougher than diamond as well. These properties of Graphene have made it quite popular amongst various electronics companies that are making use of it for the manufacturing of smartphones. The demand for this wonder material is also anticipated to bolster up as defense industries, aerospace, electronics, telecom, and automotive flourish.
In a market intelligence report by Transparency Market Research (TMR), it has been anticipated that the growth trajectory of the said market over the period that extends from the year 2017 to the year 2025. Transparency Market Research said that that the opportunity in the world market for graphene was worth around US$ 12.2 mn in the year 2014 and is anticipated to attain a market valuation of around US$ 159.2 mn by the year 2023 thereby rising at a double digit growth rate of 33.5% CAGR between the years 2015 and 2023.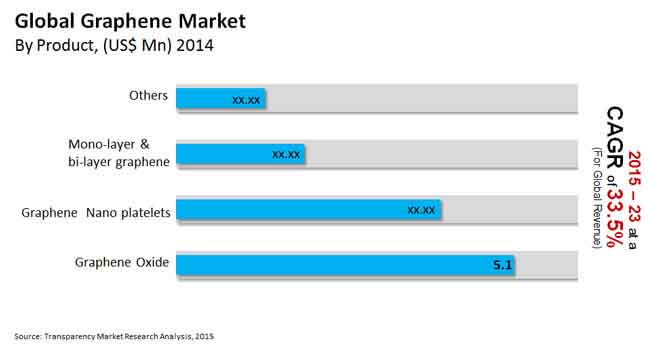 Electronics Industry is Cashing in on the Unique Properties of Graphene
The segment of electronics is the leading end-user segment of the world market for graphene. In the year 2014, this segment accounted for a leading share of around 32.5% in the overall market for graphene, which is anticipated to reach a market share of around 34.7% by the end of the year 2023. As electronic companies are making investment in reaping potential benefits graphene in the years to come, this end-user segment provides graphene market several opportunities to grow. For example, numerous phone making companies are making use of graphene so as to manufacture memory chips as this Graphene expands the capacity of the storage of the phones. Graphene is also being utilized so as to make touchscreens, and the material is exceptionally flexible and light, thus leading to an excellent alternative for silicon.
North America to Lead the Graphene Market with Robust CAGR
North America is one of the crucial regions in the world market for graphene. As of the year 2014, the region of North America accounted for around 40.2% of the market share in the said market. By the end of the year 2023, this market share is estimated to reach around 42.1%. The key product segment in the region of North America is graphene oxide which is trailed by graphene nanoplatelets.
The defense and aerospace segment is also anticipated to make a substantial contribution in the years to come. The manufacturing expertise of this region together with the availability of raw materials is estimated to boost the world market for graphene in North America. The region is estimated to be trailed by Europe as the region is making significant investments so as to develop the wonder material.
The prominent market players comprise names such as Grafoid Inc., Nano Material Tech, Advanced Graphene Products, Graphenea S.A., Graphene Frontiers, Applied Graphene Materials plc, Nanjing XFNANO Materials Tech Co., Ltd, Haydale Ltd., Applied Nanotech Inc., and ACS Material LLC.
This report analyzes and forecasts the market for graphene at the global and regional level. The market has been forecast based on revenue (US$ Mn) from 2015 to 2023. The study includes drivers and restraints of the global graphene market. It also covers the impact of these drivers and restraints on demand for graphene during the forecast period. The report also highlights the opportunities available in the graphene market at the global and regional level.
The report includes detailed value chain analysis, which provides a comprehensive view of the global graphene market. Porter's Five Forces model for the graphene market has also been included to help understand the competitive landscape in the market. The study encompasses market attractiveness analysis, wherein end-users are benchmarked based on their market size, growth rate, and general attractiveness.
The study provides a decisive view of the global graphene market by segmenting it in terms of end-users. These segments have been analyzed based on present and future trends. Regional segmentation includes the current and forecast demand for graphene in North America, Europe, Asia Pacific, Latin America, and Middle East & Africa. The report also covers demand for individual end-user segments in all the regions.
The study includes profiles of major companies operating in the global graphene market. Key players profiled in the report include Graphenea S.A., Applied Graphene Materials plc, XG Sciences, Inc., ACS Materials LLC, Applied Nanotech, Inc., Haydale Limited, Grafoid Inc., Advanced Graphene Products Sp. z o.o., Nanjing XFNANO Materials Tech Co., Ltd (XFNANO) and Graphene Frontiers LLC. Players have been profiled in terms of attributes such as company overview, financial overview, business strategies, and recent developments.
The report provides the estimated market size of graphene for 2015 and forecast for the next eight years. The global market size of graphene has been provided in terms of revenue. Market revenue has been defined in kilo tons, while market revenue is in US$ Mn. Market numbers are estimated based on key end-user segments of graphene. Market size and forecast for each of the major product and end-user segment have been provided in terms of global and regional markets.
In order to compile the research report, we conducted in-depth interviews and discussions with a number of key industry participants and opinion leaders. Primary research represents the bulk of research efforts, supplemented by extensive secondary research. We reviewed key players' product literature, annual reports, press releases, and relevant documents for competitive analysis and market understanding. Secondary research also includes a search of recent trade, technical writing, internet sources, and statistical data from government websites, trade associations, and agencies. This has proven to be the most reliable, effective, and successful approach for obtaining precise market data, capturing industry participants' insights, and recognizing business opportunities.
Secondary research sources that are typically referred to include, but are not limited to company websites, annual reports, financial reports, broker reports, investor presentations, SEC filings, Plastemart magazine, TPE magazine, internal and external proprietary databases, and relevant patent and regulatory databases such as ICIS, Hoovers, oneSOURCE, Factiva, and Bloomberg, national government documents, statistical databases, trade journals, market reports, news articles, press releases, and webcasts specific to companies operating in the market.
Primary research involves e-mail interactions, telephonic interviews, and face-to-face interviews for each market, category, segment, and sub-segment across geographies. We conduct primary interviews on an ongoing basis with industry participants and commentators in order to validate the data and analysis. Primary interviews provide firsthand information on market size, market trends, growth trends, competitive landscape, and outlook, etc. These help validate and strengthen secondary research findings. These also help develop the analysis team's expertise and market understanding.
The report segments the global graphene market as follows:
Graphene Market - Product Analysis
Graphene Oxide
Graphene Nanoplatelets
Mono-layer & Bi-layer graphene
Others (Including Graphene Multilayer, etc.)
Graphene Market - End-user Segment Analysis
Electronics
Aerospace & Defense
Energy
Automotive
Health care
Others (Including Paints and coatings, etc.)
Graphene Market - Regional Analysis
North America

U.S.
Rest of North America

Europe

France
U.K.
Spain
Germany
Italy
Rest of Europe

Asia Pacific

China
Japan
ASEAN
Rest of Asia Pacific

Latin America

Brazil
Rest of Latin America

Middle East & Africa (MEA)

GCC
South Africa
Rest of MEA
Custom Market Research Services
TMR offers custom market research services that help clients to get information on their business scenario required where syndicated solutions are not enough.
REQUEST CUSTOMIZATION