GNSS Chip Market
GNSS Chip Market (Devices Type - Smart Phones, In-Vehicle Networking Systems, and Personal Navigational Devices; End-use Industry - Consumer Electronics, Agriculture, Automotive, Defense, and Marine Industry) - Global Industry Analysis, Trend, Size, Share, and Forecast 2017 - 2025
Category :

Electronics & Semiconductors

Format :
Global GNSS Chip Market: Snapshot
The global navigational satellite system (GNSS) chip market at present is a fragmented one where no player has clear majority. Driving their market forward is the increasing use of GNSS devices in security applications and various new applications in roadways, railways, aviation, marine industry and defense. Besides, rise in connected cars and growing manufacture of smartphones are also slated to place the market on a solid growth trajectory in the years to come.
GNSS allows users to find out the position of other people or objects and also determine their position. Hence they are finding application in security, humanitarian services, and emergency services such as locating stolen property, person, or pets. For instance, Galileo, a GNSS system, is equipped with an application named Search and Rescue (SAR), which sends forth an emergency positioning signal that is received by satellites enabling for quick emergency response in case of a plane crash or a water vessel capsizing.
A report by Transparency Market Research projects the global GNSS chip market to rise at a 7.7% CAGR, in terms of value, from 2017 to 2025. Expanding at this pace, the market is expected to become worth US$34.71 bn by 2025 from US$ 17.90 bn in 2016. In terms of volume, the report forecasts the market to expand at a CAGR of 8.7% to become worth 9.16 billion units by 2025 from 4.31 billion units in 2016.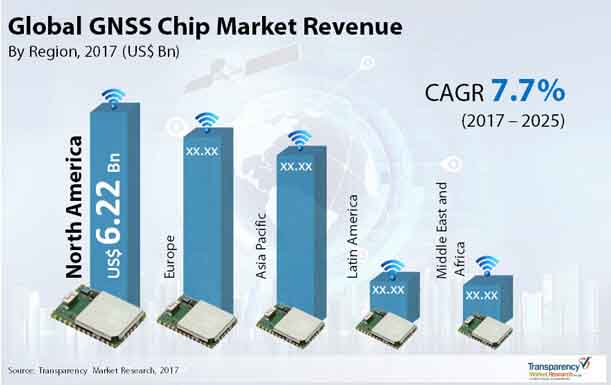 Rising Use of Smartphones for Locating People and Places makes it Dominant Device Segment
The different types of devices in the global GNSS chip market are in-vehicle networking systems, smart phones, personal navigational devices, and others such as smart wearable devices, including smart watches, smart glasses, smart rings, etc. The smart phones segment, at present, holds a dominant share in the market and in the years ahead is predicted to maintain that dominant share. This is mainly on account of the rising use of smartphones for navigational purpose, tracking people and object, and finding a place. In terms of growth rate, however, the in-vehicle networking systems is predicted to surpass all other segments by registering a CAGR of 10.5% vis-à-vis value from 2017 to 2025 on the back of growing connectivity in vehicles to accord better safety and driving experience.
North America to Lose out on Growth Front due to High Degree of Market Saturation
Geography-wise, the leading region in the global GNSS chip market is North America. The region dominates both in terms of value and volume and by clocking a CAGR of 6.4% is predicted to become worth US$10.22 bn by 2025. Europe is another key region in terms of market share, but it is Asia Pacific that is expected to grow its share the most in the next couple of years by clocking maximum CAGR of 10.0%.
North America being a technologically advanced country in which the GNSS chip market has become almost saturated is predicted to grow at a lesser pace than Asia Pacific. The market in the latter, powered by China, Australia, Japan, and India, is expected to outpace others because of the increasing use of GNSS devices in agricultural, defense, and infrastructure upgrading comprising of improving of railway network.
Some of the big names operating in the global GNSS chip market are Qualcomm Incorporated, ST Microelectronics N.V., Mediatek Inc., U-Blox Holdings AG, Intel Corporation, Furuno Electric Co., Ltd., Broadcom Corporation, Quectel Wireless Solutions Co., Ltd., Skyworks Solutions Inc., and Navika Electronics. Currently the market is fragmented with no players having a solid stronghold.
Technological Advancements such as Big Data and Augmented Reality will Accelerate Growth Rate of GNSS Chip Market
Expanding utilization of different electronic devices incorporated with area following and geo-GPS beacons has powered the interest for GNSS chips. Rising use of GNSS chips in different enterprises like transportation, car, military and safeguard, and buyer gadgets has additionally helped the interest in this market. The railroad area has additionally shown profound interest in incorporating GNSS chips with the primary goal to improve driver's warning frameworks. Likewise, presentation of GNSS chips in railroads has additionally helped in following the constant area of the trains, legitimate administration of advance traffic upkeep and armada. Consequently, bourgeoning railroad industry in a few arising economies are probably going to help the interest in the worldwide GNSS chip market.
GNSS permits clients to discover the situation of others or objects and furthermore decide their position. Henceforth they are discovering application in security, compassionate administrations, and crisis administrations like finding taken property, individual, or pets. For example, Galileo, a GNSS framework, is outfitted with an application named Search and Rescue (SAR), which imparts forward a crisis situating sign that is gotten by satellites empowering for speedy crisis reaction if there should arise an occurrence of a plane accident or a water vessel overturning.
In the new advancements of a few advances, such as Big Data, Augmented Reality, Multimodal Logistics, and IoT, GNSS is additionally considered as a significant innovation. GNSS empowers a few administrations embody full scale patterns, setting out a window of freedom for half and half and crosscutting applications. Besides, mechanical progressions, for example, the IoT or Smart Cities has expanded relations between set up GNSS market fragments that have additionally increased market's development.
Geographically, Asia Pacific is expected to dominate the market on account of major revenues derived from India, China, and Australia. This is attributed to the accelerating use of gadgets for various purposes such as security and defense, agriculture, and construction. North America on the other side, will witness a sluggish growth owing to the presence of a mature market.
Global GNSS Chip Market: Overview
This report covers the analysis and forecast of the GNSS chip market on a global and regional level. The study provides historic data of 2016 along with forecast for the period between 2017 and 2025 based on volume (Billion Units) and value (US$ Bn).
Global navigational satellite systems chips or chipsets are components found in GNSS devices which helps in the transmission and receiving of signals. They also solve the purpose of storing memories of certain images or information receiving during the functioning of the GNSS devices. GPS, GLONASS and GALILEO are some of the examples of global navigational satellite systems which are used widely for navigational purpose while travelling, locating a place, tracking a person or cargo, surveying, mapping and other functions.
The report provides the size of the GNSS chip market in 2016 and the forecast for the next nine years up to 2025. The size of the global GNSS chip market is provided in terms of both volume and value. Market volume is defined in billion units, while market value for regions is in US$ Bn. The market size and forecast for each type of devices segment is provided in the context of global and regional markets. Numbers provided in this report are derived based on demand generated from different end-use industry applications.
Market estimates for this study have been based on volume, with value being derived through regional pricing trends. The price for commonly utilized grades of GNSS chip in each end-use industries has been considered, and customized product pricing has not been included. Demand for GNSS chip has been derived by analyzing the global and regional demand for GNSS chip in each application. The global GNSS chip market has been analyzed based on expected demand. Market data for each segment is based on volume and corresponding revenues. Prices considered for calculation of revenue are average regional prices obtained through primary quotes from numerous regional suppliers, distributors, and direct selling regional producers based on manufacturers' feedback. Forecasts have been based on the expected demand from smart rings.
We have used the top-down approach to estimate the global GNSS chip market, split into regions. The type of operating system, technology and applications split of the market has been derived using a top-down approach for each regional market separately, with the global type of operating systems, technology and applications segment split being an integration of regional estimates. Companies were considered for the market share analysis based on their product portfolio, revenue, and manufacturing capacity. In the absence of specific data related to the sales of GNSS chip of several privately held companies, calculated assumptions have been made in view of the company's product portfolio and regional presence along with the demand for products in its portfolio.
Global GNSS Chip Market: Segmentation
The study provides a decisive view of the GNSS chip market by segmenting it based on type of devices, end-use industry and regional demand. The type of devices, and end-use industry segments have been analyzed based on current trends and future potential. The market has been estimated from 2017 to 2025 in terms of volume (Billion Units) and value (US$ Bn). Regional segmentation includes the current and forecast demand for North America, Europe, Asia Pacific, Latin America, and the Middle East and Africa. These have been further sub-segmented into countries with relevance to the market. The segmentation also includes demand for individual applications in all regions.
The study covers the drivers and restraints governing the dynamics of the market along with their impact on demand during the forecast period. Additionally, the report includes potential opportunities in the GNSS chip market on the global and regional level.
The study encompasses market attractiveness analysis, wherein end-use industries have been benchmarked based on their market size, growth rate, and general attractiveness for future growth.
The market has been forecast based on constant currency rates. Prices of GNSS chip vary in each region and are a result of the demand-supply scenario in the region. Hence, a similar volume-to value ratio does not follow for each individual region. Individual pricing of GNSS chip for each application has been taken into account while estimating and forecasting market revenue on a global basis. Regional average price has been considered while breaking down the market into segments in each region.
Global GNSS Chip Market: Competitive Landscape
Some of the leading market players in the GNSS chip market are Qualcomm Incorporated (, United States), ST Microelectronics N.V. (Switzerland), Mediatek Inc. (Taiwan), U-Blox Holdings AG (Switzerland), Intel Corporation (United States), Furuno Electric Co., Ltd. (Japan), Broadcom Corporation (United States), Quectel Wireless Solutions Co., Ltd. (United States), Skyworks Solutions Inc. (United States), and Navika Electronics (India) among others.
The global GNSS chip market has been segmented into:
By Type of Devices

Smart Phones
In-Vehicle Networking Systems
Personal Navigational Devices
Others

By End-Use Industry

Consumer Electronics
Agriculture
Automotive
Defense
Marine Industry
Others

By Geography

North America

The U.S.
Rest of North America

Europe

U.K.
Russia
Germany
France
Rest of Europe

Asia Pacific

China
Japan
India
Rest of Asia Pacific

Middle East and Africa (MEA)

U.A.E
South Africa
Rest of Middle East and Africa

Latin America

Brazil
Rest of Latin America
Custom Market Research Services
TMR offers custom market research services that help clients to get information on their business scenario required where syndicated solutions are not enough.
REQUEST CUSTOMIZATION