Nanosilver Market
Nanosilver Market - Global Industry Analysis, Size, Share, Growth, Trends, and Forecast 2014 - 2020
Category :

Chemicals & Materials

Format :
As electronic producers seek to pace up with the latest technologies, miniaturization will emerge at fore as the latest trend in the industry. This trend is likely to continue in the forthcoming years thus boosting opportunities for the global nanosilver market. As per Transparency Market Research, based on revenue the global nanosilver market is expected to rise at a CAGR of 15.4% between 2014 and 2020. The market was valued at US$682.0 mn in 2013 and is expected to reach US$1.8 bn by the end of 2020.
Despite witnessing positive growth, the market has been witnessing challenge from the volatility of nanosilver prices. The higher cost of nanosilver than conventional silver also restrains the market's growth to an extent. Besides these, stringent regulations and controversies surrounding the harmful effect of using nanosilver on environment will create further bottlenecks for the market.
Nevertheless, the advent of novel applications of nanosilver is expected to boost prospects for its sales. While the booming consumer electronics industry remains the prime driver of the nanosilver market, its increasing application in the healthcare sector will bolster opportunities for the market in the forthcoming years.
North America Emerges as Most Lucrative Regional Market for Nanosilver
Regionally, North America has been exhibiting the most lucrative prospects for nanosilver sales. The region emerged dominant in the global market holding a share of 41.8% in 2013. Overall demand for nanosilver in North America stood at 212.8 tons in 2013. TMR expects it to rise to 484.8 tons by the end of 2020, exhibiting a CAGR of 12.9% during the period. The healthcare industry will majorly contribute to the rising demand for nanosilver in North America.
The flourishing electrical and electronics industry in Europe has been attracting the most prominent vendors of nanosilver. The rising food and beverages market in the region is also expected to boost sales of nanosilver considerably.
Asia Pacific is also expected to exhibit attractive opportunities for vendors in the global nanosilver market. The region as per TMR holds the second-largest share in the overall market and is expected to rise at a CAGR of 13.5% between 2014 and 2020. High production capacities of the consumer electronics industries in South Korea and China have proven extremely profitable for the regional market. Apart from this, the rising willingness of the emerging middle-class population to spend on the latest models of electronics will also boost nanosilver sales in the region.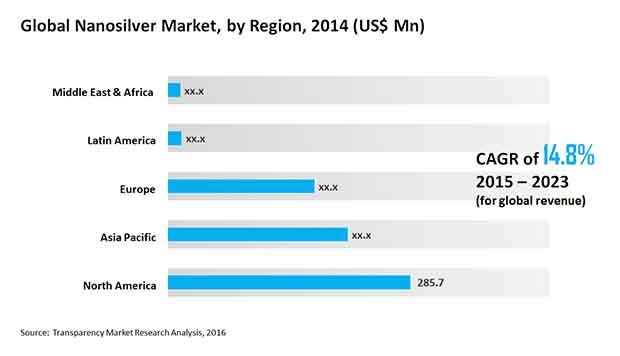 Application of Nanosilver to Considerably Rise in Electrical and Electronics Industry
The electrical and electronics industry has emerged as the largest end-use segment for nanosilver. It held a dominant share of 37.8% in the market in 2013. The increasing use of nanosilver in printing electronics equipment such as inkjet and flexographic printers will further boost its sales in the electrical and electronics industry. It is also used in miniature printed circuit boards, capacitors, and printed sensors. The nanosilver market will therefore considerably gain from the expansion of the electronics industry.
During the same time, the healthcare industry emerged as the second-largest application segment of nanosilver. It accounted for a share of 27.6% in the market in 2013. Nanosilver is widely used in surgical blazes, bandages, and wound dressing. TMR projects the demand from this segment to rise at a significant pace during the forecast period. The application of nanosilver is also expected to increase in the food and beverages and the textile industry. The rising use of nanosilver in water treatment will open novel prospects for the market's growth.
Some of the most prominent companies operating in the market include Bayer MaterialScience, Nano Silver Manufacturing Sdn Bhd, NovaCentrix, Advanced Nano Products Co. Ltd., Ames Goldsmith Corporation, Applied Nanotech Holdings, Inc. and others.
This report analyzes and forecasts the market for nanosilver at the global and regional level. The market has been forecast based on volume (tons) and revenue (US$ Mn) from 2015 to 2023. The study includes drivers and restraints of the global nanosilver market. It also covers the impact of these drivers and restraints on demand for nanosilver during the forecast period. The report also highlights opportunities in the nanosilver market at the global and regional level.
The report includes detailed value chain analysis, which provides a comprehensive view of the global nanosilver market. Porter's Five Forces Model for the nanosilver market has also been included to help understand the competitive landscape in the market. The study encompasses market attractiveness analysis, wherein end-users are benchmarked based on market size, growth rate, and general attractiveness.
The study provides a decisive view of the global nanosilver market by segmenting it in terms of end-user. These segments have been analyzed based on present and future trends. Regional segmentation includes current and forecast demand for nanosilver in North America, Europe, Asia Pacific, Latin America, and Middle East & Africa. The report also covers demand for nanosilver in end-user segments in all the regions.
The study includes profiles of major companies operating in the global nanosilver market. Key players in the nanosilver market include NovaCentrix, NSM (Nano Silver Manufacturing SDN BHD), Advanced Nano Products Co., Ltd., Creative Technology Solutions Co., Ltd., Ames Goldsmith Corp., Applied Nanotech, Inc., SILVIX Co., Ltd., NanoMasTech. and ras materials GmbH. Market players are profiled in terms of attributes such as company overview, financial overview, business strategies and recent developments.
The report provides the estimated market size of nanosilver for 2015 and forecast for the next eight years. The global market size of nanosilver has been provided in terms of volume and revenue. Market volume has been defined in tons, while market revenue is in US$ Mn. Market numbers have been estimated based on end-users of nanosilver. Market size and forecast for each major end-user have been provided in terms of global and regional markets.
In order to compile the research report, we conducted in-depth interviews and discussions with a number of key industry participants and opinion leaders. Primary research represents the bulk of research efforts, supplemented by extensive secondary research. We reviewed key players' product literature, annual reports, press releases, and relevant documents for competitive analysis and market understanding. Secondary research includes a search of recent trade, technical writing, Internet sources, and statistical data from government websites, trade associations, and agencies. This has proven to be the most reliable, effective, and successful approach for obtaining precise market data, capturing industry participants' insights, and recognizing business opportunities.
Secondary research sources that are typically referred to include, but are not limited to company websites, annual reports, financial reports, broker reports, investor presentations, SEC filings, Plastemart magazine, TPE magazine, internal and external proprietary databases, and relevant patent and regulatory databases such as ICIS, Hoover's, oneSOURCE, Factiva, and Bloomberg, national government documents, statistical databases, trade journals, market reports, news articles, press releases, and webcasts specific to companies operating in the market.
Primary research involves e-mail interactions, telephonic interviews, and face-to-face interviews for each market, category, segment, and sub-segment across geographies. We conduct primary interviews on an ongoing basis with industry participants and commentators to validate data and analysis. Primary interviews provide first-hand information on market size, market trends, growth trends, competitive landscape, outlook, etc. These help validate and strengthen secondary research findings. These also help develop the analysis team's expertise and market understanding.
The report segments the global nanosilver market as follows:
Nanosilver Market - End-user Analysis
Electrical & electronics
Healthcare
Food & beverages
Textile
Water treatment
Others (Including personal care, detergents, etc.)
Nanosilver Market - Regional Analysis
North America

U.S.
Rest of North America

Europe

France
Germany
Italy
Spain
U.K.
Rest of Europe

Asia Pacific

China
Japan
ASEAN
Rest of Asia Pacific

Latin America

Brazil
Rest of Latin America

Middle East & Africa (MEA)

GCC
South Africa
Rest of MEA
Custom Market Research Services
TMR offers custom market research services that help clients to get information on their business scenario required where syndicated solutions are not enough.
REQUEST CUSTOMIZATION