Fractionated Shea Butter in Cosmetics and Personal Care Market
Fractionated Shea Butter in Cosmetics and Personal Care Market (Nature - Organic, Conventional; Product Type - Saponifiable Fraction, Nonsaponifiable Fraction (Highly Refined); End Use - Cosmetics, Personal Care) - Global Industry Analysis, Size, Share, Growth, Trends, and Forecast 2018 - 2026
Food & Beverages
TMRGL60060
2019-02-12
200

Pages
Shea Butter Replacing Traditional Vegetable Oils in Personal Care Products?
Surpassing the conventional skincare regime including only a moisturizer and a sunscreen/sunblock cream, consumers are actively seeking skin protection against rising levels of pollution, a minimum of three levels of infrared light (IR), blue light (HEVL), and heavy metals. While this has been an impactful factor driving NPDs in the personal care and cosmetics circle, it has also paved the way for ingredients experimentation to a large extent.
Fractionated shea butter has been since garnering limelight as a promising and more efficient alternative to regular vegetable oils or animal-derived fats that have been in use for beauty and skin care product formulations. As indicated by a recent TMR study, revenues from the fractionated Shea butter market closed in on US$ 1 billion in the year 2018.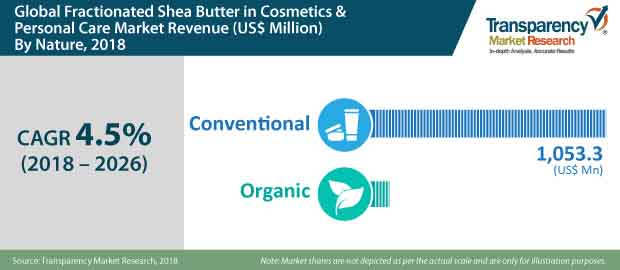 Dual Action of Fractionated Shea Butter Adds Value to Traditional Skincare
Shea butter and its derivatives have been known to the cosmetics and personal industry for a long time as they form sublime emollients for skin and hair care applications. Over the years, fractionated shea butter has been witnessing stronger adoption by cosmetics manufacturers, attributing to its content of non-saponifiables, oleic acid, and stearic acid, which account for enhanced skin compatibility and the healing effect of cosmetics preparations.
A significantly large saponifiable fraction, coupled with an even larger non-saponifiable fraction, continues to set apart the fractionated shea butter, from several other natural oils that are used in making of a variety of cosmetics and personal care products. The exceptional moisturizing properties and an excellent healing potential of shea butter has been the key boosters to its adoption by manufacturers of personal care products and cosmetics. Fractionated shea butter particularly remains favorite when it comes to skincare products.
Fractionated Shea Butter's Vitamin E Profile - Under the Scrutiny
Rich vitamin A content of fractionated shea butter accounts for its healing abilities against a slew of common skin conditions, including eczema, dermatitis, and blemishes. Moreover, unparalleled physiological and biochemical attributes of fractionated shea butter account for its abilities to initiate and accelerate the process of wound healing.
While the anti-aging effect of fractionated shea butter on skin has been proven by multiple research studies, a number of ongoing projects are attempting the identification of the potential of fractionated shea butter in treating sunburns, insect bites, allergies, and even frostbites. As fractionated shea butter also represents a rich vitamin E profile that advocates for its anti-free radical and micro-circulation benefits, scientists have also been constantly focusing on digging deeper into its role in skincare. Insights on the effective action of fractionated shea butter in prevention of deleterious effects of environmental factors on skin, particularly sun exposure.
The 'Compensator' – Triggering New Launches in the PC & Cosmetics Categories
Increasingly being viewed as an efficient, multifunctional cosmetic ingredient by manufacturers of cosmetics and PR products, fractionated shea butter continues to be favored by the fact that brands in natural and conventional cosmetics and personal care products are keen on knocking out chemical-laden ingredients from their offerings. Additionally, with multiple skin and hair care benefits, fractionated shea butter efficiently compensates for multiple traditionally used oils, as a replacer in cosmetics and personal care products.
Global launches in the cosmetics and personal care industry, with fractionated shea butter as an ingredient, have picked up a notable pace since 2013. Rising end user consciousness regarding skincare and body toning through multi- benefit and nourishing products will continue to push the new product launches in this category further. Another thriving category – specialty products - such as whitening creams, facial and anti-aging products, and sunscreens are also contributing to the demand for fractionated shea butter in cosmetics and personal care products.
'Cosmecetutical' Fractionated Shea Butter Gaining Traction
The cosmeceutical profile of fractionated shea butter that makes an excellent ingredient and cost-effective emollient continues to complement its adoption across the board in the cosmetics and personal care space. High miscibility with non-polar as well as moderately polar drugs has enabled application of fractionated shea butter in making cosmetic products highly therapeutic. Additionally, cost-effectiveness of fractionated shea butter compared to other carrier drugs that are used in dermal care products continues to add to its market attractiveness and profitability.
Improved R&D Help Stakeholders in Combating 'Limited Shelf Life' Concerns
Natural and organic color cosmetics, such as unrefined fractionated Shea butter demonstrate a lesser shelf life - less than a year, potentially causing product contamination, in turn, affecting consumer preference in the long run. This has driven manufacturers to augment investments in R&D formulas to offer fractionated shea butter based products a longer shelf life, while they focus on strengthening foothold in market.
Market Competition from the Analysts' Viewpoint
Regional analysis prompts that Europe has always been an attractive market for fractionated shea butter sales. However, there exists a strong public perception across aEuropn countries that natural ingredients are healthier and safer than synthetic variants, which in turn is driving infiltration of fractionated shea butter in Europe's cosmetic and personal care products industry.
The market for fractionated shea butter remains highly competitive, with established players holding 40-50% share, and rest occupied by the mid-level and emerging players. Stakeholders are strongly focusing on three key factors - price, reliability, and quality – of fractionated shea butter based products. High investments in promoting therapeutic properties of fractionated shea butter continue to enable companies to capitalize on growing end user traction for acne relief natural and organic cosmetic and personal care products.
Leading companies in the fractionated shea butter market are focusing on well-organized supply chain to differentiate their brand value and ensuring high traceability of supplies. Manufacturers are also developing high quality organic unrefined fractionated shea butter for cosmetics and personal care applications, owing to upward demand for specialized chemical-free cosmetics. Stronger distribution strategies will remain a prime focus area of companies in an effort to achieve multi-regional expansion.
Recently, the digital drumbeat has been shaping the competition landscape of fractionated shea butter market. Leading players in fractionated shea butter market are leveraging the benefits of increasing consumer connectivity to reach a level up in their strategic developments. Companies are more likely to capitalize on shifting end user preference to durable and personalized skin care product variants. Refining of fractionated shea butter for improved shelf life and cosmetic stability of end products will be a priority strategy of key players, with an increased emphasis on smart brand messaging and stronger retail distribution.
Transparency Market Research (TMR) recently compiled an analysis that evaluates the growth structure of the global market for fractionated shea butter. The report features exhaustive information on how the opportunities will unfold for the fractionated shea butter market will during 2018-2026.
This study examines how the uptake of fractionated shea butter is changing and will continue to alter across a wider range of cosmetics and personal care products. The report gauges the potential impact of the rapidly shifting end user patterns on the existing as well as emerging market players, and what could be imperative for optimal monetization of fractionated shea butter derived products.
The report aids the readers in estimating the dynamics of fractionated shea butter market while providing valuable insights to help them formulated smart sales strategies and make winning business decisions in the coming years. The report provides key indicator valuation to underline the key growth prospects of the fractionated shea butter market, and forecast statistics pertaining to the market development, in terms of value (US$ million) and volume.
TMR's report provides detailed data related to the segment-wise trends in the fractionated shea butter market. Information includes value chain analysis, pricing analysis, y-o-y growth analysis, and supply chain assessment for variants of different forms, nature, demand from different end users, along with regional dynamics.
What are the Key Questions Answered in TMR's Report on Fractionated Shea butter Market?
The report unveils exclusive and incisive information pertaining to fractionated shea butter market, on the basis of exhaustive research on the macro and microeconomic factors that are playing a part in shaping the market. The information provided in the report answers the salient questions for existing players in the fractionated shea butter market, to aid them build winning growth strategies and take rewarding business decisions.
What are the Key Questions Answered in TMR's Report on Fractionated Shea butter Market?
Which end users are investing significantly in diversifying fractionated shea butter based product portfolio?
How established market players are successfully monetizing the therapeutic properties of fractionated shea butter.
What will be Y-o-Y growth of fractionated shea butter market between 2018 and 2023?
What revenues will fractionated shea butter attract from personal care industry in next 2 years?
Which fractionated shea butter market players are generating most sales via e-commerce distribution?
Which product type of fractionated shea butter will underpin maximum gains for the market through 2026 and why?
Research Methodology – Fractionated Shea butter Market
A concise methodology along with an all-inclusive approach makes the foundation of the valuable insights that are presented in the fractionated shea butter market for the forecast period. The TMR report features detailed information on the growth prospects of fractionated shea butter sector for cosmetics and personal care market industry along with fascinating insights and dynamics into the prognosis valuation of the market.
Detailed primary and secondary research has been done to garner incisive insights into the projection assessment of the fractionated shea butter market. The report on fractionated shea butter has also undergone cross-validation to ensure that the fractionated shea butter report is one-of-its-kind with the utmost credibility.
In this comprehensive study, readers can find unique sales data and information related to the potential rise in the use of fractionated Shea butter across various geographical regions. The exhaustive information about the global traction and sales of fractionated shea butter, which is given in the report, is segmented into different sections to make it easy to understand for the reader.
Nature

Organic

Conventional

End User

Cosmetics

Lip Balms/ Lip Sticks
Nail Cosmetics
Eye Liners/ Eye Shadows

Personal Care

Skin care

Moisturizers
Anti-Aging Creams

Hair care
Sun care
Body care

Lotions
Shower Gels and Soaps

Product Type

Saponifiable Fraction
Nonsaponifiable Fraction (Highly refined)

Sales Channel

Region

North America
Latin America
Europe
APAC
MEA
Custom Market Research Services
TMR offers custom market research services that help clients to get information on their business scenario required where syndicated solutions are not enough.
REQUEST CUSTOMIZATION

Fractionated Shea Butter In Cosmetics Personal Care Market