Forging Market
Forging Market (Type - Closed Die, Open Die, and Rolled Rings; Company Type - Custom Forging, Captive Forging, and Catalog Forging; Raw Material - Aluminum, Magnesium, Copper/Brass/Bronze, Low-Carbon, and Low-Alloy Steels, Microalloy/HSLA Steels, Special Alloy Steels, Stainless Steel, Nickel-Base Superalloy, Titanium, Refractory Metal, Beryllium, and Zirconium; End-user - Automotive, Wind, Oil & Gas, Power Generation, Agriculture, Ordnance, Mining, Construction, and Aerospace) - Global Industry Analysis, Size, Share, Growth, Trends, and Forecast. 2017-2025
Category :

Chemicals & Materials

Format :
Global Forging Market: Snapshot
Well established global players in the global forging market are dominating the market clearly because of the capital intensive nature of the market. This has caused a serious threat to the small or regional players who cannot afford such funding or investment thus are behind to the global players in terms of functionalities, features, services, and quality. Apart from these, the use of new technologies by well trenched players to produce better and manufacture products in a more efficient way is giving them a boosts in comparison to regional or local players.
Rapid development in various industries and particularly in the automotive industry is having a positive impact on the market by leaps and bounds. It has been noticed that the automotive industry uses a whooping of 65% of forged metals that is produced globally.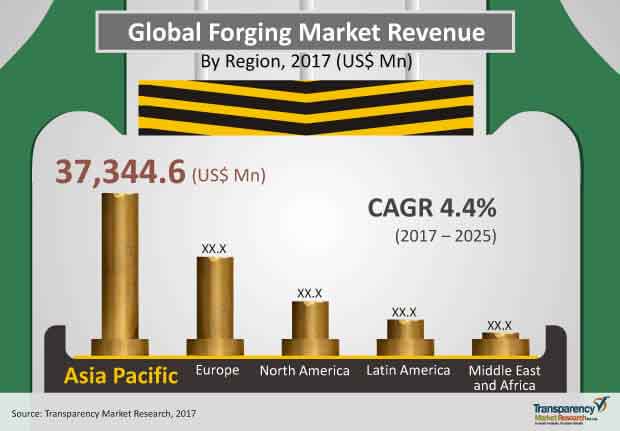 Forged metals are generally used in industry which needs a hefty amount of investment such as aerospace, defense, automation factory, automotive, and others. It is the specific characteristic that makes the forged metals pave a way inside the capital intensive industries. The forged metals are known to be super strong and are reliable than the metals obtained by casting or any other metalworking process. Another important factor that gives an edge to the forging market is the procedure required for forging a metal is cheaper in comparison to other processes.
According to Transparency Market Research, the global forging market is likely to expand at 4.4%of CAGR during the forecast period 2017-2025. By the end of the forecast period the value of the market is likely to be worth at US$96433.7mn
High Performance of Finished Products Makes Closed Die Type Segment to Dominate
The global forging market is classified on the basis of type, company type, raw material, and application. On the basis of type, the market is segregated into rolled rings, open die, and closed die. Amongst the pack, closed die hold the major share in terms of revenue and is anticipated to continue during the assessed period. The reason to this is the quality finish products and excellence performance that is obtained through this process.
On the basis of company type the market is bifurcated into captive forging, catalog forging, and custom forging. Custom forging is known to hold the major share among the rest. This segment held a whopping 60% volume share of the market recently. Custom forging is known to rely on closed die forging in comparison to open die forging.
On the basis of raw material, the market can be divided into magnesium, copper/bronze/brass, low-alloy steels, low-carbon steels, special allow steel, nickel-base super alloy titanium, beryllium, zirconium, refractory metal, microallo/HLSA steel, beryllium, and aluminum.
The product of global forging market finds its application in the oil and gas, ordnance, construction, mining, aerospace, wind, automotive, agriculture, power generation another. Amongst the pack, the automotive segment holds the major share of the market and this is because of the rapid bound and leap of the global automotive sector in order to meet the high demand all across the world. The automotive segment held nearly 64% of the market in terms of volume recently.
Emerging Economies Aids Asia Pacific to Dominate the Market
On the basis of the geography, the global forging market is split into Europe, North America, Middle East and Africa, Latin America, and Asia Pacific. Amongst the pack, Asia Pacific held a lion's share of more than 55% of the market recently. In the coming years, the market is likely to retain its position showing a stupendous growth due to rapid rise of construction and automotive industries in the region. Another factor which makes the region dominant is the presence of large number of global players in the region. On the other hand Europe and North America is likely to show an impressive growth during the assessed periods. Some of the major players in the market are Thyssenkrupp AG, Nippon Steel and Sumitomo Metal, Allegheny Technologies Incorporated, and Bharat Forge Limited.
Advances in Forged Metals Methods to Benefit Industries in Forging Market
Forging is a material processing method that has been traditionally employed for metals, wherein they are hammered, pressed, or rolled, usually using hammer or die. Some of the common metals that undergo forging are carbon steel, stainless steel, aluminum, copper, and brass. The mechanical process has gathered traction in production and manufacturing industries. This can be ascribed to the rise in demand for metals with high reliability and mechanical and directional strength, typically in applications that need fatigue resistance. Over the years, alloys have also been found to render useful material after forging. The forging market has grown in valuation from the proliferating demand for forged metals in the automotive, aerospace, agriculture, and tooling industries. Advances made in metalworking techniques, along with their growing cost-effectiveness, are propelling strides in the market. The strength-to-weight ratio of the alloys are desirable to make range of automotive. Adoption of more elaborate forging tools has also helped manufacturing industries improve machinability to meet the current and emerging end-use applications. Further, these technological advances over the decades have enabled manufacturers to vary the material characteristics such as temperature, creep resistance, electrical, and thermal conductivity. The need for new characteristics for aerospace industry is likely to open new avenues in the forging market.
The COVID-19 pandemic led to several changes in economic landscape, changing the face of businesses across industries world over. The post-pandemic world has seen the advent of new set of challenges and opportunities for players in the forging market. Manufacturing industries were forced to shift to new supply chain and distribution models, thus spurring them to engage in new vendor frameworks to absorb the shocks of government-led lockdowns. In 2020, various manufacturing units had to suffer decline in production and operations, notably due to decline in consumer decline, including in the forging market. Come 2021, the investments by companies in key end-use industries have grown significantly in recent months. This will also shape new demand dynamics in the forging market.
This report analyzes and forecasts the market for forging at the global and regional level. The market has been forecast based on volume (kilo tons) and revenue (US$ Mn) from 2017 to 2025. The study includes drivers and restraints of the global forging market. It also covers the impact of these drivers and restraints on demand for forging during the forecast period. The report also highlights opportunities in the forging market at the global and regional level.
The report comprises a detailed value chain analysis, which provides a comprehensive view of the global forging market. Porter's Five Forces model for the forging market has also been included to help understand the competitive landscape in the market. The study encompasses market attractiveness analysis, wherein end-users are benchmarked based on their market size, growth rate, and general attractiveness.
Global Forging Market: Market Segmentation
The study provides a decisive view of the global forging market by segmenting it in terms of type, company type, metals/ raw materials, and end-user. These segments have been analyzed based on present and future trends. Regional segmentation includes the current and forecast demand for forging in North America, Europe, Asia Pacific, Latin America, and Middle East & Africa. The report also covers demand for individual end-user segments in all the regions.
. Global Forging Market: Research Methodology
The report provides the estimated market size of forging for 2016 and forecast for the next nine years. The global market size of forging has been provided in terms of volume and revenue. Market numbers have been estimated based on key type, company type, metals, and application segments of forging market. Market size and forecast for each major types, company type, metals and application have been provided in terms of global and regional markets.
In order to compile the research report, we conducted in-depth interviews and discussions with a number of key industry participants and opinion leaders. Primary research represents the bulk of research efforts, supplemented by extensive secondary research. We reviewed key players' product literature, annual reports, press releases, and relevant documents for competitive analysis and market understanding. Secondary research also includes a search of recent trade, technical writing, internet sources, and statistical data from government websites, trade associations, and agencies. This has proven to be the most reliable, effective, and successful approach for obtaining precise market data, capturing industry participants' insights, and recognizing business opportunities.
Secondary research sources that are typically referred to include, but are not limited to company websites, annual reports, financial reports, broker reports, investor presentations, and SEC filings, internal and external proprietary databases, and relevant patent and regulatory databases, national government documents, statistical databases, and market reports, news articles, press releases, and webcasts specific to companies operating in the market, National government documents, statistical databases, and market reports, The International Aluminium Institute, Euroforge, United States Geological Survey (USGS), National government documents, statistical databases and market reports, The Association of Indian Forging Industry, and
CEN – European Committee for Standardization. Primary research involves e-mail interactions, telephonic interviews, and face-to-face interviews for each market, category, segment, and sub-segment across geographies. We conduct primary interviews on an ongoing basis with industry participants and commentators in order to validate the data and analysis. Primary interviews provide firsthand information on market size, market trends, growth trends, competitive landscape, and outlook, etc. These help validate and strengthen secondary research findings. These also help develop the analysis team's expertise and market understanding.
Global Forging Market: Competitive Landscape
The study includes profiles of major companies operating in the global forging market. Key players in the forging market include Arconic Inc., Allegheny Technologies Incorporated (ATI), Bharat Forge Limited, Nippon Steel & Sumitomo Metal, American Axle & Manufacturing Holdings (AAM), and Thyssenkrupp AG. Market players have been profiled in terms of attributes such as company overview, financial overview, business strategies, recent developments, and SWOT analysis
The report segments the global Forging market as follows:
Type Analysis

Closed Die
Open Die
Rolled Rings

Company Type Analysis

Custom Forging
Captive Forging
Catalog Forging

Metals / Raw Materials Analysis

Aluminium
Magnesium
Copper / Brass / Bronze
Low-Carbon & Low-Alloy Steels
Microalloy / HSLA Steels
Special Alloy Steels
Stainless Steel
Nickel-Base Superalloy
Titanium
Refractory Metal
Beryllium
Zirconium

End-user Type Analysis

Automotive
Wind
Oil & Gas
Power Generation
Agriculture
Ordnance
Mining
Construction
Aerospace
Others (Hand Tools)

Regional Analysis

North America
Europe

France
U.K.
Spain
Germany
Italy
Rest of Europe

Asia Pacific

China
Japan
India
ASEAN
Rest of Asia Pacific

Latin America

Brazil
Mexico
Rest of Latin America

Middle East & Africa (MEA)

GCC
Egypt
South Africa
Rest of MEA
Custom Market Research Services
TMR offers custom market research services that help clients to get information on their business scenario required where syndicated solutions are not enough.
REQUEST CUSTOMIZATION