Fondant Market
Fondant Market (Product Category: Fondant, Icing, and Glazing; Aggregate Type: Wet and Powdered; End Use: Bakery Industry/Chains, Commercial Foodservice, In-store Bakery, Artisan Production, and Other Retail Sectors; and Application: Bakery and Confectionery) - Europe Industry Analysis, Size, Share, Growth, Trends, and Forecast, 2020-2030
Food & Beverages
TMRGL81615
2021-03-03
413

Pages
Coronavirus Outbreak Sparks Creativity in Baking
The baking business has grown swiftly during the coronavirus pandemic. Continued work-from-home policies and surge in home baking trends are contributing to the growth of the Europe fondant market. Coronavirus-shaped cupcakes and cakes are growing popular among consumers.
Bakers are creating awareness about frequently washing hands and other precautionary measures. Online baking business and ever-expanding eCommerce platforms are generating revenue opportunities for companies in the Europe fondant market. Bakers are increasing efforts to look at the positive side during the COVID-19 pandemic to keep their business afloat. Even as permanent shutdown of many outlets has affected business activities, the gradual reopening of business outlets in the HoReCa industry are reviving the revenue flow.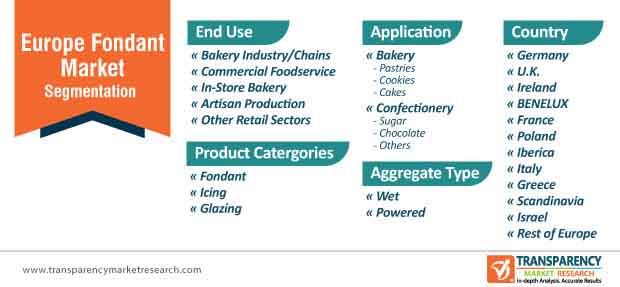 Request a sample to get extensive insights into the Fondant Market
Fondant versus Buttercream: Which is Better?
Fondant cakes can be easily refrigerated and tend to remain fresh for days, which is a highly preferred advantage during summers. However, in several case, these cakes become sticky and are prone to fingerprint. Moreover, decorators avoid using fondant in cakes and cupcakes, since their taste is more sweet than usual and their funny gummy texture may be unpleasant among consumers. As such, the pristine surface of a fondant-covered cake with a colorful finish is grabbing the attention of many individuals and offsetting the advantages of buttercream-covered cakes.
Manufacturers in the Europe fondant market are targeting customers that demand different colors, flavors, and decorations that can be draped over a simple or sculpted cake. Manufacturers in the Europe fondant market are producing silky and pliable fondants to create seamless finish on cakes.
To understand how our report can bring difference to your business strategy, Ask for a brochure
Food Grade Silicone Fondant Paste Molds Gaining Prominence in Theme Cakes
The Europe fondant market is estimated to reach ~US$ 774 Mn by 2030. This is evident since the U.K.-based online stores such as Redmond are publishing recipes such as the making of chocolate fondants. Chocolate fondant desserts are gaining popularity in France. Ready-to-use and DIY (Do It Yourself) silicone-based molds in the shape of seashells, leaves, and alphabets are growing popular among bakers to innovate in cake decorations.
Food grade silicone molds are acting as a key driver for the Europe fondant market, as bakers and decorators are able to simplify their labor on fondants in theme-based cakes. Baby cloth shape silicone fondant biscuit molds and princess themed decorations are translating into revenue opportunities for stakeholders in the value chain.
Use of Essential Tools for Rolled Fondant Innovations Ensuring Repeat Customers
The Europe fondant market is expected to register a modest CAGR of 3.9% during the forecast period. A dramatic rise in baking classes is triggering the demand for fondants. The growing awareness about essential fondant tools and the demonstration of cake covering with the help of stencil and fondant ribbons are contributing to the growth of the Europe fondant market. Rolled fondants are being used by award-winning chefs in the hospitality industry to ensure repeat customers at hotels.
Tailor-made Fondants, Sugar Specialties Help Manufacturers Gain Competitive Edge
Food and food ingredients industries are highly dynamic and pose new challenges, owing to changing consumer demand. Hence, Südzucker - a provider of plant-based sweetening solutions is offering customer oriented services to provide sugar specialties such as brown products and paste-like products such as fondants. Manufacturers are collaborating with food technologists to develop tailor-made products for sugar and sugar specialties.
Custom-made sugar products including fondants are helping manufacturers gain a competitive edge in the dynamic food processing industry. Research and development have become the center of attention to innovate in sugar specialties. In order to gain market dominance, manufacturers in the Europe fondant market are optimizing their production processes, reducing energy consumption and improving plant utilization to meet the demand for plant-based fondants.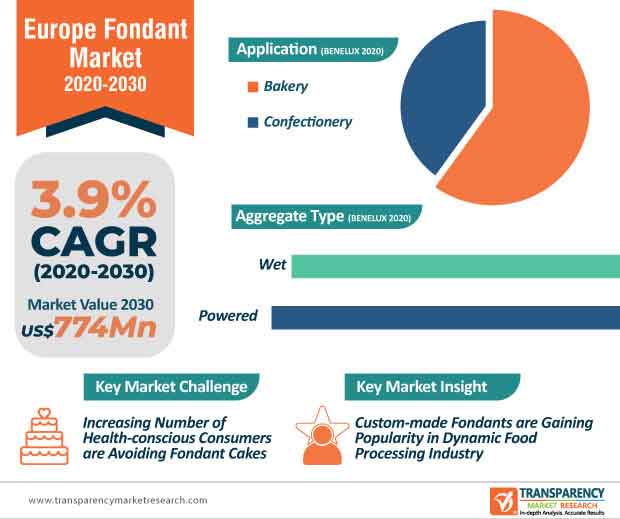 Stuck in a neck-to-neck competition with other brands? Request a custom report on Fondant Market
Analysts' Viewpoint

Online sales, home baking businesses, and booming eCommerce sector are reviving the demand for fondants amid the coronavirus pandemic. Ready-to-use products such as silicone scrunch ruffle fondant gum paste cake decoration molds are fast selling on eCommerce platforms. However, health conscious customers are avoiding the consumption of fondant desserts, since its typically malleable sugar paste that can be rolled out and draped on cakes. Hence, companies in the Europe fondant market are targeting customers who prefer a pristine finish in cakes with dizzying assortments in decorations, flavors, and other design elements. Improvements in plant utilization and tailor-made sugar specialties such as fondants and liquid sugars are helping manufacturers gain a competitive advantage.
Europe Fondant Market: Overview
The recent study on the Europe fondant market was valued at US$ 526.5 Mn in 2020. The market will grow at a CAGR 3.9% during the forecast period. According to the recent report, the market is expected to reach ~US$ 774 Mn by the end of 2030.
Fondant is gaining traction in bakery and confectionery segments, owing to increased interest of consumers in appealing and decorative products. The increasing bakery industry is the key factor for the overall growth of fondant across Europe.
Manufacturers' efforts to offer tailored solution to consumers are also supporting the growth of the Europe fondant market. The company engaged in the Europe fondant market is working to expand business by offering customer specific products and collaborating to expand business in different regions.
Demand for fondant had increased in past decade due to increase in the number of artisan production. With around 30% of the market value share, artisan production is the second largest segment among end users of fondant in Europe.
Europe Fondant Market: Key Takeaways
Based on aggregate type, the powdered segment is expected to share high market volume as well as value by the end of 2030. Approximately 75% share of the market held by the powdered segment; the wet segment is gaining traction with rise in demand from the confectionery segment. The powdered segment is expected to grow at a CAGR of 3.5% during the forecast period.
In terms of application, the bakery industry is dominating the market with around 70% value share. Bakery industry holds the largest share of the Europe fondant market attributed to the robust demand for bakery products among European consumers.
Bakery industry/chains and artisan production together account for half of the overall share among end uses
Europe Fondant Market: Trend
Increasing demand for occasion specific and unique cakes: The trend of celebrating different types of festivals, achievement or any occasions, such as birthday, wedding, anniversary, and Christmas has increased significantly nowadays. Consumers have increased spending on buying particular cakes on occasion, which is expected to extend the reach of the market. The demand for fondant is high in Europe, and can be attributed to high disposable income of the European consumers. The Europe fondant market had witnessed robust growth over the past decade with changing food perception of consumers. Consumers are ready to pay for premium and high quality products.
A shift in food choices has been observed among consumers. Consumers are looking for more decorative and appealing products, which, in turn, show positive impact on sales of fondant. Bakery is among the fastest growing application segments, owing to rise in population consuming bakery and confectionery products. The European market is considered as well-established market for bakery products, due to better distribution network and consumers preferences. Creativity in products is increasingly observed among consumers, especially in products such as cakes, cookies, pastries, etc. The growth of the market can also be attributed to the rise of the commercial foodservice sector.
European countries are renowned for their delicious bakery products, especially cakes and cookies. Countries such as Belgium, France, Italy, and Switzerland have a wide range of cakes that are commonly eaten by both locals and tourists. One of the main drivers of the cake industry in Europe is also the rising number of food tourists.
Strategies Adopted by Manufacturers to Increase Sales of Fondant
The Europe fondant market is largely characterized by major players that share around 30%-40% of the total market share. Manufacturers engaged in business of fondant production are aiming to expand business by adopting various strategies. Manufacturers are focused on mergers and acquisitions, which offer similar product line. Manufacturers are partnering with customers to provide tailored solution according to the needs of clients. Companies are constantly offering a wide range of products to cater the growing demand for fondant in the bakery & confectionery industry.

In 2018, Arctos Creme Sp. z o.o. had launched two new ranges of fondants for attracting customers demanding affordable and high quality fondants

In order to achieve greater market share, major fondant manufacturers are growing their regional footprint. It is expected that the establishing joint warehouses in key locations would remain a major success factor for businesses.
Europe Fondant Market: Key Players
Some of the key players engaged in the manufacturing of fondant are

Dawn Food Products, Inc
Zeelandia International
PURATOS GROUP
Couplet Sugars
Arctos Creme Sp. z o.o.
Holger Food Group Sp. z o. o
Pfeifer & Langen GmbH & Co. KG
Zukán
JF Renshaw Ltd, among others
Europe Fondant Market – Scope of the Report
Transparency Market Research (TMR) has recently published a market study on the Europe fondant market. It provides a detailed assessment of key market dynamics, including drivers, trends, opportunities & restraints, and detailed information about the Europe fondant market structure. The market study presents exclusive information about how the Europe fondant market will grow during the forecast period of 2020-2030.
Key indicators of market growth, which include year-on-year (Y-o-Y) growth of the market, value chain, supply chain analysis, and compounded annual growth rate (CAGR) are elaborated in the study in a comprehensive manner. This information is intended to help readers understand the quantitative growth prospects of the Europe fondant market during the forecast period.
The study is intended to offer a holistic market overview to stakeholders in the fondant, including manufacturers, suppliers, distributors, cultivators, brands and investors, and to help them develop winning growth strategies. Stakeholders in the Europe fondant market, which include investors, industry experts, researchers, and journalists, and business researchers, can leverage the information and data presented in TMR's study.
The study also includes statistics and facts related to the macro as well as microeconomic factors that are impacting the expansion of the market. It also offers actionable insights into the future trends in the Europe fondant market. Furthermore, small businesses and new entrants in the Europe fondant market can make use of the information presented in this study, based on which, they can make appropriate business decisions in order to gain momentum in the market.
Key Questions Answered in TMR's Europe Fondant Market Report
Which region will continue to remain the most profitable regional market for Europe fondant market players?
Which factors will induce a change in the demand for fondant during the assessment period?
How will the changing trends impact the Europe fondant market?
How can market players capitalize on the low-hanging opportunities in the Europe fondant market in developed regions?
Which companies are leading the Europe fondant market?
What are the winning strategies of stakeholders in the Europe fondant market to catapult their position at the forefront?
Europe Fondant Market: Research Methodology
In TMR's study, a unique research methodology has been used to conduct an extensive research on the growth of the Europe fondant market and identify future growth parameters. This research methodology is a combination of primary and secondary research, to help analysts ensure the accuracy and reliability of the conclusions.
Secondary sources referred to by analysts for compiling the Europe fondant market study include statistics from governmental organizations, trade journals, white papers, and internal and external proprietary databases. Analysts have interviewed senior managers, product portfolio managers, CEOs, VPs, marketing/product managers, and market intelligence managers, who contributed to the development of this report as a primary source.
Information acquired from primary sources and secondary sources has been compiled in a comprehensive manner. This also acts as a validation from companies in the Europe fondant market, which makes TMR's projections more accurate and reliable.
Europe Fondant Market – Segmentation
TMR's study on the Europe fondant market offers information divided into important segments - product category, aggregate type, end use, application, and country. This report offers comprehensive data and information about the important market dynamics and growth parameters associated with these categories.
Product Category
Aggregate Type
End Use

Bakery Industry/Chains
Commercial Foodservice
In-store Bakery
Artisan Production
Other Retail Sectors

Application
Country

Germany
U.K.
Ireland
BENELUX
France
Poland
Iberica
Italy
Greece
Scandinavia
Israel
Rest of Europe
Custom Market Research Services
TMR offers custom market research services that help clients to get information on their business scenario required where syndicated solutions are not enough.
REQUEST CUSTOMIZATION