Fintech Market - Introduction
Fintech is also known as financial technology. Companies are using different financial technologies or platforms to provide efficient financial services and enhance customer experiences.
Banks and financial institutes are adopting financial technology such as banking apps, online banking, and web-based and app-based insurance services to increase the productivity and efficiency of business operations.
Solution providers are offering financial services with innovative and new technologies in social trading, e-commerce, wealth management, payments, and other financial transactions.
Solution providers are also integrating advanced technologies such as artificial intelligence, robotic process automation, blockchain, and cryptography in financial services to enhance the performance of business operations.
Financial companies offer mobile-based financial apps to improve the financial services offered; it also helps to reach more customers and increase awareness about online services. Solution providers are offering financially secure e-commerce platforms with increasing demand for e-commerce apps among users.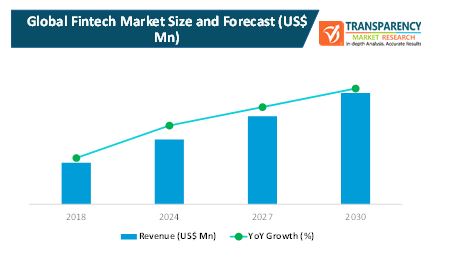 Key Drivers of the Fintech Market
Increasing demand for mobile banking applications and e-commerce platforms among users for a more user-friendly platform to perform financial transactions is expected to drive the fintech market.
Increasing adoption of advanced technologies in business operations by banks and insurance companies instead of using legacy operating systems, is expected to boost the demand for fintech among companies.
Investors are collaborating with wealth management solution companies to consolidate their position in the market and provide advanced solutions in financial technologies. This is expected to offer significant opportunities to solution providers of fintech.
Government rules and regulations for financial technology applications expected to hinder the market
Government rules and regulation change as per market demand, affecting the operability of financial technology applications. This is expected to restrain the growth of the fintech market.
Lack of awareness about advanced payment or transaction apps, and several platforms charging extra amount per transaction is also expected to hamper the fintech market.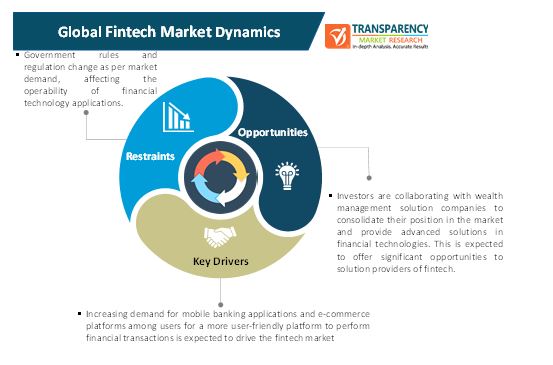 Impact of COVID-19 on the Global Fintech Market
Financial companies are adopting digitalization of business processes due to the lockdown measures and to provide user-friendly and reliable platforms to manage financial and business activities. Companies are adopting advanced financial technologies to secure their digital footprints and money transaction processes. Furthermore, the ever-increasing threat of COVID-19 is projected to boost the demand for fintech solutions during the forecast period.
North America to Hold Major Share of the Global Fintech Market
North America holds a prominent share of the global fintech market due to an increase in the adoption of e-commerce platforms and increasing demand for advanced technological solutions to provide security to the financial data and records of users.
The fintech market in Asia Pacific is expected to expand at a rapid pace during the forecast period due to increasing investment by major players to provide solutions across the region and also due to the increasing adoption of digital platforms by companies and mobile applications among users in Asia Pacific.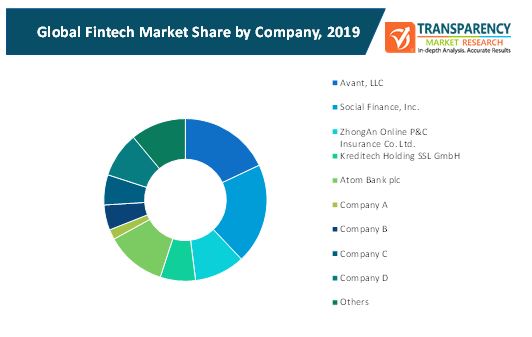 Key Players Operating in the Global Fintech Market
Avant, LLC is a global leading financial technology company based in Chicago, Illinois, U.S. The company provides services in personal loans and credit cards to users and commercial sectors. The company offers financial services to more than 800,000 customers worldwide.
Social Finance, Inc. was founded in 2011 and is based in San Francisco, California, U.S. The company is a global online personal finance service provider in personal loan, mortgages, student loan refinancing, banking, and investing services.
Other key players operating in the global fintech market include ZhongAn Online P&C Insurance Co. Ltd., Kreditech Holding SSL GmbH, Shanghai Lujiazui International Financial Asset Exchange Co., Ltd., Atom Bank plc, and Nu Pagamentos S.A.
Global Fintech Market: Research Scope
Global Fintech Market, by Technology
Artificial Intelligence
Cyber-security
Biometrics and Identity Management
Blockchain
Public Cloud Infrastructure
Cryptography
Others
Global Fintech Market, by Enterprise Size
Small & Medium Enterprise
Large Enterprises
Global Fintech Market, by Application
Banking

Investment Banking
Retail Banking
Corporate Banking

Trading

Trading Firms
Stock Exchange

Taxation
Insurance
Others