Europe Sintering Market: Snapshot
Sintering is a manufacturing process in which metal alloys in powdered form are molded into unique and complex shapes by subjecting them to high temperatures just below the melting points of the metal alloys being used in the process. The process of sintering is being preferred over the traditional methods of manufacturing components, since sintered parts have superior qualities such as corrosion and abrasion resistance, light weight, etc. Sintering is an important stage in powder metallurgy and is followed by various stages in order to obtain an end product.
The raw materials usually used for the process of sintering are metal powders of low grade alloy steels such as pure iron, Fe – Ni alloys, Fe – Si alloys, Fe – Co Alloys, 42CrMo4 steel, and 100Cr6 steel. Sintering is used on a large scale to manufacture complex components to be used in end use industries such as automotive, defense, and aerospace. Among the above stated low grade alloy steels, pure iron was used widely in sintering process in Europe in 2015 and is expected to be utilized at the same rate in the years to come.
The Europe sintering market is projected to reach US$11.09 bn by the end of 2024, from its valuation of US$8.35 bn in 2015. Considering this, the sintering market in Europe will exhibit a CAGR of 3.2% between 2016 and 2024.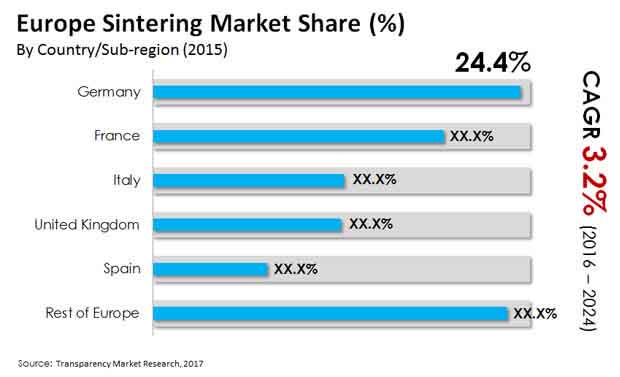 Pyre Iron Sintering Material to Continue Witnessing High Demand through Forecast Period
By material, pure iron, Fe – Ni alloys, Fe – Si alloys, Fe – Co Alloys, 42CrMo4 steel, and 100Cr6 steel are the key market segments. Of these, pure iron material constituted the leading market share of 35.7% in 2015. The segment is expected to remain dominant through the course of the forecast period. Pure iron boasts wide industrial applications, especially with various materials to form base of alloy mixtures. Pure iron offers superior properties such as high corrosion resistance. It is therefore increasingly used across industries as a material for sintering.
Besides this, the demand for Fe—Ni alloys and Fe—Si alloys is forecast to increase during the forecast period. Their demand will spur on account of their superior characteristics such as higher permeability and high electric resistivity. Among the alloy steel considered low grade, the market for 100Cr6 steel may witness steep decline in its market share due to less application in industries.
Germany Emerges as Most Lucrative Sintering Market in Europe
In Europe, the U.K., Germany, Italy, France, and Spain have emerged as the most lucrative sintering markets. These nations, coupled with Rest of Europe, constitute the key segments in the Europe sintering market based on country. Of these, Germany held clear dominance in 2015 with a share of 24.4% in the Europe market. The presence of a large number of manufacturing units of automotive spare parts has fuelled the demand for sintering components in the nation.
The market has also witnessed remarkable growth in the U.K., in the last few years. The country boasts a sophisticated aerospace and automotive infrastructure, which has catapulted it as an attractive market for sintering in Europe. Besides these, the market players are expected to witness robust opportunities in various European nations through the course of the forecast period. Rest of Europe also held considerable share in the market in 2015 due to presence of major countries such as Sweden where there are various automotive industries situated. The sintering market in Europe is expected to grow at a moderate rate during the forecast period.
Some of the leading companies operating in the Europe sintering market are GKN plc, H.C.Starck GmbH, AMES, ASCO Sintering Co., Metaldyne Performance Group, LLC, Hitachi Ltd., etc.
Sintering Market to Witness Notable Growth Owing to Increasing Use in Automobile Industry
Sintering is an assembling cycle in which metal amalgams in powdered structure are formed into interesting and complex shapes by exposing them to high temperatures just underneath the softening places of the metal compounds being utilized simultaneously. The way toward sintering is being liked preposterous strategies for assembling segments, since sintered parts have predominant characteristics like consumption and scraped area obstruction, light weight, and so forth Sintering is a significant stage in powder metallurgy and is trailed by different stages to get a finished result.
The sintering market in Europe is essentially acquiring from the expanding interest for sinter-based primary vehicle parts. These car parts are more solid, light-weight, and moderate contrasted with their regular partners. Other than this, the utilization of sinter-based parts has altogether expanded in motors, shafts, body, course, and various kinds of valves. Thinking about the expanding applications, the interest for sinter-based items is consistently prodding worldwide.
Besides, sintering helps in the assembling of prevalent quality parts with exceptional shapes. While at beginning stage, the auto business represented the most interest saw on the lookout, of late ventures like aviation, development, and mechanical designing have understood their utilization. In the following not many years, the market players can hence expect modestly rising freedoms particularly because of the rising utilization of sinter-based segments across assorted businesses.
Sintering is a tedious cycle, which is a critical limitation to its expanded take-up. What's more, lacking accessibility of fundamental methods to approve the inward strength of sintered segments, make streamlining producing measure profoundly drawn-out. This could adversely affect the general market. Institution of tough guidelines to control unsafe emanations has made bottlenecks, in this way driving the market towards clumsy development direction. Nevertheles, with modern and innovative improvements in sintering measure, industry specialists have inspirational standpoint for the global sintering market.
The Europe Sintering market has been segmented as follows:
Material Analysis

Low Grade Alloy Steel

Pure Iron
Fe – Ni Alloys
Fe – Si Alloys
Fe – Co Alloys
42CrMo4 Steel
100Cr6 Steel

Country Analysis

U.K.
Germany
Italy
France
Spain
Rest of Europe