Punnet Trays Market
Punnet Trays Market (Material: Paper, Molded Fiber, and Plastic; Capacity: Up to 150 gm, 150-300 gm, 300-500 gm, and 500 gm & Above; Product Type: With Lid and Without Lid; and End Use: Fruits & Vegetables, Meat, Poultry & Seafood, and Frozen Food) - Europe Industry Analysis, Size, Share, Growth, Trends, and Forecast, 2020-2027
Packaging
TMRGL82044
2021-04-15
107

Pages
Protective Paper-based Punnets Ensure Protection of Fruits during COVID-19
The coronavirus outbreak has reinvigorated the need for product protection, shelf life enhancement, and hygiene defense for fresh fruits and vegetables. Such trends are creating revenue opportunities for manufacturers in the Europe punnet trays market.
The increase in sales through eCommerce is another key driver of the Europe punnet trays market during the pandemic, as it has fueled the demand for punnet trays and other functional packaging that complies with recyclability and virgin plastic reduction. Smurfit Kappa Europe is capitalizing on this opportunity to increase the availability of paper-based punnets. Such companies are offering fit-for-purpose packaging solutions to ensure fruits and vegetables reach consumers in a secure and undamaged way. Manufacturers are expanding their revenue streams via protective punnets during the ongoing pandemic.
Request a sample to get extensive insights into the Punnet Trays Market
Rise in Production of Biodegradable Plastic Punnet Trays to Complement Conventional Plastic Properties
Easy recycling, decline in waste produced, and less consumption of energy during the manufacturing of biodegradable plastics are grabbing the attention of manufacturers in the Europe punnet trays market. However, disadvantages such as engineering problems, costly equipment for recycling, and risk of contamination within the food are acting as roadblocks for its widespread adoption. The competition for sustainable packaging has compelled manufacturers to invest in R&D of punnets made from biodegradable plastics.
BASF SE - a Germany-based multinational chemical company is in talks for its innovations in bioplastics that not only substitute conventional plastics but also mimic their properties and applications possibilities.
To understand how our report can bring difference to your business strategy, Ask for a brochure
Visibility, Sustainability Key Focus for Robust Food Packaging
The Europe punnet trays market is expected to surpass ~30,501 Mn units by the end of 2027. Manufacturers are increasing efforts to strike the right balance between innovation and sustainability to prevent food wastage of fruits and vegetables. They are gaining awareness that visibility of food content and sustainability of packaging are important to gain a competitive edge in the highly fragmented market landscape.
Manufacturers in the Europe punnet trays market are increasing their production capabilities in 100% renewable, recyclable, and biodegradable paper-based punnets. They are taking help of surveys and research in order to innovate in sustainable punnets. Premium quality fruit and vegetables brand SanLucar has adopted FSC (Forest Stewardship Council) certified paper-based sustainable punnets that are durable and hygienic for packaging of food items.
Hybrid Punnets with Printable Tops Suitable for Food Contact, Branding
Manufacturers are making use of 100% recycled PET (Polyethylene Terephthalate), which is suitable for direct contact with food and can also be heat-sealed with a printable top film. Hybrid punnets by Ilip - a specialist in the production of packaging solutions for fresh produce, called SlipTray, are made from plastic and cardboard.
The FSC-certified cardboard for punnets is being used for branding and communication. Moreover, manufacturers in the Europe punnet trays market are developing packaging that carries a perforated film and enables perfect ventilation for premium fruits and vegetables.
Innovative Water-based Lacquer in Cardboard Punnets Replacing Traditional Plastic Laminates
There is a need to replace plastic laminates in punnets with sustainable materials to ensure recyclability of packaging materials. Remmert Dekker Packaging - a specialist in creating and producing custom printed cardboard packaging, has collaborated with its customer Nature's Pride to replace plastic laminate in cardboard punnets with a water-based lacquer to enable easy recycling of packaging materials. Such innovations are eliminating the need to recycle packaging materials separately, thus saving on operational costs.
The innovative water-repellent lacquer is being incorporated in cardboard punnets by manufacturers in the Europe punnet trays market.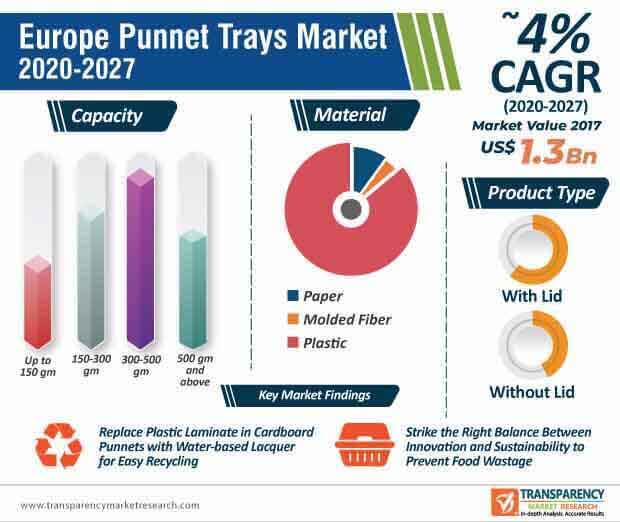 Stuck in a neck-to-neck competition with other brands? Request a custom report on Punnet Trays Market
Analysts' Viewpoint

Even as the expansion of the eCommerce sector is creating revenue opportunities for manufacturers in the Europe punnet trays market during the COVID-19 pandemic, restrictions on transportation, shortage of workforce, and limited working hours in factories are affecting market growth. The Europe punnet trays market is projected to advance at a modest volume CAGR of ~4% during the assessment period. However, disadvantages of biodegradable plastics in punnets such as risk of methane emissions in landfills, contact with food, and high production cost end up making the final product costly for consumers. Hence, manufacturers should increase their research and experiments in new biopolymers that deploy environmental safety and reduce cost of the overall packaging.
Europe Punnet Trays Market: Overview
According to Transparency Market Research's latest market report on the Europe punnet trays market for the historical period 2014-2018 and forecast period of 2020-2027, rising demand for protective packaging and aesthetic dispensing of food items via transparent packaging are projected to drive the market
The revenue generated by the Europe punnet trays market is projected to expand at a CAGR of ~4% in terms of value during the forecast period
Visual Appeal of Punnet Trays to Fuel Market Growth
Consumers tend to associate freshness of a product with transparency of packaging. When the package is foggy, consumers perceive it as unhygienic, which leads towards decaying. This hampers the sales of the product.
In order to further influence consumer purchase and differentiate product offerings, companies are focusing on introducing products with new graphics (on-pack promotions), eye-catching colors, and innovative design of packaging products
Punnet trays offer a clear peek at what lies inside the package. This type of clear packaging attracts consumers and eases their purchase decisions. Significantly, plastic punnet trays have vents, which allows circulation of air and retain freshness. Therefore, focus on aesthetics is anticipated to give momentum to the Europe punnet trays market growth in the foreseeable future.
The plastic material is considered more ideal for clear packaging and offers transparency, therefore, plastic is widely used for manufacturing punnet trays and is expected to cross US$ 1.3 Bn by 2027. However, strict government regulations over plastic bans, especially in the European Union, are expected to hamper the growth of plastic punnet trays, and will unlock opportunities for bio-based materials to manufacture punnet trays in the near future.
Punnet Trays a Cost-effective Medium for Packaging, Ensure Minimum Inventory and Warehouse Cost
Leading fruit packaging manufacturers are concerned with product degradation that might take place across the supply chain. Thus, they demand for protective packaging solutions that retain the quality and maintain freshness yet require less shipping and storage costs.
Punnet trays are considered as a cost-efficient medium for fruit packaging due to its minimum inventory and warehousing costs, low disposal cost, and easy packaging process. Moreover, punnet trays are easily stackable, answering to problem of space complexity. Mushrooms or soft fruits are packed in punnet trays (with or without lid) at the source, and are placed in large crates. These crates are then placed on pallets, loaded to transportation vehicles and transported to warehouses or distribution centers. At the point of distribution, these punnet trays are directly placed on display racks. Thus, it reduce the cost of POP display packaging formats.
Paper & Molded Fiber Punnet Trays Gaining Traction
Various independent studies have shown that nearly 50% of consumers are willing to pay more for biodegradable packaging solutions. Furthermore, it has been found out that 4 out of 5 people are focused on reducing plastic packaging in their fresh fruit and vegetables purchases. Currently, plastic punnet trays are commonly used to package fresh produce. While non-plastic alternatives are beginning to be adopted, there is still a significant opportunity.
Alternatives such as paper-based punnet trays and molded fiber punnet trays with plastic flow wraps have been developed for dry as well as wet fresh produce. For instance,

Waitrose & Partners, the U.K.-based retail chain, launched a corrugated punnet for Duchy Organic grapes in January 2019. This switch away from plastic is likely to save 12 tons of plastic initially, and increase the adoption of these punnet trays.
Europe Punnet Trays Market: Key Findings
Among various end uses, the fruits & vegetables segment is estimated to account for more than 50% of the market share by the end of 2027. There is a high demand of punnet trays for packaging meat, poultry, and seafood, as they promise to offer various closure options, aesthetic dispensing, and are consumer-friendly.
The plastic material segment of the punnet trays market accounts for majority of the share, in terms of value. Polypropylene (PP) plastics is widely used, as it offers clear packaging added with barrier properties. The segment is projected to expand 1.3x its current value, creating an incremental opportunity of nearly US$ 107 Mn.
In terms of product type, punnet trays with lid is most preferred and is expected to expand at a CAGR of 3.8% by the next decade
The 300-500 gm segment is expected to maintain its lead in terms of volume. It is expected to witness a growth of 1.4x by value by the end of 2027.
Germany is anticipated to outbid other countries in the Europe punnet trays market. Germany is anticipated to expand 1.3x of its value generating an incremental opportunity of US$ 61.7 Mn by the end of 2027.
Europe Punnet Trays Market: Competition Landscape
The Europe punnet trays market is highly fragmented in nature wherein, major portion of the market share is held by domestic and local market players. Some of the key players operating in the Europe punnet trays market are

Coveris Holdings S.A.
Smurfit Kappa Group
LC Packaging International BV
Sirane Group
Produce Packaging
JMC Packaging Ltd
J-Tech Systems
Infia Srl
Quinn Packaging Ltd.
T&B Containers Ltd.

The tier structure is formulated on the basis of segmental revenue and market share of the company. As per the tier structure, Smurfit Kappa Group, Coveris Holdings S.A., and LC Packaging International BV are Tier 1 players in the Europe punnet trays market. These players are focusing on expansion of their production capacity, acquiring local players to strengthen their customer base and enhancing their product quality to increase its footprint across the globe. Tier 2 players include J-Tech Systems, Sirane Group, and other market players.
COVID–19 to Augment Demand for Punnet Trays
The onset of the COVID-19 pandemic is expected to have a positive impact on the growth of the Europe punnet trays market
Several manufacturers are emphasizing on adoption of such packaging materials that offer protective properties and pose as a barrier to protect products from contaminants during transportation. Additionally, increased consumer awareness and demand for hygiene has grown dramatically after the spread of the virus.
The pandemic has resulted in isolation of consumers at home where a brand hardly has any physical connection with the consumer
Moreover, some of the factors, such as raw material availability, transit of product, worker's isolation, and supply chain have led to a slowdown of manufacturing activities
Europe Punnet Trays Market – Scope of the Report
Transparency Market Research (TMR) started a new study on the Europe punnet trays market, providing forecast for the period of 2020-2027. In the study, growth opportunity for the Europe punnet trays market is witnessed. The report provides valuable insights, which enable readers to make winning business decisions for future growth of their businesses. The report highlights significant factors that are constantly determining the growth of the Europe punnet trays market, untapped opportunities for manufacturers, trends and developments, and other insights across various key segments. Macroeconomic factors that are directly or indirectly affecting market growth are also incorporated in the report.
Key Questions Answered in TMR's Europe Punnet Trays Market Report
What will be the impact of COVID-19 on the Europe punnet trays market?
Which end users will be the most lucrative for punnet trays?
What will be market size for punnet trays by the end of 2027?
Which is the most preferred material for punnet trays in the European region?
Which country will remain most lucrative for market growth?
Which are the top five countries in the Europe punnet trays market?
Who are major key players in the Europe punnet trays market?
Key indicators associated with the Europe punnet trays market have been calculated thoroughly in the report. The study enumerates vital market dynamics such as key drivers, challenges, and trends, along with opportunities in the Europe punnet trays market. A comprehensive study on the value chain, which includes component suppliers, manufacturers, distributors, and end users have been incorporated in the market report. Other key aspects laid down in the market include pricing strategy of leading market players and comparative analysis of punnet trays. Furthermore, forecast factors and forecast scenarios of the Europe punnet trays market have been covered in the report to understand future prospects of the market.
A comprehensive evaluation and forecast on the Europe punnet trays market are provided on the basis of material, capacity, product type, end use, and country.
Y-o-Y growth comparison, volume and revenue comparison, and market share comparison of various market segments have been provided in the report. The Europe punnet trays market has been analyzed at country levels.
The report delivers an exhaustive assessment on the structure of the Europe punnet trays market, in tandem with the dashboard view of all leading company profiles in the report. Every company's share analysis on market players have also been presented in the report, apart from the footprint matrix of profiled market players. The report depicts the presence of punnet trays manufacturers by leveraging an intensity map. It also highlights key end users for punnet trays.
The report includes company overview of key players. Some of the key companies profiled in the Europe punnet trays market report include Coveris Holdings S.A., Smurfit Kappa Group, LC Packaging International BV, Sirane Group, Produce Packaging, JMC Packaging Ltd, J-Tech Systems, Infia Srl, Quinn Packaging Ltd., and T&B Containers Ltd.
Research Methodology
A realistic methodology, along with a holistic approach makes the base for sharp insights, which are provided in the Europe punnet trays market for the study evaluation period. The TMR report comprises of detailed information on growth prospects, along with riveting insights into the forecast assessment of the market.
Extensive primary and secondary researches have been employed to garner keen insights into the forecast study of the Europe punnet trays market. The report has undergone a cross-validation by in-house professionals to make the Europe punnet trays market report one-of-its-kind, with the highest credibility.
Europe Punnet Trays Market – Segmentation
The Europe punnet trays market has been divided on the basis of material, capacity, product type, end use, and country. Each of these segments is analyzed to provide readers with a holistic view of the market.
Material

Paper
Molded Fiber
Plastic

Polystyrene (PS)
Polypropylene (PP)
Polyethylene Terephthalate (PET)
Polylactic Acid (PLA)
Polyvinyl Chloride (PVC)

Capacity

Up to 150 gm
150-300 gm
300-500 gm
500 gm & Above

Product Type
End Use

Fruits & Vegetables
Meat, Poultry & Seafood
Frozen Food

Country

Germany
Italy
France
U.K.
Spain
Russia
Poland
BENELUX
Nordics
Rest of Europe
Custom Market Research Services
TMR offers custom market research services that help clients to get information on their business scenario required where syndicated solutions are not enough.
REQUEST CUSTOMIZATION

Europe Punnet Trays Market