Europe Plastic Packaging Market
Europe Plastic Packaging Market (Material: Polyethylene, Polypropylene, Polystyrene, Polyamide, Polyethylene Terephthalate, Poly Vinyl Chloride, Bioplastics, and Other Plastics; Packaging: Rigid Packaging and Flexible Packaging; and End Use: Food & Beverage, Pharmaceutical & Healthcare, Cosmetics & Personal Care, Homecare & Toiletries, Automotive Industry, Electrical & Electronics, Chemical & Fertilizers, and Others) - Industry Analysis, Size, Share, Growth, Trends, and Forecast, 2020-2030
Packaging
TMRGL82025
2021-04-14
128

Pages
Corona-related Restrictions Cast Different Impact in Food, Automotive Industries
Even as manufacturers in the Europe plastic packaging market in some cases are reaching the limits in terms of capacity, suppliers in the automotive industry are being confronted with a considerable drop in demand during the pandemic. This signals how differently the coronavirus outbreak is affecting the plastic packaging industry. Stakeholders in the food industry are working under high pressure to secure supplies for the European population, while packaging demand in industrial applications and the gastronomy sector is witnessing a decline.
Mass inoculation with COVID-19 vaccines is anticipated to revive growth of the Europe plastic packaging market, as stakeholders in various end-use industries are expected to start working in full capacity and consumers would increase their spending by mid-2021. Although suppliers are increasing efforts to fulfill client orders, corona-related restrictions such as reduced personnel numbers and short-time working hours are affecting business activities.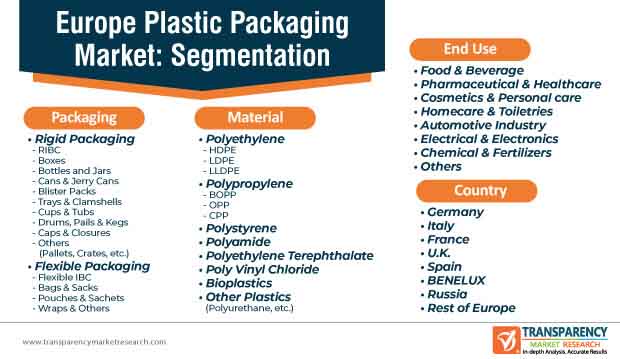 Request a sample to get extensive insights into the Europe Plastic Packaging Market
Bioplastics, Recycled Plastics Help Companies to Comply with Plastic Regulations
The Europe plastic packaging market is projected to grow at a modest CAGR of 4.1% during the forecast period. Plastic has been under great scrutiny for increasing the environmental footprint. Stringent regulations on plastic have compelled manufacturers to innovate in bioplastics consisting of plant-based materials including corn, which is broken down into PLA (Polylactic Acid) to produce drinks bottles, food-grade containers, and films.
The growing demand for cruelty-free, paraben-free, and natural ingredients in beauty produced has led to an extensive use of recyclable plastic bottles with outer shell made from high performance strong fiber. Such trends are reducing the use of plastic materials and help companies to adhere to stringent plastic regulations.
To understand how our report can bring difference to your business strategy, Ask for a brochure
CEFLEX Guidelines Help Advance in Multi-material Products, Flexible Packaging
Plastic materials are increasing the ecological footprint. However, it is potentially challenging to completely replace plastic in packaging applications and will take several years. Manufacturers in the Europe plastic packaging market are adhering to guidelines laid down by CEFLEX (The Circular Economy for Flexible Packaging), involving SUPRAVIS S.A. and other European countries that are reinventing consumer flexible packaging solutions. They are using various materials and polymers that contribute toward a circular economy.
Companies in the Europe plastic packaging market are anticipated to invest in research for the development of multi-material product profiles and validate their cleaning & processing in chemical recycling.
Medical, Optical Packaging Demands Experience in Blow and Injection Molding
Pharmaceutical & healthcare is predicted to dominate the second-highest revenue among all end uses in the Europe plastic packaging market. The market is expected to reach US$ 73 Bn by 2030. Manufacturers are gaining proficiency in new product design, engineering services using CAD (Computer-Aided Design), and affordable short prototyping to expand revenue streams in pharmaceutical & healthcare applications.
Extensive experience in blow molding and injection molding is helping companies in the Europe plastic packaging market to unlock growth opportunities in medical, military, optical, and aerospace applications. They are increasing their production capabilities in sealable solid plastic containers that prevent foreign elements from contaminating the medicine within.
Vivid Graphics Using Custom Cosmetics Packaging Boost Brand Visibility
The custom cosmetics packaging is helping brands to stand out from other competitive products in supermarkets and increases brand visibility. Companies in the Europe plastic packaging market are innovating in designs that cater to the modern beauty consumer. This is being achieved with excellent graphics and right packaging format that help to accurately reflect the brand's persona. Custom services in plastic packaging for beauty products incorporate the brand's preferred color palette, icons, font styles, images, and the likes.
Excellent clean lines and perfect alignment of vivid graphics are being provided by manufacturers in the Europe plastic packaging market. They are increasing the availability of eco-friendly flexible cosmetic packaging solutions. Specialized features including micro-perforations are being incorporated in cosmetic packaging to allow for aeration of special products.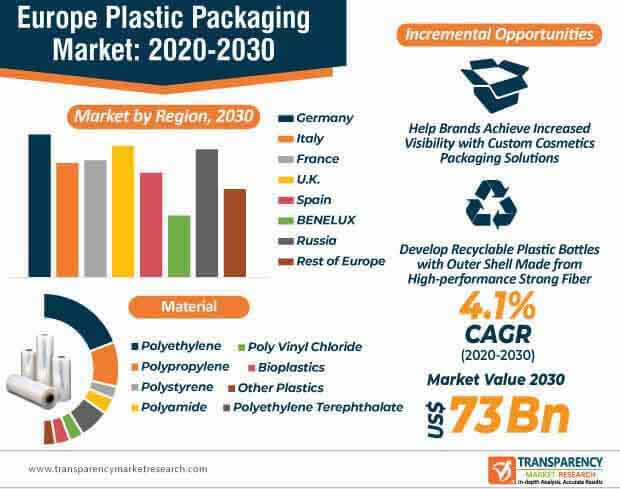 Stuck in a neck-to-neck competition with other brands? Request a custom report on Europe Plastic Packaging Market
Analysts' Viewpoint

The consistent demand for hygiene and cleaning products are generating stable revenue streams for stakeholders during the coronavirus outbreak. The Europe plastic packaging market is predicted to mature from an output of ~18,710 tons in 2020 and surpass ~27,054 tons by the end of 2030. However, measures to prevent plastic from ending up in landfills are rather poorly developed, depending on the type of waste, since PET (Polyethylene Teraphthalate) bottles are easy to recycle but plastic films are potentially challenging. Thus, stakeholders are taking cues from the CEFLEX initiative to increase R&D in eco-designing of packaging solutions that help in easy recycling of plastic waste.
Europe Plastic Packaging Market: Overview
According to Transparency Market Research's latest report on the Europe plastic packaging market for the forecast period of 2020-2030, the market is estimated to be driven by product maximization and rising emphasis on research and development activities associated with plastic packaging solutions in European countries
The Europe plastic packaging market is expected to offer incremental opportunity of US$ 22.7 Bn with market expansion of ~1.4 times of current market value during the forecast period
Rising Emphasis on Safe and Secure Transportation of Industrial and Non-Industrial Goods to Boosts Demand
Plastic rigid packaging solutions such as IBCs, drums, jars, cans, pails, and others are predominately used in various industries, as these precisely meet the specific needs of packaging and transporting.
Industries such as food, automotive, chemical, healthcare, and pharmaceuticals are playing the pivotal role in Europe's industrial progress. These industries require rigid packaging solutions on a frequent basis for storage, transportation, and packaging of wide range of fragile and non-fragile cargo.
Transportation of industrial and non-industrial goods is been the crucial challenge for European manufacturers since the past few years. Even mere mistake in shipping and handling of these goods leads to massive financial loss for manufacturers. Rigid packaging solutions made of plastic are robust, durable, customizable, and capable of secure conveyance of goods.
The consistently rising demand for such robust yet easy to use rigid packaging solutions for safe and secure shipment of industrial and non-industrial goods across Europe is projected to uplift the Europe plastic packaging industry growth during the forecast period
eCommerce Platforms and Retail Industries Shaping Developments in Europe Plastic Packaging Market
In the past couple of years, there is a significant increase in the number of modern retail formats such as supermarkets, convenience stores, speciality stores, and hypermarkets in Europe. Changing lifestyle, eating and drinking pattern, and increasing per-capita disposable incomes of consumers have boosted growth of the Europe organized retail sector.
Rapid penetration and expansion of organized retail sector in Europe have uplifted the demand and consumption of products, which require packaging solutions, including bags, pouches, trays, cups, sachets, bottles, and others.
Growing demand for packed food and non-food products across Europe drives the retail sector growth as well as creates outstanding demand for flexible packaging solutions, which is expected to accelerate the plastic packaging market growth significantly
Advanced Recycling Technologies and Consumer Inclination toward PCR Plastic Packaging to Create Lucrative Avenues
Plastic packaging products have become the integral part of daily life, as they are produced at immense scale across the globe. It is calculated that approximately 70% of all plastic products is converted into plastic waste in a short span. Improper plastic waste management across continents is one of the crucial factors that causes severe ground water and soil pollution.
Various governments, including authorities in European countries, have taken initiatives and induced stringent rules and regulations for plastic waste management. Recycling of plastics is considered the next technically feasible option to tackle issues offered by the rapidly growing volume of plastic waste. Prominent packaging manufacturers such as Mauser Packaging Solutions and Berry Global Group, Inc are enhancing their sustainable packaging product range by designing and manufacturing plastic bottles, jars, and drums made from recycled plastics.

In May 2020, Greif, one of the leading industrial packaging manufacturers introduced plastic drum made up of post-consumer resin (PCR) combined with virgin resin. Moreover, end-use consumers across European countries have started to prefer recyclable and recycled plastic packaging products, attributable to the increasing awareness related to the need for proper management of plastic waste. All these factors are projected to offer gratifying opportunities to prominent packaging manufacturers to design and manufacture highly recycled and recyclable rigid and flexible packaging solutions.
Europe Plastic Packaging Market: Key Findings
As per packaging, flexible packaging segment is projected to emerge as the most lucrative segment among others. The target segment is projected to hold approximately 3/5th share of the market by the end of 2030. The demand for flexible packaging solutions in Europe is mainly driven by its convenient usage, pricing affordability, and customizable outlook.
As per TMR analysis, food & beverage segment is expected to generate mammoth demand for plastic packaging solutions. The target segment is anticipated to create total incremental opportunity of US$ ~1.8 Bn during the next five years and also likely to expand by 1.4 times its current market value in next decade.
In terms of country, packaging manufacturers operating in the Europe plastic packaging market can target the highly lucrative countries such as Spain, Italy, and Russia to strengthen the market position and financial revenues. Astonishing market penetration of food & beverages and pharmaceuticals sectors in these countries is promising the substantial growth prospects during the upcoming years. Moreover, Germany and the U.K. are collectively estimated to hold ~33% share of the market by the end of the forecast period. These two countries accounts for a significant usage of plastic packaging solutions, and is expected to remain major user of plastic packaging solutions by the end of 2030.
Europe Plastic Packaging Market: Competition Landscape
TMR analysed that the Europe plastic packaging market is highly competitive, owing to new start-ups and entry of local players. This completion among key players is carefully studied based on developments, strategies, and segmental revenue of the company over the past five years.
The recent study of plastic packaging market includes profiles of players such as

Berry Global Group, Inc
Amcor Plc
Mondi Group Plc
Sonoco Products Company
Sealed Air Corporation
Coveris Holdings S.A
Huhtamäki Oyj
Constantia Flexibles Group GmbH
Greif
Mauser Packaging Solutions
SCHÜTZ GmbH & Co. KGaA
AptarGroup, Inc
Schur Flexibles Holding GesmbH, etc.

TMR differentiated these players as Tier 1, Tier 2, and Tier 3 as per their segmental earnings. Among these players, Berry Global Group, Inc, Amcor Plc, Mondi Group Plc, Huhtamäki Oyj, and Mauser Packaging Solutions are identified as Tier 1 players in plastic packaging market. Tier 2 players are SCHUTZ GmbH & Co. KGaA, Sonoco Products Company, Greif, Sealed Air Corporation, AptarGroup, Inc and Schur Flexibles Holding GesmbH. Tier 3 players are Coveris Holdings S.A, BUERGO.FOL GmbH, etc.
COVID-19 Pandemic to Slowdown Market Growth Considerably
Being severely affected by the COVID-19 outbreak, the European packaging industry has witnessed considerable slowdown in past couple of months. Rapid spread of COVID-19 pandemic has interrupted the supply chain of manufacturing industries, impacting the plastic packaging market as well.
Leading European countries such as Germany, Italy, the U.K., and France are the most affected by coronavirus outbreak, and are among the largest users of plastic rigid and flexible packaging solutions. Thus, COVID-19 and its second wave in Europe, there is a fluctuation in demand from various end-use industries such as food & beverages, chemical, and automotive, which affects the sale of plastic packaging solutions significantly. However, things and manufacturing industries are anticipated to back on track in 2021, which will supplements the sales of plastic packaging in later part of 2021.
Europe Plastic Packaging Market – Scope of the Report
Transparency Market Research (TMR) started a new study on the Europe plastic packaging market, providing forecast for the period of 2020-2030. In the study, growth opportunity for the plastic packaging market is witnessed. The report provides valuable insights, which enable readers to make winning business decisions for future growth of their businesses. The report highlights significant factors that are constantly determining the growth of the plastic packaging market, untapped opportunities for manufacturers, trends, and developments, and other insights across various key segments. Macroeconomic factors that are directly or indirectly affecting market growth are also incorporated in the report.
Key Questions Answered in TMR's Europe Plastic Packaging Market Report
What will be market size for Europe plastic packaging by the end of 2030?
What will be the impact of COVID-19 on the Europe plastic packaging market?
Which is the most preferred material used for manufacturing plastic packaging in the European market?
Which country will remain most lucrative for market growth?
Which end use holds maximum market share of the Europe plastic packaging market?
Who are major key players in the Europe plastic packaging market?
Key indicators associated with the plastic packaging market have been calculated thoroughly in the report. The study enumerates vital market dynamics such as key drivers, challenges, and trends, along with opportunities in the Europe plastic packaging market. A comprehensive study on the value chain, which includes raw material suppliers, manufacturers, distributors, and end users have been incorporated in the Europe market report. Other key aspects laid down in the market include pricing strategy of leading market players and comparative analysis of plastic packaging. Furthermore, forecast factors and forecast scenarios of the Europe plastic packaging market have been covered in the report to understand future prospects of the market.
A comprehensive evaluation and forecast on the Europe plastic packaging market are provided on the material, packaging, end use, and country.
Y-o-Y growth comparison, volume and revenue comparison, and market share comparison of various market segments are provided in the report. The plastic packaging market is analyzed at country level.
The report delivers an exhaustive assessment on the structure of the Europe plastic packaging market, in tandem with a dashboard view of all leading company profiles in the report. Every company's share analysis on market players have also been presented in the report apart from the footprint matrix of profiled market players. The report depicts the presence of plastic packaging manufacturers by leveraging an intensity map. It also highlights key end uses for plastic packaging.
The report includes company overview of key players. Some of the key companies profiled in the Europe plastic packaging market report include Berry Global Group, Inc, Amcor Plc, Mondi Group Plc, Sonoco Products Company, Sealed Air Corporation, Huhtamäki Oyj, Constantia Flexibles Group GmbH, Greif, Mauser Packaging Solutions, SCHÜTZ GmbH & Co. KGaA, Coveris Holdings S.A, AptarGroup, Inc, Schur Flexibles Holding GesmbH, BUERGO.FOL GmbH, etc.
Research Methodology
A realistic methodology, along with a holistic approach makes the base for sharp insights, which are provided in the Europe plastic packaging market for the study evaluation period. The TMR report comprises of detailed information on growth prospects, along with riveting insights into the forecast assessment of the market.
Extensive primary and secondary researches have been employed to garner keen insights into the forecast study of the Europe plastic packaging market. The report has further undergone a cross-validation by in-house professionals to make the Europe plastic packaging market report one-of-its-kind with the highest credibility.
Europe Plastic Packaging Market – Segmentation
The Europe plastic packaging market has been segmented on the basis of material, packaging, end use, and country. Each of these segments are analyzed to provide readers with holistic view of the market.
Material

Polyethylene
Polypropylene
Polystyrene
Polyamide
Polyethylene Terephthalate
Poly Vinyl Chloride
Bioplastics
Other Plastics (Polyurethane, etc.)

Packaging

Rigid Packaging

RIBC
Boxes
Bottles & Jars
Cans & Jerry Cans
Blister Packs
Trays & Clamshells
Cups & Tubs
Drums, Pails & Kegs
Caps & Closures
Others (Pallets, Crates, etc.)

Flexible Packaging

Flexible IBC
Bags & Sacks
Pouches & Sachets
Wraps & Others

End Use

Food & Beverage
Pharmaceutical & Healthcare
Cosmetics & Personal Care
Homecare & Toiletries
Automotive Industry
Electrical& Electronics
Chemical & Fertilizers
Others

Country

Germany
Italy
France
U.K.
Spain
BENELUX
Russia
Rest of Europe
Custom Market Research Services
TMR offers custom market research services that help clients to get information on their business scenario required where syndicated solutions are not enough.
REQUEST CUSTOMIZATION

Europe Plastic Packaging Market