Europe Microalgae Products Market
Europe Microalgae Products Market (Form: Powder & Flakes, Tab/Cap, and Paste; Product Type: Chlorella, Spirulina, Nannochloropsis, Astaxanthin, B-Carotene, PUFA, and Others; End Use: Food & Beverage Processing, Pharmaceuticals, Nutraceutical, Cosmetics & Personal Care, Animal Feed, Aquaculture, and Other Industrial Applications; and Distribution Channel: Business to Business and Business to Consumers) - Global Industry Analysis, Size, Share, Growth, Trends, and Forecast, 2021-2031
Food & Beverages
TMRGL82608
2021-07-30
413

Pages
Antiviral Compounds from Microalgae Hold Potential for Boosting Immunity against Coronavirus
Microalgae products hold promising potentials to combat the morbidity and mortality associated with the novel coronavirus. Antiviral compounds in cyanobacterial lectins, including agglutinin OAA and cyanovirin-N (CV-N) are bring publicized for inhibiting a range of viruses. Such findings have brought companies in the Europe microalgae products market under great scrutiny. Stakeholders are increasing their R&D capabilities in pharmaceutical products that help increase immunity levels of individuals.
During the ongoing COVID-19 pandemic, companies in the Europe microalgae products market are increasing their focus in antiviral compounds such as polysaccharides produced by the well-known Spirulina and Porphyridium microalgae. Other promising sulfate-polysaccharides from spirulina include the calcium-spirulan, which is active against potential viruses, mumps, and influenza.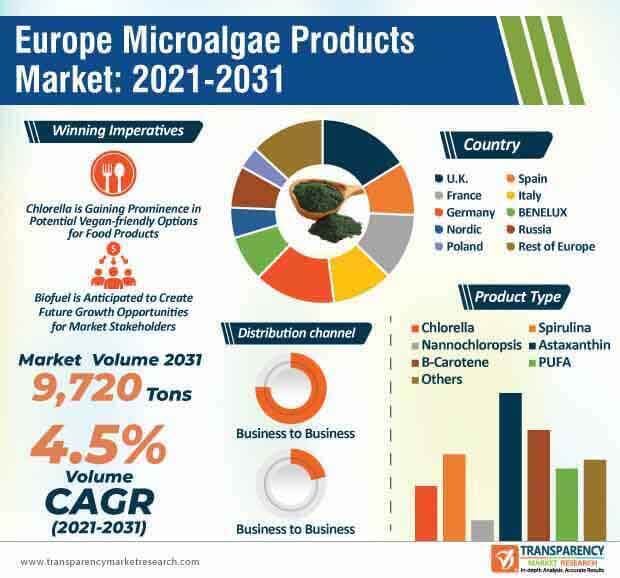 Request a sample to get extensive insights into the Europe Microalgae Products Market
Optimizing Manufacturing, Commercialization of Microalgae Products Improves Bottom Lines
The Europe microalgae products market is estimated to expand from a volume of 6,266 tons in 2021 and reach 9,720 tons by 2031. However, the high cost of operation, infrastructure, and selection of algal strains with high protein contents is inhibiting the growth of the market. Hence, companies are optimizing the manufacturing and commercialization of microalgae ,products since the sale of these products is dependent on market sentiment and financial affairs. This is being achieved by developing innovative and sustainable technologies with minimum energy inputs for large-scale cultivation.
Manufacturers are unlocking revenue opportunities in a wide range of food and high-value products pertaining to cosmetics and medicine. Biofuel is anticipated to create future growth opportunities for market stakeholders.
To understand how our report can bring difference to your business strategy, Ask for a brochure
Chlorella Gains Prominence in Plant-based Food Product Innovations
Microalgae is a nutrient rich source of protein and fiber that has a low environment footprint. Companies in the Europe microalgae products market are expected to enter into partnerships to research the viability of microalgae as an ingredient in food and beverages. This has led to the popularity of Chlorella that has nutritional benefits, antioxidants, and vitamins, among other compounds, which can be used to innovate in novel food products.
Manufacturers in the Europe microalgae products market are increasing R&D in plant-based ingredients that are sustainable, non-GMO (Genetically Modified Organisms), and protein-rich with neutral flavors. Chlorella is gaining prominence in potential vegan-friendly options for food products. As such, plant-based food is becoming a fast growing phenomenon in the nutrition space.
Investments in Photobioreactors Drive Innovations in Nutritious, Fizzy Beverages
Right from nutraceuticals, the food & beverage processing end use is predicted to dictate the second highest revenue among all other end use types in the Europe microalgae products market. FUL Foods, a Delft start-up, is growing microalgae in photobioreactors, refining it into a superfood to develop a naturally blue tonic. Stakeholders in the market are taking cues from such innovations to refine microalgae into refreshing and fizzy beverages.
The Europe microalgae products market is expected to reach US$ 1.6 Bn by the end of 2031. Manufacturers are anticipated to invest in breweries to produce nutrient dense ingredients for innovating in beverages.
R&D Helps Optimize Production of Omega-3 for Humans Using Microalgae
Microalgae is being highly publicized as a super food. On the other hand, algae researchers are investigating its use as a feed for agri- and aquaculture. Manufacturers in the Europe microalgae products market are gaining a strong research base to optimize production of protein and omega-3s for humans with the help of microalgae. Thus, cutting production cost is the key to market success.
The growing popularity of non-animal protein sources is translating into revenue opportunities for companies in the Europe microalgae products market.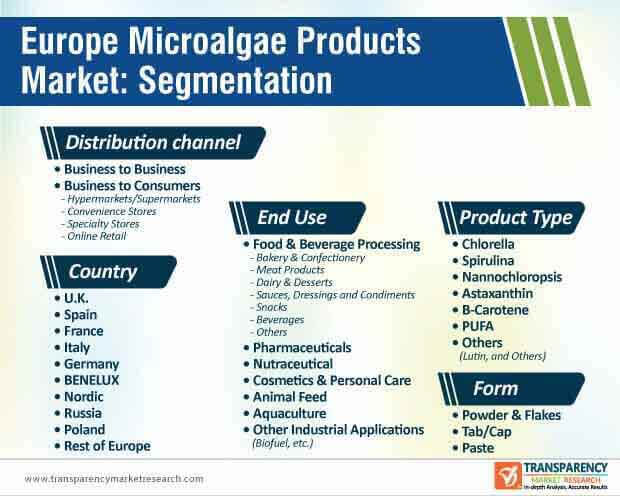 Stuck in a neck-to-neck competition with other brands? Request a custom report on Europe Microalgae Products Market
Analysts' Viewpoint

Even as venture capital investments declined due to the COVID-19 outbreak, start-ups have focused on plant-based ingredients to launch new products in order to generate revenue streams. There is a growing demand for microalgae-based proteins in products at grocery stores for budget-conscious consumers and fast food restaurants preferred by high-income groups. However, there is a limitation of authentic and reliable data pertaining to microalgae products market opportunities. Hence, companies should establish long-term research studies to develop systems for the production of sustainable algal-based products. The Europe microalgae products market is slated to clock a CAGR of 5.7% during the forecast period.
Europe Microalgae Products Market: Overview
The Europe microalgae products market is estimated to value 918.2 Mn in 2021, finds Transparency Market Research (TMR) in a recent study. According to the report, the market is expected to reach US$ 1.6 Bn by 2031, at a CAGR of 5.7% during the forecast period.
Animal feed and dairy & desserts are among the major segments expanding at the high CAGRs of 7.2% and 6.9%, respectively, in the market for the use of microalgae products
The nutraceutical end use segment accounts for the largest share of the Europe microalgae products market; however, the animal feed segment is anticipated to grow at a significant CAGR 7.2% with the rising demand for more nutritious feed products
Powder & flakes microalgae products hold high market share of around 40.7%
Increasing healthcare spending, growing geriatric population, food innovations, changing lifestyle, and medical discoveries have benefitted the demand for superfoods. Increasing awareness regarding superfoods as natural, nutrient-rich foods containing vitamins and minerals are some of the key aspects shaping the popularity of microalgae products.
Europe Microalgae Products: Market Frontrunners
Microalgae products market in Europe is gaining polarity attributed to increased consumption of health benefitting products. The demand for chemical-free and naturally sourced ingredients from health-conscious consumers across the globe coupled with rising vegan and organic goods is expected to contribute to the growth of the microalgae products market in Europe. Key players are expected to continue expanding their production capacities and enhance capabilities with the incorporation of latest technologies.
Based on end use, the animal feed segment is gaining massive traction in various end-use industries; the animal feed segment is anticipated to grow at a value CAGR of 7.2% during the forecast period
Astraxanthin product type segment accounts for the largest value share of around 24.6% due to the growing demand for various cosmetic benefits and food applications. It has various uses for skin such as treat sunburn, reduce wrinkles, and other cosmetic benefits. In food, it is used as a coloring agent for salmon, crabs, shrimp, chicken, and egg production.
In Europe, the Nordic is expected to remain frontrunners in the consumption of microalgae products and the market in Nordic is expected to grow at a CAGR of 7.8%. However, the U.K. is one of the largest producers of microalgae products in the Europe.
Europe Microalgae Products Market: Trends
Growing Quest for Dietary Supplements among Consumers
Micronutrients play a critical role in the overall nutrition and health of the human body. A plethora of continuous research published in high-profile scientific journals focuses on the benefits of various nutrition ingredients for maintaining the overall health. However, with changes in lifestyles and eating habits, consumers worldwide fail to meet the recommended intake levels of nutrients. The impact of low micronutrient intake is a major public health concern, resulting in vulnerability to infections and diseases. This has resulted in increased consumption of dietary supplements for supporting overall health.
Microalgae products are excellent sources of vitamins such as vitamin A, B1, B2, B6, B12, C and E and minerals such as potassium, iron, magnesium, calcium and iodine. Microalgae products are marketed as healthy foods, and are available as capsules, tablets, powders and liquids due to their high protein content and nutritional value.
Increased Demand for Sustainable Food and Feed Sources
Consumers today demand healthy food and are concerned about the environment as well. Manufacturers are constantly innovating ways for sourcing raw materials as well as producing products in the most sustainable ways to attract more customers. Microalgae-based products offer a potential solution for global food security and mitigate environmental issues caused by the expansion of land-based products. The competition with agriculture for food production can be avoided, as microalgae-based products offer great flexibility and adaptability to grow in diverse environments with less use of arable land than terrestrial plants. The growth rate of microalgae is also 5-10 times faster than conventional food crops, making them a sustainable source for different food and feed products.
Expansion of Aquaculture Industry to Offer Sales Opportunities for Microalgae Products Market Players
Fishmeal is the preferred protein ingredient of feed in aquaculture, contributing significantly to the variable production cost. However, decreasing fishmeal supply and increasing costs threaten the sustainability and growth of the aquaculture industry. Therefore, the demand for products that can completely or partially substitute fishmeal with alternative proteins is rising. Microalgae-based products can be used worldwide as an alternate protein source replacing fishmeal successfully. In feeding trials with fish, many types of microalgae have been found to be useful for increasing growth, feed utilization, physiological activity, stress response, starvation tolerance, disease resistance, and carcass quality. Thus, an opportunity exists for manufacturers to increase the penetration of microalgae products in the growing aquaculture industry as cost price reductions of 60-80% can be achieved with state of the art production systems at large production facilities.
Europe Microalgae Products Market: Strategies
Key manufacturers operating in the microalgae products market are focusing on offering certified, good-quality microalgae products for their customers. Manufacturers are also investing a research and development for different microalgae products applications. Moreover, the sales for microalgae products have increased in the animal feed, nutraceutical segment, owing to the increasing awareness of its various uses and health benefits. This has marked an opportunity for manufacturers to increase their market share by offering segment-specific microalgae products.
Many of the key companies are focusing on the quality of their products, starting from sourcing the ingredients to following a standard production process and hygienic packaging. The companies are also catering to the ongoing trend in the market by offering gluten-free, vegan, and organic products.
Leading players, such as Phycom, company is constantly working on the collaboration strategy with well-known institutes and sports centers to develop and integrate new forms of algae and uncover more applications of its products
Europe Microalgae Products Market: Key Players
Some of the key players, including manufacturers, brands operating in the microalgae products market, as profiled in the study, are

DSM N.V.
DIC Corporation
Phycom
Chr. Hansen Holding A/S
Naturex S.A
Allmicroalgae Natural Products S.A
Fuqing King Dnarmsa Spirulina Co. Ltd.
Beijing Gingko Group
Divi's laboratories Ltd.
NOW Health Group, Inc.
Monzón Biotech
Cyanotech Corporation
Algatechnologies Ltd.
Reed Mariculture
Arizona Algae Products LLC
Sun Chlorella Corporation
Yaeyama Shokusan Co Ltd.
Taiwan Chlorella Manufacturing Co. Ltd.
Far East Microalgae Ind Co. Ltd.
Vedan Biotechnology Corp.
Europe Microalgae Products Market – Scope of Report
Transparency Market Research (TMR) has recently published a market study on the Europe microalgae products market. It provides a detailed assessment of key market dynamics, including drivers, trends, opportunities & restraints, and detailed information about the Europe microalgae products market structure. The market study presents exclusive information about how the European microalgae products market will grow during the forecast period of 2021-2031.
Key indicators of market growth, which include year-on-year (Y-o-Y) growth of the market, value chain, supply chain analysis, and compounded annual growth rate (CAGR) are elaborated in the study in a comprehensive manner. This information is intended to help readers understand the quantitative growth prospects of the European microalgae products market during the forecast period.
The study is intended to offer a holistic market overview to stakeholders in the Europe microalgae products, including manufacturers, suppliers, distributors, cultivators, brands and investors, and to help them develop winning growth strategies. Stakeholders in the European microalgae products market, which include investors, industry experts, researchers, and journalists, and business researchers, can leverage the information and data presented in TMR's study.
The study also includes statistics and facts related to the macro as well as microeconomic factors that are impacting expansion of the market. It also offers actionable insights into the future trends in the Europe microalgae products market. Furthermore, small businesses and new entrants in the Europe microalgae products market can make use of the information presented in this study, based on which, they can make appropriate business decisions in order to gain momentum in the market.
Key Questions Answered in TMR's Europe Microalgae Products Market Report
Which country will continue to remain the most profitable market for Europe microalgae products market players?
Which factors will induce a change in the demand for microalgae products during the assessment period?
How will the changing trends impact the Europe microalgae products market?
How can market players capitalize on the low-hanging opportunities in the Europe microalgae products market in developed countries?
Which companies are leading the Europe microalgae products market?
What are the winning strategies of stakeholders in the Europe microalgae products market to catapult their position at the forefront?
Europe Microalgae Products Market – Research Methodology
In TMR's study, a unique research methodology is used to conduct extensive research on the growth of the European microalgae products market and identify future growth parameters. This research methodology is a combination of primary and secondary research, to help analysts ensure the accuracy and reliability of the conclusions.
Secondary resources referred to by analysts for compiling the Europe microalgae products market study include statistics from governmental organizations, trade journals, white papers, and internal and external proprietary databases. Analysts have interviewed senior managers, product portfolio managers, CEOs, VPs, marketing/product managers, and market intelligence managers, who contributed to the development of this report as a primary resource.
Information acquired from primary resources and secondary resources is compiled in a comprehensive manner. This also acts as a validation from companies in the Europe microalgae products market, which makes TMR's projections more accurate and reliable.
Europe Microalgae Products Market
TMR's study on the Europe microalgae products market offers information divided into important segments— form, product type, end use, distribution channel, and country. This report offers comprehensive data and information about the important market dynamics and growth parameters associated with these categories.
Form

Powder & Flakes
Tab/Cap
Paste

Product Type

Chlorella
Spirulina
Nannochloropsis
Astaxanthin
B-Carotene
PUFA
Others (Lutin, and Others)

End Use

Food & Beverage Processing

Bakery & Confectionery
Meat Products
Dairy & Desserts
Sauces, Dressings and Condiments
Snacks
Beverages
Others

Pharmaceuticals
Nutraceutical
Cosmetics & Personal Care
Animal Feed
Aquaculture
Other Industrial Applications (Biofuel, etc.)

Distribution Channel

Business to Business
Business to Consumers

Hypermarkets/Supermarkets
Convenience Stores
Specialty Stores
Online Retails

County

U.K.
Spain
France
Italy
Germany
BENELUX
Nordic
Russia
Poland
Rest of Europe
Custom Market Research Services
TMR offers custom market research services that help clients to get information on their business scenario required where syndicated solutions are not enough.
REQUEST CUSTOMIZATION

Europe Microalgae Products Market