Ethanolamines Market
Ethanolamines Market (Product - Monoethanolamines (MEA), Diethanolamines (DEA), Triethanolamines (TEA); Application - Surfactants, Chemical Intermediates, Herbicides, Gas Treatment, Cement) - Global Industry Analysis, Size, Share, Growth, Trends and Forecast 2016 - 2024
Category :

Chemicals & Materials

Format :
Ethanolamines Market: Snapshot
Demand for ethanolamines is increasing exponentially with rising industrialization and growing demand from end-use industries. The compound is used as feedstock for manufacturing pharmaceuticals, detergents, and polishes.
Further, widening application of ethanolamines in corrosion inhibitors for metal protection and construction chemicals, is anticipated to provide tremendous growth opportunities to ethanolamines market in coming years.
Moreover, demand for ethanolamines is rising from personal care industries too. Ethanolamines are used for manufacturing bath foams, shampoos, and soaps. In addition, the compound is extensively used as weak base in various industries and is an essential head group for phospholipids.
Wide applications of ethanolamines in various industries and new application avenues are likely to boost the global ethanolamines market in coming years. Meanwhile, strong economic growth in various regions are likely to propel growth of the market in the forecast period (2016-2024). As per a report published by Transparency Market Research, the global ethanolamines market is anticipated to expand at a moderate CAGR of 4.1% during forecast period. In 2015, the market stood at the value of US$2.8 bn. The market value is estimated to cross US$4 bn by the end of forecast period.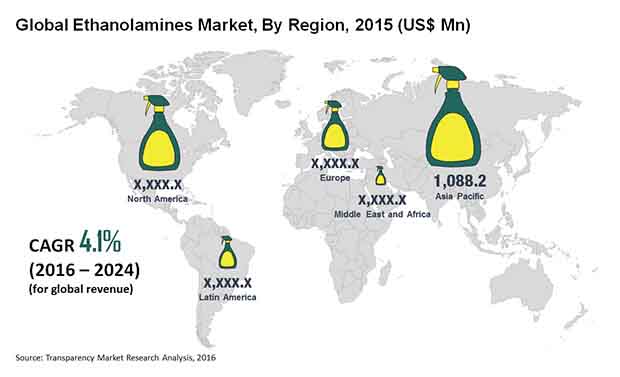 New Application Avenues Provide Expansion Opportunities to Ethanolamines Market
Development of new applications of ethanolamines in agrochemical production and wood preservation will provide fresh growth avenues to ethanolamines market. As a result, the market is likely to expand in the tenure of forecast period. Growth in agrochemicals production in Asia Pacific is projected to supplement global market growth in coming years.
Further, increasing demand from end-use industries for gas treatment and metal cleaning is a key driving factor. Gas treatment application is likely to grow at a significant rate. This, in turn, is likely to boost the market over the forecast period.
Frequently fluctuating prices of raw materials are likely to hamper growth of the global ethanolamines market. It is a major challenge being faced by the players operating in the market. It may restrain growth of the market.
North America and Asia Pacific Market Dominate Global Ethanolamines Market
In 2015, North America and Asia Pacific, conjointly, accounted for 70% share in the global ethanolamines market. The contribution is accredited to extensive applications of ethanolamines in herbicides and surfactants.
Moving forward, Asia Pacific is anticipated to witness significant growth rate in coming years. The growth rate is accredited to increasing domestic demand from end-use industries in emerging economies such as India and China. Low product cost, particularly in India, is anticipated to one of the key factors for growth of the regional ethanolamines market over the forecast period. Rising disposable income along with growth in industrial sector is likely to drive demand in the region.
On the other hand, North America is anticipated to exhibit substantial growth over the forecast period owing to high demand from end-use industries. Industries such as herbicides, personal care, and detergent are major consumers of ethanolamines. The U.S. is one of the leading consumers of ethanolamines. Further, growing development and innovation in applications are likely to uplift the regional ethanolamines market in coming years.
With presence of several players in the global ethanolamines market, the market is highly fragmented in nature. As a result of intense competition, the profit margin is also very low. However, due to the presence large number of suppliers and educated buyers, ethanolamine market is providing lucrative opportunities for growth of the market in coming years.
Some of the key players operating in the global ethanolamines market are INEOS Oxide Ltd., Dow Chemical Corporation, Huntsman Corporation, Thai Ethanolamines Co., Daicel Chemical Industries, CNPC, Fushun Beifang Chemical Co. Ltd., BASF, Celanese Corporation, Alkyl Amines Chemicals Ltd., CNPC, Akzo Nobel, and Celanese Corporation.
Wide Range of Industrial Applications Spur Growth Prospects of Ethanolamines Market
Ethanolamines are known for antihistaminic property. Also known variously by 2-aminoethanol, or monoethanolamine, or ETA, along with their derivatives, they have been utilized in a wide range of industrial applications. It has a role as a human metabolite, mouse metabolite, and Escherichia coli (E.coli) metabolite, and is viewed as a popular component of phospholipid phosphatidylethanolamine. Interestingly, S. enterica can respire the compound anaerobically. This is a key trend bolstering the expansion of avenues in the ethanolamines market. Over the years, understanding about enzymes and enzyme mechanisms is expanding the prospects for industrial use of ethanolamines. In particular, researchers have made strides in unravelling ethanolamine ammonia-lyase (EAL) activity, especially for several enteric bacteria. Need for advancing sample preparation techniques has boosted the prospects in the market. The ethanolamines market has also seen a growing body of research on carbon dioxide use, given its role in furthering the objectives of global sustainability. Over the past few years, market players have been able to explore new avenues on the back of their expanding understanding about the biochemistry mechanism of the derivatives of ethanolamines. Efforts are ongoing to incorporate this into LSC cocktails, and players are working actively working on alternatives since there are numerous challenges.
The currently emerging COVID-19 pandemic and the numerous outbreaks in several countries have led to vast repercussions on populations' health and the general wellness. The fallouts led to several snags and posed challenges to businesses across industries. The economic downturn have adversely affected the firm production and supply, including in the chemical sector. Companies in the ethanolamines market have been quick to acknowledge the relevance of new business models to retain their agility in the post-pandemic world. Also, digital consumer connect strategies have been attracting pioneers and disruptors and businesses who want to retain their receding bottomline. All these have shaped the recent evolution trajectories in the market and are expected to change the course of research and product developments.
Ethanolamines are organic amino alcohol manufactured by the reaction between ethylene oxide and ammonia. Three types of ethanolamines are produced commercially - monoethanolamines (MEA), diethanolamines (DEA), and triethanolamines (TEA). Production of MEA, DEA, and TEA depends on the number of ethylene oxide molecules reacting with single molecule of ammonia. Chemical properties of ethanolamines combine properties of both amines and alcohols. Thus, the versatile chemical features of ethanolamines enable its usage in applications such as surfactants, chemical intermediates, herbicides, gas treatment, and cement. Asia Pacific has been dominating the ethanolamines market in terms of demand, followed by North America and Europe, since the past few years. Asia Pacific is expected to experience growing demand for ethanolamines during the forecast period.
The report estimates and forecasts the ethanolamines market on the global, regional, and country level. The study provides forecast from 2016 to 2024 based on volume (kilo tons) and revenue (US$ Mn). The report comprises an exhaustive value chain analysis, which provides a comprehensive view of the market. The value chain analysis also offers detailed information about value addition at each stage. The study includes drivers and restraints of the ethanolamines market along with their impact on demand during the forecast period. The report analyzes opportunities in the ethanolamines market on the global and regional level. Drivers, restraints, and opportunities mentioned in the report are justified through quantitative and qualitative data. These have been verified through primary and secondary resources.
The report includes Porter's Five Forces Model to determine the degree of competition in the ethanolamines market. A qualitative write-up on market attractiveness analysis, wherein applications and countries have been analyzed based on attractiveness is included. Growth rate, market size, raw material availability, profit margin, impact strength, technology, competition, and other factors (such as environmental and legal) have been evaluated in order to derive the general attractiveness of the market. The report includes price trend analysis for ethanolamines from 2015 to 2024.
The study provides a comprehensive view of the ethanolamines market by dividing it into product segments that include monoethanolamines (MEA), diethanolamines (DEA), and triethanolamines (TEA). In terms of application, the ethanolamines market has been segmented into surfactants, chemical intermediates, herbicides, gas treatment, cement, and others. Product segments and application segments have been analyzed based on historic, present, and future trends, and the market has been estimated from 2016 to 2024 in terms of volume (kilo tons) and revenue (US$ Mn).
Regional segmentation includes the current and forecast demand for ethanolamines in North America, Europe, Asia Pacific, Latin America, and Middle East & Africa (MEA). Additionally, the report comprises country-level analysis in terms of volume and revenue for application segments. Key countries such as the U.S., Germany, Italy, the U.K., France, Spain, China, Japan, Brazil, and South Africa have been included in the study. Market segmentation includes demand for individual applications in all the regions and countries.
The report covers detailed competitive outlook that includes market share and profiles of key players operating in the global market. Key players profiled in the report include The Dow Chemical Company, INEOS Group Ltd., SABIC, LyondellBasell Industries N.V., and Huntsman Corporation. Company profiles include attributes such as company overview, number of employees, brand overview, key competitors, business overview, business strategies, recent/key developments, acquisitions, and financial overview.
Secondary research sources that were typically referred to include, but were not limited to company websites, financial reports, annual reports, investor presentations, broker reports, and SEC filings. Other sources such as internal and external proprietary databases, statistical databases and market reports, news articles, national government documents, and webcasts specific to companies operating in the market have also been referred for the report.
In-depth interviews and discussions with a wide range of key opinion leaders and industry participants were conducted to compile this research report. Primary research represents the bulk of research efforts, supplemented by extensive secondary research. Key players' product literature, annual reports, press releases, and relevant documents were reviewed for competitive analysis and market understanding. This helped in validating and strengthening secondary research findings. Primary research further helped in developing the analysis team's expertise and market understanding.
This report segments the global ethanolamines market as follows:
Ethanolamines Market - Product Segment Analysis
Monoethanolamines (MEA)
Diethanolamines (DEA)
Triethanolamines (TEA)
Ethanolamines Market - Application Analysis
Surfactants
Chemical Intermediates
Herbicides
Gas Treatment
Cement
Others (Textile, Wood Preservatives, Metalworking Fluids etc.)
Ethanolamines Market - Regional Analysis
North America

U.S.
Rest of North America

Europe

Germany
France
U.K.
Italy
Spain
Rest of Europe

Asia Pacific

China
Japan
ASEAN
Rest of Asia Pacific

Latin America

Brazil
Rest of Latin America

Middle East & Africa

GCC
South Africa
Rest of Middle East & Africa
Custom Market Research Services
TMR offers custom market research services that help clients to get information on their business scenario required where syndicated solutions are not enough.
REQUEST CUSTOMIZATION