Ethanolamines Market: Snapshot
The highly fragmented ethanolamines market is characterized by an even higher degree of competition among players owing to the low profit margin. The presence of well-educated buyers and a large number of suppliers makes the ethanolamines market increasingly lucrative for vendors. Nevertheless, the global market is likely to register a rather modest growth rate over the course of the forecast period, both in terms of volume and revenue.
Transparency Market Research indicates that while the growing usage of ethanolamines in a wide range of applications is estimated to give the global market the boost it requires, the volatility in raw material prices is predicted to restrict the market growth at a 4.1% CAGR from 2016 to 2024. In 2015, the global opportunity in the ethanolamines market stood at US$2.8 bn, which is set to cross US$4 bn by the end of the forecast period.
Escalating Demand for Surfactants from Personal Care Products Market
Ethanolamines find usage in a number of applications, such as chemical intermediates, gas treatment, surfactants, herbicides, cement, and other minor uses such as wood preservatives, textiles, and metal working fluids.
In 2015, surfactants emerged as the leading application segment of the ethanolamines market. Ethanolamines are used to produce surface active agents used in detergents and personal care products. Surfactants produced from ethanolamines are used in heavy-duty laundry detergents, industrial cleaners, cosmetics, and other foam-based personal care products. Herbicides are estimated to form the fastest growing application segment of the global ethanolamines market during the forecast period owing to the increased production of glyphosates.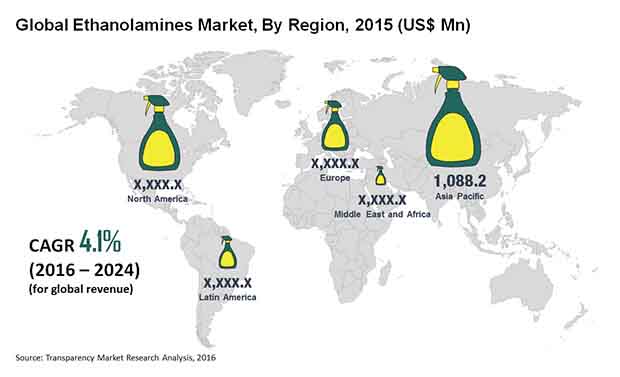 China, India, and U.S. Emerge as Leading Consumers and Revenue Generators
The global market for ethanolamines has been geographically segmented into North America, Latin America, Asia Pacific, Europe, and the Middle East and Africa. In 2015, Asia Pacific and North America accounted for a share of approximately 70% in the ethanolamines market, boosted by the increasing demand for ethanolamines in surfactants and herbicides applications.
China has been the key contributor in the ethanolamines market in Asia Pacific driven by the growth of detergents and the personal care markets. These markets have been accelerated by rapid economic development and rising per capita income in the country. The rising production of herbicides in China is also predicted to considerably propel the demand for ethanolamines in the next few years. A number of countries in Southeast Asia and ASEAN are projected to record promising growth during the forecast period due to the surging demand for ethanolamines in major application segments.
A steady growth in the production of glyphosate-based herbicides has significantly driven the demand for ethanolamines in North America in 2015. The presence of major herbicide manufacturers in the U.S. has enabled herbicides to be the largest application segment of the North America ethanolamines market. The U.S. has been a key consumer of ethanolamines in the region.
Some of the prominent vendors in the global ethanolamines market are The Dow Chemical Company, LyondellBasell Industries N.V., Sintez OKA LLC, INEOS Group Ltd., SABIC, BASF-YPC Company Limited, China Petroleum & Chemical Corporation, Jiaxing Jinyan Chemical Co. Ltd., Huntsman Corporation, Thai Ethanolamines Co. Ltd., and Akzo Nobel N.V.
Ethanolamines are organic amino alcohol manufactured by the reaction between ethylene oxide and ammonia. Three types of ethanolamines are produced commercially – monoethanolamines (MEA), diethanolamines (DEA), and triethanolamines (TEA). Production of MEA, DEA, and TEA depends on the number of ethylene oxide molecules reacting with single molecule of ammonia. Chemical properties of ethanolamines combine properties of both amines and alcohols. Thus, the versatile chemical features of ethanolamines enable its usage in applications such as surfactants, chemical intermediates, herbicides, gas treatment, and cement. Asia Pacific has been dominating the ethanolamines market in terms of demand, followed by North America and Europe, since the past few years. Asia Pacific is expected to experience growing demand for ethanolamines during the forecast period.
The report estimates and forecasts the ethanolamines market on the global, regional, and country level. The study provides forecast from 2016 to 2024 based on volume (kilo tons) and revenue (US$ Mn). The report comprises an exhaustive value chain analysis, which provides a comprehensive view of the market. The value chain analysis also offers detailed information about value addition at each stage. The study includes drivers and restraints of the ethanolamines market along with their impact on demand during the forecast period. The report analyzes opportunities in the ethanolamines market on the global and regional level. Drivers, restraints, and opportunities mentioned in the report are justified through quantitative and qualitative data. These have been verified through primary and secondary resources.
The report includes Porter's Five Forces Model to determine the degree of competition in the ethanolamines market. A qualitative write-up on market attractiveness analysis, wherein applications and countries have been analyzed based on attractiveness is included. Growth rate, market size, raw material availability, profit margin, impact strength, technology, competition, and other factors (such as environmental and legal) have been evaluated in order to derive the general attractiveness of the market. The report includes price trend analysis for ethanolamines from 2015 to 2024.
The study provides a comprehensive view of the ethanolamines market by dividing it into product segments that include monoethanolamines (MEA), diethanolamines (DEA), and triethanolamines (TEA). In terms of application, the ethanolamines market has been segmented into surfactants, chemical intermediates, herbicides, gas treatment, cement, and others. Product segments and application segments have been analyzed based on historic, present, and future trends, and the market has been estimated from 2016 to 2024 in terms of volume (kilo tons) and revenue (US$ Mn).
Regional segmentation includes the current and forecast demand for ethanolamines in North America, Europe, Asia Pacific, Latin America, and Middle East & Africa (MEA). Additionally, the report comprises country-level analysis in terms of volume and revenue for application segments. Key countries such as the U.S., Germany, Italy, the U.K., France, Spain, China, Japan, Brazil, and South Africa have been included in the study. Market segmentation includes demand for individual applications in all the regions and countries.
The report covers detailed competitive outlook that includes market share and profiles of key players operating in the global market. Key players profiled in the report include The Dow Chemical Company, INEOS Group Ltd., SABIC, LyondellBasell Industries N.V., and Huntsman Corporation. Company profiles include attributes such as company overview, number of employees, brand overview, key competitors, business overview, business strategies, recent/key developments, acquisitions, and financial overview.
Secondary research sources that were typically referred to include, but were not limited to company websites, financial reports, annual reports, investor presentations, broker reports, and SEC filings. Other sources such as internal and external proprietary databases, statistical databases and market reports, news articles, national government documents, and webcasts specific to companies operating in the market have also been referred for the report.
In-depth interviews and discussions with a wide range of key opinion leaders and industry participants were conducted to compile this research report. Primary research represents the bulk of research efforts, supplemented by extensive secondary research. Key players' product literature, annual reports, press releases, and relevant documents were reviewed for competitive analysis and market understanding. This helped in validating and strengthening secondary research findings. Primary research further helped in developing the analysis team's expertise and market understanding.
This report segments the global ethanolamines market as follows:
Ethanolamines Market - Product Segment Analysis
Monoethanolamines (MEA)
Diethanolamines (DEA)
Triethanolamines (TEA)
Ethanolamines Market - Application Analysis
Surfactants
Chemical Intermediates
Herbicides
Gas Treatment
Cement
Others (Textile, Wood Preservatives, Metalworking Fluids etc.)
Ethanolamines Market - Regional Analysis
North America

U.S.
Rest of North America

Europe

Germany
France
U.K.
Italy
Spain
Rest of Europe

Asia Pacific

China
Japan
ASEAN
Rest of Asia Pacific

Latin America

Brazil
Rest of Latin America

Middle East & Africa

GCC
South Africa
Rest of Middle East & Africa