Epichlorohydrin (ECH) Market
Epichlorohydrin (ECH) Market by Raw Materials (Propylene and Glycerin) for Paints & Coatings; Electronics & Electrical; Adhesives; Paper, Inks & Dyes; Textiles; Water Treatment; and Other End-users - Global Industry Analysis, Size, Share, Growth, Trends and Forecast 2015 - 2023
Category :

Chemicals & Materials

Format :
Epichlorohydrin is a colorless, clear liquid with garlic like sweet, pungent odor that is mostly utilized in the making of epoxy resins. It also finds use in the procedures of surfactants, synthetic rubbers, paper chemicals, and water treatment.
Rising consumption of epoxy resins is likely to drive the global epichlorohydrin (ECH) market over the period of projection. The increased demand for epoxy resins is expected to be observed in the paints and coatings industry. However, various legislative bodies are likely to exhibit concern over the adverse impacts of epichlorohydrin on the environment and health. This factor is expected to pose challenge for the development of the global epichlorohydrin (ECH) market. However, epichlorohydrin-based glycerin is estimated to offer promising opportunities for the epichlorohydrin (ECH) market in the forthcoming years.
The global epichlorohydrin (ECH) market is likely to register a growth rate of 3.6% CAGR over the years of assessment.
Some of the well-entrenched players in the global epichlorohydrin (ECH) market are Jiangsu Yangnong Chemical Group Co., Samsung Fine Chemicals Co. Ltd, Shandong Haili Chemical Industry Co. Ltd, Aditya Birla Chemicals Ltd, and Sumitomo Chemical Co., Ltd.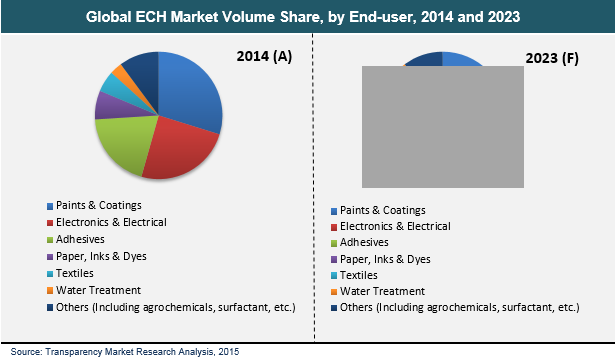 Wide Scope of Application to Foster Growth of the Market in Near Future
The major areas of application for epichlorohydrin comprise synthetic glycerin, water treatment chemicals, pharmaceuticals, and epoxy resins. The resins that are produced from epichlorohydrin find use across several industries comprising plastics, adhesives, and coatings. Epoxy resins also find use in the making of dyes and inks, which are used across various industry verticals. In addition, synthetic glycerin is extensively utilized in the paper industry, cosmetic industry, textiles, solvents, commercial insecticides, pharmaceuticals, and surfactants.
In the construction industry, epoxy resins are utilized in the manufacturing of floorings in high traffic areas like hospitals, industrial buildings, and shopping malls, thanks to their anti-slip properties. They are also utilized in the binding of concrete to steel or to itself for the purpose of restoration of monuments. This factor is likely to work in favor of the expansion of the global epichlorohydrin (ECH) market in near future.
Epichlorohydrin comes with scores of applications across diverse end-use sectors. Its use across industries comprises epichlorohydrin-based rubber, paper, inks and dyes, ion-exchange resins, textiles, and agricultural products. These agricultural products comprise bactericides, insecticides, and fungicides. The existing trend in epichlorohydrin production has typically shifted bio-based feedstock from its manufacturing mechanism.
The agricultural residues are widely utilized in the preparation of anion exchangers after they are made to react with dimethylamine and epichlorohydrin. This holds substantial importance as agricultural residues anion exchangers are capable of doing away with NO3, thereby increasing agricultural yield at a much lower cost. This factor is estimated to support growth of the global epichlorohydrin (ECH) market.
North America to Lead the Market due to High Demand from End Users
In the global epichlorohydrin (ECH) market, North America is likely to come up as one of the leading regions in the market, both in terms of volume and value. A rise in the optimism toward industrial growth together with high demand for chemical substances is likely to foster growth of the global epichlorohydrin (ECH) market in the years to come. The market in the region is likely to driven by the US, which is a major consumer of the product. However, Canada is expected to register sluggish growth rate due to stringent laws against epichlorohydrin.
Asia Pacific is expected to emerge as one of the highly promising zone in the global epichlorohydrin (ECH) market. The regional dominance of the Asia Pacific is bolstered by the rapidly rising demand for the product from various end use industries such as electronic manufacturing industry, construction industry. Such a trend is expected to continue in the years to come.
This report analyzes and forecasts the market for epichlorohydrin (ECH) at global and regional level. The market has been forecast based on volume (kilo tons) and revenue (US$ Mn) from 2015 to 2023. The study includes drivers and restraints of the global ECH market. It also covers the impact of these drivers and restraints on demand for ECH during the forecast period. The report also highlights opportunities in the ECH market at the global and regional level.
The report includes detailed value chain analysis, which provides a comprehensive view of the global ECH market. Porter's Five Forces Model for the ECH market has also been included to help understand the competitive landscape in the market. The study encompasses market attractiveness analysis, wherein end-users are benchmarked based on market size, growth rate, and general attractiveness.
The study provides a decisive view of the global ECH market by segmenting it in terms of end-users. These segments have been analyzed based on present and future trends in the market. Regional segmentation includes current and forecast demand for ECH in North America, Europe, Asia Pacific, Latin America, and Middle East & Africa. The report also covers demand for ECH in end-user segments in all the regions.
The study comprises profiles of major companies operating in the global ECH market. Key players include Sumitomo Chemical Co., Ltd., Solvay, Aditya Birla Chemicals (Thailand) Ltd., Osaka Soda Co., Ltd., Spolchemie A.S., Shandong Haili Chemical Industry Co. Ltd (Haili), Samsung Fine Chemicals Co. Ltd, The Dow Chemical Company, Jiangsu Yangnong Chemical Group Co., and Hexion Inc. Market players are profiled in terms of attributes such as company overview, financial overview, business strategies, and recent developments.
The report provides the estimated market size of ECH for 2015 and forecast for the next eight years. The global market size of ECH has been provided in terms of volume and revenue. Market volume has been defined in kilo tons, while market revenue is in US$ Mn. Market numbers are estimated based on end-users of ECH. Market size and forecast for each major end-user are provided in terms of global and regional markets.
In order to compile the research report, we conducted in-depth interviews and discussions with a number of key industry participants and opinion leaders. Primary research represents the bulk of research efforts, supplemented by extensive secondary research. We reviewed key players' product literature, annual reports, press releases, and relevant documents for competitive analysis and market understanding. Secondary research includes a search of recent trade, technical writing, Internet sources, and statistical data from government websites, trade associations, and agencies. This has proven to be the most reliable, effective, and successful approach for obtaining precise market data, capturing industry participants' insights, and recognizing business opportunities.
Secondary research sources that are typically referred to include, but are not limited to company websites, annual reports, financial reports, broker reports, investor presentations, SEC filings, Plastemart magazine, TPE magazine, internal and external proprietary databases, and relevant patent and regulatory databases such as ICIS, Hoover's, oneSOURCE, Factiva, and Bloomberg, national government documents, statistical databases, trade journals, market reports, news articles, press releases, and webcasts specific to companies operating in the market.
Primary research involves e-mail interactions, telephonic interviews for each market, category, segment, and sub-segment across geographies. We conduct primary interviews on an ongoing basis with industry participants and commentators to validate data and analysis. Primary interviews provide first-hand information on market size, market trends, growth trends, competitive landscape, outlook, etc. These help validate and strengthen secondary research findings. These also help develop the analysis team's expertise and market understanding.
The report segments the global ECH market as follows:
ECH Market - Raw Material Analysis
ECH Market - End-user Analysis
Paints & Coatings
Electronics & Electrical
Adhesives
Paper, Inks & Dyes
Textiles
Water Treatment
Others (Including agrochemicals, surfactants, etc.)
ECH Market - Regional Analysis
North America

U.S.
Rest of North America

Europe

France
U.K.
Spain
Germany
Italy
Rest of Europe

Asia Pacific

China
Taiwan
South Korea
Japan
ASEAN
Rest of Asia Pacific

Latin America

Brazil
Rest of Latin America

Middle East & Africa (MEA)

GCC
South Africa
Rest of MEA
Custom Market Research Services
TMR offers custom market research services that help clients to get information on their business scenario required where syndicated solutions are not enough.
REQUEST CUSTOMIZATION