Endpoint Security Market
Endpoint Security Market (Deployment Type - On-Premises, and SaaS; End-User - Large Enterprises, and Small & Medium Enterprises; Application - Malware Detection, Antivirus Tools, Firewall Management, Web & Email Security, Patch Assessment, and Other Applications; Industry - BFSI, Healthcare, IT & Telecom, Retail, Energy & Utilities, Manufacturing, and Others) - Global Industry Analysis, Size, Share, Growth, Trends, and Forecast 2017 - 2026
Category :

IT & Telecom

Format :
Global Endpoint Security Market: Snapshot
Would an increase in the number of connected devices such as laptops, tablets, phones, and other wireless devices used in corporate networks, that is an equally increase in the rise of security threats. Endpoint security is there for used for ensuring that these devices follow a definite set of compliance standards, thereby improving security period in endpoint security, computer networks are protected. The computer networks remote devices are protected by endpoint security. By 2026, the global endpoint security market is expected to generate revenue crossing US$40,000 mn. Key players operating within the market are as follows: Symantec, Intel, Cisco Systems, Kaspersky Lab, Trend Micro, Sophos, IBM Corporation, Webroot, F-Secure, and Microsoft Corporation.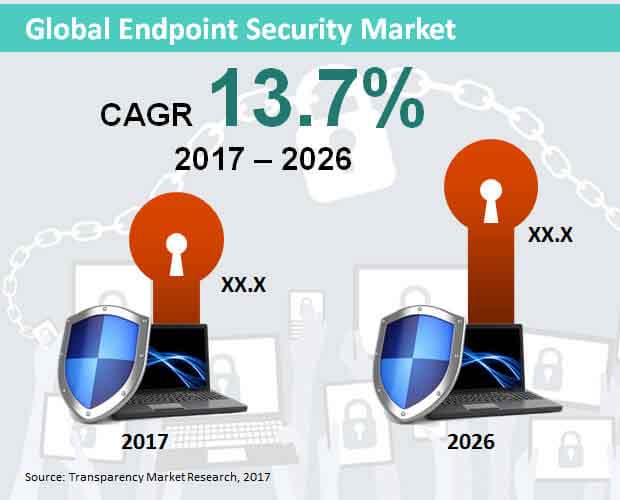 Need to Prevent Cyber Attacks and Threats Driving Demand for Endpoint Security
With an increasing number of internet service providers getting attracted towards distributed architecture so as to prevent data tabs, many of the cyber-attacks related to endpoint systems are originating from interactions on the web as well as from peer-to-peer usage. These threats target a particular system and therefore the detection of threat as well as the elimination of threat becomes a very challenging process at the network level. This has resulted in many of the end-users adhering to endpoint security systems for preventing such threats. An important factor which is assisting the growth of this market is the need for compliance within government financial organizations which is in turn prompting users to adopt in point security solutions. A trend which can be witnessed within the global endpoint security market is the surgeon the demand for software-as-a-service based security solution since they are affordable, easy to install, and upgrade.
Demand Highest from Developed Regions of Europe and North America
On the basis of geography, the demand for endpoint security is from Europe and North America. This is because there is a high proliferation of high-speed internet services and mobile phones in these regions. In addition to this, both Europe and North America our house to several key players which offer Advanced Solutions for end use industries such as BFSI, automotive, and health care. Growth is also expected within the endpoint security marketing Asia-Pacific excluding Japan. In fact this region is anticipated to experience the fastest expansion rate during the forecast period. The growth of the market for endpoint Security in Asia-Pacific excluding Japan is attributed to the growing trend of bring your own device as well as the surge in the popularity of cloud computing. The increased mobility is also assisting the growth of this market.
Demand for Antivirus Tools Highest in Terms of Application
On the basis of application, it is the antivirus tools which is expected to generate the maximum revenue for endpoint security. This is because antivirus tools reduce the probability of infection in endpoints through threats such as rootkits, trojans, spyware, keyloggers, worms, adware, and viruses. The growing amount of crucial information sent over the network will boost the demand for antivirus tools further. In terms of venues industry, the BFSI and Healthcare as well as retail sectors will be most lucrative.
Recently, Transparency Market Research (TMR) has compiled a comprehensive report on the global endpoint security market for the forecast period (2017-2026). The report delivers precision analysis on the global endpoint security market. Along with an in-depth examination of the global market for endpoint security, the report offers key market dynamics all-inclusively. The report provides intelligence about impeding factors, propelling factors, and recent trends affecting expansion of the market, and incorporates analysis on data across several market parameters, to deduce significant market numbers related to the global endpoint security market.
Report Structure
The starting chapter in this report delivers an executive summary of global market for endpoint security. An outline of the global endpoint security market has been rendered in the report. In addition, pertinent market numbers such as historical CAGR (2012-2016) and forecast CAGR (2017-2026) have been provided, with regard to the market segments particularly. In terms of sales growth rate and revenues reaped from endpoint security sales globally, information about regions that are profitable for expansion of global endpoint security market is issued in the report.
The overview chapter succeeds the executive summary in this report on the global endpoint security market. This chapter engulfs a definition of the "endpoint security", followed by a short market introduction. This chapter makes report readers clear about the wide scope of global endpoint security market. Chapters subsequent to overview elucidate important dynamics impacting growth of global endpoint security market, and engulf key points including fiscal stimulus, bottom line of enterprises, and global economy. Some chapters in the report comprise information about cost structure and pricing analysis pertaining to the global endpoint security market.
Market Taxonomy
The report further scrutinizes the global market for endpoint security through a segmentation analysis. Global market for endpoint security is segmented by the report into applications, end-user, industry, deployment type, and region. Revenue and Y-o-Y growth comparison, in combination with market share comparison are used to analyze the market segments, in order to deliver most significant market numbers concerning the segmentation analysis. In this chapter, the report divides the global endpoint security market regionally into Asia-Pacific excluding Japan (APEJ), Europe, Latin America, Japan, Middle East & Africa (MEA), and North America.

An exhaustive analysis on the competition landscape of the global endpoint security market has been provided in the concluding chapter of the report, which incorporates information regarding prominent companies supporting the market growth. Occupancy of key market players is tracked by the report using an intensity map. Competition landscape chapter emphasizes on rigorously describing the market participants, and offering Insights based on SWOT analysis that puts light on strength, weakness, opportunity, & threat associated with these players. Information on key developments, key financials, company overview, and product overview regarding market players is contained in this ending chapter of the report. For clients buying this report, the chapter on competition landscape is crucial and invaluable, as it delivers necessary knowledge about the companies, coupled with their strategies for reaching at the global endpoint security market's front edge.Competition Landscape
Research Methodology
A proved research methodology is adhered to by Transparency Market Research's analysts while developing the research report on the global endpoint security market, which has enabled them in delivering accurate & precise insights on the global endpoint security market. This research methodology utilized entirely depends on primary and secondary researches, which in turn has helped gain necessary information about the global endpoint security market. The information collated has then been validated several times by TMR's analysts, only to ensure the authenticity of the report, and to signify it as an authoritative source for report readers while making their business decisions.
Region

North America
Latin America
Europe
Japan
APEJ
MEA

Deployment Type

End User

Large Enterprise
Small & Medium Enterprise

Applications

Malware Detection
Antivirus Tools
Firewall Management
Web & Email Security
Patch Assessment
Other Applications

Industry

BFSI
Healthcare
IT & Telecom
Retail
Energy & Utilities
Manufacturing
Others
Custom Market Research Services
TMR offers custom market research services that help clients to get information on their business scenario required where syndicated solutions are not enough.
REQUEST CUSTOMIZATION