Electricity Meter Market
Electricity Meter Market (Technology: Electromechanicals and Electronics; Type: Flat-rate Meters, Interval Meters, Smart Meters, and Solar Meters; and End-use Industry: Commercial, Industrial, and Domestic) - Global Industry Analysis, Size, Share, Growth, Trends, and Forecast, 2019 - 2027
Category :

Electronics & Semiconductors

Format :
Market Players Step-up with Sustainable and Circular Economy Practices
Along with feature such as improved power quality and detailed information about electricity consumption in electricity meters, manufacturers functioning in the electricity meter market are contributing towards a circular economy. As such, they are adopting sustainable strategies that leverage the internal processes of their companies, supporting the supply chain, and developing partnerships with stakeholders in the value chain.
With increasing concerns about the degrading environmental situation, players of the electricity meter market are developing operational procedures that include a significant reduction in energy and water resources required to produce electricity meters, along with reduction in emissions by incorporating efficient production processes and technologies and improved waste management techniques. These measures help in cost reductions for companies that manufacture smart electricity meters.
Recycling various materials for the production of end-use electricity meters further adds to the cost-efficiency of companies. For example, Iskraemeco - a producer of energy solutions, introduced the 'Fair Meter' project that focused on improving labor standards, material scarcity, and e-waste.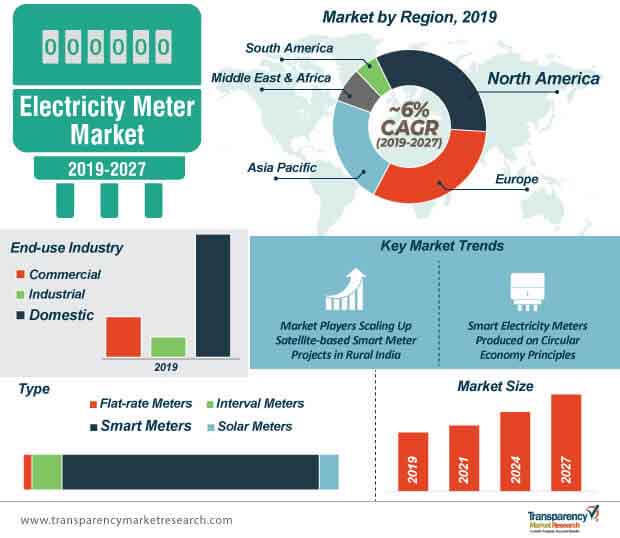 To understand how our report can bring difference to your business strategy, Ask for a brochure
Satellite-based Smart Meters Create Profitable Opportunities for Stakeholders
Players operating in the electricity meter market are scaling up satellite-based metered projects in the rural areas of India. Due to the growing demand for energy-efficient electricity meters in India, companies are investing in smart meters with satellite communication technology. These projects are serving as a win-win situation for various stakeholders, including consumers as well as distribution companies.
Smart electricity meters provide improved power quality, reduced outage durations, and flexible payment options. They also provide real-time information about electricity usage via a mobile app, so that consumers can keep a tab on any wastage, and streamline their electricity consumption to save money. These value-added features are gaining the attention of consumers across rural India and driving revenue to the electricity meter market.
Power distribution companies are also increasing their business of smart electricity meters, as these meters ensure accurate billing due to the absence of human intervention. Companies can also remotely discontinue power supply to consumers who do not pay their bills on time. Such innovative business models are generating profitable opportunities in the electricity meter market. For instance, Asian Development Bank – an international development finance institution, announced the launch of the satellite-based smart electricity meters project for households in Varanasi, Uttar Pradesh, with satellite communication technology installed by Energy Efficiency Services Limited (EESL) — the world's largest energy services company run by the Government of India.
Request a sample to get extensive insights into the Electricity Meter Market
Blockchain and IoT Overcome Limitations of Advanced Metering Infrastructure
The smart electricity meter market is looking at high growth during the forecast period. However, certain limitations are influencing the large-scale deployment of smart metering systems in developing economies. Since some developing economies such as India have a vast geographical spread, manufacturers need to have meter variants as per each unique utility requirement. As smart electricity meters are driven by IT (Information Technology) systems, advanced metering infrastructure (AMI) is prone to malicious attacks. Also, communication technology has a flip side with the applicability and adaptability with AMI, such as.
As such, players functioning in the electricity meter market are investing in novel technologies are that more efficient, cost-effective, and support stability in communication networks. Also, manufacturers are adopting blockchain technology enabled with IoT-based (Internet of Things) deployments to tackle the issue of cyber-attacks on IT infrastructure and AMI.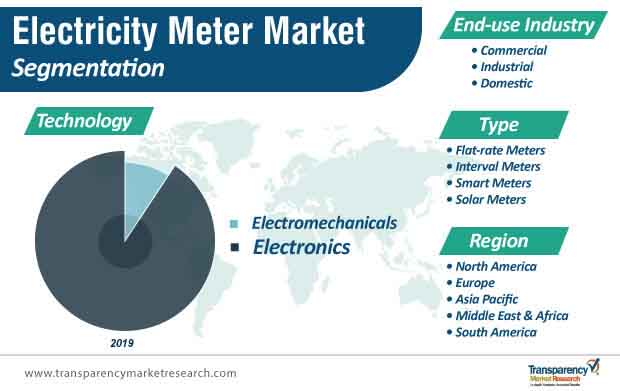 Stuck in a neck-to-neck competition with other brands? Request a custom report on "Electricity Meter Market"
Electricity Meter Market: Analysts' Viewpoint

Due to the growing demand for smart and energy-efficient electricity meters in developing economies, players of the electricity meter market should tap into profitable opportunities in the Asia Pacific region. Since the domestic usage of electricity meters is anticipated to reach ~US$ 11.5 billion by 2027, manufacturers are focusing on research & innovation to provide robust electricity supply via smart meters for domestic properties. Manufacturers are developing smart meter interfaces for consumers, integrated with mobile apps and in-home displays, to securely access real-time energy data. However, variations in metering specifications and limitations in AMI pose as a hurdle for them. As such, manufacturers are tackling the limitations of AMI with blockchain and IoT. Market players should innovate on smart meter data integration platforms as a service, and adopt sustainable practices to achieve cost-efficiency and the optimum utilization of resources.
Read More:
According to Transparency Market Research's latest report on the global electricity meter market for the historical period of 2014–2018 and forecast period of 2019–2027, the rising demand for and growing adoption of smart meters is expected to boost the global electricity meter market during the forecast period.
In terms of revenue, the global electricity meter market is estimated to reach a value of US$ ~8.5 Bn by 2019, expanding at a CAGR of ~6% throughout the forecast period.
Increasing Demand for Advanced Energy Data Monitoring Systems: A Key Driver
The global electricity meter market is expected to expand significantly during the forecast period, due to growth of the semiconductor assembly & test services (SATS) industry. Smart meters provide real-time consumption feedback to the utility-providing site, and consumers can also monitor real-time data of the power consumed by specific appliances. This consumption data can be monitored using a smartphone.
Electricity meter manufacturers offer a platform that comprises exclusive hardware and its integrated cloud-based energy-monitoring software. A benefit of these IoT-based monitoring systems is that, they can calculate multiple circuits together, in phase 1/2/3, with the capacity to withstand high voltages of up to 600 VAC and current of up to 6,000 A.
In terms of calculating the accurate consumption of electricity, advanced and smart electricity meters are more efficient than traditional meters. The energy produced in power plants is consumed by different companies in residential and commercial sectors. Smart meters help these consumers as well as utility providers check, track, and manage power production, supply, and usage. The U.K. Government and the Government of India have approved the deployment of advanced energy management systems, which also include smart electricity meters.
Reduction in Power Consumption with Advanced Smart Meters: A Key Driver
Smart electricity meters produce substantial volumes of data. They offer an opportunity to utilities to enhance end-customer service, lower cost, and improve energy efficiency. They help consumers reduce energy bills and save energy.
Advanced metering infrastructure (AMI) is an integrated system of smart meters, communication networks, and data management systems, which enables two-way communication between utilities and customers. The system carries out several important functions that were not possible previously or had to be performed manually. For example, the ability to automatically and remotely measure electricity usage, connect and disconnect service, detect tampering, identification and isolation of outages, and monitoring of voltage and supply in a particular area.
Due to rapid economic growth led by industrialization and globalization, energy consumption has been gradually increasing over the last few years. The generating capacity of electric power plants cannot fulfill this demand, and, as a result, the consumption of electric energy has become an issue. Smart meters help reduce electricity consumption. By using the data obtained from smart electricity meters, utilities and energy consumption management are able to forecast the demand and manage electricity grids in a better manner.
Inaccurate Electrical Billing: Major Challenge for Electricity Meter Market
Electricity meters can go wrong any time, just like any other electric device or appliances. This can be a reason for high electricity bills.
The commercial and residential sectors using energy meters are facing several issues due to the inaccurate billing of power consumption. On the other hand, utility suppliers are also facing difficulties with traditional electric meters in various ways.
Some factors leading to excess consumption and inaccurate billing may be a malfunctioning appliance such as an air conditioner. Electricity meters with digital displays can issue an error notification or fault message.
Smart meters are emerging as a solution for these issues associated with traditional electricity meters that may cause inaccurate billing and lead to excess power consumption.
Global Electricity Meter Market: Competition Landscape
Detailed profiles of the providers of electricity meters have been provided in the report to evaluate their financials, key product offerings, recent developments, and strategies.
Key players operating in the global electricity meter market include

ABB Group
Eaton
Honeywell International Inc.
GE Energy Company
Itron Inc.
Legrand
Siemens
Socomec
STMicroelectronics
Wasison Group Holdings.
Global Electricity Meter Market: Key Developments
Key manufacturers operating in the global electricity meter market, such as Honeywell International Inc. and General Electric, have improved their sales structure by raising their capacity for electricity meter production through mergers and acquisitions. Some other key developments in the market are as follows:
In January 2016, Honeywell announced to have completed the acquisition of the Elster division of Melrose Industries plc, a provider of thermal gas solutions for use in commercial, industrial, and residential heating systems, and gas, water, and electricity meters, including smart meters and software and data analytics solutions.
In November 2015, Aclara Technologies LLC acquired General Electric's electricity metering business. This acquisition would strengthen Aclara's position in the electricity meter market in North America. The market in the region has been expanding at a sluggish pace over the last few years, although it is expected to surge in the next few years due to government regulations.
In the report on the global electricity meter market, we have discussed individual strategies, followed by company profiles of providers of electricity meters. The 'Competitive Landscape' section is included in the report to provide readers with a dashboard view and company market share analysis of the key players operating in the global electricity meter market.
Global Electricity Meter Market: Scope of the Report
A new study on the global electricity meter market has been published by Transparency Market Research (TMR). It presents detailed information of key market dynamics, including the market drivers, market trends, and challenges, as well as structure of the global electricity meter market. TMR's study offers valuable information on the global electricity meter market in order to illustrate how the market would expand during the forecast period, i.e. 2019–2027.
Key indicators of market growth, which include value chain analysis, supply chain analysis, and compounded annual growth rate (CAGR), are elucidated in TMR's study in a comprehensive manner. This data can help readers interpret the quantitative growth aspects of the global electricity meter market during the forecast period.
An extensive analysis of the business strategies being adopted by leading market players has also been featured in TMR's study on the global electricity meter market. This can help readers understand the key factors responsible for the growth of the global electricity meter market. In this study, readers can also find specific data on avenues for the qualitative and quantitative growth of the global electricity meter market. This data would guide market players in making apt decisions in the near future.
Key Questions Answered in TMR's Electricity Meter Market Study
What would be the Y-o-Y growth trend of the global electricity meter market during 2019 and 2027?
What is the influence of the changing trends in technologies on the global electricity meter market?
Would North America continue to remain the most profitable regional market for providers of electricity meters?
Which factors would hinder the growth of the global electricity meter market during the forecast period?
Which are the leading companies operating in the global electricity meter market?
Global Electricity Meter Market: Research Methodology
A unique research methodology has been utilized by TMR to conduct comprehensive research on the global electricity meter market, and arrive at conclusions on the future growth prospects of the market. This research methodology is a combination of primary and secondary research, which helps analysts warrant the accuracy and reliability of the conclusions drawn.
Secondary research sources referred to by analysts during the production of the report on the global electricity meter market include statistics from company annual reports, SEC filings, company websites, the World Bank database, investor presentations, regulatory databases, government publications, and market white papers. Analysts have also interviewed senior managers, product portfolio managers, CEOs, VPs, and market intelligence managers, who have contributed to the production of TMR's study on the global electricity meter market, as a primary research source.
These primary and secondary sources provided exclusive information during interviews, which served as a validation from leading players operating in the global electricity meter market. Access to an extensive internal repository as well as external proprietary databases allowed this report to address specific details and questions about the global electricity meter market with accuracy. The study has also used a top-down approach to assess the numbers for each segment, and a bottom-up approach to counter-validate them. This has helped in making TMR's estimates on the future prospects of the global electricity meter market more reliable and accurate.
Global Electricity Meter Market: Segmentation
TMR's study of the global electricity meter market includes information divided into four sections– by type, by technology, by end-use industry, and by region. Changing market trends and other crucial market dynamics associated with these four sections of the global electricity meter market have been discussed in detail.
Technology

Electromechanicals
Electronics

Type

Flat-rate Meters
Interval Meters
Smart Meters
Solar Meters

End-use Industry

Commercial
Industrial
Domestic

Region

North America
Europe
Asia Pacific
Middle East & Africa
South America
Custom Market Research Services
TMR offers custom market research services that help clients to get information on their business scenario required where syndicated solutions are not enough.
REQUEST CUSTOMIZATION