Edible Flakes Market
Edible Flakes Market (Nature: Organic and Conventional; Product: Corn Flakes, Wheat Flakes, Rice Flakes, and Flakey Oats; and Sales Channel: B2B and B2C [Hypermarkets/Supermarkets, Convenience Stores, Specialty Stores, Traditional Groceries, and Online Retailers]) - Global Industry Analysis, Size, Share, Growth, Trends, and Forecast, 2019 - 2029
Category :

Food & Beverages

Format :
Rising Demand from Health-conscious Consumers to Propel Edible Flakes Market Growth
New edible flakes have brought about a considerable amount of changes in how individuals across the world consume breakfast. The constant need for eating nutritious breakfast and jumpstarting the day has paved the way for ready-to-eat breakfast options in recent times. Edible flakes, including wheat flakes, corn flakes, and rice flakes have emerged as one of the heartiest breakfast options over the past decade, due to which edible flakes market is witnessing consistent growth. In addition, the growing inclination toward a healthier lifestyle, particularly among millennials has provided a considerable boost to the adoption of edible flakes in recent times – a trend that is set to continue during the forecast period (2019-2029).
In the past few years, edible flakes have garnered significant popularity as one of the healthiest breakfast items. As edible flakes are rich in fiber, assist in tackling constipation, keep the cholesterol levels in check, and consist of vital minerals and antioxidants, an increasing number of consumers across the world are consuming edible flakes as a meal during breakfast. As edible flakes have a low glycemic index and contain low quantities of saturated fat, consumption among health-conscious consumers continues to move in the upward direction. Due to these factors coupled with the launch of new edible flakes at regular intervals, the global edible flakes market is likely to reach a market value of ~US$ 22.3 Bn by the end of 2029.
Request a sample to get extensive insights into the Edible Flakes Market
Edible Flakes Gain Popularity As Consumers Reject Sugar
While regulations pertaining to sugar were relatively more accommodating in the past, at present, the scenario has taken a U-turn. Food regulations continue to scrutinize the sugar levels in different food products. For several years, edible flakes have received a lot of criticism due to the high amounts of sugar per serving in these products. Stakeholders in the edible flakes market have started to focus on curbing the sugar levels of their products due to stringent regulations, and growing consumer awareness regarding the ill effects of high sugar consumption.
To understand how our report can bring difference to your business strategy, Ask for a brochure
As consumers continue to look toward the opposite direction as far as consumption of food products that are rich in sugar, edible flake manufacturers are increasingly branding and marketing their products as 'low sugar' and 'sugar-free' products. Ever since the Clean Living Movement initiated by Kelloggs gained popularity among consumers, demand for edible flakes has grown at a significant pace, owing to its high-fiber and nutrition content.
Stakeholders Focus on Expanding Product Portfolio
Stakeholders operating in the current edible flakes market are expected to focus on expanding their product portfolio to solidify their position in the current market landscape. While consumer trends continue to evolve at a rapid pace, brand loyalty is anticipated to remain a critical factor for market players to gain a competitive edge. Several key participants operating in the global edible flakes market are focusing on launching new products and improving their market penetration. For instance, The Kellogg Company, one of the leading players in the edible flakes market, is introducing new products in an array of sizes and price points to attract consumers in both, the rural as well as the urban areas of India. Some of the key strategies used by Kellogg include offering free samples to school kids, digital branding, and customization.
As the free form, no-preservative, and low-sugar fad continues to gain momentum in Europe, several brands are likely to align their product development strategies in tune with these trends to fulfill customer requirements. In addition, the growing number of vegan consumers, particularly in Europe and North America has played an important role in persuading stakeholders of the edible flakes market to launch vegan-friendly products to attract consumers with niche preferences. For instance, Kölln, a leading edible flakes manufacturer in Germany, launched the carrot & ginger oat wholegrain muesli, particularly for consumers that demand low-sugar, preservative-free, and products that utilize natural flavors.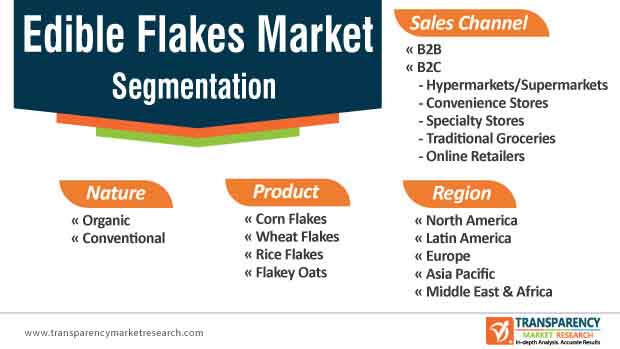 Stuck in a neck-to-neck competition with other brands? Request a custom report on Edible Flakes Market
Analysts' Viewpoint
The global edible flakes market is expected to expand at a healthy CAGR of 8.5% during the forecast period. Some of the leading factors that are anticipated to influence the growth of the market for edible flakes include growing number of health-conscious consumers, high awareness regarding the quality and functional properties of natural ingredients, and evolving lifestyle. As stakeholders aim to fulfill evolving consumer preferences by rolling out new products with different flavor profiles, the demand for edible flakes is set to witness steady growth during the forecast period. Stakeholders in the edible flakes market should focus on formulating impactful traditional as well as digital marketing and branding strategies to increase sales and revenue.
Edible Flakes Market: Overview
The global edible flakes market value is estimated to reach ~ US$ 9.9 Bn in 2019, finds Transparency Market Research (TMR) in a recent study. According to the report, the market is anticipated to reach ~US$ 22.3 Bn by 2029, at a CAGR of 8.5%.
The changing lifestyle of people and their eating habits lead to rising demand for ready to eat and processed food, which matches their hectic and busy lifestyle. This rising demand for the ready to eat food is expected to fuel the demand for edible flakes in the food & beverages industry in the coming years.
Edible Flakes: Market Frontrunners
By product, corn flakes are the leading segment in 2019 accounting for approximately 35% of the market. Furthermore, the rice flakes segment accounts for ~29% of the market in terms of value.
Based on nature, conventional edible flakes is the leading segment in the global market. Whereas, the organic edible flakes segment is expected to show the high growth as compared to the conventional edible flakes.
Europe leads the global edible flakes market followed by the Asia Pacific and North America. Europe holds around 30% share in the global edible flakes market.
Based on sales channel, the B2C segment accounts for approximately 56% share of the market, while the B2B segment accounts for the remaining share in the market. Online retail channels are getting highly popular among sales channel in recent years.
Edible Flakes Market: Trends
In developed markets, organic food is preferred over conventional ones, as consumers are picking products that are natural and contain no chemical additives or made using synthetic processes. Organic food does not contain any chemicals, thus it is witnessing higher demand than conventional food products. The growing interest on organic food products among consumers has been very beneficial for the organic crops industry. The aforementioned factors have resulted in high demand for organic food. A wide range of edible flakes is now marketed as organic. These products have high nutrient value and are labelled as non-GMO. With the demand for organically produced foods consistently rising, the sales of organic edible flakes is expected to surge exponentially in the near future.
According to the U.S. Department of Agriculture's National Agricultural Statistics Service (NASS), 2014 Organic Survey released in 2015, around 14,000 certified organic farms in the U.S. sold a total of US$ 5.5 Bn worth of organic products in 2014, which is a rise by 72% since 2008.
Increasing Penetration of Established Players Helps Market to Gain Traction
Development activities and product launches undertaken by major brands are expected to drive the global edible flakes market. Top brands are presently gaining grip in the organized Europe edible flakes market, and are capitalizing on opportunities for long-term growth in other regions as well. The presence of several organized companies and their efforts towards penetration have spurred competition in the edible flakes market. In order to gain competitive edge, several leading players are focusing on product launches. Expansion strategies adopted by key players will in turn boost the edible flakes market in the near future.
Moreover, the increasing adoption of social media platforms has exposed consumers to various international brands. Players in the market, such as Kellogg Company are well-known for their premium quality edible flakes. These brands spend substantially on advertisements of their products online and other media channels. Hence, they have a high visibility. Hence, consumers are more inclined towards buying branded products as a symbol of quality and taste
Edible Flakes Market: Strategies
Key players operating in the global edible flakes market are introducing new products. Consumers often get attracted to brands that offer better innovation in taste and quality.
Marketing Campaign: Key companies are increasingly investing in multiple marketing activities to promote their products and attract a large consumers' base.

Kellogg Company has launched a wide variety of edible flakes on the basis of demand from the consumers and their eating patterns.
Target Region for Edible Flakes Market
In terms of value, countries in Europe are likely to represent the largest share in the market in 2019 and are expected to remain strong in the coming years, whereas Latin America and Middle East & Africa are expected to show the high growth over the forecast period
Edible Flakes Market: Players
Key players operating in the market, as profiled in the study, include

Kellogg's
Post holding company
Nature's Path Foods
Dr. August Oetker.
PepsiCo Inc
Quakers Oat Company
Nestlé SA
H. & J. Brüggen KG
Baggry's India Limited
Patanjali
General Mills Inc.
Kellogg Co.
Marico Ltd.
Nature's Path Foods Inc.
Post Holdings Inc.
The Hain Celestial Group Inc.
Edible Flakes Market - Scope of the Report
Transparency Market Research (TMR) has recently published a market study on the edible flakes market. It provides a detailed assessment of key market dynamics, including the drivers, trends, opportunities & restraints, and detailed information about the edible flakes market structure. The market study presents exclusive information about how the edible flakes market will grow during the forecast period of 2019-2029.
Key indicators of market growth, which include year-on-year (Y-o-Y) growth of the market, value chain, supply chain analysis, and compounded annual growth rate (CAGR) are elaborated in the study in a comprehensive manner. This information is intended to help readers understand the quantitative growth prospects of the edible flakes market during the forecast period.
The study is intended to offer a holistic market overview to stakeholders in the edible flakes manufacturers, suppliers, distributors, and investors, and to help them develop winning growth strategies. Stakeholders in the edible flakes market, which include investors, industry experts, researchers, and journalists, and business researchers, can leverage the information and data presented in TMR's study.
The study also includes statistics and facts related to the macro as well as microeconomic factors that are impacting expansion of the market. It also offers actionable insights into the future trends in the edible flakes market. Furthermore, small businesses and new entrants in the edible flakes market can make use of the information presented in this study, based on which, they can make appropriate business decisions in order to gain momentum in the market.
Key Questions Answered in TMR's Edible Flakes Market Report
Which region will continue to remain the most profitable regional market for edible flakes market players?
Which factors will induce a change in the demand for edible flakes during the assessment period?
How will the changing trends impact the edible flakes market?
How can market players capitalize on the low-hanging opportunities in the edible flakes market in developed regions?
Which companies are leading the edible flakes market?
What are the winning strategies of stakeholders in the edible flakes market to catapult their position in the forefront?
Edible Flakes Market: Research Methodology
In TMR's study, a unique research methodology is used to conduct extensive research on the growth of the edible flakes market and identify future growth parameters. This research methodology is a combination of primary and secondary research, to help analysts ensure the accuracy and reliability of the conclusions.
Secondary resources referred to by analysts for compiling the edible flakes market study include statistics from governmental organizations, trade journals, white papers, and internal and external proprietary databases. Analysts have interviewed senior managers, product portfolio managers, CEOs, VPs, marketing/product managers, and market intelligence managers, who contributed to the development of this report as a primary resource.
Information acquired from primary resources and secondary resources is compiled in a comprehensive manner. This also acts as a validation from companies in the edible flakes market, which makes TMR's projections more accurate and reliable.
Edible Flakes Market – Segmentation
TMR's studies the edible flakes market in terms of a few important segments. These are nature, product, sales channel, and region. This report offers comprehensive data and information about the important market dynamics and growth parameters associated with these categories.
Nature

Product

Corn Flakes
Wheat Flakes
Rice Flakes
Flakey Oats

Sales Channel

B2B
B2C
Hypermarkets/Supermarkets
Convenience Stores
Specialty Stores
Traditional Groceries
Online Retailers

Region

North America
Latin America
Europe
APAC
MEA
Custom Market Research Services
TMR offers custom market research services that help clients to get information on their business scenario required where syndicated solutions are not enough.
REQUEST CUSTOMIZATION