Global Edge Analytics Market: Snapshot
Savvy players in the global edge analytics market are using multi-pronged strategies to surge ahead. Mergers, acquisitions, and collaborations are some of popular strategies leveraged by them to increase their geographical outreach and tap into new markets. Companies are also adding to their product portfolio by focusing on development of highly effective analytical models to entice more takers.
Majorly fuelling uptake of edge analytics is the growing application of Internet of Things (IoT) in smart manufacturing, smart cities, oil and drilling, etc. Enormous volumes of data churned out by them need to analyzed for actionable insights by organizations. Transferring such crucial data from their place of origination, especially from far flung locations, via internet or Bluetooth, to cloud data centers for analysis can be slow and risky. Edge analytics helps to analyze them near their source, thereby eliminating the risk of slow transfers and even cyber-attacks. Such advantages have helped their market.
As per a report by Transparency Market Research, the global edge analytics will clock a phenomenal 27.6% CAGR during the period between 2017 and 2025. Rising at this pace, the market is projected to attain a value of US$25.569 bn by 2025.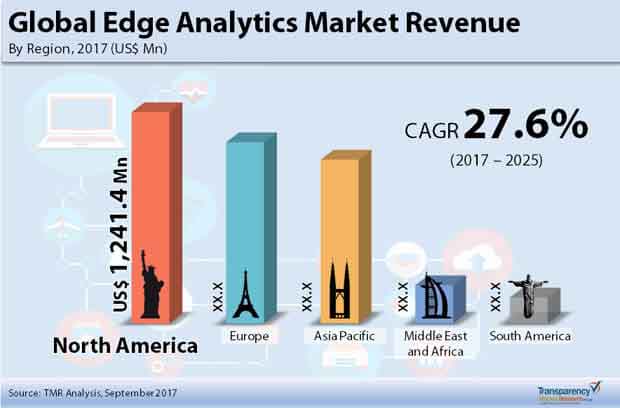 Cloud Deployment Seeing Maximum Uptake on Account of Cost Effectiveness
Depending upon the mode of deployment, the global edge analytics market can be divided into on-premise and cloud. Of the two, the cloud deployment is seeing rapid uptake on account of the cost benefits it accords. Instead of developing software on local hardware which requires a set up cost on account of additional manpower required, most businesses are opting for software that is hosted remotely and accessed through internet. It enables businesses to optimize IT costs pertaining to support, staff, and hardware.
The ease of implementation and low cost have made cloud deployment a highly suitable delivery model in recent years. Moreover, cloud based deployment of edge analytics allows enterprises to combine data from all sources across all communication channels. In the absence of cloud, collecting data from all social networks, internal applications, and networking devices would be costly for organizations. On account of so many benefits, the cloud segment in edge analytics is expected to grow at a CAGR of 27.9% during the forecast period.
Oil and Gas Industry Majorly Boosting Market in North America
From a geographical standpoint, North America is a dominant region in the global edge analytics market due to the soaring uptake of internet of things (IoT) that's churns enormous volumes of data. Edge analytics helps to process and analyze the data near the source or edge devices, thereby helping to decentralize decision making. Edge analytics for IoT is being taken up in crucial industries of oil and gas, which operate in low latency and low bandwidth environments. The market in North America is expected to register a CAGR of 27.6% from 2017 to 2025 to become worth US$8.71 bn by 2025 from US$785.1 mn in 2015.
Asia Pacific is another key region, which is predicted to account for maximum growth – a CAGR of 28.5% in the forecast period. This is because of the substantial investment in development of smart cities which uses Internet of Things (IoT) to gather crucial data. Edge analytics serves to up the efficiency of city operations through decentralized decision-making, since they eliminate the need for data to be send to a centralized hub from IoT gateways and sensors. In addition, it also enables accurate and fast decision making in critical situations, such as emergencies, crime, security breach, and so on.
Some of the prominent participants in the global edge analytics market are AGT International, Inc., Cisco Systems, Inc., General Electric, IBM Corporation, Microsoft Corporation, Oracle Corporation, Greenwave Systems, PTC Inc., SAP SE, and SAS Institute.
Global Edge Analytics Market: Overview
The edge analytics market report provides analysis for the period 2015 – 2025, wherein the period from 2017 to 2025 is the forecast and 2016 is the base year. Estimations for year 2015 are provided as historical data. The report covers all the major trends and technologies playing influential role in the edge analytics market's growth over the forecast period. It also highlights the drivers, restraints, opportunities and trends expected to impact market's growth during the said period.
The study provides a comprehensive perspective of global edge analytics market's evolution throughout the above mentioned forecast period in terms of revenue (in US$ Mn). The global edge analytics market has been classified into five geographical regions namely North America, Europe, Asia Pacific, Middle East & Africa and South America. Regions are further divided into three to five prominent countries/regions and market for each of prominent country/region has further segmented by deployment and by industry verticals.
Global Edge Analytics Market: Scope of the Report
The market overview section of the report demonstrates the market dynamics such as the drivers, restraints, opportunities, trends that is expected to influence the current nature and future status of this market. Key indicators mentioned in the report provide a robust view about the vital factors that led to the strong adoption of edge analytics around the globe. The key indicators also provide significance of the factors which are capable of changing the market scenario. These indicators are expected to define the market position during the forecast period.
An attractiveness analysis has also been provided for every segment in the report, in order to provide a thorough understanding of the overall scenario in the edge analytics market. Moreover, the report provides an overview of various strategies adopted by the key players present in the market. The report segments the market on the basis of deployment, industry verticals and region. By deployment, the segments defined are on-premise, and cloud. Industry vertical includes segments namely retail, healthcare, BFSI, oil and gas, transportation and logistics, manufacturing, government and defense, energy, and others (education, hospitality).
Global Edge Analytics Market: Competitive Analysis
The report also highlights the competitive landscape of the global edge analytics market, thereby positioning all the major players according to their presence across different regions of the world and recent key developments initiated by them in the edge analytics market. The comprehensive edge analytics market estimates are the result of our in-depth secondary research, primary interviews, and in-house expert panel reviews. These market estimates have been analyzed by taking into account the impact of different political, social, economic, technological, and legal factors along with the current market dynamics affecting edge analytics market growth.
This report provides all the essential information required to understand the key developments in the technology used in edge analytics market, growth trend of each segment and strategy of each company that help them to efficiently compete in the market. Also, the report provides insights related to trends and its impact on the market. Furthermore, Porter's five forces analysis explains the factors which are currently affecting the edge analytics market. This report also provides comparative analysis of predictive and continuous edge analytics on the basis of various parameters namely, cost, application area and service integration.
AGT International, Inc., Cisco Systems, Inc., General Electric, IBM Corporation, Microsoft Corporation, Oracle Corporation, Greenwave Systems, PTC Inc., SAP SE, SAS Institute, etc. are some of the major players operating within the edge analytics market profiled in this study. Details such as financials, SWOT analysis, business strategies, recent developments, and other such strategic information pertaining to these players have been duly provided as part of company profiling.
Global Edge analytics market, By Deployment Type
Global Edge analytics market, By Industry Vertical
Retail
Healthcare
BFSI
Oil and Gas
Transportation and Logistics
Manufacturing
Government and Defense
Energy
Other
Global Edge analytics market, By Region
North America

The U.S.
Canada
Rest of North America

Europe

The U.K.
Germany
France
Rest of Europe

Asia Pacific

India
Japan
China
Rest of Asia Pacific

Middle East & Africa

GCC Countries
South Africa
Rest of Middle East & Africa

South America

Brazil
Argentina
Rest of South America