E-Liquid Market
E-Liquid Market (Base: PG & VG, Vegetable Glycerin, Propylene Glycol; Sales Channel: Hypermarkets/Supermarkets, Convenience Stores, Specialty Stores, Independent Small Groceries, Online Retail; Flavor: Original Tobacco, Mint & Menthol, Fruits & Candy, Chocolate, Dessert, Other Flavors) - Global Industry Analysis, Size, Share, Growth, Trends, and Forecast 2019 - 2027
Food & Beverages
TMRGL19307
2019-10-12
165

Pages
E-Liquid Market Players Collaborate with Research Scientists to Meet Safety Standards
Stakeholders in the e-liquid market are experiencing a shift in consumer preferences, from conventional smoking to vaping and e-cigarettes. However, a lot of consumers are also concerned about the toxicity of the e-liquids that are infused with flavors in vaporizers and e-cigarettes.
To make sure e-liquids are safe for consumption in e-cigarettes, manufacturers are collaborating with research scientists to improve on the safety standards. In 2018, original tobacco flavor was the preferred choice amongst consumers, with a revenue of ~US$ 567 million in the market. However, analysts at Transparency Market Research (TMR) anticipate a shift in consumer preferences, as fruit and candy flavor is projected to account for the highest revenue amongst all the flavors in the e-liquid market, with a revenue of ~US$ 1.6 billion in the year 2027.
Thus, stakeholders in the e-liquid market are increasing research on Genomic Allergen Rapid Detection (GARD) assays to meet the required standards in e-liquid flavorings and their ingredients. This first-of-its-kind research is helping manufacturers in the e-liquid market to assess the sensitization of potential compounds in vaping-related applications.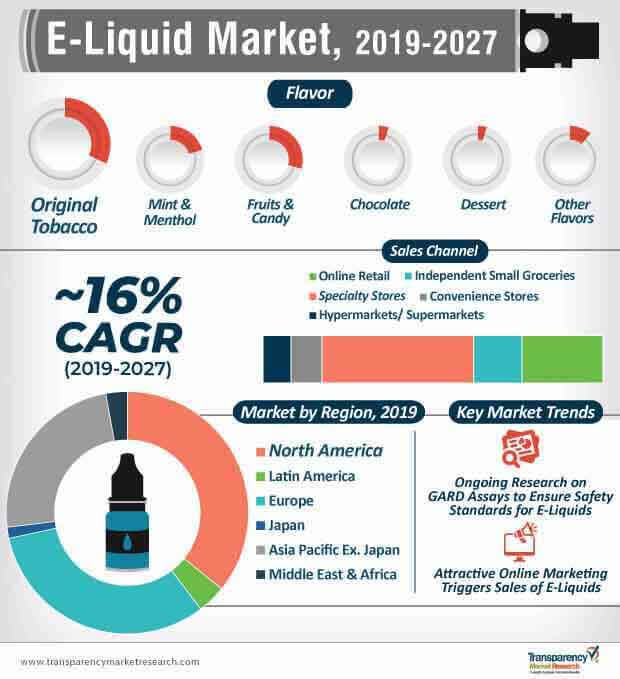 Request a sample to get extensive insights into the E-Liquid Market
Consumers Catch Up on the Trend of Eco-friendly Vaping
The growing trend of vaping and e-cigarettes has contributed to reducing the environmental footprint. Since e-liquids are increasingly used in vaporizers and e-cigarettes, manufacturers in the e-liquid market are capitalizing on the trend of eco-friendly vaping, which is grabbing consumer attention.
Eco-friendly vaping is an evident trend, as it eliminates the environmental load of disposing enormous volumes of discarded cigarette butts. Also, eco-friendly vaping reduces the issue of deforestation, and reduces the degradation caused to the environment due to the cultivation of tobacco. Vaping has provided smokers with a considerable amount of advantages as compared to traditional smoking. It has also helped smokers reduce the intake of tar and nicotine, which has led many smokers partially or completely quitting smoking. These health benefits are triggering the demand for liquid nicotine in the e-liquid market.
To understand how our report can bring difference to your business strategy, Ask for a brochure
In case the e-liquid needs to be disposed off, consumers can indulge in the sustainable disposal of these e-liquids by re-gifting them to friends or family members. Other ways of disposal include the use of absorbent materials such as sawdust, coconut pith, or wood chippings to soak up the e-liquid, before putting it in a biodegradable bag and throwing it in a secure bin.
Premarket Authorization Helps Comply with Stringent Regulations
Vaping and e-cigarettes have provided health advantages to smokers. However, it is still debatable if e-liquids are absolutely safe for consumption. In many cases, the chemicals in e-liquids are unknown to consumers, as these e-liquid bottle come in contact with other ingredients that result in the development of toxic chemicals. Manufacturers in the e-liquid market are often questioned by customers about the adverse effects of flavors mixed with propylene glycol (PG) found in vape juices.
To overcome these hurdles, manufacturers in the e-liquid market are selling vape juices after seeking FDA (Food and Drug Administration) premarket authorization. Manufacturers are creating increased awareness amongst youth about the regulatory norms by mentioning them on vaping products. Since the FDA has issued a list of safe flavors, manufacturers in the e-liquid landscape can capitalize on this opportunity to incorporate these flavors in the production of improved e-liquids.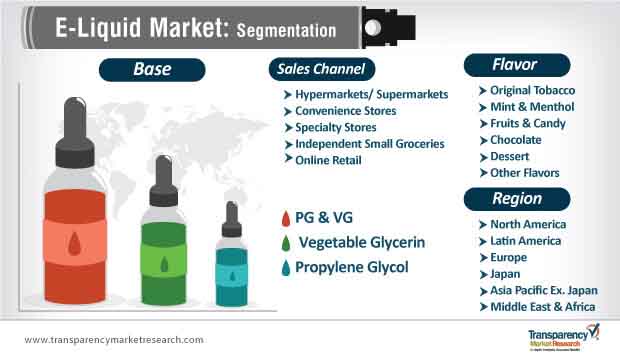 Stuck in a neck-to-neck competition with other brands? Request a custom report on E-Liquid Market
Analysts' Viewpoint on E-Liquid Market
The e-liquid market is projected for a striking CAGR of ~16% during the forecast period. Likewise, online retail is estimated for the highest revenue amongst all sales channels in 2027, with a value of ~US$ 657 million. This correlation between the market and online sales channel has triggered the revenue growth of e-liquids. Market players are planning and executing eye-grabbing online advertising campaigns that catch the attention of youth, as vaping is growing as a trend in the widespread social media influencer community. However, key e-liquid market players are suffering due to unscrupulous suppliers who unethically package e-liquids in boxes that resemble juice, candy, and cookie products. As such, premarket authorization has emerged as a solution to the unethical selling of e-liquids. Thus, manufacturers should not just focus on North America, but also expand their business in fast-growth regions such as Europe and Asia Pacific.
E-liquid Market: Overview
According to Transparency Market Research's latest market report on the e-Liquid market for the historical period of 2013-2018 and forecast period of 2019-2027, the global e-liquid market is projected to be valued at ~US$ 2.1 Bn in 2019, and is forecasted to reach ~US$ 7 Bn by 2027, growing at a CAGR of ~16%.
E-liquid, also called e-juice or vape-juice, is the liquid blend of nicotine, flavoring agent, and base liquid, which is used in e-cigarettes and heated to vapor. Using e-liquid does not produce smoke, and hence, also prevents secondhand smoking. The nicotine is extracted from tobacco leaves, and is superior as compared to traditional tobacco.
Various flavors used in e-liquid impart an enhanced mouthfeel and refreshment feeling. Due to the absence of the burning process of tobacco as in traditional tobacco smoking, e-liquid smoking enables inhaling lower levels of toxic substances, as such, reducing the risk of lung disorders.
Most e-liquid products consist of water, propylene glycol, flavoring, and nicotine. However, some manufacturers are also introducing e-liquids without nicotine, targeting the non-smoking group of consumers.
All these factors are anticipated to fuel the growth of the global e-liquid market over the forecast period.
Advancements in Pod Vaping Technology Positively Impacting E-liquid Market
Pod vaping has emerged as the biggest trend, with new pod vape devices being produced by manufacturers, catalyzing the consumption of e-liquid. With new expertise, companies are aiming to develop new smaller pod vape devices that are compressed and sleek, designed to be healthier and easy to use. High stability, extended battery life, convenient to carry anywhere, and lightweight are the key emphasis areas of pod vape manufacturers.
E-Liquid Emerging as Solution to Reduce Smoking
E-Liquid in the form of pod vapes, vape mods, and vape pens is gaining popularity as a safe alternative to conventional cigarettes. In recent years, the demand for vape pods has increased among young adults, being regarded as technically safe as compared to cigarettes. Additionally, they don't produce smoke, thereby cutting down on secondhand smoking effects. E-Liquid manufacturers are focusing on new product launches with low nicotine quantity, across regions, to comply with new regulations and increase their sales. As nicotine is one of the most addictive substances, e-liquid is emerging as a useful tool for smokers.
E-Liquid Market: Nicotine Salts Emerging as Biggest Vaping Trend
Nicotine salts are gaining traction in vaping products over conventional nicotine. Nicotine salts, unlike conventional nicotine, do not use additives or chemicals to extract nicotine. Instead, juice manufacturers take the natural salt from tobacco leaves for their e-juices.
Vaping product manufacturers are also creating many variations of compact and easy-to-use salt nicotine devices. Vape juice companies are launching nicotine salt e-liquid, offering various advantages such as delivering more nicotine in a single puff, allowing a person to vape on higher concentration without feeling a burning sensation in the throat, and providing a sensation similar to smoking. As such, the demand for nicotine salt is growing constantly.
Moreover, with the increasing number of vape devices, including pod vapes and vape pens, the demand for nicotine salts, and in turn, e-liquid, is increasing.
Usage of Naturally-derived Products a Big Asset to E-Liquid Market
E-liquid is made by the natural extraction method, which is boosting its popularity in the market, as natural and plant-derived products are sought-after by many consumers these days. Moreover, e-liquids are made from vegetable glycerin, and are free from chemicals such as diacetyl, acetyl propionyl, ethylene glycol, diethylene glycol, and acrolein or acetoin, which are present in traditional cigarettes and cause various health issues.
E-liquids are free from any chemical additives or sweeteners, and provide consumers the pure taste of nicotine made from natural nicotine leaves.
E-Liquid Market: Key Players
Key players in the global e-liquid market are

VMR Products LLC
Mig Vapor LLC
VaporFi, Inc.
Black Note
Nicopure Labs LLC
VistaVapors, Inc.
ZampleBox, LLC.
Fuggin Vapor Co.
Silver Laboratories (Basix eLiqiuids)
Humble Juice Co.
USA Vape Labe
Savage Enterprises, LLC.
Mr. Macaron Vapes Corporation
Mt baker Vapor
Smax Holdings LLC (Smax E-Liquids)
BSMW Ltd.
VapeWild
Molecule Labs, Inc.
Vapor Labs
Dynamic Creations.
E-Liquid Market: Key Developments
Some of the key developments seen in the e-liquid market in the past few years are as follows:

In August 2016, Flavors & More introduced new premium e-liquid products - Cypher, Hawkeye, and iGen, in the premium category.
In December 2018, British American Tobacco Company launched new products for vaping, with the incorporation of the new Puretech blade technology. The products unveiled were Vype iSwitch and Vype iSwicth Maxx. The technology is upgraded with the use of ulta-slim stainless-steel blades for the heating of e-liquid, instead of a coil and wick, enhancing overall functionality.
E-Liquid Market - Scope of the Report
Transparency Market Research (TMR) recently published a study on the e-liquid market. The study provides detailed assessment on key market dynamics, including the drivers, trends, opportunities & restraints, and detailed information about the e-liquid market. The market study presents exclusive information about how the e-liquid market will grow during the forecast period of 2019-2027.
Key indicators of market growth, which include year-on-year (Y-o-Y) growth of the market, value chain, supply chain analysis, and compounded annual growth rate (CAGR) are explained in TMR's study in a comprehensive manner. This information can help readers understand the quantitative growth prospects of the e-liquid market for the forecast period.
The study is relevant for stakeholders in the e-liquid market, including e-liquid manufacturers, suppliers, distributors, and investors, and can help them in developing appropriate strategies to grow in the market. Stakeholders in the e-liquid market, investors, industry experts, researchers, and journalists, as well as business researchers can leverage the information and data presented in TMR's study.
The study also includes statistics as well as facts related to the macro as well as microeconomic factors that are impacting developments in the market. It also offers actionable insights based on the future trends in the e-liquid market. Furthermore, small businesses and new entrants in the e-liquid market too can make use of the information presented in this study, based on which, they can make appropriate business decisions in order to gain momentum in the e-liquid market space.
Key Questions Answered in TMR's E-Liquid Market Report
Which regions will continue to remain the most profitable markets for e-liquid market players?
Which factors will induce a change in the demand for e-liquid during the assessment period?
How will changing trends impact the e-liquid market?
How can market players capture the low-hanging opportunities in the e-liquid market in developed regions?
Which companies are leading the e-liquid market?
What are the winning strategies of stakeholders in the e-liquid market to upscale their position in this landscape?
E-Liquid Market: Research Methodology
In TMR's study, a unique research methodology has been utilized to conduct extensive research on the growth of the e-liquid market, and reach conclusions on the future growth parameters of the market space. This research methodology is a combination of primary and secondary research, which helps analysts in ensuring the accuracy and reliability of the conclusions.
Secondary resources referred to by analysts during the production of the e-liquid market study include statistics from governmental organizations, trade journals, white papers, and internal and external proprietary databases. Analysts have interviewed senior managers, product portfolio managers, CEOs, VPs, marketing/product managers, and market intelligence managers, all of whom contributed to the development of this report as a primary resource.
Comprehensive information acquired from both, primary resources and secondary resources, acts as a validation from companies in the e-liquid market, and makes TMR's projections on the growth prospects of the e-liquid market more accurate and reliable.
Key Segments of the E-Liquid Market
TMR's study on the e-liquid market offers information divided into important segments-by base, by sales channel, by flavor, and by region. This report offers comprehensive data and information about the important market dynamics and growth parameters associated with these categories.
Base

PG & VG
Vegetable Glycerin
Propylene Glycol

Sales Channel

Hypermarkets/ Supermarkets
Convenience Stores
Specialty Stores
Independent Small Groceries
Online Retail

Flavor

Original Tobacco
Mint & Menthol
Fruits & Candy
Chocolate
Dessert
Other Flavors

Region

North America
Latin America
Europe
Japan
Asia Pacific Excluding Japan
Custom Market Research Services
TMR offers custom market research services that help clients to get information on their business scenario required where syndicated solutions are not enough.
REQUEST CUSTOMIZATION