Dried Blueberries Market
Dried Blueberries Market (Nature - Organic, Conventional; Form - Slices & Granulates, Powder, Whole Dried Fruits; End User – Bakery Products, Confectionaries, Dairy Products, Beverages, Cereal & Snack Bars, Cosmetics & Personal Care Products, Dietary Supplements, Foodservice Providers, Retail, Others; Distribution Channel - Convenience Stores, Forecourt Retailers, Hypermarkets, Supermarkets, Specialty Stores, Independent Small Groceries, Other Grocery Retailers, Online Retailing) - Global Industry Analysis, Size, Share, Growth, Trends and Forecast 2018 - 2027
Category :

Food & Beverages

Format :
'Dried' Blueberries – The Lesser Known Form of Superfruit
In line with an accelerated mass shift of consumers to healthier and 'better-for-you' dietary practices, the 'superfruit' category has been witnessing momentous traction over the past decade. The powerhouse of antioxidants, this category of fruits accounts for an important portion of balanced diet, which remains the key factor shaping their innovations and applicability in routine dietary regime.
Traditionally preferred fresh or frozen, blueberries in dried form have been recently observing noteworthy growth in demand from the health-conscious consumer cluster. Though initially having captured interests of the food industry as well as consumers by their rich fiber and antioxidant profile, dried blueberries are proven to have a significant role in regulation of blood sugar levels of type 2 diabetic patients. The low-carb low-glycemic index profile of dried blueberries makes them an ideal snack for those who are recommended to improve their average blood glucose levels.
While the rich content of vitamin C accounts for dried blueberries' potential to accelerate collagen buildup, their vitamin K content has been cited to play a key role in blood clotting and the overall maintenance of bone health. Moreover, low-sodium, low-calorie, high-anthocyanin, and zero-cholesterol attributes account for
increasing inclusion of dried blueberries in diet recommendations for hypertension and cardiovascular disease (CVD) patients.
Transparency Market Research (TMR) has tracked the influential trends in dried blueberries market. A new TMR report presents an exhaustive, 360-degree analysis of dried blueberries market to help industry enthusiasts gain a profound understanding of the key forces at play in this landscape.
Global sales of dried blueberries accounted for revenues roughly worth US$ 380 Mn, a majority of which according to TMR's research is contributed by the food and beverages, and cosmetics and personal care industries. While fresh or frozen blueberries reflect an equally enriched nutritional profile, dried blueberries are witnessing increasing preference owing to the higher shelf life and clean labeling. These superior attributes of dried blueberries are being prudently leveraged by end-use segments. As food and beverages, and cosmetics and personal care products manufacturers continue to face the pressing need for incorporation of natural, organic, high shelf life, and clean label ingredients in their offerings, it is highly likely that demand for products like dried blueberries will see optimistic growth prospects in coming years. The global dried blueberries market is envisaged to grow over 1.5X between 2019 and 2027, as per TMR's projection.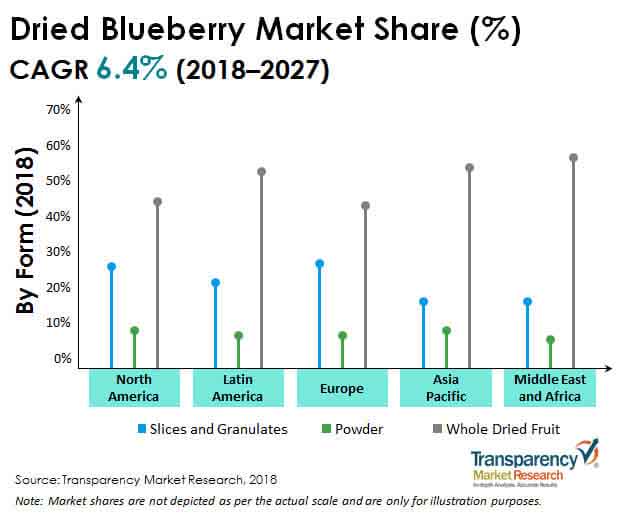 'Beauty from Within' Products Point to an Influx of Opportunities
Rapid advancements in dehydration technology have ushered several innovations in the food industry, particularly in the food processing sector. The popularity of dried blueberries is escalating recently, for a multitude of product innovations. In addition to bakery products, such as cakes and cookies, dried blueberries find wide applicability in a variety of stuffings. Although consumers continue to seek economically attractive products, high-end products like dried blueberries are rapidly permeating retail shelves, in form of a diverse range of intermediate and low-moisture snack products.
New product launches including dried blueberries as one of the key ingredients have been seeing healthy growth in global market. With an increasing number of food products manufacturers and processors harnessing nutritional profile of dried blueberries as a superfood ingredient in the formulation of flavored drinks, fruit cups, desserts, energy drinks, and baked goods. Improving application prospects of dried blueberries in beauty from within products targeting hair and skincare, such as nutricosmetics, are creating new trend wave in the dried blueberries market. In addition, processors of dried blueberries and other stakeholders have been capitalizing on opportunities in natural and organic cosmetics formulated for topical application.
Dried Blueberries Sales to Surge as the Real Food Movement Firms up
The widening expanse of real food movement is cited as the most relevant trend driving manufacturers in the food and beverages industry to rely on naturally sourced, unprocessed dried fruits, such as dried blueberries. Consumers are shifting to authentic foods that are closer to nature, carry cleaner labels, and contain ingredients with deepest real food roots, which has been translating into increased utilization of dried blueberries and other similar products within bakery markets. Frozen dried blueberries have recently become the mainstay for baking businesses to deliver a range of innovative products to cater to evolving market demands. Smoothies have emerged as another popular category, creating diverse opportunities for stakeholders in the dried blueberries market. Today, dried blueberries are infiltrating baked goods and parfaits, keeping an eye on a myriad profitable opportunities arising in non-traditional segments, such as cocktails and meat glazes.
Convenience Making Extra Cost of Dried Blueberries Worthwhile
A brisk consumer shift to natural and organic ingredients used in F&B products clearly points to an unofficial end of conventionally used synthetic or artificially derived flavors and colors. This trend has been significantly favoring sales of dried blueberries and other similar products. Additionally, the high convenience quotient and nutrient dense profile are advocating the expensive price point worthwhile, thereby attracting consumers' buying interests. Growing recognition of high-value superfoods by manufacturers is further cementing the position of dried blueberries amidst a wide range of categories represented by the retail sector. According to recent findings, dried blueberries are also benefiting from the thriving trend of nutritional snack bars that intersects with multiple popular trends, such as vegan, vegetarian, Paleo, gluten-free, high-protein, natural and organic.
E-Commerce & Cross Marketing Strategies Take the Limelight in Dried Blueberries Market
Retailers are picking cross-marketing and leveraging e-commerce platform to unlock sales in the fiercely competitive market for dried blueberries. This falls in line with the uphill battle that manufacturers have been facing, while they focus on expanding dried blueberries based product penetration and increasing consumer reach. They are capitalizing on the growing popularity of dried blueberries by cross-merchandising them with a range of other items, such as muffin mixes, pie shells, shortcake, glazes, yogurt, cereal, and pancake mix. For instance, several retails are placing baked snack bars near bananas, which are among the best-selling items in produce. Retailers are clamoring to get their dried blueberries containing bars near popular section, as a part of their other strategic cross-marketing techniques that communicate a relationship to consumers.
Leading market players are unceasingly and gradually deploying electronic technologies across the supply chain of dried blueberries and associated products, as operational efficiency becomes paramount. They are modifying business models to maintain non-contaminated product processing and thereby, strengthen consumer confidence in them.
Dried Blueberries Market Competition Analysis
The dried blueberries market can be characterized as a fairly consolidated competition landscape, with the established players contributing for more than 55% share of total revenues. Industry goliaths are substantially emphasizing product innovation along with focus on sales via online and direct distribution channels to strengthen their market presence globally. Leading players are likely to maintain heavy investments in branding and promotion strategies to engage audience and influence their buying decisions.
Creative packaging formats for products based on dried blueberries that prominently focus on clean labels, such as organic, non-GMO, non-allergen, and low-sugar, remain among the key focus areas of market players. However, small scale companies operating in dried blueberries market continue to face challenges despite low-cost production budget constraints, to raise their revenue shares. New launches and stronger distribution networks are expected to augur well for companies looking forward to consolidate their position in the dried blueberries market.
The Analyst's Speak

The dried blueberries market is currently growing as a stable business landscape for stakeholders as well as investors. The volatile production of dried blueberries, and the consequent high pricing will keep companies on toes and hard-pressed to offer cost-effective variants. Increasing focus of players on leveraging packaging formats as an effective tool to communicate the health benefits and nutritional profile of dried blueberries to consumers will improve the revenue generation potential in coming years.
Transparency Market Research (TMR) recently compiled a study that assesses the growth pattern of the global market for dried blueberries. The report presents a comprehensive information on how the growth opportunities for the dried blueberries market will appear during 2019-2027.
This research explores how the adoption of dried blueberries is altering and will continue to alter, in the coming time. The report evaluates what the rapid shift in consumption patterns means for both existing and emerging market player, and what that infers for optimal monetisation of dried blueberries based products.
The report assists readers in estimating the dried blueberries market dynamics, in tandem with incisive insights that can aid players in this business make winning decisions in the forthcoming years. The report offers key indicator valuation to highlight the key growth prospects of the dried blueberries market, and forecast statistics related to development of the market for dried blueberries, in terms of value (US$ million) and volume (MT).
What Are the Key Questions Answered in TMR's Report on Dried Blueberries Market?
The report features exclusive and actionable information related to dried blueberries market, based on detailed research about macro and microeconomic factors that are influential in shaping the market. The information offered in the report answers the salient questions for active players in the dried blueberries market, to assist them in formulating winning growth strategies and making rewarding business moves.
What Are the Key Questions Answered in TMR's Report on Dried Blueberries Market?
Which industries are investing significantly in diversified dried blueberries based products?
How leading manufacturers are monetising the high-antioxidant value of dried blueberries?
What will be the average Y-o-Y growth of dried blueberries market between 2019 and 2025?
What are the potential revenues projected for dried blueberries specifically from food and beverages industry, in the next five years?
What are the key companies relying majorly on E-commerce for dried blueberry sales?
What are the most widely sold forms of dried blueberries?
Research Methodology – Dried Blueberries Market
Comprehensive primary and secondary research is also incorporated to garner valuable insights into the forecast assessment of the dried blueberries market. The gathered information further undergoes cross-validation. An extensive research methodology, coupled with a holistic approach, forms the base of actionable insights on dried blueberries market, examined for the assessment period. The TMR report presents comprehensive information on the dried blueberries industry, backing it with enthralling insights, including all the key dynamics associated with the market outlook, for unbiased market forecast.
In this research study, readers can find exclusive sales data and information about the potential rise in the adoption of dried blueberries in different geographical regions. A comprehensive information about the global demand and sales of dried blueberries, which is presented in in the report, is bifurcated into various segments to ensure that it is comprehensible for the reader.
Nature

Form

Slices and granulates
Powder
Whole Dried Fruit

End Users

Bakery Products
Confectionaries
Beverages
Dairy Products
Cereal & Snack Bars
Cosmetics & Personal Care
Dietary Supplements
Food Service Providers
Retails

Distribution Channel

Convenience Stores
Forecourt Retailers
Hypermarket
Supermarkets
Specialty Stores
Independent Small Groceries
Other Grocery Retailers
Online Retailing

Region

North America
Western Europe
Eastern Europe
Latin America
APAC
MEA
TMR's report offers exhaustive data pertaining to the segment-wise trends in the dried blueberries market. Information includes pricing analysis, y-o-y growth analysis, value chain analysis, and supply chain evaluation for variants of different nature, form, end users, by distribution channel, and region.
Custom Market Research Services
TMR offers custom market research services that help clients to get information on their business scenario required where syndicated solutions are not enough.
REQUEST CUSTOMIZATION