Digital Spending in Travel & Tourism Trend, 2030 - Introduction
Social media platforms are playing a vital role as influencers for travelers in terms of their tour plan choices. More than 50% of travelers use social media platforms for travel tips. Solution providers are offering a different digital platform for travel booking, hotel selection & reviews, transportation bookings, and necessary data regarding travel and tourism.
Travel companies and agencies are investing in digital ads to increase awareness about different tour plans and increase the penetration of travel apps among users. Hotels and other service providing companies use advanced database technologies and applications to enhance customer travel experiences.
Companies are increasing spending on digital platforms and digital ads or marketing to maintain social media presence and increase market share in the travel industry.
Customers are using mobile applications, and web-based platforms for ticket booking and to make tour arrangements. Increasing customer demand for more user-friendly travel apps are expected to increase the spending in the travel and tourism industry.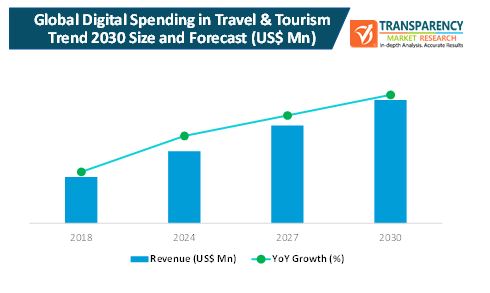 Key Trends: Digital Spending in Travel & Tourism, 2030
Increasing adoption of payment/financial platforms for financial operations of tour and travel booking is expected to drive the market growth. Increasing demand for more advanced digital ads in travel & tourism sectors to expand the customer base and increase the awareness about travel services is expected to set a new trend of digital ads in the industry. Several travel platform providers are undertaking data analysis work for customers by comparing and analyzing different travel plans of the organizer's website and showing the best results to meet customer demands. Travel companies focus on service sectors to improve the travel experience of customers by offering 24x7 customer support, refund policies, travel insurance, and consulting regarding tour plans.
Challenges: Increasing online frauds on travel apps and limited budget of small and medium enterprises
Customers are not so confident about online platforms for travel booking due to increasing payment frauds in the travel & tourism sector. Small and medium enterprises have limited budget for digital ads and digital marketing services. This also hampers the adoption of new technologies and digital spending in the travel & tourism industry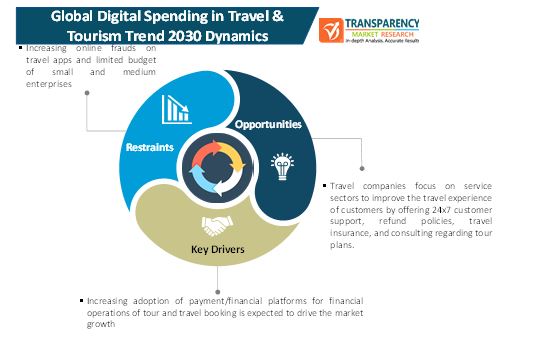 Impact of COVID-19 on the Global Digital Spending in Travel & Tourism Trend
The travel companies are facing financial loss during the lockdown conditions due to COVID-19. The government has put a restriction on domestic and international travels during this period. The travel companies are decreasing the investment in new technologies and digital media ads and marketing operations due to the low return of investment. Demand for technological products in the travel & tourism sectors is expected to low during COVID-19. The global travel & tourism industry is negatively impacted by the lockdown condition but now with the unlocking procedure, the travel companies and hotel business are expected to back on track in the next few years.
North America to Hold Major Share of the Digital Spending in Travel & Tourism Trend
North America holds prominent share of the digital spending in travel & tourism industry due to the presence of key solution providers and increasing investment by companies on advanced tools and technologies to manage global business operations in the region.
The travel & tourism industry in Asia Pacific is expected to expand the fastest during the forecast period due to increasing government initiatives to promote and support the travel & tourism industry. Local players are increasing investment in travel & tourism technologies to enhance their market share.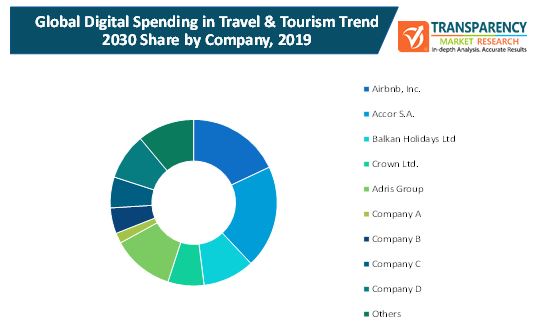 Key Players Operating in the Global Digital Spending in Travel & Tourism Trend
Airbnb, Inc. was founded in 2008 and is based in San Francisco, California, the U.S. The company is a leading global player providing vacation rental online services. The company offers online services in lodging and rental home services in different regions.
Accor S.A. is a global provider of hospitality services to customers. The company manages its franchises and own hotels to offer rental services in hotel booking, rental houses, and vacation properties. The company operates its business and provides services in more than 100 countries with 280,000 employees globally.
Other key players operating in the global digital spending in travel & tourism industry include Balkan Holidays Ltd, Crown Ltd., TCS World Travel (Travelopia Group of Companies), Adris Group, and Fred Harvey Company
Global Digital Spending in Travel & Tourism: Research Scope
Global Digital Spending in Travel & Tourism, by Business Model
Pay-Per-Booking (Commission-based)
Annual Subscription (Paid Listings)
Global Digital Spending in Travel & Tourism, by Travel Type
Leisure Spending
Business Spending
Global Digital Spending in Travel & Tourism, by Application
Domestic Spending
International Spending