Global Digital Forensics Market: Snapshot
Digital forensic involves integrating computer science with laws that are needed to investigate crime. It involves complete recovery and then interpretation of data present in digital devices to be presented in law courts and mostly involves cyber crime. Investigation in digital forensics is carried out in three stages which includes exhibit acquisition, investigation and analysis along with reporting of crime.
Forensic technology has become an important component of financial investigations which includes contentious, non-contentious, and fraud-related litigation. Forensic technology experts use various forensic technology tools to gather evidence and make a strong case against criminals.
The global digital forensics market stood at a valuation of US$2.87 bn in 2016 and is estimated to be worth US$6.65 bn by 2025, rising at a CAGR of 9.7% from 2017 and 2025.
Today, cyber criminals are causing unprecedented damage using simple IT tools or cloud services. They leak confidential consumer information or valuable business information by hacking personal files of individuals or organizations that leads to disruption in functioning. This requires evidence-based investigation for information recovery, thereby driving the digital forensics market.
Moreover, the increasing trend of cloud-based solutions and Internet of Things technology has increased the risk of malware and virus, further putting confidential information at risk acting as another key driver for this market. The use of multiple channels leading to the growth of sophisticated crime, especially for hacking organizational information that is related to IT applications has further pushed the growth of this market.
However, rising use of mobile devices and their growing complexities are posing a challenge to the growth of this market. This is because retrieving information from certain devices is a herculean task, which makes it difficult to reach to the real culprit in case of cybercrimes.
Governments have also raised concerns regarding the accessibility of mobile platforms of certain companies further posing a challenge to the market's growth. Nevertheless, the increasing relevance of digital evidence to expose criminals is expected to extend growth opportunities to the digital forensics market.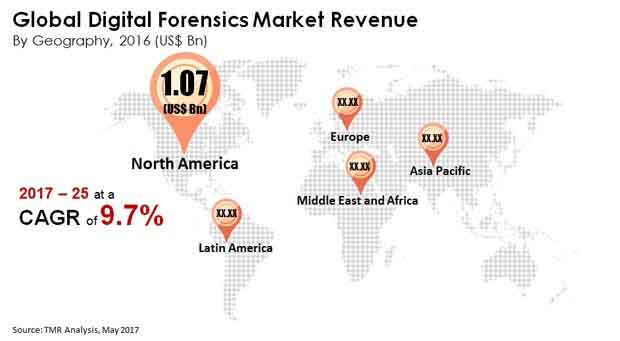 Mobile Device Forensics to Emerge as a Key Type Segment
In terms of type, the digital forensics market is classified into computer forensics, database forensics, cloud forensics, network forensics, mobile device forensics, and others. In 2016, the market was led by computer forensics followed by mobile device forensics.
By application, healthcare, banking, financial services and insurance (BFSI), law enforcement, information technology, education, defense and aerospace, transportation and logistics, and other are the segments into which the digital forensics market is divided. Law enforcement and defense and aerospace are the leading application segments in the market.
Asia Pacific to Continue Contributing Substantial Revenue to Market
On the basis of geography, the global market for digital forensics is segmented into North America, Asia Pacific, Europe, Latin America, and the Middle East and Africa. In 2016, North America trailed by Europe stood as the key regional segments of the market. Asia Pacific holds substantial revenue in the global digital forensics market. The increasing trend of cloud based solutions and internet of things technology in these regions is acting as the major growth driver in these regions. In addition, increasing growth of well-planned sophisticated cybercrimes and malware that has risked the confidentiality of intelligence data in many nations in these regions is also a key factor driving the digital forensics market.
Some of the key companies in the digital forensics market include AccessData Group LLC, FireEye Inc., Paraben Corporation, CISCO, Guidance Software Inc., LogRhythm Inc., Micro Systemation AB, NUIX, Binary Intelligence LLC, and IBM Corporation among others.
Surging Cases of Cyber Crimes Worldwide to Boost Digital Forensics Market
Digital forensics includes incorporating software engineering with laws that are expected to examine wrongdoing. It includes total recuperation and afterward understanding of information present in computerized gadgets to be introduced in law courts and generally includes digital wrongdoing. Examination in advanced criminology is completed in three phases which incorporates display procurement, examination and investigation alongside announcing of wrongdoing. Scientific innovation has become a significant part of monetary examinations which incorporates hostile, non-quarrelsome, and misrepresentation related suit. Legal innovation specialists utilize different scientific innovation devices to assemble proof and put forth a solid defense against crooks.
In terms of segmentation by type, the market was led by computer forensics segment and is likely to continue doing so in the coming years as well. The other sub segments of the type segment include mobile device forensics, network forensics, cloud forensics, and database forensics.
Another factor boosting the market is the conceivable follow up technique of hacking exercises to their source. These exercises are followed by legal offices by utilizing the privilege criminological techniques. In this manner, such proof based examination with the end goal of recuperation of data has been a prime factor for the ascent of the market for advanced legal sciences. The ascent sought after for advanced arrangements and legal sciences instruments is likewise filled attributable to the way that numerous stations are used to hack secret data from different associations and organizations.
The impact of the COVID19 pandemic has propelled the use of mobile devices and their increasing complexities. This is owing to the fact that retrieving information from specific devices is a tedious task that will make it difficult to find the real culprit in case of cybercrimes. Governments have additionally raised concerns with respect to the availability of versatile foundation of specific organizations further representing a test to the market's development. By the by, the expanding importance of computerized proof to uncover crooks is required to stretch out development occasions to the advanced legal sciences market.
The market has been segmented as follows:
By Type

Computer Forensics
Network Forensics
Cloud Forensics
Mobile Device Forensics
Database Forensics
Others

By Application

Health Care
Education
Banking, financial services and insurance (BFSI)
Defense and Aerospace
Law Enforcement
Transportation and Logistics
Information Technology
Others

By Region

North America

The U.S.
Canada
Rest Of North America

Europe

The UK
Germany
France
Italy
Rest Of Europe

Asia Pacific

China
India
Japan
Korea
Rest Of APAC

Middle East and Africa (MEA)

UAE
South Africa
Rest Of MEA

Latin America

Brazil
Rest Of Latin America