Dairy Blends Market
Dairy Blends Market (Product type - Dairy Mixtures, Dairy/Non-Dairy Ingredients, Functional Ingredients, and Carrier Dairy Blends; Form - Powder Dairy Blends, Liquid Dairy Blends, and Spreadable Dairy Blends) - Global Industry Analysis, Size, Share, Growth, Trends and Forecast 2017 - 2022
Category :

Food & Beverages

Format :
Global Dairy Blends Market: Snapshot
In several parts of the world, the demand for dairy blends is on the rise, especially among the health savvy due to its low fat content. Individuals are increasingly using dairy blends in place of pure dairy blends that are at par in taste to the latter.
Composition-wise, dairy blends are mixtures with a base of concentrated cream or butter. The butter or cream concentrate is further added vegetable oils to give a spreadable texture. The mixture is added with salt, sugar, flavorings, or aroma for taste and for longer shelf life.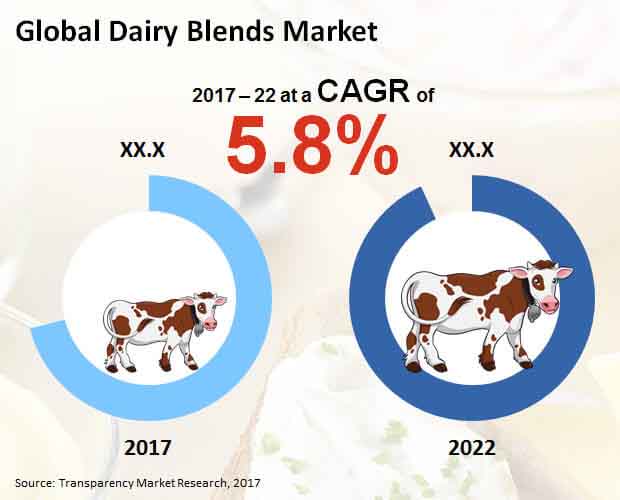 The price factor of dairy blends over pure dairy products is another key factor for the demand of the former. Dairy blends when mixed with soy or other protein adds to the nutritional value diminishing the cost further.
On the downside, high concentration of preservatives that have health implications, and subpar taste as compared to pure dairy blends are holding back the growth of dairy blends market.
According to a report by Transparency Market Research (TMR), the global dairy blends market is likely to rise at a CAGR of 5.8% for th forecast period between 2017 and 2022. Exapnding at this pace, the market which stood at US$2,853.7 mn in 2017 is likely to become US$3,789.3 mn by 2022-end.
Dairy Mixtures Product Segment to remain at fore through 2022
The global dairy blends market is segmented on the basis of product type, form, and region. By product type, the key segments into which the dairy blends market is divided are dairy mixtures, functional ingredients, dairy/non-dairy ingredients, carrier, and others. Among them, dairy mixtures hold the leading share in the overall market. The dairy mixture segment is likely to stay at the fore over the 2017-2022 forecast period.
On the basis of form, the dairy blends market is segregated into powder, liquid, and spreadable.
Longer Shelf Life and Advantage of Low Cost over Pure Dairy Blends for Packaged Foods stokes Demand in U.S.; Demand in U.S. powers Growth in North America
Geography-wise, the global dairy blends market is divided into North America, Latin America, Asia Pacific except Japan, Europe, Japan, and the Middle East and Africa. North America, among all, is the leading consumer of dairy blends. The U.S. displays the leading demand for dairy blends in the region. This is mainly because of excessive consumption of processed spreads, dressings for sandwiches, salads, and meats. Going forward too, in the years ahead, U.S. is likely to be a leading consumer of dairy blends in North America.
Europe is a key consumer of dairy blends too. Excessive demand for packaged sandwiches and salads that are sold at salad bars, delis, and specialty food stores display demand for dairy blends. Small food units that manufacture salads and sandwiches use dairy blends for creaminess to these foods. Longer shelf life and low cost of dairy blends over pure dairy blends also accounts for their increasing use for packaged sandwiches and salads.
Prominent companies operating in the global dairy blends market include Cargill Inc., Agri-Mark Inc., Dohler GmbH, Agropur Cooperative, Fonterra Cooperative Group Ltd., Koninklije Viv Buisman B.V., Advanced Food Products LLC, Hormel Foods Corp., Kerry Group plc,., and All American Foods Inc.
Dairy Blends Market to Ride on the Back of Multiple Benefits Offered by Dairy Blends
Dairy blends refer to a form of dairy product that is made up of condensed cream and butter. Butter blends are combined with refined vegetable oils or butter fat to make dairy blends. Based on the choices and tastes of the customers, these products could also be mixed up or combined with other food ingredients such as fragrance, flavorings, sugar, salt, oils, and vegetable. The growth of the global dairy blends market is likely to be driven by its advantages, such as cost effectiveness and low fat content as opposed to butter and margarine products.
Due to its widespread application of the product in bakery products, beverage, and fruit, the global dairy blends market is likely to expand at a rapid rate. Besides that, the global dairy blends market is anticipated to observe significant growth in the near future. Such growth of the market is attributed to the rising demand for dairy blends due to their numerous health benefits. On the other hand, low consumer awareness is expected to stifle business growth. Similarly, the growing utilization of dairy blends as additives could present a lucrative growth opportunity for market participants in the coming years.
Increased Health Awareness amongst Customers to Spell Growth for the Market
The increased health awareness amongst customers, as well as the nutrient content of these products, has prompted users to choose dairy blends, which provide a range of health benefits such as improved immune function and a lower risk of ailments like diabetes The existence of a variety of flavors is estimated to foster growth of the global dairy blends market. To meet the rising demand for creativity, businesses are attempting to try out different flavor combinations.
Owing to changes in economic and social and trends, as well as rise in urbanisation, purchasing power, and knowledge about healthier foods products and habits, shifts in dietary choices and conventional food habits, and the willingness to try out new products, interest in dairy blend products is rising at a rapid rate. They're gaining a lot of momentum, particularly amongst the working class, teens, and bachelors, among others. Snack mixes, candies, and chips re just a few examples of common snack foods that are high in sugar, fat, and calories. The global dairy blend market is being driven by healthy options like dairy snacks, which are easy to catch on-the-go and also are rich in nutrients. These snacks make an offering of minerals, vitamins, and energy to strengthen the body.
Global Dairy Blends Market: Overview
Dairy blends are gradually seeping into the food habits of a large chunk of population due to a multitude of factors. The market for dairy blends stands at the helm of development due to the inertness of people to use conventional dairy products and a renewed zeal to use these blends that are easy to refrigerate and store. Dairy blends also offer health benefits which is also driving their demand in this scenario of rising health consciousness. Although the food manufacturers are still lingering on to the usage of conventional products believing that dairy blends deteriorate taste and flavor of food, it is expected that the surge in demand for dairy blends would continue in the coming years.
The global market for dairy blends is segmented by product type, region, and form. Each segment is further divided into sub-categories which contribute to the total revenue generated by the given segment.
The researchers of the report have employed adept techniques to foresee the trends in the market for dairy blends in order to make accurate projections. The analysis of various market elements has been used to elucidate historic, current, and tentative future trends, which would help the market entities get a purview of the market.
Global Dairy Blends Market: Trends and Prospects
The global market for dairy blends is characterized by a surge in demand for blends which are healthier and have a longer shelf life. The consumers equilibrate the costs of dairy blends against the conventional dairy products where the former proves economical, thus, prompting the cost-concerned group of buyers to resort to dairy blends. Dairy blends also offer ease to the suppliers because unlike conventional dairy products, they do not require cold chains for supply, reducing the supply costs too. The dairy blends do not contain saturated fats because they are a blend of butter and vegetable oils or contain processed butter. This makes them healthier for consumption and the highly health conscious consumers are swift to resort to them.
Dairy blends also add to the taste and flavor of food when they are mixed with other food items, making them a relished side. moreover, they are extensively used with soy and protein in order make a healthy and tasty intake. Furthermore, the rising consumption pattern for nutraceuticals, traction towards fast food, and usage of dairy blends in packaging of juices are amongst other factors bolstering the demand for blends.
Although the reluctance of manufacturers to us dairy blends in foods is a threat to the market, the growing popularity amongst the general masses outdoes the negative impact from manufactures who are soon expected to endorse these blends.
Global Dairy Blends Market: Regional Outlook
The regional segmentation for the global market spans across North America, Latin America, Europe, Asia Pacific Except Japan, the Middle East and Africa, and Japan. Amongst these key regions, North America is expected to be at the forefront with a high CAGR of 6.9% over the period from 2017 to 2022. Owing to the increased disposable income and a propensity to spend on specialty foods, Asia Pacific is second most significant regions expected to register a CAGR of 5.6% between 2017 and 2022. Europe is also striding forward in terms of CAGR and market value, and is expected to reap a decent market revenue.
Global Dairy Blends Market: Competitive Landscape
The global market for dairy blends is experiencing stiff competitiveness due to the presence of all ranges if players from huge entities to small firms. The market players are expected to take the expansion and merger routes in order to outsmart competition. Product innovation is also an important parameter that could distinguish the market players. The contemporary players in the market include Kerry Group, Fonterra Cooperative Group Ltd., Doehler Group, Royal FrieslandCampina N.V., and Agropur Ingredients.
By Geography

Middle East and Africa
North America
Europe
Asia Pacific except Japan
Latin America
Japan

By Form

By Product type

Functional Ingredients
Carrier Dairy Blends
Dairy/Non-Dairy Ingredients
Dairy Mixtures
Others
Custom Market Research Services
TMR offers custom market research services that help clients to get information on their business scenario required where syndicated solutions are not enough.
REQUEST CUSTOMIZATION