Dairy Alternatives Market - Snapshot
A rise in the focus of consumers on the various nutritional values such as high vitamin and protein content and low calories of milk is likely to influence the growth trajectory of the global dairy alternatives market in the near future.
Soymilk is a popular dairy alternative, which comes with multiple minerals such as magnesium, potassium, sodium, zinc, phosphorous, calcium, and iron. This dairy alternative is extremely popular amongst patients with heart issues as it diminishes levels of cholesterol. In addition to that, soymilk comes with as much protein as cow milk and is quite low in calories as compared to skim and whole milk. As such, augmented consumption of soymilk is likely to drive the demand for dairy alternatives in the years to come. It is estimated that consumption of dairy alternatives is likely to rise with the outbreak of a global pandemic, COVID-19. In a bid to boost immunity to survive COVID-19, people are expected to increase consumption of nutritious dairy alternatives. As such, it is expected that the global dairy alternatives market is likely to witness rapid growth during the times of COVID-19 and afterwards.
Expansion in the Pool of Geriatric Population to Spell Growth of the Market
Many consumers consider a vegan diet to be a highly nutritious and healthy one. Such people prefer having various dairy alternatives such as
rice milk
almond milk
soy milk
coconut milk
In addition, many other plant-based milk products. Increased adoption of a vegan diet is likely to play a positive role in the expansion of the global dairy alternatives market.
Implementation of effective marketing technologies such as segmentation and diversification can lead to an increase in the sales of dairy alternatives. The main objective behind such marketing strategies is to generate demand for these products amongst various types of consumers such as vegans, trainers, and lactose intolerant consumers. Furthermore, it is essential to place the product at the right place, right time, and through the right channel of sales.
Dairy Alternatives Market: Innovative Soy Milk Offerings Gain Demand with Novel Packaging Techniques
Players in the dairy alternatives market are introducing unique dairy alternatives in the food and beverage landscape. According to NIH (National Institutes of Health), ~65% of the world population faces the issue of lactose intolerance. This is why manufacturers in the dairy alternatives market are innovating on alternatives such as soy milk with chickpea protein.
To add further value to their products, dairy alternatives market manufacturers are innovating on novel packaging options such as microwaveable aseptic carton packs. In order to provide 'on-the-go' convenience for consumers, soy milk is designed to be served warm with first-of-its-kind technology of microwaveable packaging. This helps in brand enhancement and premiumization of nutritional beverages, which leads to flexibility for sales through various distribution channels.
Manufacturers in the dairy alternatives market are developing fail-safe packaging mechanisms to protect the product from light, oxygen, scent, water, and even overheating. As such, dairy alternatives market players are increasing the distribution of soy milk products using online retail channels, groceries, and convenience stores. The nutritional value of soy milk is leveraged with high protein ingredients such as cabbage, banana, broccoli, and the like.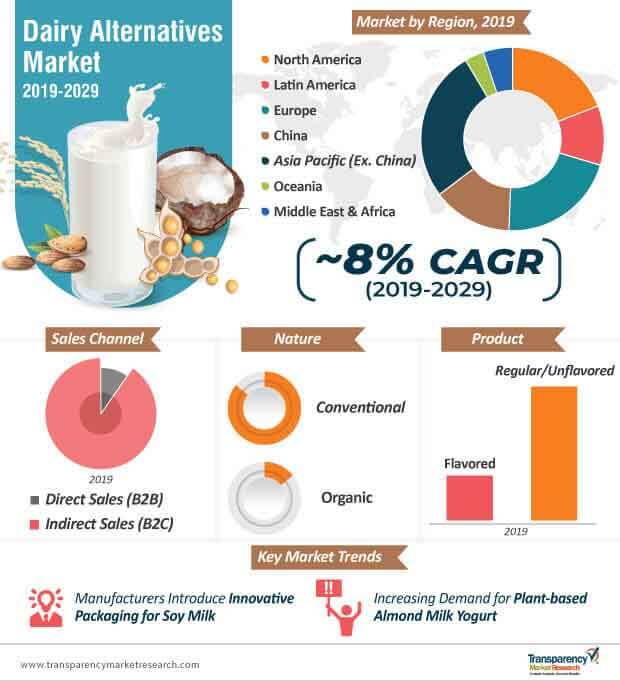 To understand how our report can bring difference to your business strategy, Ask for a brochure
Dairy Alternatives Market: Plant-based Foods Trigger Sales
Manufacturers are increasing product line offerings with expansions in non-dairy alternatives. They are introducing plant-based offerings such as almond milk yogurt. This dairy alternative is made using premium-quality almonds and interesting add-ons such as granola and chocolate chips, to provide excellent taste and texture to the product. Plant-based almond milk yogurt serves as a high quality dairy alternative, free from allergens such as lactose.
Due to the growing demand from consumers for delicious plant-based foods, manufacturers are introducing the crunchy goodness of almonds and other toppings to bring innovation into the growing plant-based yogurt space. For instance, in May 2019, Blue Diamond Growers — a California agricultural cooperative, announced the launch of Almond Breeze Almond milk Yogurt Alternative, a dairy substitute that is a new addition to its plant-based yogurt category.
As the dairy alternatives market is estimated to grow to a value of ~US$ 34.6 billion by the year 2029, oat milk is gaining consumer attention with the introduction of innovative oat milk beverages. Companies are looking to profit from the surge in non-dairy milk sales, and are introducing oat beverages in unflavored as well as flavored essence, such as vanilla.
Request a sample to get extensive insights into the Dairy Alternatives Market
Environmental Concerns and Dietary Changes of Consumers Influence Market Growth
The dairy alternatives market has dominated product innovation and grown tremendously in the last couple of years, which has led to a significant threat to the sales of traditional dairy products. However, the growing demand for plant-based foods has given rise to environmental concerns. Manufacturers have to exert tremendous pressure on water resources to cultivate almonds. Also, rice emits the most greenhouse gases, such as methane, due to bacterial activity in flooded rice paddies. The cultivation of soy and oats requires large land areas, thus leading to deforestation.
Since children are one of the key consumers of dairy alternatives and plant-based milks, the nutritional content of certain plant-based milks do not suffice requirements. For example, almond milk is low in protein, rice milk contains low levels of arsenic, and hemp milk is not easily available in supermarkets and other retail stores. Thus, market players need to consider long-term environmental costs and dietary changes of consumers from dairy to plant-based diets to effectively push the sales of non-dairy products.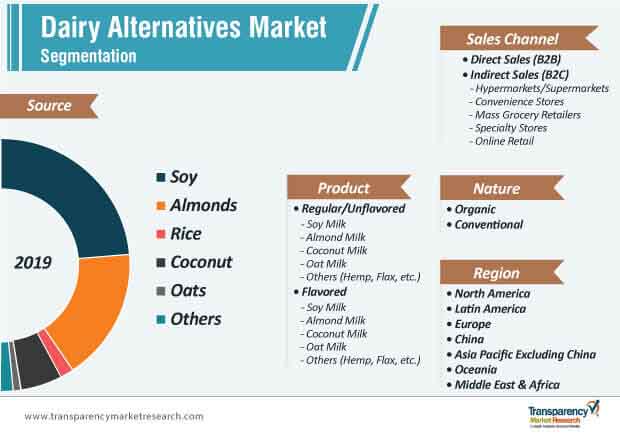 Stuck in a neck-to-neck competition with other brands? Request a custom report on "Dairy Alternatives Market"
Dairy Alternatives Market: Analysts' Viewpoint

Analysts of the dairy alternatives market opine that the market will experience promising growth during the forecast period. Manufacturers must cater to the growing demand for microwaveable and nutritious plant-based beverages for on-the-go consumption, especially targeting in Asia. The concept of active nutrition is increasing in the sports nutrition space with the growing adoption of plant-based diets. Also, vegan cheese is triggering sales in the dairy alternatives market. However, market players are challenged with environmental costs and lack of product availability in developing economies. Thus, manufacturers are adopting sustainable crop cultivation techniques, and increasing distribution via online home shopping channels, specialty stores, and supermarkets. Market players should focus on innovative offerings in soy and almond milk products.
According to Transparency Market Research's latest market report on the dairy alternatives market for the historical period of 2014-2018 and forecast period of 2019-2029, the global dairy alternatives market is projected to be valued at ~US$ 15.6 Bn in 2019, and is forecasted to reach ~US$ 34.6 Bn by 2029, growing at a CAGR of ~8%.
Dairy alternatives are substitutes of dairy products, which are replacing many dairy products and proving beneficial for the dairy susceptible population. These dairy alternatives are plant-based and possess various health benefits in comparison to dairy-based products in the market.
People who are suffering from dairy allergy, lactose intolerance, or those who are moving towards a vegan diet are influencing the growth of the dairy alternatives landscape.
Dairy alternative products are mostly obtained from soy, almonds, rice, coconut, oats, and others. Dairy alternatives are categorized into regular/flavored and unflavored.
Dairy alternatives fulfill the standards of organic farming. They are certified organic by a recognized certification authority, and are considered under the organic beverage category.
Based on sales channel, the market for dairy alternatives is classified into B2B and B2C. B2C is further classified as hypermarkets/supermarkets, convenience stores, mass grocery retailers, specialty stores, and online retailers.
Dairy Alternatives Remain More Preferred than Dairy Products
Increasing prevalence of food-borne allergies & intolerance related to dairy-based food products are boosting the market for dairy alternatives.
Increasing health consciousness among consumers is one of the key factors, due to which, the market demand for dairy alternatives is increasing in food and beverage industries such as bakeries, confectionaries, and others.
Dairy alternatives are witnessing high market demand because of the growing preference for plant-based products among the population.
Another reason for increasing demand for dairy alternatives is the growing number of vegan population. North America, followed by Europe, has the highest number of vegan population; hence, dairy alternatives have become more popular than dairy products.
Asia Pacific to Lead Market Growth
Based on geographical region, the global dairy alternative market is dominated by the Asia Pacific excluding China, ahead of other regions such as Europe, North America, Latin America, and the Middle East and Africa. Asia Pacific holds a significant market share, i.e. ~27% of the global market's value, and is expected to significantly drive the regional demand for dairy alternatives over the coming years.
However, the maximum growth opportunity for dairy alternatives is anticipated to come from Europe in the coming period, because of increasing vegan population.
In the meantime, Latin America is developing as a very encouraging region for players in the global dairy alternatives market for similar reasons.
Growing Concerns Regarding Animal Welfare
Consumers have become more sympathetic and sensitive towards animals, because of the conditions in which they are raised and harvested. Animal welfare is the main factor for costumers moving toward plant-derivative products, comprising dairy alternatives.
Several animals such as cows and buffaloes undergo gene manipulation, and they are also treated with hormones such as BGH and antibiotics to produce more milk. Growth hormones and antibiotics that are used to increase the efficiency and productivity of bovine animals adversely affect their health and increase the frequency of congenital infirmities in their offspring.
Rising Prevalence of Dietary Restrictions
Consumers have become more health conscious these days, and are opting for restrictive diet/food that is mainly focused on more intake of plant-derived products, as well as dairy alternatives.
Though food allergies or intolerances (i.e., lactose intolerance) initiate some of these types of diets, others such as Paleo diet and flexitarian diets are aimed at attaining better well-being, and are being preferred by consumers.
Increasing Vegan Population Driving the Market Demand for Dairy Alternatives
Veganism is a type of diet that includes only plants products. Vegans don't support animal exploitation and don't use or consume animal products.
In the last few years, the vegan population has been consistently increasing, globally. Another reason for increasing veganism is the intolerance or allergy of animal products.
North America and Europe have the largest numbers of vegan population. Dairy alternatives are plant-based products, and due to this, the market for dairy alternatives is increasing rapidly in all industries to fulfill the demands of vegan consumers.
Dairy Alternatives Market: Key Players
Key players in the global dairy alternatives market are
Blue Diamond Growers
Archer Daniels Midland Company
E. I. du Pont de Nemours and Company
The Whitewave Foods Company
Freedom Foods Group Limited
SunOpta, Inc.
Earth's Own Food Company, Inc.
Daiya Foods Inc.
The Hain Celestial Group, Inc.
Eden Foods, Inc.
Sanitarium Health
Wellbeing Company.
Dairy Alternatives Market: Key Developments
Some of the key developments seen in the dairy alternatives market from the past few years are as follows:
In April 2018, Vinamilk, a leading dairy company of Vietnam has launched a soymilk walnut drink; the product is a combination of walnut extract and soy milk.
Daiya, a North American company, launched its product in the European market, which started from London.
Key Segments of the Dairy Alternatives Market
TMR's study on the dairy alternatives market offers information divided into important segments—source, product, nature, sales channel, and region. This report offers comprehensive data and information about the important market dynamics and growth parameters associated with these categories.
Source

Soy
Almonds
Rice
Coconut
Oats
Others

Product

Flavored
Regular/Unflavored

Nature

Sales Channel

Direct (B2B)
Indirect (B2C)

Hypermarkets/Supermarkets
Convenience Stores
Mass Grocery Retailers
Specialty Stores
Online Retail

Region

North America
Latin America
Europe
China
Asia Pacific Excluding China
Oceania
Middle East & Africa
Interested in this report?
Get a FREE Brochure now!