Global Corrosion Protection Tapes Market - Overview:
Protection from rust is one of the most common problem faced for metal components. One such type of tapes are corrosion protection tapes which are used for stopping the process of galvanic corrosion when two metals with different electrode potentials comes in contact with each other for long time. Corrosion protection tapes can be used for various metals such as iron, copper, brass, chrome, bronze, tin, etc. which gets rusted when in contact with air for longer time. In addition, corrosion protection tapes also have the advantage of withstanding heat and cold temperature for a longer time. Some of the corrosion protection tapes can tolerate high temperature up to 80°C and with low temperature as low as 0°C.
Corrosion Protection Tapes Market Scenario
According to Afera (European Adhesive Tape Association) the global tapes market is expected to witness estimated growth of around 5.0% over the next 5 years. It is also estimated to represent a global market of ~39 billion square meters (bsm) in 2015.
Global Tapes by Region:
Exhibit 1 - Source: Afera (European Adhesive Tape Association) 2014-15
Global Tapes by Product Type:
Exhibit 2 - Source: Afera (European Adhesive Tape Association) 2014-15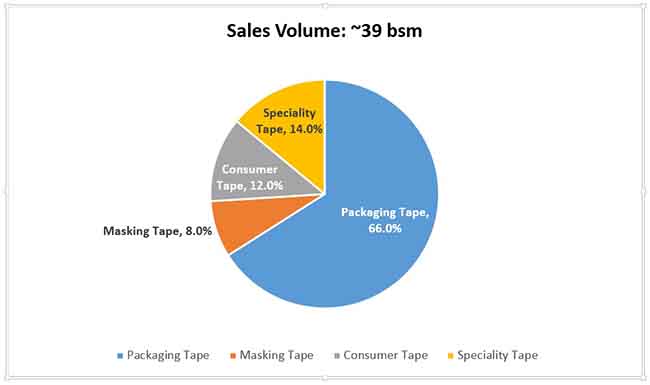 Production Cluster by Region:
Exhibit 3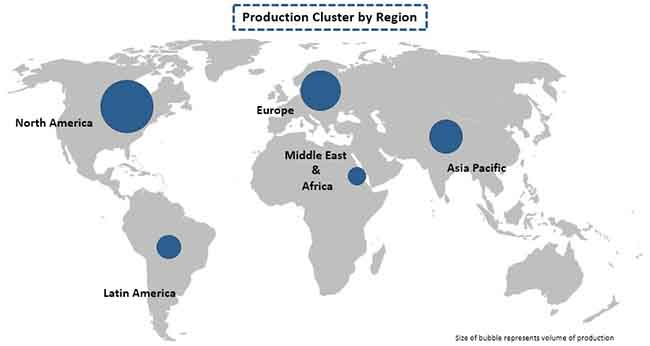 Global Corrosion Protection Tapes - Market Segmentation:
The global corrosion protection tapes market can be segmented by material type, and by end use. Pricing for corrosion protection tapes market has considered based on material type segment in US$ Million and the volume is considered in Million square meter (Mn.Sqm).
On the basis of material type, the global corrosion protection tapes market is segmented into -
Poly Vinyl Chloride (PVC)
Polyethylene (PE)
Polypropylene (PP)
Polyolefins
Petrolatum
On the basis of end use, the global corrosion protection tapes market is segmented into -
Building & Construction
Electrical & Electronics
Automobile
Shipping & Logistics
Aerospace
Defense
In building & construction segment, corrosion protection tapes are mainly used for protecting metal pipes from getting rusted.
In electrical & electronics segment, this type of corrosion protection tapes are used for preventing corrosion for wirings being used in this end use.
In automobile segment, corrosion protection tapes are used for preventing of corrosion in various automotive applications which can get rusted when contact with air, oil or water.
In shipping & logistics segment, corrosion protection tapes is used for mainly used for large metal shipping vessels which are being transported.
In aerospace segment, corrosion protection tapes are used in aircrafts and space shuttles which get contact with stratosphere and troposphere layers where heat is more and corrosion occurs.
In defense segment, corrosion protection tapes are used for mechanical and electronic systems which should not get rusted in any weather.
Global Corrosion Protection Tapes Market – Key players:
Following are the key players for corrosion protection tapes market are being segmented based on tier1, tier2 and China based categories.
Tier 1 players for corrosion protection tapes market: 3M Company, Nitto Denko Corp, Shurtape Technologies, LLC, Scapa Group plc, Berry Plastics CPG, Innovative Manufacturing Inc.,
3M Company – 3M Company is one of the largest manufacturer of corrosion protection tapes in the world. The company manufacturers 3 types of corrosion protection tapes based on the sizes and thickness. Company mainly uses polyvinyl chloride as the backing material and uses rubber resin as adhesive material.
Scapa Group plc – The Company manufactures heavy duty PVC corrosion protection tapes with 0.25mm thickness. The product is available mainly in Asia, Europe and North America.
Nitto Denko Corp – Company manufactures two types of corrosion protection tapes with PVC and petrolatum backing material.
Shurtape Technologies, LLC – Company manufacturers PVC corrosion protection tapes with rubber based adhesive. These types of tapes have good UV resistance.
Tier 2 players for corrosion protection tapes market: Hinni Trachet SA, DEHN + SÖHNE GmbH + Co. KG., PSI Products GmbH, Heskins Ltd, Coroplast Fritz Müller GmbH & Co. KG, Sam Hwan Anti-corrosion Industrial Co.,
China based players for corrosion protection tapes market are as follows: Jining Xunda Pipe Coating Materials CO.,Ltd., NingBo Ideal Anti corrosion Material Co.,Ltd., Quanmin Plastic Co.,Ltd., Dasheng Heat Shrinkable Material Co., Ltd.
This upcoming business intelligence report is intended to be a one-stop market research solution to guide organizations in taking timely and effective decisions for their business growth. The ongoing study is the culmination of our deep expertise on data science methods, combined with an unparalleled understanding of the external environment and analysis of the industries. Each of the reports by TMR aims at offering a detailed scrutiny of the value chain of our current and prospective customers, takes them from identifying value propositions, and subsequently assist their business executives to implement right strategies to create customer value. We believe that creating and sustaining the customer value is the key pivot on which business executives can create profits for their organizations and increase the market shares, continuously and with sustainability.
Each of our touchpoints through which we engage with the organization/enterprise during the primary research enables us to understand the internal environment it operates in and the ways in which the external environment influences its growth.
Always Evolving with Competition
Excellence is built into the DNA of TMR, and all our teams work collaboratively and committedly toward achieving that in whatever they do. From the very first interaction our teams of research analysts have with any interested market participant to the final preparation processes in each of our reports reflects a rigorous understanding of the dynamic industry environment that businesses operate in.
We relentlessly work to be a differentiator in whatever we do in the current era of hypercompetitive global environment. The result of our unceasing focus on excellence is reflected clearly in the insights and guidance we offer to our customers in order to empower them to create brand equity. Our simple yet very powerful underpinning for navigating the competition is to always keep evolving with changing business environments. Our close-kinit team of research analysts not only believe in this simple philosophy but also implement the same.
Constantly Innovating Our Research Methodologies and Models
We do not limit with any specific market research tool or one standard approach for obtaining or analyzing data. Undoubtedly, our report making process is ever-evolving to meet the customer needs and demands supported broadly by a vast knowledge of data science methods that we combine with business acumen our teams have built upon for several years. Evidently, our primary and secondary research data about customers and consumers have shown that we can go to any lengths to obtain them. This is followed by applying next-gen automation tools integrated with human judgement to clear the clutter, ascertain the most relevant and recent qualitative and quantitative insights, and package them in digestible chunks in our reports for our customers.
We Take Pride in No-One-Size-Fits-All Approach
Over the past several years, we have been conducting market intelligence studies across all industries for all types of organizations — big and small, profit and not-for-profit, and Fortune 500 and Unicorns, as we believe that a sound decision making must be based on no-one-size-fits-all approach. Without doubt, each of the organizations regardless of the industry they are in are affected differently by changes in political, economic, socio-culture, legal, ecological, and legal environments. The research models and the value chain analysis process that our analysts employ for conducting the study uphold this approach.
We look at myriad components of internal and external business environment affecting the growth strategies of organizations. Some of the broader aspects that we focus on are:
Our team of Analysts and Support Teams always strive to see the bigger picture in life cycle stages of any industry
The Teams focus on obtaining valuable insights into different models of competitive advantage while making an internal environment analysis
They keep on modifying the value chain analysis processes of organizations to understand on how customer value is created
Some areas of assessing market dynamics that are used in the research models and methodologies adopted by our analysts can be summarized as:
Corporate and business strategies underlying new brand positioning strategies
Mapping for strategic planning for business units
Various metrics for business portfolio analysis, including BCG matrix
Value chain analysis
These will help create and sustain competitive advantage for our prospects and current customers.
Key focus areas and agenda that underpin and catalyze our primary and secondary research initiatives and endeavors are:
What are some of the core competencies and distinctive competencies of new entrants and established players in the industry we are analyzing?
What are some of the branding opportunities that are emerging at a rapid pace?
What are the major competitive forces and elements of external environment shaping the industry life cycle stages of most organizations?
Why some competitive strategies are popular than others among leaders in a certain market?
What customer-based brand equity strategies companies have leveraged in a certain industry or set of related industries in a sector?
What are some of the key pricing strategies that companies in an industry are implementing for marketing their products internationally?
Identifying whether market-push or market-pull strategies are more relevant to a certain product or a service?
Disclaimer: This ongoing market research study is a meticulously planned activity where a broad array of factors and aspects that shape the marketing environment and industry are taken into account. However, keeping in mind the constantly changing nature of business dynamics and changing strategic intents, we are always actively making iterations and modifications in our approaches. As always, we are ready to tailor our insights and guidance to suit your requirements. Engage with us to know what more is there for your CXOs.
Corrosion Protection Tapes Market