Cornmeal Market
Cornmeal Market (Format: Whole Grain Corn, Bolted Corn, Degerminated; Nature: Organic, Conventional; Product: White Cornmeal, Yellow Cornmeal, Blue Cornmeal; Granulation: Fine, Coarse, Medium; End Use: Food Processing Industry, Food Service Providers, Household/ Retail; Class: Unenriched, Enriched; Distribution Channel: B2B, B2C) - Global Industry Analysis, Size, Share, Growth, Trends, and Forecast, 2019 - 2029
Category :

Food & Beverages

Format :
Surging Demand for Nutrient-rich Cornmeal in Coating and Bakery Applications
Cornmeal has been witnessing growing demand in several bakery applications. It also serves as a key ingredient in polenta, tortillas, and cornbread. As such, cornbread is largely popular in the U.S. This trend is anticipated to surge during the forecast period, and is estimated to contribute to the large market value share of the North America cornmeal market. There is growing demand for cornmeal with high fiber content in the U.S. Hence, companies in the cornmeal market are increasing the production of stone ground cornmeal that adds more flavor, is grainier, and is also more nutritious than cornmeal produced by steel milling.
Household / retail accounts for the highest production amongst all end uses in the cornmeal market, with an estimated output of ~986,700 metric tons by the end of 2029. Individuals in households and restaurants are using cornmeal for innovative food coating systems. Breadings and batters are commonly referred to as coatings that add value to products offered by hoteliers, since cornmeal provides the additional sensory dimension to meat cuisines through color, flavor, and texture. Coating serves as a cost-efficient technique, increasingly used by processors to produce emulsified products. To serve the needs of health-conscious consumers, hoteliers are using grain-based mixtures of cornmeal to boost nutrition in meals. Coatings also help serve other value-add functions, such as retaining moisture to produce more succulent-finished food products.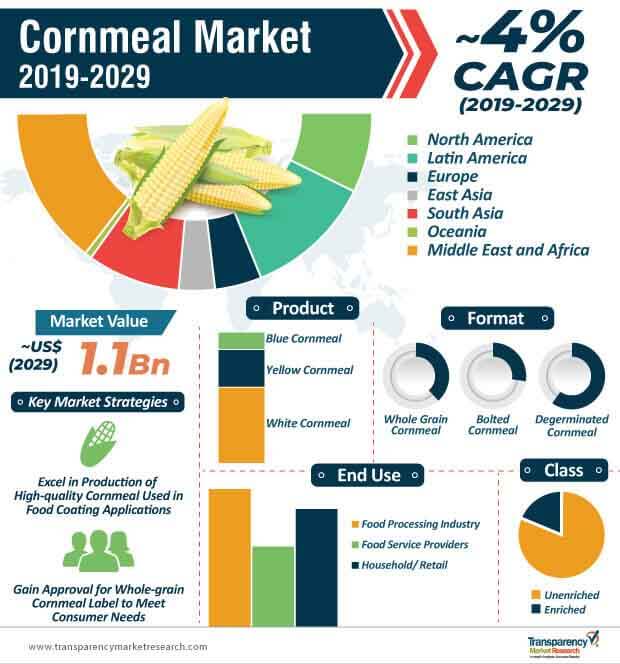 Request a sample to get extensive insights into the Cornmeal Market
Trend of Whole Grain and Gluten-free Products Spreading across American Countries
Growing awareness about gluten free products has intensified the demand for cornmeal. The high presence of gluten-intolerant individuals has triggered the demand for foods with cornmeal. Thus, companies in the cornmeal market are capitalizing on this trend of gluten-free products and are expanding their portfolios in cereals, chips, grain alcohol, and breading for frying products. The gluten-free aspect is creating a ripple effect in the domain of grain-based flours. The surging demand for gluten-free grain-based flours has catalyzed the demand for oats, millets, and cornmeal.
The rapidly growing baking industry is also adding to the growth of gluten-free cornmeal-based grain flours. Companies in the cornmeal market are increasing their scope for incremental opportunities through excessive sales of bakery products such as breads, cookies, and pastries. There is growing demand for cornmeal-based grain flours in the U.S., Latin America, and South Asia. The trend of gourmet food has been encircling many African-American kitchens lately. The culinary foothold of grits in Southern cuisines of African-American individuals is very prominent. Thus, the whole-grain and gluten-free trend has spurred the exploration of corn-based products such as stone-ground grits.
To understand how our report can bring difference to your business strategy, Ask for a brochure
Companies Focusing on Needs of Atherosclerosis Patients
Consumers are becoming increasingly aware about the health benefits of cornmeal. However, certain dietary disadvantages of cornmeal have led to resistance for its consumption from consumers, as they look for substitutes.
For instance, corn is found to have too many carbohydrates. It has also been found that corn is difficult to digest, and is high in sugar and fat. Due to this, manufacturers in the cornmeal market are observing a shift in consumer preferences. Consumers are consciously looking for cornmeal substitutes, such as breadcrumbs, in various food processing applications.
Dietary disadvantages of corn explain the modest growth of the cornmeal market, which is projected to account for a CAGR of ~4% throughout the forecast period. However, the cornmeal market is highly fragmented; ~89% of unorganized players who currently dominate the global landscape, with a revenue ballpark of ~US$ 660 million in the year 2018. Manufacturers are catering to the needs of consumers who are recommended to incorporate cornmeal into their diets. For instance, manufacturers are increasing focus on whole grain cereals that are highly recommended for atherosclerosis patients. Cornmeal comes under the category of nutrient-dense foods that are necessary to fulfill the dietary requirements of atherosclerosis patients. Manufacturers are capitalizing on the growing demand for cornmeal from elderly individuals suffering from osteoporosis.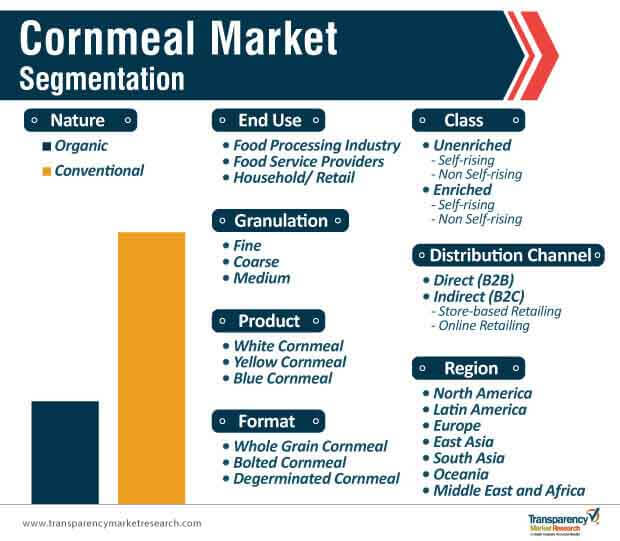 Stuck in a neck-to-neck competition with other brands? Request a custom report on "Cornmeal Market"?
Analysts' Viewpoint

Organic grain farmers are introducing grain share programs that educate consumers about the alternatives to mainstream products. Through these programs, consumers are becoming increasingly aware about heritage red cornmeal used to prepare cornbread. However, the ongoing debate about GMO corn being unhealthy has created an ambiguous perception amongst many consumers. Hence, companies in the cornmeal market are increasing their efforts to gain approval for clean labels, such as 'whole-grain cornmeal', to serve the needs of consumers. Companies should increase their capabilities to better the quality of cornmeal used in baking applications. They should also increase their production capacities in whole grain and gluten-free products.
Cornmeal Market: Overview
According to Transparency Market Research's latest market report on the cornmeal market for the historical period of 2014 - 2018 and forecast period of 2019 - 2029, globally, revenue generated by the cornmeal market is estimated at ~US$ 775 million in 2019, and is expected to witness a CAGR of ~4% in terms of value throughout the forecast period.
Latin America and Africa to Remain Lucrative Cornmeal Markets
Cornmeal is used mainly in traditional food products specific to particular regions in Latin America and Africa. In most parts of Africa, corn is the staple food as well as a grain consumed in the highest quantity across the continent. This trend is also found in Latin America. The consumption of traditional food products has been steady in Africa and Latin America, which remain the largest consumers of cornmeal.
Large quantities of cornmeal are also being imported from other regions as a result of the imbalanced demand and supply ratio. Despite Westernization and changing tastes, the demand for cornmeal has remained steady or increased, depending upon the country/region. In other modernized countries, traditional dishes are modified as per taste, but consumption has not stopped, resulting in increasing demand for cornmeal.
Millennials to Account for Increased Demand for Whole Corn Cornmeal
Millennials form a large portion of the population that focuses on leading a healthier life without compromising on taste or quality.
Different types of cornmeal formats are available, such as whole corn, bolted, and degerminated format. Although the degerminated cornmeal format is used the most, the demand for whole grain cornmeal is higher as a result of the high nutrition that this format of cornmeal offers.
Whole grain cornmeal is used more in households instead of in the food processing industry, due to the high price involved.
Innovative Taste Profiles of Cornmeal to Bolster Market Growth
Technological innovations leading to the development of food products offering unique flavor profiles and textures have expanded the dimensions of the food and beverage industry. Cornmeal manufacturers operating on a global scale are continuously introducing new products to retain and attract consumers in this intensely-competitive landscape.
Cornmeal manufacturers have introduced self-rising and enriched cornmeal with increased nutritional properties to meet and boost the rising demand for cornmeal in bakery products. The incorporation of cornmeal into food products offers enhanced nutritive benefits, and increases the value of and demand for the food product. Additionally, the resulting reduction in the need for additional processing methods has boosted the demand for cornmeal in the foodservice industry.
Nutrition Benefits of Cornmeal to Increase Usage by Food Industry
Corn is a good source of carbohydrates, and is being consumed by people on a regular basis. Cornmeal contains the entire corn kernel, and goes through minimum processing as compared to other corn products. This helps in retaining all the nutrients of corn, and enhances the nutritional value of food products to which it is added.
Affordable prices and added nutritional value make corn an economical choice for incorporation into food products. Additionally, the use of corn enhances the texture and taste of food products. High demand for corn-based snacks such as tortillas, chips, taco shells, etc., has been witnessed.
Cornmeal Market: Competitive Landscape
The cornmeal market is a highly fragmented market, with more than 80% of the market dominated by unorganized players.
Global market players in the cornmeal market make up only around 10% of the total market share, and are present mainly in North America and Europe. These market players are -

Archer Daniels Midland Company,
Cargill Inc.
General Mills, Inc.
Grain Millers, Inc.
Bunge Ltd.
Anson Mills, Ltd.
Goya Foods, Inc.
The Quaker Oats Company
Bob's Red Mill Natural Foods, Inc.
Adluh - Allen Bros. Milling Company
Nunn Milling Co.
Dover Corn Products, Ltd.
​Hometown Food Company, and others.

Unorganized players in the cornmeal market are present mainly in Africa, South Asia, Latin America, and East Asia. They operate on a small scale, and provide cornmeal mainly in their local areas.
Cornmeal Market: Key Developments
Some of the key developments seen in the cornmeal market during the past few years are as follows:
In January 2018, Bunge Ltd., a company based in the U.S., acquired two corn mills in the United States from Grupo Minsa, S.A.B. de C.V. This acquisition expanded the company's product portfolio, which did not previously include masa - a pre-cooked cornmeal.
In June 2019, a Grist Mill, named McHargue's Mill, was opened to manufacture cornmeal for sale to retail and B2B consumers in North Dakota. This mill was originally built in the year 1806, but opened for service after a very long time. The company also specializes in manufacturing organic cornmeal without any preservatives.
In September 2018, Empresas Polar's brand of pre-cooked cornmeal launched a food truck in North America to celebrate World Arepa Day, and to make consumers in the region aware about the nutritional benefits of cornmeal. The food truck was on tour in the U.S. for five consecutive weeks.
Cornmeal Market - Scope of the Report
Transparency Market Research (TMR) recently published a market study on cornmeal. The study provides detailed assessment on key market dynamics, including the drivers, trends, opportunities & restraints, and comprehensive information about the cornmeal market structure. The market study presents exclusive information about how the cornmeal market is anticipated to grow during the forecast period of 2019-2029.
Key indicators of market growth, which include year-on-year (Y-o-Y) growth of the market, value chain, supply chain analysis, and compounded annual growth rate (CAGR) are explained in TMR's study in a comprehensive manner. This information can help readers understand the quantitative growth prospects of the cornmeal market for the forecast period.
The study is relevant for stakeholders in the cornmeal market, including cornmeal manufacturers, suppliers, distributors, and investors, and can help them in developing efficient strategies to grow in the market. Industry experts, researchers, and journalists, as well as business researchers can leverage the information and data presented in TMR's study.
The study also includes statistics as well as facts related to the macro as well as microeconomic factors that are impacting developments in the cornmeal market. It also offers actionable insights based on the future trends in the cornmeal market. Furthermore, small businesses and new entrants in the cornmeal market too can use the information presented in this study to make effective business decisions in order to gain momentum in the market.
Key Questions Answered in TMR's Cornmeal Market Report
Which regions will continue to remain the most profitable regional markets for cornmeal market players?
Which factors will induce a change in the demand for cornmeal during the assessment period?
How will changing trends impact the cornmeal market?
How can market players leverage opportunities in the cornmeal market in developed regions?
Which companies are leading the cornmeal market?
What are the winning strategies of stakeholders in the cornmeal market to upscale their position in the competitive landscape?
Cornmeal Market: Research Methodology
In TMR's study, a unique research methodology is utilized to conduct extensive research on the growth of the cornmeal market, and reach conclusions on the future growth parameters of the market. This research methodology is a combination of primary and secondary research, which helps analysts ensure the accuracy and reliability of the drawn conclusions.
Secondary resources referred to by analysts during the production of the cornmeal market study include statistics from governmental organizations, trade journals, white papers, and internal and external proprietary databases. Analysts have interviewed senior managers, product portfolio managers, CEOs, VPs, marketing/product managers, and market intelligence managers, who contributed to the development of this report as a primary resource.
Comprehensive information acquired from primary resources and secondary resources acts as a validation from companies in the cornmeal market, and makes TMR's projection on the growth prospects of the cornmeal market more accurate and reliable.
Key Segments of Cornmeal Market
TMR's study on the cornmeal market offers information divided into important segments - format, nature, product, granulation, end use, class, distribution channel, and region. This report offers comprehensive data and information about the important market dynamics and growth parameters associated with these categories.
Format

Whole Grain Cornmeal
Bolted Cornmeal
Degerminated Cornmeal

Nature

Product

White Cornmeal
Yellow Cornmeal
Blue Cornmeal

Granulation

End Use

Food Processing Industry
Food Service Providers
Household/ Retail

Class

Unenriched

Self-rising
Non Self-rising

Enriched

Self-rising
Non Self-rising

Distribution Channel

Direct (B2B)
Indirect (B2C)

Store-based Retailing

Hypermarkets/ Supermarkets
Convenience Stores
Specialty Stores
Independent Grocery Stores

Online Retailing

By Region

North America
Latin America
Europe
East Asia
South Asia
Oceania
Middle East and Africa
Custom Market Research Services
TMR offers custom market research services that help clients to get information on their business scenario required where syndicated solutions are not enough.
REQUEST CUSTOMIZATION