Compression Therapy Market: Snapshot
Compression therapy, mostly used in treating musculoskeletal and spinal injuries in sportspersons and athletes, has been gaining traction steadily in the market. Its demand has been supported by the rising prevalence of orthopedic problems and obesity worldwide. Providing headwinds to its swift uptake is the dearth of solid reimbursement policies. Increasing investments in developing economies and the unmet medical needs in these countries, however, will help to overcome the market restraint.
Currently, the global compression therapy market is highly fragmented on account of the presence of numerous local and global companies. To gain a competitive edge, astute players are resorting to mergers and acquisitions and collaborations. They are also increasing focusing on the relatively untapped markets in Asia Pacific. Further, entry barriers to new players in the market is relatively low on account of lack of proper regulations for the commercialization of products and forward integration by raw material suppliers.
Transparency Market Research forecasts the global market for compression therapy to expand at a CAGR of 5.3% from 2016 to 2024 to attain a value of US$4.24 bn by 2024 from US$2.69 bn in 2015.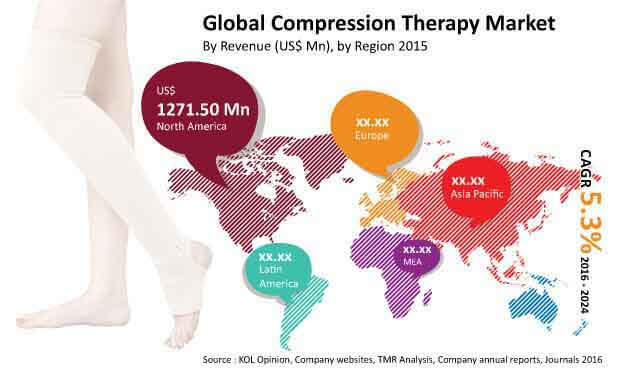 Clinical Evidence Propels Demand for Static Compression Products
Depending upon the technology leveraged, the global compression therapy market can be bifurcated into static and dynamic. Of the two, the static compression products holds out a strong promise of growth. This is because static garments are preferred more by doctors for patient care on account of clinical evidence supporting them. Patients also prefer static compression hosiery as they are crafted from comfortable materials and impart a better look. Other factors leading to their swift uptake is their affordability and easy availability.
The different types of compression therapy products available in the market are compression pumps, compression tapes, compression stocking, and compression bandages. Compression pumps can be further segmented into intermittent and sequential. Similarly, compression stocking can be classified further into gradient and anti-embolism. Of these, bandages hold a sway over the market. In 2015, it held a whopping 43.1% of the market.
Underserved Asia Pacific Market Holds out Strong Promise
From a geographic standpoint, North America spells maximum opportunity in the global market for compression therapy. It accounted for almost 47.2% of the market in 2015 and was trailed by Europe, with a 32.2% share. The market in the U.S. provides ample room for growth on account of the widespread prevalence of obesity that ups the risk of vascular diseases. As per the American Academy of Orthopedic Surgeons (AAOS), around 600,000 knee arthroplasty surgeries were conducted in the U.S. in 2010 and by 2030 the number is slated to exceed 3 million.
Besides North America and Europe, Asia Pacific and Latin America are other key markets that hold out strong promise of growth on account of widespread unmet demands. The countries of Brazil, Mexico, South Korea, China, and India will help to power maximum growth in the regions. Other factors stimulating the market in Asia Pacific are rising investment in healthcare infrastructure, growing disposable income, and higher occurrence of chronic ailments.
Compression therapy is a medical procedure in which external pressure is applied to the skin and underlying structure (organ) to promote normal flow of venous blood in the body. Recognized as a gold standard for treating lymphedema, chronic venous insufficiency, and deep vein thrombosis, compression therapy is safe, easy-to-use and provides effective treatment in a short time span. The therapy aims to increase venous and lymphatic fluid in the limb through the utilization of an external force (exerted by compression products). This report studies the current scenario as well as future market potential for compression therapy across the globe. The research comprises an elaborate executive summary, which includes a market snapshot that provides market dynamics of various segments and sub-segments that are included in the report in a precise manner. The report provides in-depth analysis of the compression therapy market. The stakeholders for this report include companies involved in the manufacturing of compression pumps, bandages, tapes and stocking. The executive summary section further summarizes the market size, trends and competition in different regions.
The market overview section of this report analyzes market dynamics such as drivers, restraints and opportunities that influence the compression therapy market in the current and future scenario. Market share analysis among the market players is analyzed to signify percentage share of the major players operating in the compression therapy market. All these factors will help the market players to decide about the business strategies and plans to be incurred in future for strengthening their position in the global market.
The compression therapy market has been segmented as technology, products and geography. Based on technology, the global compression therapy market has been segmented into static and dynamic technologies. Product for compression therapy include compression pump, compression bandage, compression stocking, and compression tape. Compression pump has been further segmented as intermittent and sequential compression pump whereas compression stocking is categorized into gradient and anti-embolism stockings.
Geographically, the compression therapy market has been categorized into North America, Europe, Asia Pacific, Latin America, and the Middle East and Africa. Moreover, analysis for the major countries comprising U.S. Canada, Germany, U.K., Japan, China, Brazil, Mexico, UAE and Saudi Arabia have also been provided in the report. A detailed qualitative analysis of the factors responsible for driving and restraining the growth of the compression therapy market in various regions has been provided in this section.
The report provides market estimation of compression therapy market in terms of revenue (US$ Mn) for all the segments and sub segments with CAGR % for period 2016 to 2024, considering 2015 as the base year. Furthermore, the report incorporates market attractiveness analysis by geography category that depicts the most attractive region in the global market during the forecast period from 2016 to 2024.
Recommendations section in the report would assist new companies in establishing their presence and market players in expanding their market share in the compression therapy market. The report concludes with the company profile section which includes company overview, financial overview, product portfolio, business strategies and recent developments for market players. The major players that are profiled in the report include 3M Health Care, ArjoHuntleigh, Bio Compression Systems, Inc., BSN Medical, Covidien plc, medi GmbH & Co KG, PAUL HARTMAN AG and SIGVARIS MANAGEMENT AG.
The global compression therapy market is segmented into the following categories:
Compression Therapy Market, by Technology
Compression Therapy Market, by Product
Compression Pumps
Compression Bandages
Compression Stocking
Compression Tapes
Compression Therapy Market, by Geography
North America
Europe

Germany
U.K.
Rest of Europe

Asia Pacific
Latin America

Brazil
Mexico
Rest of LATAM

Middle East & Africa

Saudi Arabia
UAE
Rest of MEA