Cocoa Fiber Market
Cocoa Fiber Market (Nature: Conventional and Organic; Product Type: Dutch and Natural; End Use: Food & Beverages Industry [Bakery & Confectionery, Dairy Products, Beverages, and Other Applications], Pharmaceuticals, Nutraceuticals, Animal Feed, Cosmetics & Personal Care, Retail, and Foodservice; and Sales Channel: Direct Sales/B2B and Indirect Sales B2C [Hypermarkets/Supermarkets, Convenience Stores, Independent Grocery Stores, Discount Stores, Specialty Stores, and Online Retail]) - Global Industry Analysis, Size, Share, Growth, Trends, and Forecast, 2020 - 2030
Food & Beverages
TMRGL77409
2020-05-27
270

Pages
Strategic Collaborations Help Safeguard Health of Cocoa Farmers amidst COVID-19 Outbreak
Companies are entering into strategic collaborations to support cocoa farmer communities in Côte d'Ivoire amidst the COVID-19 (coronavirus) outbreak. For instance, Barry Callebaut— a global chocolate manufacturer, announced to collaborate with Unilever— a global leader in consumer goods, to distribute ~10,000 pieces of soaps among cocoa farmer communities in Côte d'Ivoire and educate them about hygiene and precautionary measures while farming. Such social initiatives are boosting the credibility credentials of companies in the cocoa fiber market.
Along with supporting cocoa farmers, companies in the cocoa fiber market are increasing efforts to distribute official World Health Organization (WHO) posters containing protective instructions for farmer groups. Thus, the act of public awareness is helping to contain the spread of coronavirus.
Request a sample to get extensive insights into the Cocoa Fiber Market
Producers Fulfill Demand for Low-fat Cocoa Fiber Used in Beverages and Fitness Bars
The ever-evolving bakery industry is generating incremental opportunities for companies in the cocoa fiber market. Hence, producers are increasing the availability of low-fat cocoa fiber. For instance, GreenField— a provider of innovative natural food ingredients, is increasing its R&D efforts to produce low-fat cocoa fiber with strong color and flavor. High fiber content in chocolate beverages and bakery goods are creating revenue streams for manufacturers in the cocoa fiber market.
To understand how our report can bring difference to your business strategy, Ask for a brochure
Manufacturers are fulfilling consumer demand for dietary fibers that provide good water and fat binding capacities in products. This trend is eliminating the need for stabilizers and emulsifiers in recipes. The applicability of cocoa fiber is surging in cocoa coatings, chocolate bases, fitness bars, extruded snacks, and in fiber-rich spreads. However, cocoa fiber is under the scrutiny of the FDA (Food and Drug Association) to classify it as a dietary fiber. The FDA is reviewing cocoa fiber, along with several other natural fibers such as barley fiber, sugarcane fiber, and sugar beet fiber, among others, to classify it as a dietary fiber.
Companies Unlock Cost Efficient Potentials of Cocoa Fiber in Baked Goods
Cocoa fiber is acquiring prominence in baked goods. As such, cocoa powder is a virtually an indispensable part in most confectionaries and baked goods. It has been found that the U.S. is one of top cocoa consuming countries in the world. However, the price of cocoa powder is rapidly growing worldwide. Hence, companies in the cocoa fiber market are capitalizing on this trend and promoting cocoa fiber as a less expensive and healthy option that enhances the taste of baked goods. Since cocoa fiber is not chemically processed, consumers are raising the demand for the natural fiber.
In order to strike the right balance between health and indulgence, bakers are restoring their confidence in cocoa fiber and are replacing cocoa powder up to a 100% in bakery products. Thus, growing popularity of fiber is encouraging companies in the cocoa fiber market to increase their production capabilities. As such, fiber usage also demands extra water to maintain the consistency of the final product.
Micronized Cocoa Fiber Gains Popularity as Bulking Agent to Replace Sugar
Cocoa fiber is being used as a bulking agent to replace sugar in chocolates. For instance, global solutions-driven supplier of high-quality food ingredients, Healy Group, introduced a new ingredient PrimaFi Cocoa, which is a micronized cocoa fiber used as a bulking agent to replace sugar in chocolates. However, other additional sweeteners are required to enhance the taste of chocolates made with micronized cocoa fiber. Thus, micronized cocoa fiber helps to manage sugar levels of consumers, but also requires additional sweeteners for taste enhancement.
Micronized cocoa fiber acts as an efficient bulking agent against sugar. However, companies in the cocoa fiber market are aware that flavor and sweetness are subjective according to each individual consumer and hence, prefer including additional natural sweeteners to meet consumer requirements. Companies in the cocoa fiber market are promoting health benefits of cocoa fiber and educating consumers that the fiber delivers digestive wellbeing.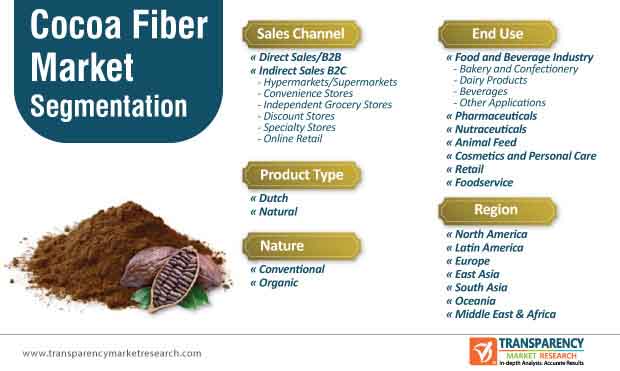 Stuck in a neck-to-neck competition with other brands? Request a custom report on Cocoa Fiber Market
Analysts' Viewpoint
Supply disruptions due to lockdown regulations have led to a slump in the prices of cocoa amidst the COVID-19 outbreak. Companies in the cocoa fiber market are taking keen interest in conducting a series of blind tests to identify how cocoa fiber alters the consistency of muffins and other bakery goods to partially and completely replace cocoa powder in products.

Cocoa powder is being highly preferred in chocolate flavored and low-fat products. However, the International Organization for Standardization (ISO) has issued stringent regulations pertaining to food safety guidelines for companies. Hence, companies should increase efforts to monitor the levels of polycyclic aromatic hydrocarbons (PAH) in cocoa fiber and its derived products.
Cocoa Fiber Market: Overview
The global market value for the cocoa fiber market stood at ~US$ 345 Mn in 2020, finds Transparency Market Research (TMR) in a recent study. According to the report, the market is expected to reach ~US$ 747 Mn by 2030, at a CAGR of 7.6%.
The cocoa fiber market is expected to have a lucrative business due to the increasing demand from various industries. The global cocoa fiber market is also driven by the growing application for the production in the bakery, confectionery, cosmetics, pharmaceuticals, nutraceutical, and animal feed segments. Besides this, the increasing demand for RTE (Ready-to-Eat) and RTD (Ready-to-Drink) products is driving the cocoa fiber market.
Cocoa fiber and other cocoa-based products are among the key ingredients used in the food & beverages industry
Cocoa Fiber: Market Frontrunners
Organic and conventional cocoa fiber are the key segments in terms of nature, among which the conventional segment is leading and in 2020, it accounts for 89.6% of the market in terms of value.
Natural is the leading segment in the global cocoa fiber market on the basis of the product type and is followed by the Dutch type segment. These segments account for 73.7% and 26.3% of the market, respectively, in term of value.
Based on end use, the global cocoa fiber market is classified into food & beverages industry, pharmaceuticals, nutraceuticals, animal feed, cosmetics, personal care, retail, and foodservice, among which the food & beverages industry segment holds the dominant share of ~45% in the market in terms of value.
In terms of distribution channel, the market is categorized into direct sales/B2B and indirect sales/B2C distribution channel. Currently, in 2020, the B2B segment holds approximately ~54.8% market share.
Geographically, the market encompasses North America, Latin America, Europe, East & South Asia Oceania, and Middle East & Africa (MEA). Among these regions, Europe holds the leading market share of ~38.9% followed by South Asia and North America, accounting for 17.6% and ~18.9% of the total market share, respectively.
Cocoa Fiber Market: Trends
Growing popularity of dark chocolates drives market
Dark chocolate is purported to have numerous health benefits such as it helps in improving heart health, reducing cholesterol, ensuring better cognitive function, lowering blood pressure, and potential cancer risk prevention. Dark chocolate usually has a higher cocoa content ranging from 50% all the way up to 99% cocoa. Although primary consumers of chocolate are children, dark chocolate is preferred by adults due to its aforementioned health benefits. Due to these properties, the market for cocoa fiber is anticipated to grow significantly in the forecast period.
Extensive marketing and promotional campaigns by chocolate manufacturers
Chocolate manufacturing companies often advertise their products aggressively to spur sales and expand customer base. Manufacturers are focusing on spreading awareness about the health benefits associated with chocolate, thereby driving the global cocoa fiber market. Companies are working on promoting cocoa-derived products in restaurants, convenience stores, and retail outlets and sometimes offer free samples to consumers. Furthermore, celebrity endorsement often plays a key role in product promotion. Famous celebrities are endorsing chocolate brands across the world, which in turn significantly influences their fan base by creating a level of trust and affinity for the product.
Cocoa Fiber Market: Strategies
Key manufacturers in the global cocoa fiber market are introducing various products via e-Commerce also offering huge concessions on their offerings to boost online sales. They are also focusing on the expansion of their product range to woo consumers.
Product Launches and Key Innovations: Market players have started introducing products with various health benefits.

In January 2020, Healy Group– an Ireland-based company has launched a cocoa fiber-based product PrimaFi Cocoa. This product contains natural, and dietary cocoa fiber that replaces 40% sugar without hindering the mouthfeel.
Target Region for Cocoa Fiber Market
As of 2020, Europe holds the leading market share and is anticipated to continue leading the global cocoa fiber market during the forecast period. Following Europe, South Asia and North America hold the second leading market share.
Cocoa Fiber Market: Players
Some of the leading companies operating in the global cocoa fiber market, as profiled in the study, include Ingredients by

Healy Group.
Archer Daniels Midland Company
Barry Callebaud
GreenField
Interfiber,
Jindal Cocoa,
United Cocoa Processor
Carlyle Cocoa
Euroduna Food Ingredients.
Cargill Inc.
Cemoi and Moner Cocoa,
Cocoa Fiber Market - Scope of the Report
Transparency Market Research (TMR) has recently published a market study on the cocoa fiber market. It provides a detailed assessment of key market dynamics, including the drivers, trends, opportunities & restraints, and detailed information about the cocoa fiber market structure. The market study presents exclusive information about how the cocoa fiber market will grow during the forecast period of 2020-2030.
Key indicators of market growth, which include year-on-year (Y-o-Y) growth of the market, value chain, supply chain analysis, and compounded annual growth rate (CAGR) are elaborated in the study in a comprehensive manner. This information is intended to help readers understand the quantitative growth prospects of the cocoa fiber market during the forecast period.
The study is intended to offer a holistic market overview to stakeholders in the cocoa fiber, including manufacturers, suppliers, distributors, and investors, and to help them develop winning growth strategies. Stakeholders in the cocoa fiber market, which include investors, industry experts, researchers, and journalists, and business researchers, can leverage the information and data presented in TMR's study.
The study also includes statistics and facts related to the macro as well as microeconomic factors that are impacting expansion of the market. It also offers actionable insights into the future trends in the cocoa fiber market. Furthermore, small businesses and new entrants in the cocoa fiber market can make use of the information presented in this study, based on which, they can make appropriate business decisions in order to gain momentum in the market.
Key Questions Answered in TMR's Cocoa Fiber Market Report
Which region will continue to remain the most profitable regional market for cocoa fiber market players?
Which factors will induce a change in the demand for cocoa fiber during the assessment period?
How will the changing trends impact the cocoa fiber market?
How can market players capitalize on the low-hanging opportunities in the cocoa fiber market in developed regions?
Which companies are leading the cocoa fiber market?
What are the winning strategies of stakeholders in the cocoa fiber market to catapult their position in the forefront?
Cocoa Fiber Market: Research Methodology
In TMR's study, a unique research methodology is used to conduct extensive research on the growth of the cocoa fiber market and identify future growth parameters. This research methodology is a combination of primary and secondary research, to help analysts ensure the accuracy and reliability of the conclusions.
Secondary resources referred to by analysts for compiling the cocoa fiber market study include statistics from governmental organizations, trade journals, white papers, and internal and external proprietary databases. Analysts have interviewed senior managers, product portfolio managers, CEOs, VPs, marketing/product managers, and market intelligence managers, who contributed to the development of this report as a primary resource.
Information acquired from primary resources and secondary resources is compiled in a comprehensive manner. This also acts as a validation from companies in the cocoa fiber market, which makes TMR's projections more accurate and reliable.
Cocoa Fiber Market – Segmentation
TMR's study on the cocoa fiber market offers information divided into important segments — nature, product type, end use, sales channel, and region. This report offers comprehensive data and information about the important market dynamics and growth parameters associated with these categories.
Nature

Product Type

End Use

Food & Beverages Industry

Bakery & Confectionery
Dairy Products
Beverages
Other Applications

Pharmaceuticals
Nutraceuticals
Animal Feed
Cosmetics & Personal Care
Retail
Foodservice

Sales Channel

Direct Sales/B2B
Indirect Sales B2C

Hypermarkets/Supermarkets
Convenience Stores
Independent Grocery Stores
Discount Stores
Specialty Stores
Online Retail
Custom Market Research Services
TMR offers custom market research services that help clients to get information on their business scenario required where syndicated solutions are not enough.
REQUEST CUSTOMIZATION