Cinema Software Market: Introduction
Cinema software is a high-end suite of sophisticated, self-contained cinema management software deployed to streamline operations and save money for a company. It enables network-wide compliance and control by allowing programming, monitoring, and maintenance of the complete digital cinema domain from a single end.
Cinema software is the next-generation theatre management solution that provides centralized control over the entire cineplex. The software offers simplified features that automate and streamline all theatre operations, making theatre management simple.
A cinema software automatically manages playback and content storage, power supply, show schedules, and screening quality. The software controls machine intelligence to revolutionize cinema management for enhanced reliability, improved efficiency, and easy human intervention.
Cinema software ties the control of all screens together into a single point of site management. The core function of the cinema software is to track host auditions, coordinate rehearsal schedules, sell tickets, and manage the staff.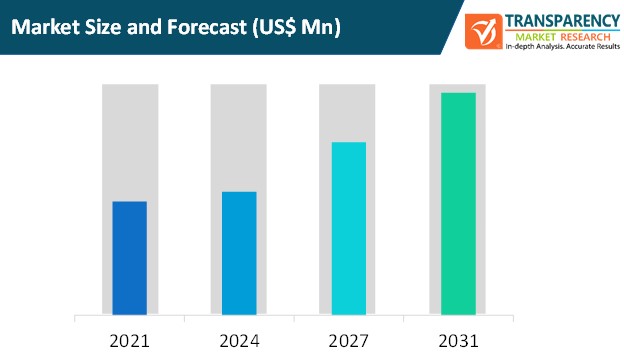 Cinema Software Market: Dynamics
Cinema Software Market: Key Drivers
Cinema software can organize the schedule for a smooth audition process, and the organizer can schedule the auditions and classes to get started. The software can sort out each actor's time slot and contact information for quality casting.
Cinema software secures the server for payment processing, whether it is an audience member paying for payment processing or students paying for the tuition. The software offers multiple payment options such as recurring billing and one-time online payments.
The software provides complete information of costumes and measurements worn by the actors, and it tracks the price of each outfit so that the organizer can stay within budget.
Cinema software helps to sell the tickets online and provides complete reporting of show times, dates, and how many seats have been sold out. Increasing demand for cinema software is expected to boost the growth of the market during the forecast period.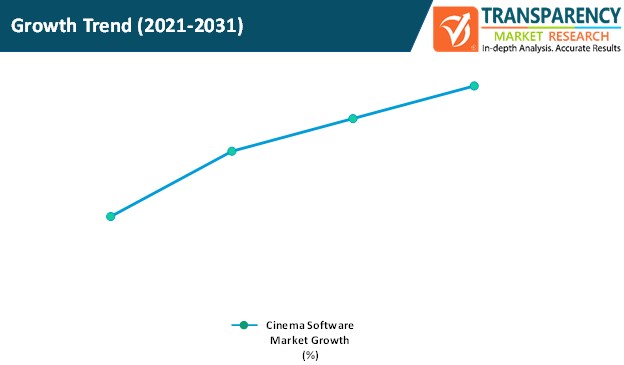 Impact of COVID-19 on the Cinema Software Market
Increase in cases of COVID-19 across the globe is resulting in economic slowdown. Developed countries are strongly affected by the pandemic. COVID-19 has a negative impact on the cinema software market. Some companies have withheld all investments in advanced business solutions and tools due to the low return on investment.
North America to Hold Major Share of the Global Cinema Software Market
In terms of region, the global cinema software market can be divided into North America, Europe, Asia Pacific, Middle East & Africa, and South America
North America dominated the global cinema software market in 2020. The U.S. is a key market in the adoption of new technologies. Strong financial position enables the country to invest heavily in the adoption of leading tools and technologies to ensure business operations.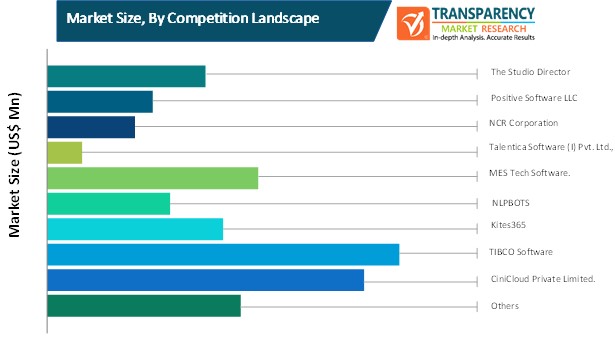 Key Players Operating in the Global Cinema Software Market
The Studio Director was incorporated in 2004 and is headquartered in Denver, Colorado, U.S. The company offers web-based management software and payments platform for primarily dance and gymnastic studios that helps to lower administrative costs and increase customer services and revenue.
Positive Software USA LLC
Positive Software USA LLC was incorporated in 1991 and is headquartered in Illinois, U.S. The company offers ERP-type, cinema management solutions especially built for small, medium, and large cinema circuits. The company is working on increasing efficiencies and reducing costs for show organizers.
Other key players operating in the cinema software market include NCR Corporation, Talentica Software (I) Pvt. Ltd., Mes Tech Software, NLPBOTS, Kites365, TIBCO Software, CiniCloud Private Limited., and Comscore, Inc.
Cinema Software Market: Research Scope
Cinema Software Market, by Component
Software
Services

Professional Services
Managed Services
Cinema Software Market, by Applications
Lobby
Auditorium
Back Office
Cinema Software Market, by Enterprises
Cinema Software Market, by Region
North America

U.S.
Canada
Rest of North America

Europe

Germany
France
U.K.
Italy
Rest of Europe

Asia Pacific

China
Japan
India
South Korea
Rest of Asia Pacific

Middle East & Africa

GCC
South Africa
Rest of Middle East & Africa

South America

Brazil
Rest of South America