Cell Surface Markers (Flow Cytometers, Hematology Analyzers, Reagents and Kits) Market
Cell Surface Markers (Flow Cytometers, Hematology Analyzers, Reagents and Kits) Market - Global Industry Analysis, Size, Share, Growth, Trends and Forecast, 2012 - 2018
Category :

Healthcare

Format :
Cell surface markers are unique to cell types and have vital functional role in immunology. These are generally antigens or molecules present within the plasma membrane of the cell. Such markers serve as the prime component in identification and categorization of cells such as lymphocytes, macrophages, monocytes, tumor cells and other cells majorly related to immunology. Cell surface marker analysis is performed through the use of technologies namely, flow cytometry and hematology analyzers and can be carried out on various samples such as lymph nodes, blood, bone marrow and other tissues. Such analysis may allow simplification of disease diagnosis and identification, sample preparation and drug discovery. Identification of specific types of molecules through cell surface marker analysis helps in efficient disease diagnosis and thereby assists in determination of disease treatment and drugs.
Cell surface markers analysis enables the quantification of the scope of new drugs reaching the intended target and are also responsible for achieving the clinical outcomes by altering the proposed pathophysiological mechanisms. Disease diagnosis by detection or use of cell surface markers has been beneficial and critical in developing innovative and reliable indicators with high specificity for the diagnosis and prognosis of different types of diseases, majorly cancer.
High-throughput tools and techniques in addition to miniature and robust instruments with manifold applications have been the recent need to meet requirements of both research and clinical sectors. Companies investing heavily in developing automated systems with improved sample processing and analysis may gain greater benefits in the near future. Introduction of new and cost-effective instruments is further facilitating the growth of new market entrants and is also being achieved via showcasing advantages of the software and technical capabilities of their instruments at various conferences, laboratories, trade shows, web casting and electronic newsletters.
At present, a broad range of assay technologies and solutions for cell surface marker research are available in the market to enable the analysis of gene expression and regulation, genotyping, signal transduction and epigenetic modifications. Some of the most common solutions available for cell surface marker analysis are PCR array, miRNA, pathway reporter, mutation analysis, DNA methylation and protein expression. Complexity of high-end flow cytometers and expensive reagents, controls and analysis systems results into lowering the adoption of sophisticated cell marker analysis solutions, particularly in economically lagged countries. Thus rising preference for lowering healthcare spending by cost containment in diagnosis procedures coupled with rapid and efficient decision making for therapies of specific diseases will further aid in sustaining the growing acceptance of cell surface marker analysis worldwide.
Geographically, North America dominates the global cell surface markers market. As majority of the prime players in the market are domiciled in North America, many technological advancements first are introduced in this region. Growing acceptance of cell surface markers analysis by major industries and verified efficiency in clinical laboratories drives the market for cell surface markers in North America. In addition, factors such as increased market consolidation, simplification of analysis process, cost containment of instruments and reagents and introduction of cheaper products will result in rapid adoption of research in cell surface markers field in the emerging markets. Furthermore, increase in healthcare awareness, affordability, better patient rehabilitation, growth in medical tourism and less competition levels than developed markets will result in growth in demand for identification of cell surface markers and associated disease diagnosis and treatment in emerging economies.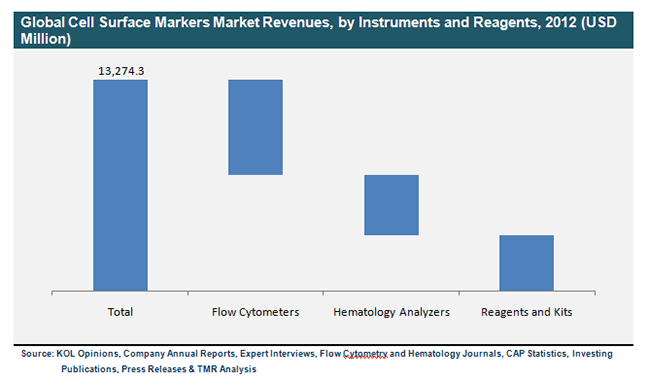 Exponential growth is being witnessed by the global cell surface markers market owing to ease of data management and automation of solutions and technologies. The increased occurrence of chronic diseases, particularly autoimmune disorders and cancer, has stimulated the demand for cell surface markers globally.
The report forecasts and evaluates the market for cell surface markers on both global as well as regional basis. The forecast is in terms of volume and revenue of the cell surface markers market in the forecast horizon from 2012 to 2018. This market research report incorporates the market drivers as well as the restraints along with their impact on the market's growth during the forecast period.
For a more detailed understanding of the cell surface markers market, analysts have presented a detailed evaluation of the value chain of the market. The leading players' competitive profiling in the worldwide market along with their respective market shares across the four primary geographic regions has been incorporated in the report. Additionally, the significant business strategies implemented by the major players have been covered in the report. To equip the readers with an in-depth insight on the market dynamics for cell surface markers, market attractiveness analysis has also been covered in this report.
Overview of the Cell Surface Markers Market
Cell surface markers are antigenic determinants or proteins situated on the top of particular types of cells. These act as a marker for recognizing the particular type of cell. Determining the number of ligands as well as drug response in activities pertaining to research is facilitated via cell surface marker analysis.
In terms of type, the global cell surface marker market is segmented into hematology analyzers, cytometers, reagents, and kits. The major equipment utilized for analysis of cell surface markers is hematology analyzers and flow cytometers. Flow cytometers stood as the most commonly utilized instrument owing to the easy availability of flow cytometers. They have proven to be useful in the crucial field of drug discovery and research, which in turn stimulates their market demand.
On the basis of application, the global cell surface market is segmented into research and drug discovery and disease diagnosis. The utilization of cell surface markers in research and drug discovery is predicted to lead the market owing to their widespread usage by pharmaceutical researchers and manufacturers in the process of research and development as well as drug discovery.
On the basis of geography, the market is segmented into four regions, namely North America, Europe, Asia Pacific, and Rest of the World (RoW). In the cell surface markers market, North America represented the biggest share in the global market owing to the emergence of cheaper products and simplification of the analysis process in the markets of this region.
The major factors boosting the cell surface markers market include development in healthcare technology and rising inclination towards minimizing healthcare expenditure via lowering the cost involved in diagnosis. Nonetheless, expensive reagents and instruments, as well as complex products utilized in the cell marker analysis have impeded the growth of this market.
Key players in the Cell Surface Markers Market
Bio-Rad, Abbott Laboratories, Siemens Healthcare, Beckman Coulter, Roche Diagnostics, BD Biosciences, and Nihon Kohden Corporation are among the major players in the cell surface markers market.
Major geographies analyzed under this research report are:
North America
Europe
Asia Pacific
Rest of the World
This report gives you access to decisive data such as:
Market growth drivers
Factors limiting market growth
Current market trends
Market structure
Market projections for the coming years
Key highlights of this report:
Overview of key market forces propelling and restraining market growth
Up-to-date analyses of market trends and technological improvements
Pin-point analyses of market competition dynamics to offer you a competitive edge
An analysis of strategies of major competitors
An array of graphics and SWOT analysis of major industry segments
Detailed analyses of industry trends
A well-defined technological growth map with an impact-analysis
Offers a clear understanding of the competitive landscape and key product segments
Custom Market Research Services
TMR offers custom market research services that help clients to get information on their business scenario required where syndicated solutions are not enough.
REQUEST CUSTOMIZATION

Cell Surface Markers Market