Camera Tracking Software Market: Introduction
Camera tracking software is widely used in the creation of high-definition 3D animation. A camera tracking procedure refers to monitoring the motion of a live camera to add 3D components to video information. This technique is now widely utilized in the film industry to add robotic activities, backdrops, special effects, 3D animation, and other effects to films, commercials, and television shows, among other things. Camera tracking software is widely employed to generate realistic animation. The software is used for developing photographs, stabilizing unsteady traditional or 360-degree VR photos, and making 360-degree virtual reality or 3D stereoscopic videos; creating architectural previews; reconstructing disaster or crash scenarios, and so on. From 2016 onward, 3D animation began to attract substantial attention from areas other than entertainment, such as medicine and gaming. Several software providers offer top-of-the-line camera tracking software to a variety of end-users. For instance, Andersson Technologies LLC is a small software development firm that sells SynthEyes, a 3D camera tracking software solution. All operating systems, including Mac, Windows, and Linux, are supported by the software. On a regular basis, the software is used in over 90 nations in a wide range of films, television shows, music videos, and commercial advertising projects. All these factors propel the global market for camera tracking software.
The COVID-19 pandemic has had a huge influence on the camera tracking software market, as film and TV show production has been temporarily halted around the world to prevent the virus' spread and comply with social distancing norms imposed by local and federal governments. Additionally, restrictions on film shootings resulted in lower demand for various filming equipment and software solutions. However, the restoration of film production on sets (in some parts of the world) starting in 2020 has gradually increased demand for camera tracking software.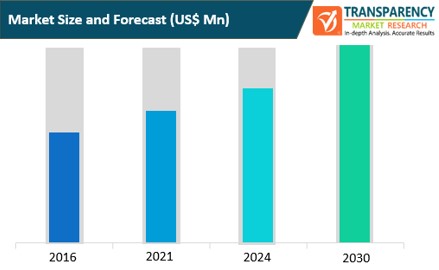 Global Camera Tracking Software Market: Dynamics
Global Camera Tracking Software Market: Key Drivers
The growing popularity of science fiction (sci-fi) and animation movies and events, as well as the huge demand for effective camera tracking software for real-time animation are the primary factors driving the growth of the camera tracking software market.
Furthermore, Artificial intelligence (AI) is likely to boost the market in the near future. Artificial intelligence (AI) is rapidly transforming media and entertainment industries, particularly the film industry. Machine learning and deep learning, two subsets of AI, are now being applied in computer graphics; these technologies have most recently been used in camera tracking, simulation, motion capture, character animation, image processing, rotoscoping, and compositing. Machine learning has already been applied to the creation of several characters. This, in turn, is anticipated to create significant opportunities for the camera tracking software market during the forecast period.
North America to Account for Major Share of the Global Camera Tracking Software Market
In terms of region, the global camera tracking software market is divided into North America, Europe, Asia Pacific, Middle East & Africa, and South America.
North America holds dominant share of the camera tracking software market due to the rising demand for high-quality 3D camera tracking software and growing popularity of science-fiction movies among youth. Leading countries such as the U.S. and Canada are aiming to make sustainable investments. The U.S., Mexico, and Canada are among the major economies in North America. The region provides a significant share of the camera tracking software market due to substantial investments by companies in media and entertainment. Additionally, growing popularity of YouTube channels and the use of short videos for profit is driving the demand for camera tracking software. The software is used to make films or videos more effective and realistic. Minimal investment in hardware is required since the software is largely available in a SaaS model. Further, since the software can be used and accessed from anywhere in the world, it has grown in popularity in the region. The software includes cutting-edge technology and has a variety of features and capabilities that help in the development of upper edge, aesthetically attractive films and movies. This is expected to fuel the growth of the camera tracking software in this region.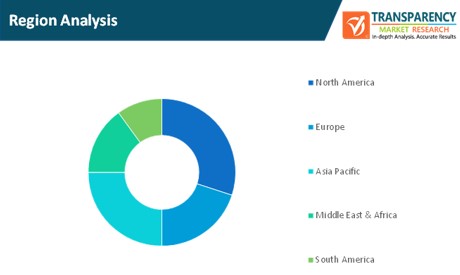 Global Camera Tracking Software Market: Competitive Landscape
Key Players Operating in the Global Camera Tracking Software Market
Providers of camera tracking software are implementing development strategies to enhance their presence and consolidate their share in the market. Camera tracking software providers have adopted major growth strategies such as product acquisitions, partnerships and launches, and forming regional and global distribution networks in order to expand their presence in the market.
Key players operating in the global camera tracking software market include:
Adobe, Inc.
Andersson Technologies LLC
Autodesk, Inc.
Blackmagic Design Pty. Ltd.
BORIS FX, Inc.
Maxon Computer GmbH
Motion Analysis
Motus Digital, LLC
Ncam Technologies
Noitom Ltd.
Northern Digital Inc.
OptiTrack
Phasespace
Qualiysis
Simi Reality Motion Systems GmbH
The Foundry Visionmongers Limited
Vicon Motion Systems Ltd.
Xsens Technologies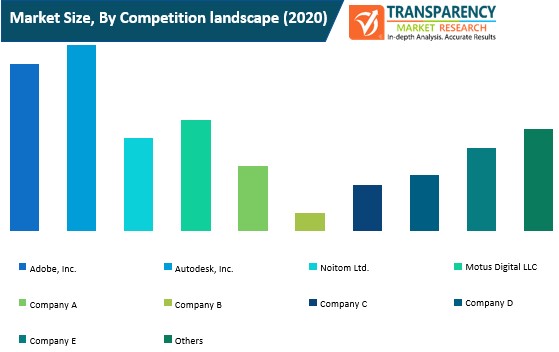 Global Camera Tracking Software Market: Research Scope
Global Camera Tracking Software Market, by Component
Global Camera Tracking Software Market, by Tracking Type
Still Tracking
Sequence Tracking
Global Camera Tracking Software Market, by Region
North America
Europe

Germany
France
Spain
Italy
U.K.
Rest of Europe

Asia Pacific

China
India
Japan
ASEAN
Rest of Asia Pacific

Middle East & Africa

GCC
South Africa
Rest of MEA

South America

Brazil
Argentina
Rest of South America
This intelligence report by TMR is the outcome of intense study and rigorous assessment of various dynamics shaping the growth of the market. TMR nurtures a close-knit team of analysts, strategists, and industry experts who offer clients tools, methodologies, and frameworks to make smarter decisions. Our objective, insights, and actionable analytics provide CXOs and executives to advance their mission-critical priorities with confidence.
The scrutiny of the various forces impacting the dynamics of the market, and key and associated industries, guides enterprises in understanding various consumer propositions. Our clients leverage these insights and perspectives to enhance customer experience in the fast-paced business environment.
All our insights and perspectives are broadly based on 4 Pillars or Stages: ASBC-S, which offer an elaborate and customizable framework for the success of an organization. The essence and the roles of these in organizational successes are highlighted below:
Agenda for CXOs: TMR, through the study, sets the tone for agendas that are pertinent to CEOs, CFOs, CIOs, and other CXO executives of businesses operating in the market. The perspectives help our clients to bridge the gap between agenda and action plan. TMR strives to offer guidance to CXOs to undertake mission-critical activities empowered by various business analysis tools, and boost the performance of the organizations. The perspectives guide you to decide on your own marketing mix that align well with the policies, visions, and mission.
Strategic Frameworks: The study offers how organizations are setting both short-term and long-term strategic plans. Our team of experts collaborate and communicate with you to understand these to make your organizations sustainable and resilient during tough times. The insights help them decide sustainable competitive advantage for each business units.
Benchmarking for Deciding Target Markets and Brand Positioning: The assessments in the study provides a scrutiny of marketing channels and marketing mix. Our various teams work synergistically with you to help identify your actual and potential direct, indirect, and budget competition areas. Additionally, the study helps you decide most effective budgets for various processes and promotional activities. Furthermore, the study guides you to set benchmarks for integrating people and processes with the 4Ps of marketing. Eventually, this will empower you to find out unique propositioning strategies and niches.
Business Composability for Sustainability (C-S): Constant strategy planning for sustainability characterizing our C-S framework in the report has become more relevant than before in the face of disruptions caused by pandemics, recessions, boom and bust cycles, and changing geopolitical scenario. The TMR study offers a high level of customization to help you achieve business composability. Composable enterprises are increasingly gaining the attention of CXOs in order to help them combat market volatility. Our analysts and industry experts help you wade through such uncertainties and guide you to become a smart sustainable business in entirety.
The study presents scrutiny of region-specific consumer and technology trends, including the most recent industry dynamics. These broadly cover but not limited to
North America, South America, and the Americas
Asia Pacific and Japan
Europe
Latin America
Middle East and Africa
The study offers data-driven insights and guidance of several aspects. Some of the more notable questions are:
What are the major recent trends that can influence the product life cycle and the RoI?
Which regulatory trends shape corporate-level, business-level, and functional-level strategies?
Which micromarketing initiatives of leading players will bring in investments?
What can be the best framework and tools for PESTLE analysis?
Which regions will witness rise in new opportunities?
Which are the game-changing technologies being used to capture new revenue streams in the near future?
Which operational and tactical frameworks are being adopted by various players in gaining customer loyalty?
What is the current and expected intensity of competition the market in the near future?
Disclaimer: This market research study is an ongoing effort and extreme care has been taken to maintain the highest levels of accuracy at all stages. However, in the light of the rapidly evolving business dynamics, some region-specific or other segment-specific changes may take time to be part of the study.
Camera Tracking Software Market