Bromine Market
Bromine Market (Application - Flame Retardants, Drilling Fluids, Biocides, Catalysts, and Water Treatment) - Global Industry Analysis, Size, Share, Growth, Trends, and Forecast 2017 - 2025
Category :

Chemicals & Materials

Format :
Global Bromine Market: Snapshot
Established global behemoths wield a substantial control over the bromine market, worldwide. Their dominant position is a result of their massive manufacturing capacities and significant geographical outreach. Armed with substantial technological and financial resources, the companies have been nimbly adapting to various market changes. In order to bolster their positions further, these companies have been leveraging astute pricing policies and product development.
Bromine and its derivatives are increasingly finding application in lessening mercury emissions from smokestacks of coal-fired plants that poses hazard to human health. In fact, many governments and other authorities already have regulations in place to arrest mercury emission. This in turn has provided a fillip to the global bromine market. Besides, bromine is also used in water treatment – be it industrial water treatment or residential or commercial water purification. This is another growth driver in the market.
Negatively impacting its market, on the other hand, is the fact that bromine is a hazardous waste, which has to be disposed of carefully so as to cause minimum damage to the environment and humans. Further, bromine vapor is highly corrosive. The problem becomes aggravated in presence of moisture on account of the formation of acids. Therefore, bromine needs be kept dry during transportation and storage.
A report by Transparency Market Research, forecasts the global bromine market to expand at a lackluster CAGR of 5.0% from 2017 to 2025, to become worth US$2.674 bn by 2025 from US$1.74 in 2016.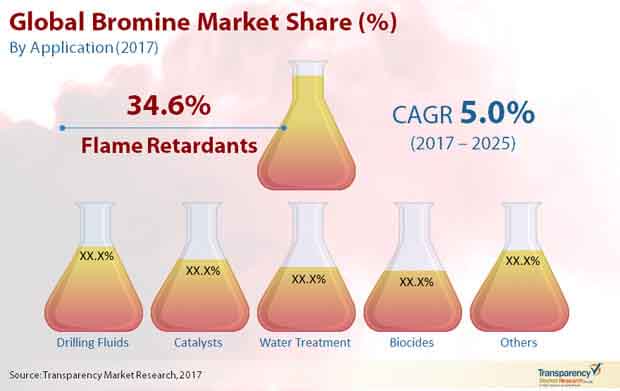 Unabated Oil and Gas Drilling Activities to Stoke Maximum Growth in Drilling Fluids
The global bromine market can be divided into flame retardants, drilling fluids, biocides, catalysts, water treatment, etc. based on its different applications. Of them, the segment of flame retardants accounts for maximum market share. Going forward, the segment is expected to retain its leading share in the market, albeit reducing it slightly to 32.6% by 2025 by clocking the minimum CAGR of 4.2%. This is because, bromine, which is used to manufacture brominated flame retardants (BFR) which is added to a wide array of products, ranging from textiles, plastics, and electrical/electronic equipment, is being banned or restricted on account of its ill-effects on human health. This is proving a major impediment to the growth in the global bromine market.
Another major application of bromine is as clear brine fluids in drilling fluids. With oil and gas drilling activities showing little signs of slowing down in the near future, despite oversupply, the segment is slated to clock continued growth as they are used in the completion process of oil and gas extraction. The segment is expected to register a CAGR of 5.4% from 2017 to 2025.
Vis-à-vis growth rate, however, water treatment application is anticipated to surpass all other applications by registering a CAGR of 6.1% between 2017 and 2025.
Powered by Demand from China, Asia Pacific Leads Market
From a geographical standpoint, Asia Pacific leads the global bromine market both in terms of growth pace and share in revenue. In 2016, the region contributed a significant 50.0% share in the revenue in the market. The region is predicted to grow its leading share vis-à-vis volume in the near future mainly on the back of massive demand from China, which accounts for over half the demand for bromine in the region.
North America and Europe are mature markets and demand for bromine is low in Latin America and the Middle East and Africa. Israel, China, the U.S., and Jordan are the major manufacturers of bromine.
Some of the prominent participants operating in the global bromine market are Albemarle Corporation, Israel Chemical Ltd. (ICL), Jordan Bromine Company Limited, and Gulf Resources Inc.
Expanding Array of Applications in Bromine Market Keeps Opportunities Fervent
The use of bromine has expanded steadily since it was discovered. The growing array of applications of bromine and bromine compounds has underpinned the prospects in the bromine market. In sync with this trend, production of commercial brominated products have risen in the developing and developed world over the past few decades. Some of the foremost applications that drive revenue growth are agriculture, photography, healthcare, and water purification. In healthcare, drug makers have used bromine compounds to develop wide range of OTC medicines and prescription drugs. In recent times, players in the bromine market are realizing vast revenue potential from the ongoing research and development for developing drugs for cancer, AIDS, and the Alzheimer's. Another emerging application is the incredible avenue in the electric vehicle industry, where bromine compounds are being viewed as an attractive contender for battery making. Perhaps a large chunk of revenues have come from the use of bromine as a water disinfectant especially in large and small public drinking-water plants. However, the use of the compound in purification of potable water for residential application is limited, due to cost constraints. Ongoing research in microbiocidal efficacy of bromine along with advances in water disinfestation equipment is spurring the growth prospects in the bromine market.
In wake of outbreaks in early 2020 to mid-2020, the pandemic drew concerted action from governments around the world. The healthcare systems had sprung into action and governments in numerous countries were proactive to impose restrictions that could contain the spread of the virus. However, the second wave of Covid-19 pandemic has been fiercer than expected in some regions. The mortality in affected people has unleashed disruptions to economies and health systems have been severely impaired. The surge in cases in some regions has led to a deep chasm in the demand and supply and demand dynamics. On the other hand, seeing the substantial gap between supply and demand for essential products such as oxygen cylinders, raw materials for vaccines, and protective equipment has spurred new opportunities to manufacturers. All these trends are expected to shape the expansion of the bromine market.
Global Bromine Market: Overview
Bromine is a chemical element with symbol Br and atomic number 35. It is the third-lightest halogen and it exists in the form of fuming red-brown liquid at room temperature. The commercial source of bromine is brine pools. Major producers of bromine are Israel, the U.S., and China. The mass of bromine in oceans is about 0.0033 times to that of chlorine.
The report estimates and forecasts the bromine market on the global and regional levels. The study provides forecast between 2017 and 2025 based on volume (tons) and revenue (US$ Mn) with 2015 as the base year. The report comprises an exhaustive value chain analysis for each of the segments. It provides a comprehensive view of the market. Value chain analysis also offers detailed information about value addition at each stage.
The study includes drivers and restraints for the Bromine market along with their impact on demand during the forecast period. The study also provides key market indicators affecting the growth of the market. The report analyzes opportunities in the Bromine market on the global and regional level. Drivers, restraints, and opportunities mentioned in the report are justified through quantitative and qualitative data. These have been verified through primary and secondary resources. Furthermore, the report analyzes substitute analysis of Bromine and global average price trend analysis.
Global Bromine Market: Segmentation
The study provides a comprehensive view of the bromine market by dividing it into application and geography segments. The applications are segmented into flame retardants, drilling fluids, biocides, catalysts, water treatment, and others. These segments have been analyzed based on historic, present, and future trends.
Regional segmentation includes the current and forecast consumption of bromine in North America, Latin America, Europe, Asia Pacific, and Middle East & Africa (MEA). Market segmentation includes demand for consumption in all the regions individually.
Bromine has applications in brominated flame retardants, as clear brine fluids in drilling fluids, water treatment, biocides among others. The major application of bromine is observed in flame retardants, followed by drilling fluids as clear brine fluids. Clear brine fluids are industrial fluids used in various operations in the oil & gas industry such as completion, work-over, and drilling. Brominated flame retardants (BFRs) are effective in applications such as electronics, clothes, and furniture.
Major application of bromine is in the manufacturing of BFRs for textiles and polymer. However, the market for BFRs has been declining over a decade due to various regulations and legislation that either seek compliance with limited BFR content or ban the product altogether. The declining usage of bromine in flame retardants is acting as a major restraint to the bromine market.
Major usage of bromine in water treatment is in industrial water treatment and residential & commercial water purification. Bromine is used to prevent the formation and growth of algae, bacteria, and odors in the swimming water. Rise in adoption of water treatment chemicals is anticipated to keep the market prospects upbeat.
Global Bromine Market: Competitive Analysis
The report includes Porter's Five Forces Model to determine the degree of competition in the bromine market. The report comprises a qualitative write-up on market attractiveness analysis, wherein end-users and regions have been analyzed based on attractiveness for each region. Growth rate, market size, raw material availability, profit margin, impact strength, technology, competition, and other factors (such as environmental and legal) have been evaluated in order to derive the general attractiveness of the market. The report comprises price trend analysis for bromine market between 2017 and 2025.
The report covers detailed competitive outlook that includes market share and profiles of key players operating in the global market. Key players profiled in the report include Israel Chemical Ltd. (ICL), Albemarle Corporation, Jordan Bromine Company Limited, and Gulf Resources Inc. Company profiles include attributes such as company overview, number of employees, brand overview, key competitors, business overview, business strategies, recent/key developments, acquisitions, and financial overview (wherever applicable).
Global Bromine Market: Research Methodology
Secondary research sources that were typically referred to include, but were not limited to, U.S. Geological Survey, British Geological Survey, World Mining Congress, U.N. Comtrade, Industrial Minerals, company websites, financial reports, annual reports, investor presentations, broker reports, and SEC filings. Other sources such as internal and external proprietary databases, statistical databases and market reports, news articles, national government documents, and webcasts specific to companies operating in the market have also been referred for the report.
In-depth interviews and discussions with a wide range of key opinion leaders and industry participants were conducted to compile this research report. Primary research represents the bulk of research efforts, supplemented by extensive secondary research. Key players' product literature, annual reports, press releases, and relevant documents were reviewed for competitive analysis and market understanding. This helped in validating and strengthening secondary research findings. Primary research further helped in developing the analysis team's expertise and market understanding.
The global bromine market has been segmented as follows:
Application Analysis

Flame Retardants
Drilling Fluids
Biocides
Catalysts
Water Treatment
Others

Regional Analysis

North America
Latin America

Brazil
Mexico
Rest of Latin America

Europe

Germany
France
U.K.
Russia
Italy
Rest of Europe

Asia Pacific

China
Japan
India
ASEAN
Rest of Asia Pacific

Middle East & Africa

GCC
South Africa
Rest of Middle East & Africa
Custom Market Research Services
TMR offers custom market research services that help clients to get information on their business scenario required where syndicated solutions are not enough.
REQUEST CUSTOMIZATION