Bot Services Market - Introduction
Bot services are managed bot support and development services offered by software and service-based companies that help clients to connect with their end-users through various popular channels.
Service providing companies offer customized bot services for client companies to build, deploy, test, and manage all bot services in one place or platform. Most cloud service providers are offering artificial intelligence (AI) chatbots as a service with cloud services. This service can be integrated with business websites and applications that include personalized apps such as email, Facebook Messenger, Skype, Microsoft Team, and Cortana.
In Bot services, service providers focus on a user-friendly interface and better application of artificial intelligence technologies with a Bot system to minimize human interaction and increase the efficiency of handling end-user queries.
Most customer-centric product development companies and customer service-based companies are adopting Bot service to improve the query handling time and reduce the burden on employees for initial interaction with end-users.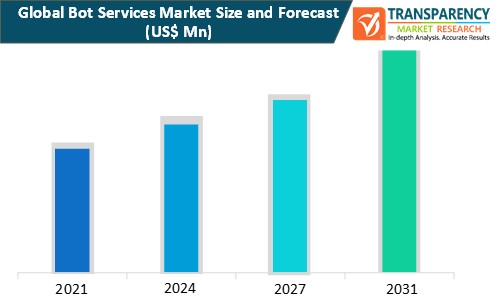 Key Drivers of the Bot Services Market
Increasing adoption of online and internet-based services among end-users is expected to drive the growth of the market. Increasing consumer spending on industrial sectors for outsourced advanced technologies and solutions, is also expected to boost the growth of the Bot services market.
Increasing adoption of advanced technologies such as machine learning and Artificial Intelligence (AI) for customer services is expected to create better business and revenue opportunities for service providers of Bot services.
High initial investment and lack of awareness in small & medium enterprises expected to hinder the growth of the market
The high initial investment in implementation and integration of Bot services with existing websites or resources restrains the growth of the market.
Lack of awareness about the benefits of Bot services among small & medium enterprises as well as budget constraints for advanced technologies is expected to hamper the growth of the market.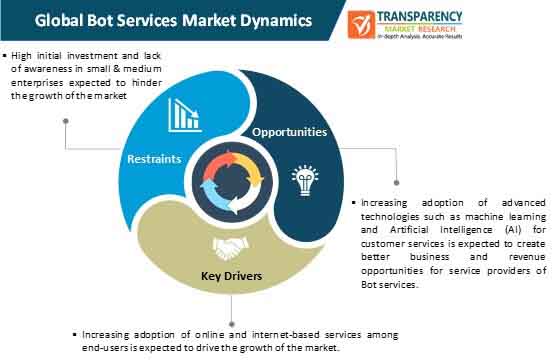 Impact of COVID-19 on the Global Bot Services Market
Bot services help companies to manage end-user complaints with predefined Bot services without any human interaction. Many healthcare and pharmaceutical product companies are adopting the advanced customer interaction system or automated solutions to maintain the response time of end-user complaints and inquiries during the COVID-19 situation.
Demand for Bot services is increasing in sectors such as healthcare and e-commerce during the COVID-19 lockdown situation due to the increasing dependency of companies on an advanced digital solution to manage the business process with employee safety.
North America to Hold Major Share of the Global Bot Services Market
North America holds a prominent share of the Bot services market due to the presence of leading players and the early adoption of advanced technologies in different industries in the region
The Bot services market in Asia Pacific is expected to expand the fastest during the forecast period due to increasing investment by major players to provide the solution and service across the region and also due to the increasing adoption of advanced and smart digital solutions in commercial offices and banking sectors.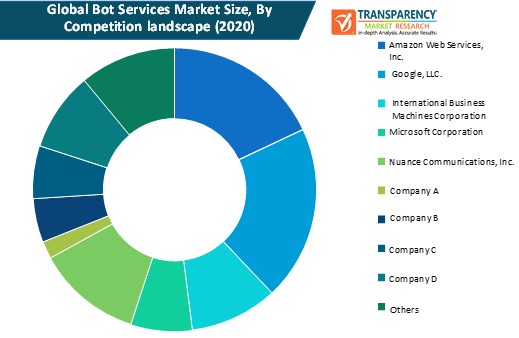 Key Players Operating in the Global Bot Services Market
Amazon Web Services, Inc.
Amazon Web Services, Inc. is a global provider of on-demand cloud computing platforms and industrial API to different industries. The company offers managed cloud platform solutions and services in the AWS IoT segment for all connected devices for interacting with the cloud application. The company provides IoT solutions in different technologies such as Infrastructure as a Service (IaaS), analytics & modeling, Cloud Chatbot as a Service, application infrastructure & middleware, and platforms as a services for oil & gas and other major industries.
Google, LLC. is a multinational company developing Internet-based products and services for different industries. The company's core products include Google Search, Maps, Android Platform, Chrome Browser, YouTube, Google Play, Gmail, and smartphones. The company provides Google Chat apps and Google Bot services for different commercial applications.
Other key players operating in the global Bot services market include International Business Machines Corporation, Microsoft Corporation, Nuance Communications, Inc., Creative Virtual Ltd., Astute, Inc. and Inbenta Technologies Inc.
Global Bot Services Market: Research Scope
Global Bot Services Market, by Service Type
Framework

Natural Language Processing
Machine Learning
Artificial Neural Network

Platform
Global Bot Services Market, by Application
Websites
Contact Centers and Customer Service
Social Media
Global Bot Services Market, by Industry
BFSI
IT & Telecom
Manufacturing & Automobile
Sports & Entertainment
Hospitality
Healthcare
Others
Global Bot Services Market Segmentation, by Region
North America
Europe

Germany
U.K.
France
Russia
Italy
Spain
Nordic
Rest of Europe

Asia Pacific

China
India
Japan
Australia
Singapore
Malaysia
South Korea
Rest of Asia Pacific

Middle East & Africa (MEA)

UAE
Saudi Arabia
South Africa
Rest of Middle East & Africa

South America

Brazil
Rest of South America
Alternative Keywords
Automate Customer Support
Chatbot as a Service
Interested in this report?
Get a FREE Brochure now!